Content of amino acids and minerals in selected sorts of legumes
Keywords:
legumes, amino acid, protein, minerals, statistics
Abstract
The aim of this study was to determine amino acid composition and mineral content in selected legume samples. All analyses were carried out at the laboratory temperature of 21±2 °C in triplicate. Amino acid composition was determined using the automatic amino acid analyzer AAA 400 with post-column derivatization. To assess the nutritional value of protein, index of essential amino acids (EAAI) was calculated. Minerals were determined using the atomic absorption spectrometer AA 30. All results were statistically evaluated. The highest content of Cys, Glu, Asp, Leu, Lys and Arg was determined in seeds of G. max; only the content of Cys and His was lower than 10 g kg-1. The greatest total content of essential amino acids (EAA) was discovered in soybeans, almost 128 g kg-1. The majority (Na, K, Mg, and Ca), trace (Fe, Zn, and Cr) and toxic elements (Pb, Cd) were determined. Legumes were rich in Mg and Ca-mainly G. max and Ph. vulgaris. The content of Mg was
2.1 g/1000g in soybeans and 1.6 g/1000g in common beans. Also in these two legumes the greatest concentration of toxic Pb was found. Values obtained during the determination of the chemical composition in samples of legumes and buckwheat products can be influenced by many factors, e.g. climatic conditions, location etc.
Downloads
Download data is not yet available.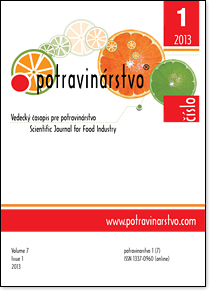 Downloads
How to Cite
Vojtí­šková, P. ., Švec, P. ., & Kráčmar, S. . (2013). Content of amino acids and minerals in selected sorts of legumes. Potravinarstvo Slovak Journal of Food Sciences, 7(1), 136–140. https://doi.org/10.5219/299
License
This license permits non-commercial re-use, distribution, and reproduction in any medium, provided the original work is properly cited, and is not altered, transformed, or built upon in any way.