Measurement of the Residual Gases O2 and CO2 in Meat Products Packed in Modified Atmosphere
Keywords:
meat products, modified atmosphere
Abstract
Nowadays, consumers have increased demand for quality and food safety and also rising demand for natural foods without chemical additives. There are many ways to presserve freshness of these products, one of them is modified atmosphere packaging, which can mean elimination and/or replacement surrounding the product before closing it in package with a mixture of gases other than the original ambient air atmosphere. for replacement of atmosphere are generally used three types of gases such as carbon dioxide, oxygen and nitrogen. this type of packaging is often used for meat and meat products, which belongs to foods that are under normal conditions perishable and for increasing the shelf life of meat products are also used various other preservation methods or their combinations. Packaging of meat and meat products in modified atmosphere is usually made with a high content of carbon dioxide, which has good bacteriostatic and fungistatic effect and is also an effective mean for increasing the shelf life of packaged products during storage and sale.
Downloads
Download data is not yet available.
References
Brosche, J. 2005. Sledovanie kvality výrobkov balených do ochrannej atmosféry. Bezpečnosť a kontrola potravín - Zborník prác z medzinárodnej vedeckej konferencie. SPU : Nitra, p. 17-22, ISBN 80-8069-503-2.
Esmer, O. K., Irkin, R., Degirmencioglu, N., Degirmencioglu, A. 2010. The effects of modified atmosphere gas composition on microbiological criteria, color and oxidation values of minced beef meat. Meat Science, vol. 88, no. 2011, p. 221-226. https://doi.org/10.1016/j.meatsci.2010.12.021 PMiD:21269781
Esturk, O., Ayhan, Z. 2009. Effect of modified atmosphere packaging and storage time on physical and sensory properties of sliced salami. Journal of Food Processing and Preservation, vol. 33, no. 1, p. 114-125. https://doi.org/10.1111/j.1745-4549.2008.00317.x
Garcia-Esteban, M., Ansorena, D., Astiasaran, I. 2004. Comparison of modified atmosphere packaging and vacuum packaging for long period storage of dry-cured ham: Effects on color, texture and microbiological quality. Meat Sci. vol. 67, no.1, p. 57-63. https://doi.org/10.1016/j.meatsci.2003.09.005 PMid:22061116
Koutsoumanis, K. A., Stamatiou, A. P., Skandamis, P., Nychas, G. J. E. 2006. Development of a microbial model for the combined effect of temperature and pH on spoilage of ground meat, and validation of the model under dynamic temperature conditions. Applied and Environmental Microbiology. vol. 72, no.1, p. 124-134. https://doi.org/10.1128/AEM.72.1.124-134.2006 PMid:16391034
Mullan, M., Mcdowell, D. 2011. Modified Atmosphere Packaging, In Food and Beverage Packaging Technology, Second Edition. Wiley-Blackwell : Oxford, UK, p. 44, ISBN 978-1-4051-8910-1. https://doi.org/10.1002/9781444392180.ch10
Nollet, L. M. L., Toldrá, F. 2006. Modified atmophere packaging. Advanced Technologies for Meat Processing, p. 424, ISBN 157444587.
Robertson, G. L. 2005. Food Packaging - Principle and Practice. Taylor and Francis Ltd, p. 313-331. PMid:16482707
Rubio, B., Martinez, B., Gonzalez-Fernandez, C., Garciacachan, M. D., Rovira, J., Jaime, I. 2006. Influence of storage period and packaging method on sliced dry cured beef "Cecina de Leon": Effects on microbiological, physicochemical and sensory quality. Meat Sci. vol.74, no.4, p. 710-717. https://doi.org/10.1016/j.meatsci.2006.06.002
Szemes, V., Kováč, M., Šinková, T. 2004. Označovanie prídavných látok v potravinách. Vyznáme sa v E-čkach. 1. vyd. Bratislava: PROMP, p. 40-63. ISBN 80-968366-8-4.
Švejnoha, J. 2009. Balím, balíš, balíme. Potravinářská revue, no. 6., p. 26 .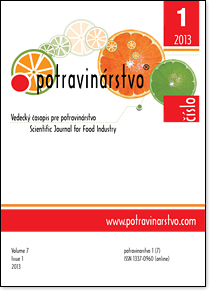 Downloads
How to Cite
Čapla, J. ., Zajác, P. ., Čurlej, J. ., Lopašovský, Ľubomí­r ., & Vietoris, V. . (2013). Measurement of the Residual Gases O2 and CO2 in Meat Products Packed in Modified Atmosphere. Potravinarstvo Slovak Journal of Food Sciences, 7(1), 49–52. https://doi.org/10.5219/261
License
Authors who publish with this journal agree to the following terms:



Authors retain copyright and grant the journal right of first publication with the work simultaneously licensed under a Creative Commons Attribution License that allows others to share the work with an acknowledgement of the work's authorship and initial publication in this journal.


Authors are able to enter into separate, additional contractual arrangements for the non-exclusive distribution of the journal's published version of the work (e.g., post it to an institutional repository or publish it in a book), with an acknowledgement of its initial publication in this journal.


Authors are permitted and encouraged to post their work online (e.g., in institutional repositories or on their website) prior to and during the submission process, as it can lead to productive exchanges, as well as earlier and greater citation of published work (See The Effect of Open Access).