Identification of oenological tannins extracted from oak wood
Keywords:
oenological tannin, thioacidolysis, oak wood, Quebracho, HPLC
Abstract
Our study is dealing with the determination of the origin of oenological tannins using the modified OIV procedure. The method is based on HPLC analyses of proanthocyanidol content (catechin, epicatechin, epigallocatechin, epicatechin-3-O-gallate and epigallocatechin-3-O-gallate) after thioacidolysis - thiolytic cleavage of the flavonol intermonomer linkages in proanthocyanidols under heat in an acid medium. The purpose of the study was to differentiate oenological tannins gained from Quebracho cortex and tannins extracted from oak wood. As the results show, both groups of tannins do not produce any flavan-3-ols after thioacidolysis, but they show specific peaks, which enable determination of their origin.
Downloads
Download data is not yet available.
References
BAUTISTA-ORTÍN A. B., FERNÁNDEZ-FERNÁNDEZ J. I., LÓPEZ-ROCA J. M., GÓMEZ-PLAZA, E. 2007. The effects of enological practices in anthocyanins, phenolic compounds and wine color and their dependence on grape characteristics. In Journal of Food Composition and Analysis, vol. 20, 2007, p. 546-552. doi.org/10.1016/j.jfca.2007.04.008
HARBERTSON, J. F., HODGINS, R. E., THURSTUN, L. N., SCHAFFER, L. J., REID, M. S., LANDON, J. L., ROSS, C. F., ADAMS, D. O. 2008. Variability of tannin concentration in red wines. In American Journal of Enology and Viticulture, vol. 59, 2008, no. 2, p. 210-214.
HASLAM, E. 1998. Practical polyphenolics: From structure to molecular recognition and physiological function. In Cambridge University Press. Cambridge, U.K.
LAGHI, L., PARPINELLO, G. P., DEL RIO, D., CALANI, L., MATTIOLI, A. U., VERSARI, A. 2010. Fingerprint of enological tannins by multiple techniques approach. In Food Chemistry, vol. 121, 2010, p. 783-788. doi.org/10.1016/j.foodchem.2010.01.002
LURTON, L., LAURENT, M., GARNIER, C. 2002. Vinification en rouge: Des tanins de raisins pour stabiliser la couleur. In La Revue des Oenologues, vol. 104, 2002, p. 27-28.
MATTHEWS, S., MILA, I., SCALBERT, A., POLLET, B., LAPIERRE, C., HERVE DU PENHOAT, C. L. M., ROLANDO, C., DONELLY, D. M. X. 1997. Method for estimation of proanthocyanidins based on their acid depolymerization in the presence of nucleophiles. In Journal of Agricultural and Food Chemistry, vol. 45, 1997, p. 1195-1201. doi.org/10.1021/jf9607573
OBRADOVIC, D., SCHULZ, M., OATEY, M. 2005. Addition of natural tannins to enhance the quality of red wine. In Australian and New Zealand Grapegrower and Winemaker, vol. 493, 2005, p. 52-54.
OBREQUE-SLIER, E., PEÑA-NEIRA, A., LOPEZ-SOLIS, R., RAMIREZ-ESCUDERO, C., ZAMORA-MARIN, F. 2009. Phenolic characterization of commercial enological tannins. In European Food Research and Technology,
vol. 229, 2009, p. 859-866. doi.org/10.1007/s00217-009-1121-1
O.I.V. International Oenological Codex. Issue 2010. Paris. Capter: Oenological Tannins – COEI-1-TANINS: 2009. p. 5-13.
PASH, H., PIZZI, A., RODE, K. 2001. MALDI-TOF mass spectrometry of polyflavonoid tannins. In Polymer, vol. 42, 2001, no. 18, p. 7531-7539.
RIGAUD, J., PEREZ-ILZARBE, J., RICARDO DA SILVA, J. M., CHEYNIER, V. 1991. Micro method for identification of proanthocyanidin using thiolysis monitored by high-performance liquid chromatography. In Journal of Chromatography, vol. 540, 1991, p. 401-405. doi.org/10.1016/S0021-9673(01)88830-0
RIBEREAU-GAYON, P., GLORIES, Y., MAUJEAN, A., DUBOURDIEU, D. 2006. Handbook of Enology, vol. 2. Chichester : Wiley, 2006. 441 p. ISBN-13: 978-0-470-01037-2. doi.org/10.1002/0470010398
VIVAS, N. 1997. Composition et propriétés des préparations commerciales detanins à usage oenologique. In La Revue des Oenologues, vol. 84, 1997, p. 15-21.
VIVAS, N., NONIER, M. F., VIVAS DE GAULEJAC, N., ABSALON, CH., BERTRAND, A., MIRABEL, M. 2004. Differentiation of proanthocyanidin tannins from seeds, skins and stems of grapes (Vitis vinifera) and heartwood of Quebracho (Schinopsis balansae) by matrix-assisted laser desorption/ionization time-of-flight/MS and thioacidolysis /LC/electrospray ionization MS. In Analytica Chimica Acta, vol. 513, 2004, no.1, p. 247-256. https://doi.org/10.1016/S0003-2670(03)01590-3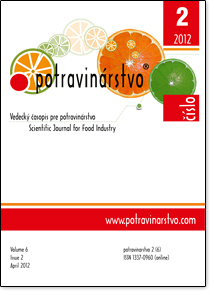 Downloads
How to Cite
Návojská, J. ., Wendelin, S. ., Eder, R. ., & Frančáková, H. . (2012). Identification of oenological tannins extracted from oak wood. Potravinarstvo Slovak Journal of Food Sciences, 6(2), 19–22. https://doi.org/10.5219/202
License
Authors who publish with this journal agree to the following terms:



Authors retain copyright and grant the journal right of first publication with the work simultaneously licensed under a Creative Commons Attribution License that allows others to share the work with an acknowledgement of the work's authorship and initial publication in this journal.


Authors are able to enter into separate, additional contractual arrangements for the non-exclusive distribution of the journal's published version of the work (e.g., post it to an institutional repository or publish it in a book), with an acknowledgement of its initial publication in this journal.


Authors are permitted and encouraged to post their work online (e.g., in institutional repositories or on their website) prior to and during the submission process, as it can lead to productive exchanges, as well as earlier and greater citation of published work (See The Effect of Open Access).