The influence of first wort part and afterworts on saccharification of wort
Keywords:
malt, wort, first wort, afterwort, saccharification, volume
Abstract
Wort is a basic product of mashing, which forms the first intermediate in beer production and constitute the base of its final value. For qualitative value wort has the greatest impact grist per brew, which is a description of materials, they bring to brew extract and determine its the volume and concentration. The main component grist per brew for light and dark beers is stored pale malt and possibly a smaller proportion of adjuncts. The aim of our work was to assess the qualitative parameters of malt in terms of content extract and its impact on the amount of produced the first wort part and afterwort and their qualitative values expressed in % saccharification and volumes. We measured 3 types of malts with the content of the extract 75.2%, 76.1%, 77.2% in the original sample, which determined mainly reached saccharification of first part wort and other afterwort parts one and two. In terms attained of saccharification it was necessary to use on sparge of spent grains at afterwort number two only the amount of water, which would be not affect the total saccharification of wort and its qualitative parameters.
Downloads
Download data is not yet available.
References
BRANDAM, C., MEYER, X. M., PROTH, J., STREHAIANO, P., PINGAUD, H. 2003. An original kinetic model for the enzymatic hdydrolysis of starch during mashing. In Biochemical Engineering Journal,vol. 13, 2003, p. 43-52.
https://doi.org/ 10.1016/S1369-703X(02)00100-6
BRIGGS, D. E., BOULTON, CH. A., BROOKES, P. A., STEVENS, R. 2004. Brewing Science and Practice,Boca Raton : CRC Press, 2004. ISBN 0-8493-2547-1.
DURAND, G. A., CORAZZA, M. L., BLANCO, A. M., CORAZZA, F. C. 2009. Dynamic optimization of the mashing process. In Food Control, vol. 20, 2009, no. 12, p. 1127-1140.
http://www.sciencedirect.com/scidirimg/clear.gifhttps://doi.org/10.1016/j.foodcont.2009.03.004
CHLÁDEK, L. 2007. Pivovarnictví. Praha: Grada Publishing, 2007, 207 p. ISBN 978-80-247-1616-9.
JONES, B. L. 2005. Endoproteases of barley and malt. In Journal of Cereal Science, vol. 42, 2005, p. 139-156.
https://doi.org/10.1016/j.jcs.2005.03.007
KOSAŘ, K., PROCHÁZKA, S. 2000. Technologie výroby sladu a piva. Brno : VÚPS, 2000. 398 p. ISBN 80-902658-6-3.
KUNZE, W. 1999. Technology of Brewing and Malting, 2nd edition, VLB Berlin, Germany 1999, ISBN 3-921 690-49-8.
LEJSEK, T., ŤOPKA, P. 1991. Stroje a zařizení pro učební odbor biochemik-biochemička se zaměřením pro výrobu piva a sladu. Praha: Institut výchovy a vzdělávaní MZe ČR, 1991, 194 p.
MONTANARI, L., FLORIDI, S., MARCONI, O., TIRONZELLI, M., FANTOZZI, P. 2004. Effect of mashing procedures on brewing. In European Food Research and Technology, vol. 221, 2005, no. 1-2, p. 175-179.
https://doi.org/10.1007/s00217-005-1166-8
MOUSIA, Z., BALKIN, R. C., PANDIELLA, S. S., WEBB, C. 2003. The effect of milling parameters on starch hydrolysis of milled malt in the brewing process. InProcess Biochemistry, vol. 39, 2003, p. 2213-2219.
https://doi.org/10.1016/j.procbio.2003.11.015
NARZISS, L. 1992. Die Bierbrauerei, Band II: Die Technologie der Würzebereitung, 7th ed. Ferdinand Enke Verlag, Stuttgart, 1992.
O'ROURKE, T. 1996. Brewing. In Industrial enzymology. New York: Stockton Press, 1996. ISBN0-333-59464-9.
ŤOPKA, P., ŤOPKA, P. ml, 2000. Vystírání a Rmutování. In KOSAŘ, K., PROCHÁZKA, S. 2000.Technologie výroby sladu a piva. Brno : VÚPS, 2000. p. 174 – 189. ISBN 80-902658-6-3.
WILLAERT, R. 2007. The Beer Brewing Process: Wort Production and Beer Fermentation. In HUI, Y. H., CHANDAN, R. C., CLARK, S., CROSS, N. A., DOBBS, J. C., SHIMONI, E., SINHA, N., SMITH, E. B., SURAPAT, S., TOLDRÁ, F., TITCHENAL, A. 2007. Handbook of Food Products Manufacturing. Hoboken : Wiley, 2007. p. 444-452. ISBN 978-0-470-12524-3.
WUNDERLICH, S., BACK, W. 2009. Overview of Manufacturing Beer: Ingredients, Processes, and Quality Criteria. In Beer in Health and Disease Prevention. Burlington : Elsevier, 2009, ISBN 978-0-12-373891-2.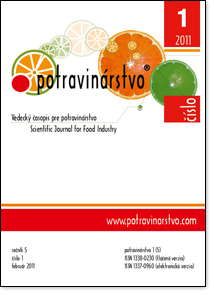 Downloads
How to Cite
Tóth, Žigmund ., Dráb, Štefan ., Frančáková, H. ., Lí­šková, M. ., & Návojská, J. . (2011). The influence of first wort part and afterworts on saccharification of wort. Potravinarstvo Slovak Journal of Food Sciences, 5(1), 61–64. https://doi.org/10.5219/114
License
Authors who publish with this journal agree to the following terms:



Authors retain copyright and grant the journal right of first publication with the work simultaneously licensed under a Creative Commons Attribution License that allows others to share the work with an acknowledgement of the work's authorship and initial publication in this journal.


Authors are able to enter into separate, additional contractual arrangements for the non-exclusive distribution of the journal's published version of the work (e.g., post it to an institutional repository or publish it in a book), with an acknowledgement of its initial publication in this journal.


Authors are permitted and encouraged to post their work online (e.g., in institutional repositories or on their website) prior to and during the submission process, as it can lead to productive exchanges, as well as earlier and greater citation of published work (See The Effect of Open Access).