Bee bread - perspective source of bioactive compounds for future
Keywords:
antioxidant activity, pollen, flavonoids, polyphenols, antimicrobial activity
Abstract
Bee bread is product with long history used mainly in folk medicine. Nowadays, bee bread is growing in commercial interest due to its high nutritional properties. The objective of this study was to determine biological activity of ethanolic extract of bee bread obtained from selected region of Ukraine - Poltava oblast, Kirovohrad oblast, Vinnica oblast, Kyiv oblast, Dnepropetrovsk oblast. The antioxidant activity was measured with the radical scavenging assays using 1,1-diphenyl-2-picrylhydrazyl (DPPH) radical as well as phosphomolybdenum assay. Total polyphenol content was determined with Folin-Ciocalteau reagent and total flavonoid content by aluminium-chloride method. Secondary was also evaluated antimicrobial activity in bee bread samples with disc diffusion method and minimum inhibitory concentrations. Antioxidant activity expressed as mg TEAC per g of dry weight (Trolox equivalent antioxidant capacity) was the highest in bee bread from Poltava oblast in DPPH and also phosphomolybdenum method. Samples of bee bread contained high levels of total polyphenols (12.36 - 18.24 mg GAE - gallic acid equivalent per g of dry weight) and flavonoids (13.56 - 18.24 μg QE - quercetin equivalent per g of dry weight) with the best values of bee bread from Poltava oblast. An elevated level of antioxidant potential in the bee bread determines its biological properties, which conditioned of the biological active substances. The best antibacterial activity of bee bred with disc diffusion method was found against Bacillus thuringiensis CCM 19. The antibacterial activity inhibited by the bee bread extract in the present study indicate that best minimal inhibition concentration was against bacteria Escherichia coli CCM 3988 and Salmonella enterica subs. enterica CCM 3807.
Downloads
Download data is not yet available.
References
Abouda, Z., Zerdani,I., Kalalou, I., Faid, M.,. Ahami, M. T. 2011. The antibacterial activity of moroccan bee bread and bee-pollen (fresh and dried) against pathogenic bacteria. Research Journal of Microbiology, vol. 6, p. 376-384.https://doi.org/10.3923/jm.2011.376.384
Barros, L., Queiro, B., Ferreira, I. C. F. R. and Baptista, P. 2007. Total phenols, ascorbic acid, β-carotene and lycopene in Portuguese wild edible mushrooms and their antioxidant activities. Food Chemistry, vol. 103, p. 413-419. https://doi.org/10.1016/j.foodchem.2006.07.038
Bogdanov, S. 2015. Pollen: Production, Nutrition and Health: A Review. Bee Product Sciences, vol. 10, p. 1-35. Available at: http://www.bee-hexagon.net/files/file/fileE/Health/PollenBook2Review.pdf
Bonvehí, J. S., Torrentó, M. S., Lorente, E. C. 2001. Evaluation of polyphenolic and flavonoid compounds in honeybee-collected pollen produced in Spain. Journal of Agrigulture and Food Chemistry, vol. 49, p. 1848-1853. https://doi.org/10.1021/jf0012300
Brand-Williams, W., Cuvelier, M. C., Berset, C., 1995. Use of a free-radical method to evaluate antioxidant activity. Lebensmittel Wissenschaft Technologie, vol. 28, p. 25-30. https://doi.org/10.1016/S0023-6438(95)80008-5
Čeksterytė, V.,Račys, J., Kaškonienė, V., Venskutonis, P. R. 2008. Fatty acid composition in beebread. Biologija, vol. 54, p. 253-257. Available at: http://elibrary.lt/resursai/LMA/Biologija/Bio78/Biologija_253-257.pdf
Clinical and Laboratory Standard Institute. Performance standard for antimicrobial susceptibility testing. Wayne, PA: Clinical and Laboratory Standard Institute; 2009. Available at: http://antimicrobianos.com.ar/ATB/wp-content/uploads/2012/11/M100S22E.pdf
DeGrandi-Hoffman G., Eckholm, B., Huang, M., 2013. A comparison of bee bread made by Africanized and European honey bees (Apis mellifera) and its effects on hemolymph protein titers. Apidologie, vol. 44, p. 52-63. https://doi.org/10.1007/s13592-012-0154-9
Fanali, Ch., Dugo, L., Rocco, A. 2013. Nano-liquid chromatography in nutraceutical analysis: Determiantion of polyphenol in bee pollen Journal of Chromatography A, vol. 13, p. 270-274. https://doi.org/10.1016/j.chroma.2013.06.055 PMid:23880468
Fatrcová-Šramková, K., Nôžková, J., Ostrovský, R. 2010. Nutričné vlastnosti včelieho peľu (Nutritional properties of bee pollen). Potravinarstvo, vol. 4, special issue, p. 24-32. Available at: http://www.potravinarstvo.com/dokumenty/mc_februar_2010/pdf/1/Fatrcova-Sramkova.pdf
Huda-Faujan, N., Noriham, A., Norrakiah, A. S., Babji, A. S. 2009. Antioxidant activity of plants methanolic samples containing phenolic compounds. African Journal of Biotechnology, vol. 8, p. 484-489. Available at: http://www.academicjournals.org/journal/AJB/article-full-text-pdf/86F9A875685
Icker, M., Berger, S. 2012. Unexpected multiplet patterns induced by the Haupt-effect. Journal of magnetic resonance, vol. 219, p. 1-3. https://doi.org/10.1016/j.jmr.2012.03.021
Krell, R. 1996. Value-added products from beekeeping. FAO Food and Agriculture in Nitra Organization of the United Nations Roma; 409 p.
Mizrahi, A., Lensky, Y. 2012. Bee products: properties, applications, and apitherapy. USA: Springer; 1997, 93-101. ISBN 978-0306455025.
Nagai, T., Nagashima, T., Myoda, T., Inove, R. 2004. Preparation and functional properties of extracts from bee bread. Molecular Nutrition and Food Research, vol. 48, p. 226-229. https://doi.org/10.1002/food.200300421
Oh, J., Jo, H., Cho, A. R., Kim, S. J., Han, J. 2013. Antioxidant and antimicrobial activities of various leafy herbal teas. Food Control, vol. 31, p. 403-409. https://doi.org/10.1016/j.foodcont.2012.10.021
Prieto, P., Pineda, M., Aguilar, M. 1999. Spectrophotometric quantitation of antioxidant capacity through the formation of a phosphomolybdenum complex: specific application to the determination of vitamin E. Analytical Biochemistry, vol. 269, p. 337-341. https://doi.org/10.1006/abio.1999.4019 PMid:10222007
Sánchés­Moreno, C., Larrauri, A., Saura-Calixto, F. 1998. A procedure to measure the antioxidant efficiency of polyphenols. Journal of the Science of Food and Agriculture in Nitra, vol. 76, p. 270-276. https://doi.org/10.1002/(SICI)1097-0010(199802)76:2<270::AID-JSFA945>3.0.CO;2-9
SAS 2009. Users Guide Version 9. 2. SAS/STAT (r) SAS Institute Inc. Cary, NC, USA.
Sati, P., Pandey, A., Rawat, S., Rani, A., 2013. Phytochemicals and antioxidants in leaf extracts of Ginkgo biloba with reference to location, seasonal variation andsolvent system. Journal of Pharmacology Research, vol. 7, no. 9, p. 804-809. https://doi.org/10.1016/j.jopr.2013.09.001
Siddiqui, M. W., Momin, C. M., Acharya, P., Kabir, J., Debnath, M. K., Dhua, R. S. 2012. Dynamics of changes in bioactive molecules and antioxidant potential of Capsicum chinense Jacq. cv. Habanero at nine maturity stages. Acta Physiologiae Plantarum, vol. 35, p. 1141-1148. https://doi.org/10.1007/s11738-012-1152-2
Silva, J. C., Rodrigues, S., Feas, X., Estevinho, L. M. 2012. Antimicrobial activity, phenolic profile and role in the inflammation of propolis. Food and Chemical Toxicology, vol. 50, no. 5, p. 1790-1795. https://doi.org/10.1016/j.fct.2012.02.097 PMid:22425940
Singleton, V. L., Rossi, J. A. 1965. Colorimetry of total phenolics with phosphomolybdic-phosphotungstic acid reagents. American Journal of Enology and Agricultural, vol. 6, p. 144-158.
Tlili, N., Mejri, H., Yahia, Y., Saadaoui, E., Rejeb, S., Khaldi, A., Nasri, N., 2014. Phyto-chemicals and antioxidant activities of Rhus tripartitum (Ucria) fruits dependingon locality and different stages of maturity. Food Chemistry, vol. 160, p. 98-103. https://doi.org/10.1016/j.foodchem.2014.03.030 PMid:24799214
Willett, W. C. Balancing life-style and genomics research for disease prevention. Science, vol. 292, p. 695-698. https://doi.org/10.1126/science.1071055
Zemánek, P. 2001. The machines for "green works" in vineyards and their economical evaluation. 9th International Conference: proceedings. vol. 2. Fruit Growing and viticulture [CD]. Lednice : Mendel University of Agriculture in Nitra and Forestry, p. 262-268. ISBN 80-7157-524-0.
Zuluaga C., Quicazán M., Serrato, J. 2014. Influence of heat treatments on the contents of total flavonoids and antioxidant activity in bee pollen, National Meeting of Research and Development - ENID. Universidad Nacional de Colombia, Bogotá, Colombia (in Spanish), 180 p.
Zuluaga, C. M., Serrato, J. M., Quicazan, M. C. 2015. Chemical, Nutritional and Bioactive Characterization of Colombian Bee-Bread. Chemical Engineering Transactions, vol. 43, p. 175-180. Available at: http://www.aidic.it/cet/15/43/030.pdf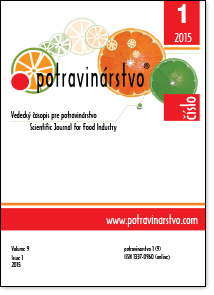 Downloads
How to Cite
Ivanišová, E. ., Kačániová, M. ., Frančáková, H. ., Petrová, J. ., Hutková, J. ., Brovarskyi, V. ., Velychko, S. ., Adamchuk, L. ., Schubertová, Z. ., & Musilová, J. . (2015). Bee bread - perspective source of bioactive compounds for future. Potravinarstvo Slovak Journal of Food Sciences, 9(1), 592–598. https://doi.org/10.5219/558
License
Authors who publish with this journal agree to the following terms:



Authors retain copyright and grant the journal right of first publication with the work simultaneously licensed under a Creative Commons Attribution License that allows others to share the work with an acknowledgement of the work's authorship and initial publication in this journal.


Authors are able to enter into separate, additional contractual arrangements for the non-exclusive distribution of the journal's published version of the work (e.g., post it to an institutional repository or publish it in a book), with an acknowledgement of its initial publication in this journal.


Authors are permitted and encouraged to post their work online (e.g., in institutional repositories or on their website) prior to and during the submission process, as it can lead to productive exchanges, as well as earlier and greater citation of published work (See The Effect of Open Access).