Composition of fatty acids in selected vegetable oils
Keywords:
plant oil, fat, nutritional quality, fatty acid, SFA, PUFA, MUFA
Abstract
Plant oils and fats are important and necessary components of the human nutrition. They are energy source and also contain fatty acids - compounds essential for human health. The aim of this study was to evaluate nutritional quality of selected plant oil - olive, rapeseed, pumpkin, flax and sesame; based on fatty acid composition in these oils. Fatty acids (MUFA, PUFA, SFA) were analyzed chromatography using system Agilent 6890 GC, injector multimode, detector FID. The highest content of saturated fatty acids was observed in pumpkinseed oil (19.07%), the lowest content was found in rapeseed oil (7.03%), with low level of palmitic and stearic acids and high level of behenic acid (0.32%) among the evaluated oils. The highest content of linoleic acid was determined in pumpkinseed (46.40%) and sesame oil (40.49%); in these samples was also found lowest content of α-linolenic acid. These oils have important antioxidant properties and are not subject to oxidation. The richest source of linolenic acid was flaxseed oil which, which is therefore more difficult to preserve and process in food industry. In olive oil was confirmed that belongs to the group of oils with a predominantly monosaturated oleic acid (more than 70%) and a small amount of polysaturated fatty acid. The most commonly used rapeseed oil belongs to the group of oils with the medium content of linolenic acid (8.76%); this oil also showed a high content of linoleic acid (20.24%). The group of these essentially fatty acids showed a suitable ratio ∑n3/n6 in the rapessed oil (0.44).
Downloads
Download data is not yet available.
References
Augustín, J. 2010. Rastlinné a živočíšne oleje (tuky) a technické oleje (Plant and Animal Oils and Technical Oils). Epicure, vol. 4, no. 17, p. 40-49. ISSN 1336-9539.
Babinská, K., Béderová, A. 2002. Význam tukov a ich spotreba v populácii SR (The Importance of Fats and Their Consumption in Population SR). Conference 17.-19. June 2002 Detva. Bratislava: Fyziologický ústav LF UK, p. 32-38. ISBN 80-227-1767-3.
Blahová, K. 2011. Olivový olej a další oleje (Olive Oil and Others Oils). 1st ed. Praha: Sun. 87 p. ISBN 978-80-7371-351-5.
Bowden, J. 2011. 150 najzdravších potravín na svete (150 Healthest Foods in World) 1st ed. Bratislava: Fortuna Libri. 352 p. ISBN 978-80-89379-33-0.
Brát, J. 2014. Tuky a oleje (Jak poznáme kvalitu?) (Fats and Oils. How We Know the Quality?). 1st ed. Praha : Sdružení českých spotřebitelů. 23 p. ISBN 978-80-87719-17-6.
DeJong, S., Lanari, M. C. 2009. Extracts of olive polyphenols improve lipid stability in cooked beef and pork: Contribution of individual phenolics to the antioxidant activity of the extract. Food Chemistry, vol. 116, no. 4, p. 892-897 https://doi.org/10.1016/j.foodchem.2009.03.053
Fořt, P. 2011. Zdraví a potravní doplňky (Health and Food Supplements). 2nd ed. Praha : Euromedia Group. 398 p. ISBN 978-80-86938-96-7.
Frej, D. 2014. Detoxikácia tela (Detoxication of the Body). 1st ed. Bratislava : Príroda. 168 p. ISBN 978-80-07-02323-9.
Gunstone, F. D. 2011. Vegetable Oils in Food Technology: Composition, Properties and Uses. 2nd ed. New Jersey: Wiley-Blackwell. 376 p. ISBN 978-1-4443-3268-1.
Harperová, J. 2004. Detoxikácia (Detoxication). 1st ed. Bratislava : Noxi. 128 p. ISBN 80-89179-07-X.
Keresteš, J., Bíreš, J., Ebringer, L., Ďuračková, Z., Čársky, J., Horáková, K., Greifová, M., Sekretár, S., Staruch, L., Valšíková, M., Hričovský, I., Golian, J., Lagin, L., Trakovická, A., Chlebo, P., Zálešáková, J., Fatrcová Šramková, K., Daniška, J., Maček, J., Hamadová, Z., Tóth, Ž., Herian, K., Kováč, M., Dlouhý, P., Mala, P., Kopáček, J., Gažarová, M., Kajaba, I. Zdravie a výživa ľudí (Health and Human Nutrition). 1st ed. Bratislava : CAD Press. 1037 p. ISBN 978-80-88969-57-0.
Kissová, V. 2009. Miesto a úloha diétnej liečby v komplexnom manažmente dyslipoproteinémií (The Place and Role of Dietary Therapy in Complex Management Dyslipoproteinemia) Via practica, vol. 6, no. 9, p. 354-357. ISSN 1336-4790.
Komínková, V. 2012. Omega - 3 mastné kyseliny (Omega-3 Fatty Acids). Bedeker zdravia, vol. 8, no. 4, p. 24. ISSN 1337-2734.
Komprda, T. 2007. Základy výživy člověka (The Basic of Human Nutrition). 1st ed. Brno: Mendelova zemědělská a lesnická univerzita. 164 p. ISBN 978-80-7157-655-6.
Lunn, J., Theobald, H. E. 2006. The health effects of dietary unsaturated fatty acids. Nutrition Bulletin, vol. 31, no. 3, p. 178-224 https://doi.org/10.1111/j.1467-3010.2006.00571.x
Nitrayová, S., Brestenský, M., Heger, J., Patráš, P., Rafy, J., Sirotkin, A. 2014. Amino acids and fatty acids profile of chia (Salvia hispanica L.) and flax (Linum usitatissimum L.) seed. Potravinarstvo, vol. 8, no. 1, p. 72-75. https://doi.org/10.5219/332
Simopoulos, A. P. 2008. The importance of the omega-6/omega-3 fatty acid ratio in cardiovascular disease and other chronic diseases. Experimental Biology and Medicine, vol. 233, no. 6, p. 674-688 https://doi.org/10.3181/0711-MR-311
Stanley, J. C., Elsom, R. L., Calder, P. C., Griffin, B. A., Harris, W. S., Jebb, S. A., Lovegrove, J. A., Moore, C. S., Riemersma, R. A., Sanders, T. A. 2007. UK Food Standards Agency Workshop Report: the effects of the dietary n-6:n-3 fatty acid ratio on cardiovascular health. British Journal of Nutrition, vol. 98, no. 6, p. 1305-1310. https://doi.org/10.1017/S000711450784284X
Šmidrkal, J., Filip, V., Bělohlav, Z., Zámostný, P., Hönig, V. 2008. Současný stav a perspektivy využití rostlinných olejů (The Current Status and Prospects of Use of Vegetable Oils). Chemické listy [online], vol. 102, no. 11, p. 984-991 [cit. 2015-08-25]. ISSN: 1213-7103. Available at: http://www.chemicke-listy.cz/docs/full/2008_11_984-991.pdf
Velíšek, J., Hajšlová, J. 2009. Chemie potravin I. (Food Chemistry). Ossis: Tábor, Česká republika. 603 p. ISBN 978-80-86659-15-2.
Venclová, B. 2010. Olejniny jako prosperující plodiny (Oils Plants as Thriving Crops). Úroda, vol. 57, no. 11, p. 8. ISSN 0139-5423.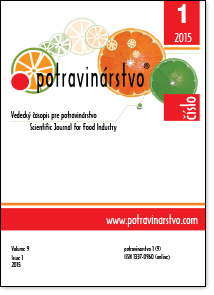 Downloads
How to Cite
Frančáková, H. ., Ivanišová, E. ., Dráb, Štefan ., Krajčovič, T. ., Tokár, M. ., Mareček, J. ., & Musilová, J. . (2015). Composition of fatty acids in selected vegetable oils. Potravinarstvo Slovak Journal of Food Sciences, 9(1), 538–542. https://doi.org/10.5219/556
License
This license permits non-commercial re-use, distribution, and reproduction in any medium, provided the original work is properly cited, and is not altered, transformed, or built upon in any way.