Proteins of potatoes in relation to the content of cadmium in their tubers
Keywords:
potatoes, cadmium, proteins of potatoes
Abstract
In the work the influence of cadmium in soil on the range of cumulating in tubers of potatoes and in proteins of potatoes grown under model conditions of pot trial experiment and under the real conditions of locality Imeľ in Danube Lowland was surveyed. Under conditions of pot trial the increased contents in tubers positively correlated with contents of cadmium applied into soil; the highest content of Cd was assessed in variety Junior (from 0.211 mg.kg-1 FM in 1st variant to 0.715 mg.kg-1 FM in 4th variant). The influence of increased content of Cd was manifested statistically significant in the content of proteins also in the content of Cd in protein fractions (1st var. 0.026 (Asterix) – 0.045 (Agria) mg.kg-1 FM; 2nd var. 0.047 (Livera) – 0.085 (Asterix) mg.kg-1 FM; 3rd var. 0.06 (Livera) – 0.117 (Junior) mg.kg-1 FM; 4th var. 0.068 (Livera) – 0.142 (Asterix) mg.kg-1 FM). Contents of Cd in potatoes from locality Imeľ did not exceed the value 0.1 mg.kg-1 FM defined in PK SR. The average contents of proteins were in range from 1.19 % (Victoria) to 1.489 % (Adora), the average content of Cd cumulated in proteins was the highest in variety Vivaldi (1.317 μg.kg-1 FM). Positive correlation was confirmed between the content of Cd in potato tubers and in proteins only in Livera variety.
Downloads
Download data is not yet available.
References
Bárta, J., Diviš, J., Čurn, V. 2000. Dusíkaté látky bramborových hlíz a jejich ovlivnění dusíkatým hnojivem. In Bramborářství, vol.VIII, 2000, no 2, p. 11-12. ISSN 1211-2429.
Bárta, J., Čurn, V. 2004. Bílkoviny hlíz bramboru (Solanum tuberosumL.) - klasifikace, charakteristika, významn. In Chemické listy, 98, 2004, p. 373-378. ISSN 1213-7103.
Bielek, P. 1996. Ochrana pôdy. Kódex správnej poľnohospodárskej praxe. VÚPÚ : Bratislava, 1996. ISBN 80-85361-21-3.
Davídek, J., Janíček, G., Pokorný, J. 1983. Chemie potravin. Vyd. SNTL Alfa, Praha. 632 p.
Frančák, J. 2002. Mechanizácia pestovania, zberu a pozberového spracovania zemiakov. Vyd. ÚV TIP Nitra, 2002. 103. p. ISBN 80-89088-09-0.
Houba, M. 2007. Poznejte pěstujte používejte brambory. Vydala firma Europlant šlechtitelská spol. s r. o. Praha. 150 s. ISBN 978-80-239-9419-3.
Kapoor, A. C., Desborough, S. L., Li, P. H. 1975. Potato tuber proteins and their nutritional quality. In Potato Research, vol. 18, 1975, no. 3, p. 469-478. ISSN 1871-4528. DOI: https://doi.org/10.1007/BF02361913
Kourek, R., Koutník, V., Kračmar, S. 1996. Vliv půdní aplikace selenu na spektrum aminokyselin u bramborových hlíz. In Bramborářství, vol. IV, 1996, no. 5, p. 8-10. ISSN 1211-2429.
Michalík, I. 1982. Návody na cvičenia z biochémie a fyziológie rastlín. VŠP : Nitra, 2. neprepracované vydanie. 1982, 164 p.
Musilová, J., Trebichalský, P., Bajčan, D. 2006. Pôdne obsahy ťažkých kovov v regiónoch Podunajskej nížiny s lokálnym znečistením. In Environmentálne inžinierstvo, Vedecká konferencia s medzinárodnou účasťou, košice 12. - 13. september 2006. ISBN 80-8073-607-3.
Musilová, J., Tóth, T., Árvay, J. 2009. Contents of Heavy Metals in Different Saccharides Fractions of Potato Tubers. In Czech J. Food Sci., vol. 27, 2009, Special Issue, p. 382-385. ISSN 1212-1800. DOI: https://doi.org/10.17221/1067-CJFS
Food codex of THE Slovak republic, Výnos MPSR a MZSR č. 608/3/2004-100, príloha č.1 k desiatej hlave druhej časti PKSR
Plaza, A., Ceglarek, F., Buraczynska, D. 2004. Tuber yield and quality of potato fertilised with intercrop companion crops and straw. In Electronic Journal of Polish Agricultural University, vol. 7, 2004, No. 1, 10 pp. ISSN 1505-0297.
Procházka, s., Macháčková, I., Krekule, J., Šebánek, J., GLOSER, J. HAVEL, L., NáTR, L., PRÁŠIL, S., SLADKÝ, Z., ŠANTRÚČEK, J., TESAŘOVÁ, M., VYSKUT, B. Fyziologie rostlin. Academia. 1998. p. 422-427. ISBN 80-200-0586-2.
ROP, O., VALÁŠEK, P., KRAMÁŘOVÁ, D., JURÍKOVÁ, T. 2009. Distribution of toxic elements in potato plants. In Potravinarstvo, vol. 3, 2009, no. 1, p. 43-45. ISSN 13337-0960
Rozhodnutie MP SR o najvyšších prípustných hodnotách škodlivých látok v pôde a o určení organizácií oprávnených zisťovať skutočné hodnoty týchto látok č. 531/1994-540.
Schulzová, V., Hajšlová, J. 2007. Kvalita ekologicky a konvenčně pěstovaných brambor. In Ekologické zemědělství 2007. Sborník z Mezinárodní vědecké konference u příležitosti 15 let ekologického zemědělství v České republice, Praha, 6.-7.2.2007, p. 137-139.
Šmálik, M. 1987. Zemiaky. Vyd. Príroda, Bratislava. 1987, 304 p.
United States Department of Agrulultural, National Nutrient Database for Standard Reference, 2009
Velíšek, J. 2002. Chemie potravin I. Vyd. OSSIS - Tábor. 344 p. ISBN 80-86659-00-3.
Vollmannová, A., Lahučký, L., Tomáš, J., Hegedűsová, A., Jomová, K. 2002. The arrangement of extremely acid soil reaction in relationship to Cd, Pb, Cr and Ni intake by the plants. In Ekológia (Bratislava), vol. 21, 2002, no. 4, p. 442-448. ISSN 1335-342X.
Vreugdenhil, D., Bradshaw, J., Gebhardt, Ch., Govers, F., MacKerron, D. K. L., Taylor, M. A., Ros, H. A. 2007. Potato biology and biotechnology. Advances and perspectives. 857 p. ISBN-13: 978-0-444-51018-1.
Woolfe, J. A. 1987. The Potato in the Human Diet. Cambridge University Press, Cambridge. 1987, 231 pp. DOI: https://doi.org/10.1017/CBO9780511753435
Zákon č. 220/2004 Z.z. Kritériá pre identifikáciu rizikových oblastí kontaminácie pôd a metodické postupy ich hodnotenia.
Zrůst, J. 2003. Riziko pěstování brambor v půdách kontaminovaných těžkými kovy. Vydal Vědecký výbor fytosanitární a životního prostředí, Praha, 36 p.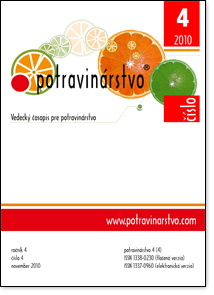 Downloads
How to Cite
Musilová, J. ., & Bystrická, J. . (2010). Proteins of potatoes in relation to the content of cadmium in their tubers. Potravinarstvo Slovak Journal of Food Sciences, 4(4), 48–55. https://doi.org/10.5219/74
License
This license permits non-commercial re-use, distribution, and reproduction in any medium, provided the original work is properly cited, and is not altered, transformed, or built upon in any way.