Evaluation of quality of wine in the Czech republic
Keywords:
wine quality and safety, control, wine prescription
Abstract
The work is focused on a review of quality wines produced and sold in the CR in the period 2004 to 2007, from the perspective of CAFIA inspections. A description of the quality of individual groups of wines based on the percentage of unsatisfactory samples. Background for the development work was completed the surveillance activities diplomanty in a position to control the State Department inspector, agricultural and food inspections and other activities CAFIA inspectors in the CR. The inspection found that a large proportion of food enterprises still disregards the requirements laid down by law č.321/2004 Coll. about viticulture and wine-making and EU legislation in force and its implementing regulations, as evidenced by the number of unsatisfactory samples. 
Downloads
Download data is not yet available.
References
AMBROSI, H., SWOBODA I. 2001. Jak správně vychutnat víno: Škola degustátorského umění. 1. vyd. Praha: Euromedia Group-Knižní klub, 102 p. ISBN 80-242-0642-0.
DAVÍDEK, J., et al. 1981. Laboratorní příručka analýzy potravin. 2.vyd. Praha: SNTL, 1981. 718 p. ISBN 04-830-77.
HAMR, K., CUHRA, P. 2004. Falšovaní potravin a jeho prokazování, zajímavé prípady. In Výživa a potraviny, vol. 59, 2004, no. 4, p. 92-93. ISSN 1211-846X. DOI: https://doi.org/10.1136/thorax.2003.017517
KRAUS, V., HUBÁČEK, V. 2004. Rukověť vinaře. KVĚT, Praha, 267 p., ISBN 80-209-0327-5.
KRAUS V., KOPEČEK J. 2002. Setkání s vínem. Radix, Praha, 141 s., ISBN 80-86031-36-5.
KUTTELVAŠER Z. Abeceda vína, 1. vyd. Praha: Radix, 2003. 279 p. ISBN 80-86031-43-8.
POPELKA, P., HORSKÁ, D., GOLIAN, J., MARCINČAK, S. 2002. Detekcia falšovania ovčieho mlieka a syrov pomocou enzýmovej imunoanalýzy (ELISA). InSlovenský veterinársky časopis, vol. 3, 2002 p. 36-37. ISSN 1335-0099.
REITEROVÁ, E. 2003. Základy statistiky pro studenty psychologie. 2.upravené vyd., 2004, Olomouc: Univerzita Palackého v Olomouci,. 91 p. ISBN 80-244-0654-3.
VELÍŠEK, J. 1999. Chemie potravin 3. 1.vydání, Praha: OSSIS, 1999. 368 p. ISBN 80-902391-5-3.
STEIDL R., LEINDL G. 2004. Cesta ke špičkovému vínu, 1.vyd. Valtice: Národní salón vín, 67 p. ISBN 80-903201-4-7.
STEVENSON T. 1999. Světová encyklopedie vín: Unikátní průvodce víny celého světa, 2. vyd. Praha: Balila, 502 p. ISBN 80-242-0222-0.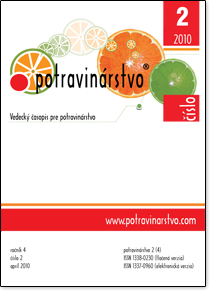 Downloads
How to Cite
Šottní­ková, V. ., Cwiková, O. ., & Králová, L. . (2010). Evaluation of quality of wine in the Czech republic. Potravinarstvo Slovak Journal of Food Sciences, 4(2), 69–74. https://doi.org/10.5219/57
License
This license permits non-commercial re-use, distribution, and reproduction in any medium, provided the original work is properly cited, and is not altered, transformed, or built upon in any way.