Biogenic amines in smear ripened cheeses
Keywords:
biogenic amine, polyamine, smear ripened cheese, storage temperature, storage period
Abstract
Cheeses belong to high protein foods in which enzymatic and microbial activities form amino acids, which are then converted into biogenic amines (BAs) by the activity of bacterial decarboxylases. The most important conditions for BA formation include the presence of microorganisms, the availability of substrate, temperature and storage period, water activity, salt concentration, and the hygiene of the manufacturing process. Tyramine, histamine, 2-phenylethylamine, tryptamine, cadaverine, putrescine, spermidine and spermine were detected in smear ripened cheeses stored in different temperature regimes. The highest (p < 0.05) total BA content was found when storing the cheeses at the end of BBD (best before date) after 35 days in storage regime (A) or (C). During storage in regime (B), the total BA content (p < 0.05) after 49 days of storage was higher than on the production date (B/0). During storage, the tyramine content in regime (B) did not change (p > 0.05), while in the temperature regimes (A) and (C), the highest levels of tyramine and putrescine content were recorded in cheeses at the end of BBD after 35 days ripening. The content of polyamines in cheeses was higher (p < 0.05) at the end of storage than at the beginning, in all temperature regimes.
Downloads
Download data is not yet available.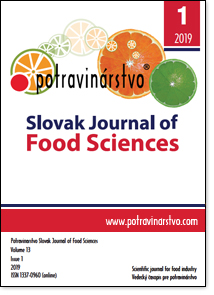 How to Cite
Cwiková, O., & Franke, G. . (2019). Biogenic amines in smear ripened cheeses. Potravinarstvo Slovak Journal of Food Sciences, 13(1), 378–384. https://doi.org/10.5219/1105
License
Authors who publish with this journal agree to the following terms:



Authors retain copyright and grant the journal right of first publication with the work simultaneously licensed under a Creative Commons Attribution License that allows others to share the work with an acknowledgement of the work's authorship and initial publication in this journal.


Authors are able to enter into separate, additional contractual arrangements for the non-exclusive distribution of the journal's published version of the work (e.g., post it to an institutional repository or publish it in a book), with an acknowledgement of its initial publication in this journal.


Authors are permitted and encouraged to post their work online (e.g., in institutional repositories or on their website) prior to and during the submission process, as it can lead to productive exchanges, as well as earlier and greater citation of published work (See The Effect of Open Access).