Biogenic amines in smear ripened cheeses
Keywords:
biogenic amine, polyamine, smear ripened cheese, storage temperature, storage period
Abstract
Cheeses belong to high protein foods in which enzymatic and microbial activities form amino acids, which are then converted into biogenic amines (BAs) by the activity of bacterial decarboxylases. The most important conditions for BA formation include the presence of microorganisms, the availability of substrate, temperature and storage period, water activity, salt concentration, and the hygiene of the manufacturing process. Tyramine, histamine, 2-phenylethylamine, tryptamine, cadaverine, putrescine, spermidine and spermine were detected in smear ripened cheeses stored in different temperature regimes. The highest (p < 0.05) total BA content was found when storing the cheeses at the end of BBD (best before date) after 35 days in storage regime (A) or (C). During storage in regime (B), the total BA content (p < 0.05) after 49 days of storage was higher than on the production date (B/0). During storage, the tyramine content in regime (B) did not change (p > 0.05), while in the temperature regimes (A) and (C), the highest levels of tyramine and putrescine content were recorded in cheeses at the end of BBD after 35 days ripening. The content of polyamines in cheeses was higher (p < 0.05) at the end of storage than at the beginning, in all temperature regimes.
Downloads
Download data is not yet available.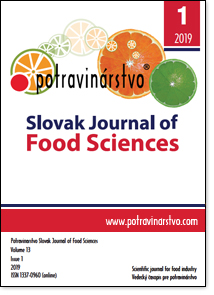 How to Cite
Cwiková, O., & Franke, G. . (2019). Biogenic amines in smear ripened cheeses. Potravinarstvo Slovak Journal of Food Sciences, 13(1), 378–384. https://doi.org/10.5219/1105
License
This license permits non-commercial re-use, distribution, and reproduction in any medium, provided the original work is properly cited, and is not altered, transformed, or built upon in any way.