Characterisation of Lactobacilli from ewe's and goat's milk for their further processing re-utilisation
Keywords:
ewe's milk, goat's milk, lactobacilli, isolation, technological properties
Abstract
Raw ewe's and goat's milk is a good source for isolation of wild lactobacilli which are able to bring unique processing properties in development of dairy products - cheeses or fermented dairy products. 34 strains of lactobacilli were isolated, purified and identified from fermented ewe's and goat's dairy products. These products were processed without thermal treatment and without using of any commercial starters. After preliminary selection, the final collection of 5 strains was established. The strains were identified as: Lbc. plantarum (2), Lbc. paraplantarum (1), Lbc. paracasei (1) and Lbc. johnsonii (1). Except two strains, all were able to coagulate milk. After hydrolysis of lactose in milk, two strains were able to form sensorial attractive coagulate too. All of the strains were homofermentative, they produced lactic acid but they did not produce CO2. Their ability to produce diacetyl was low. They did not show strong proteolytic activity. All strains grew at 30 °C and 37 °C, however Lbc. johnsonii much slower at 30 °C than the others. Except Lbc. johnsonii, all strains tolerated 2% concentration of NaCl and even in presence of 5% concentration of NaCl their growth was inhibited only moderately. All of characterized strains can be provisionally used as starter or starter adjuncts in dairy technology, during production of cheeses or fermented milk products from pasteurised milk. These results will be used in further processing studies of isolated strains and will be supplemented with other properties e.g. safety, probiotic and antimicrobial properties.
Downloads
Download data is not yet available.
References
Ayada, E. H. E., Nashat, S., El-Sadek, N., Metwaly, H., El-Soda, M. 2004. Selection of wild lactic acid bacteria isolated from traditional Egyptian dairy products according to production and technological criteria. Food Microbiology, vol. 21, no. 6, p. 715-725. https://doi.org/10.1016/j.fm.2004.02.009
Other Acts European Commission (2010/C 20/09) Publication of an application for registration pursuant to Article 8(2) of Council Regulation (EC) No 509/2006 on agricultural products and foodstuffs as traditional specialities guaranteed. Official Journal of the European Union C 20, 27.1.2010, p. 33-37.
Other Acts Commission (2007/C 232/10) Publication of an application pursuant to Article 6(2) of Council Regulation (EC) No 510/2006 on the protection of geographical indications and designations of origin for agricultural products and foodstuffs. Official Journal of the European Union C 232, 4.10.2007, p. 17-22.
Berta, G., Chebeňová, V., Brežná, B., Pangallo, D., Valík, Ľ., Kuchta, T. 2009. Identification of lactic acid bacteria in Slovakian bryndza cheese. Journal of Food and Nutrition Research, vol. 48, p. 65-71.
Sulo, P., Laurenčík, M., Poláková, S., Minárik, G., Sláviková, E. 2009. Geotrichum bryndzae sp. nov., a novel asexual arthroconidial yeast species related to the genus Galactomyces. International Journal of Systematic and Evolutionary Microbiology, vol. 59, no. 9, p. 2370-2374. https://doi.org/10.1099/ijs.0.008938-0 PMid:19605724
Zavadska, D., Anca, I., André, F., Bakir, M., Chlibek, R., Čižman, M., Ivaskeviciene, I., Mangarov, A., Mészner, Z., Pokorn, M., Prymula, R., Richter, D., Salman, N., Šimurka, P., Tamm, E., Tešović, G., Urbancikova, I., Usonis, V. 2013. Recommendations for tick-borne encephalitis vaccination from the Central European Vaccination Awareness Group (CEVAG). Hum Vaccin Immunother, vol. 9, p. 362-374. https://doi.org/10.4161/hv.22766
Leroy, F., De Vuyst, L. 2004. Lactic acid bacteria as functional starter cultures for the food fermentation industry. Trends in Food Science and Technology, vol. 15, no. 2, p. 67-78. https://doi.org/10.1016/j.tifs.2003.09.004
Bessede, E., Angla-gre, M., Delagarde, Y., Sep Hieng, S., Ménard, A., & Mégraud F. 2011. Matrix-assisted laser-desorption/ionization BIOTYPER: experience in the routine of a University hospital. Clinical Microbiology and Infection, vol. 17, no. 4, p. 533-538. https://doi.org/10.1111/j.1469-0691.2010.03274.x PMid:20518792
Zwietering, M. H., Jongenburger, I., Rombouts, F. M., van't Riet, K. 1990. Modelling of the bacterial growth curve. Applied Environmental Microbiology, vol. 56, no. 6, p. 1875-1881. PMid:16348228
ISO 6658:2005 Sensory analysis - Methodology - General guidance.
Delgado, S., O'Sullivan, E., Fitzgerald, G., Mayo, B. 2008. In vitro evaluation of the probiotic properties of human intestinal Bifidobacterium species and selection of new probiotic candidates, Journal of Applied Microbiology, vol. 104, p. no. 4, 1119-1127. https://doi.org/10.1111/j.1365-2672.2007.03642.x PMid:18248372
Hujanen, M., Linko, Y. -Y. 1996. Effect of temperature and various nitrogen sources on L(+)-lactic acid production by Lactobacillus casei, Journal of Microbiology and Biotechnology, vol. 45, no. 3, p. 307-313. https://doi.org/10.1007/s002530050688
Zimanová, M. 2011. Isolation, Identification and Characterization of Lactobacilli Isolated from Sheep Cheeses Made from Raw Milk. Diploma thesis. Slovak Technical University, Faculty of Chemical and Food Technology, Department of Food Science and Technology, Bratislava, 107 p.
Stiles, M. E., Holzapfel, W. H. 1997. Lactic acid bacteria of foods and their current taxonomy, International Journal of Food Microbiology, vol. 36, p. 1-29. https://doi.org/10.1016/S0168-1605(96)01233-0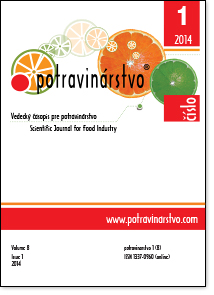 Downloads
How to Cite
Kološta, M. ., Slottová, A. ., Drončovský, M. ., Klapáčová, L. ., Kmeť, V. ., Bujňáková, D. ., Lauková, A. ., Greif, G. ., Greifová, M. ., & Tomáška, M. . (2014). Characterisation of Lactobacilli from ewe's and goat's milk for their further processing re-utilisation. Potravinarstvo Slovak Journal of Food Sciences, 8(1), 130–134. https://doi.org/10.5219/354
License
Authors who publish with this journal agree to the following terms:



Authors retain copyright and grant the journal right of first publication with the work simultaneously licensed under a Creative Commons Attribution License that allows others to share the work with an acknowledgement of the work's authorship and initial publication in this journal.


Authors are able to enter into separate, additional contractual arrangements for the non-exclusive distribution of the journal's published version of the work (e.g., post it to an institutional repository or publish it in a book), with an acknowledgement of its initial publication in this journal.


Authors are permitted and encouraged to post their work online (e.g., in institutional repositories or on their website) prior to and during the submission process, as it can lead to productive exchanges, as well as earlier and greater citation of published work (See The Effect of Open Access).