The system of monitoring of inhibitory drug residues in raw cows' milk in Slovakia
Abstract
This article provides brief information on the system of monitoring raw cows' milk for the presence of inhibitory veterinary drug residues in the Slovak Republic. We are describing in detail how the monitoring is carried out and what laboratory methods are used for this monitoring. We also deal with the issue of the disposal of contaminated milk. The presence of inhibitory veterinary drugs like antibiotics or residues of these drugs in milk in an amount exceeding maximal residual limits defined in legislation is illegal. Milk supplies containing detectable concentrations are not acceptable. The reputation of milk as a healthy and safe food should be protected. Dairy companies and consequently consumers want to be confident that milk and milk products are free of inhibitory veterinary drugs contamination. Small amounts of certain antimicrobial agents may affect antibiotic resistance in the human population, some percentage of the population is hypersensitive to antibiotics and other drugs. The presence of drug residues in milk affects the technological process of the production of fermented dairy products. Each country should implement a system of monitoring these drugs' residues in food. The system, which is applied in Slovakia, is effective, it can detect and the presence of these substances before milk processing in dairies. The total incidence of these substances in 2020 was 0.025% of all 12,181 samples tested in central testing laboratories. During the last 20 years.
Downloads
Download data is not yet available.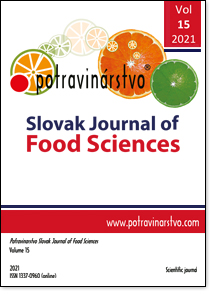 How to Cite
Zajác, P., Zubrická, S., Čapla, J., Čurlej, J., & Drončovský, M. (2021). The system of monitoring of inhibitory drug residues in raw cows' milk in Slovakia. Potravinarstvo Slovak Journal of Food Sciences, 15, 858–868. https://doi.org/10.5219/1687
License
Copyright (c) 2021 Potravinarstvo Slovak Journal of Food Sciences
This work is licensed under a Creative Commons Attribution 4.0 International License.
This license permits non-commercial re-use, distribution, and reproduction in any medium, provided the original work is properly cited, and is not altered, transformed, or built upon in any way.