Analyse of traits of milk production in dairy cows
Keywords:
Holstein breed, dairy cows, traits of milk production, qualitative and technological traits, correlation
Abstract
When evaluating milk performance indicators, we mainly focused on dairy cows of the Holstein breed and its cross-breeds. Within the Holstein breed and its cross-breeds we evaluated 68 dairy cows, which produced on average 6447.63 kg of milk, 272.42 kg of fat, 210.73 kg of proteins and 307.79 kg of lactose. By means of a device LACTOSCAN 90 we defined basic milk components in our samples in laboratory conditions on the basis of set working procedures. Average fat content in our samples stood at 3.87 g/100 g. Average proteins content in our samples stood at 3.36 g/100 g. Average lactose content stood at 4.96 g/100 g. When assessing milk technological qualities we determined the average milk acidity value in our samples, which was 5.85 oSH. The average thermostability value of the tested samples was 2.75. In the milk cheeseability test the shortest time needed for sample precipitation was detected in samples No. 4 (42 s.),   No. 13 (185 s.) and No.11 (190 s.).    
Downloads
Download data is not yet available.
References
ADEDIRAN, S.A., NISH, P., DONAGHY, D.J., et al. 2010. Genetic and environmental factors influencing milk, protein and fat yields of pasture-based dairy cows in Tasmania. In Animal Production Science, vol. 50, 2010, no. 4, p. 265-275. ISSN 1836-5787. DOI: https://doi.org/10.1071/AN09084
BUJKO, J., RYBANSKÁ, M. 2004. Factors effecting the milk production in population of Slovak spotted breed. In: Abstract of XXI. Genetic days 2004 (CD – ROM), Wroclav, Poland, 1. - 3. September 2004, ISBN 83-89189-39-9.
BUJKO, J. 2009. Genetický pokrok produkčných vlastností v populácií slovenského strakatého plemena : Dizertačná práca. Nitra : SPU, 2009, 162 p.
FREEMAN, A. E. 2003. Milk lipid composition and its alteration by animal breeding. In: Oportunities a challenges for the animal industry in the 21st century (International conference), Gyöngyös, 15. - 17. October, 2003, p.133-138.
KADLEČÍK, O., PŠENICA, J., BRZUSKI, P., CANDRÁK, J. 1992. Obsah a produkcia bielkovín mlieka kráv rôznych plemien. In Živočíšna výroba, vol. 37, 1992, no. 4 , p. 341-349.
KADLEČÍK, O., BULLA, J., CANDRÁK, J., KASARDA, R., KÚBEK, A., RYBANSKÁ, M., STRAPÁKOVÁ, E., TRAKOVICKÁ, A. 2000. Zefektívnenie geneticko-šľachtiteľských postupov pri zlepšovaní vlastností hovädzieho dobytka na Slovensku. SPU v Nitre, 2000, 72 p., ISBN 80-7137-842-9.
KOMPRDA, T., SUSTOVA, K., DVORAK, R., TIEFFOVA, P., POUL, J. 2001. Changes in fatty acid pattern, composition and technological parameters of milk in dairy cows fed heat-treated rapeseed cakes in the first stage of lactation. In Czech J. Anim. Sci., vol. 46, 2001, no. 5, p. 231-239 ISSN 1212-1819.
LIUTKEVICIUS, A., SEKMOKIENE, D., STIMBIRYS, A., ŠERNIENÉ, L. 2009. Milk composition and its density in dairy cows in lithuania and coefficient of countment of milk volume to it's mass. In Veterinarija ir zootechnika, vol. 47, 2009, no. 69 , p. 50-55, ISSN 1392-2130.
MICHALCOVA, A., KRUPOVA, Z. 2007. Influence of composite kappa-casein and beta-lactoglobulin genotypes on composition, rennetability and heat stability of milk of cows of Slovak Pied breed. In: Czech J. Anim. Sci., vol. 52, 2007, no. 9, p. 292-298, ISSN 1212-1819. DOI: https://doi.org/10.17221/2268-CJAS
MOTYČKA, J. VONDRÁŠEK, L. 2005. Užitkovost holštýnskych krav v české republice opět vyšší. In Náš chov, vol. 65, 2005, no. 2, p. 20–23. ISSN 0027–8068.
NEMCOVA, E., STIPKOVA, M., ZAVADILOVA, L., BOUŠKA, J., VACEK, M. 2007. The relationship between somatic cell count, milk production and six linearly scored type traits in Holstein cows. In Czech J. Anim. Sci., vol. 52, 2007, no. 12, p. 437-446, ISSN: 1212-1819. PEREZ, L. P., ANRIQUE, R. G., GONZALEZ, H. V. DOI: https://doi.org/10.17221/2337-CJAS
PEREZ, L. P., ANRIQUE, R. G., GONZALEZ, H. V. 2007. Non genetic factors affecting milk production and composition in a dairy herd with two calving seasons in Los Lagos Region, Chile. In Agricultura tecnica, vol. 67, 2007, no. 1, p. 39-48, ISSN 0365-2807.
https://doi.org/10.4067/S0365-28072007000100005 DOI: https://doi.org/10.4067/S0365-28072007000100005
PŠENICA, J. 1991. Vplyv ročného obdobia otelenia na mliekovú úžitkovosť prvôstok v chovoch s rôznou úrovňou úžitkovosti. In Poľnohospodárstvo, 1991, no. 7, p. 664–677.
RYBA, Š., DIANOVÁ, M. 2009. Aktuálne výsledky kontroly mliekovej úžitkovosti za plemenársky rok 2008/2009. In Slovenský chov, 2009, no. 12, p. 26 - 27.
SAS. USER'S GUIDE 2005.Version 9.1(TS1M3). 2005. SAS Institute Inc., Carry, NC, USA.
SEMJAN, Š. 1990. Kvalita mlieka. In Intenzifikácia výroby mlieka [cit. PAJTÁŠ, M. et al. 1990]. Bratislava : Príroda, 1990, p. 185 - 218.
STN 57 0529 (1999) Surové kravské mlieko na mliekarenské ošetrenie a spracovanie. Bratislava : Slovenský ústav technickej normalizácie, 1991.
ŠIMKO, M., ČEREŠŇÁKOVÁ, Z., BÍRO, D., CHRENKOVÁ, M., JURÁČEK, M., GÁLIK, B. 2010. Sacharidy vo výžive prežúvavcov. 1. vyd. Nitra: SPU, 2010, 143 p., ISBN 978-80-552-0337-9.
UHLÁR, J., GAVALIER, M., ŠALINGOVÁ, M. 1995. Mlieková úžitkovosť kráv otelených v rôznych mesiacoch roka na hospodárstve v podhorskej oblasti. In Acta zootechnica L, 1995, p. 13 - 19.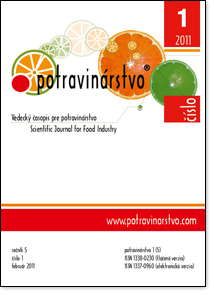 Downloads
How to Cite
Bujko, J. ., Kocman, R. ., Žitný, J. ., Trakovická, A. ., & Hrncar, C. . (2011). Analyse of traits of milk production in dairy cows. Potravinarstvo Slovak Journal of Food Sciences, 5(1), 5–9. https://doi.org/10.5219/93
License
This license permits non-commercial re-use, distribution, and reproduction in any medium, provided the original work is properly cited, and is not altered, transformed, or built upon in any way.