Protein and fat in breast muscules of broilers in application welfare principles in practical conditions
Keywords:
broilers, breast muscle, dry mater, protein, fat
Abstract
Were carried two chemical analyses of the breast muscles without skin in fattening-type chickens Ross 308. 12 chickens were used for chemical analysis after feeding 42 days of body weight 1800.0 g in two cycles. In the breast muscle without skin was content dry matter 25.95 and 25.87 g.100 g-1, protein 24.47 and 23.82 g.100 g-1, and fat 3.34, respectively 3.49 g.100  g-1. Differences in these parameters between cycles were not statistically significant (P>0.05). Broilers were randomly selected in the hall on the farm. In the hall was a deep litter and breeding technology Big Dutchman with automatic feeding, watering, and automatically set lighting and temperature regimes. During the fattening of chickens have been relationship with recommended microclimate conditions and the length of the hall light and ventilation. The concentration of broilers per square one meter was 27.22, respectively. 29.34 kg. Broilers consumed of feed ad libitum.
Downloads
Download data is not yet available.
References
BARTECZKO, J., LASEK, O. 2008. Effect of varied protein and energy contents in mixture on meat quality of broiler chicken. In Slovak J. Anim. Sci., vol. 41, 2008, no. 4, p. 173-178.
BENKOVÁ, J. Chov hydiny. [cit. 2010-01-19]. 2009. Dostupné na internete: .
BOGOSAVLJEVIĆ-BOŠKOVIĆ, S. 1994. Uticaj načina gajenja na tovne osobine i kvalitet mesa brojlera muških linijskih hibrida kokoši: doktorska disertacija. Beograd, 1994.
CUNIFF, P. 1997. Official methods of analysis of AOAC international. 16th ed. Maryland : AOAC, 1997, p. 1, 5-6.
FOLCH, J., LEES, M., SLOANE-STANLEY, G. H. 1957. A simple method for the isolation and purification of total lipids from animal tissues. In J. Biol. Chem., vol. 226, 1957, p. 497-509. DOI: https://doi.org/10.1016/S0021-9258(18)64849-5
DE ALMEIDA, J. C., PERASSOLO, M. S., CAMARGO, J. L., BRAGAGNOLO, N. GROSS, J. L. 2006. Fatty acid composition and cholesterol content of beef and chicken meat in Southern Brazil. In Brazilian J. Pharm. Sci., vol. 42, 2006, no. 1, p. 110-117. DOI: https://doi.org/10.1590/S1516-93322006000100012
HAŠČÍK, P., KAČÁNIOVÁ, M., ČUBOŇ, J. 2009. Vplyv aplikácie Lactobacillus fermentum na chemické zloženie mäsa kurčiat ROSS PM3. In Acta fytotechnica et zootechnica, vol. 17, 2009, Mimoriadne číslo, p. 197-205.
HAŠČÍK, P., WEIS, J., ČUBOŇ, J., MAKOVICKÝ, P., KAČANIOVÁ, M. 2005. Vplyv probiotického preparátu v KKZ brojlerových kurčiat ROSS 308 na chemické zloženie mäsa. In Acta fytotechnica et zootechnica, vol. 8, 2005, no. 1, p. 20-24.
KIM, S. W., HAN, I. K., CHOI, Y. J., KIM, Y. H., SHIN, I. S., CHAE, B. J. 1995. Effect of chromium picolinate on growth performance, carcass composition and serum traits of broilers fed dietary different levels of crude protein. In Asian Australasian J. of Anim. Sci., vol. 8, 1995, no. 5, p. 463-470. DOI: https://doi.org/10.5713/ajas.1995.463
LINDEMAN, M. D. 1996. Organic chromium-the missing link in farm animal nutrition. In Biotechnology in the Feed Industry. Notthinghany : Nottingham University Press, 1996. p. 299-314.
MOTOZONO, Y., HATANO, K., SUGAWARA, N., ISHIBASHI, T. 1998. Effects of dietary chromium picolinate and yeast chromiumon the growth and carcass fat of broilers. In Anim. Sci. and Techol., vol. 69, 1998, no. 3, p. 247-252. DOI: https://doi.org/10.2508/chikusan.69.247
PANDA, P. C. 1995. Text Book on Egg and Poultry Technology. 1st ed. New Delhi : Vikas Publishing House, 1995, 216 p.
PAVLOVSKI, Z., CMILJANIĆ, R., VRAČAR, S., HOPIĆ, S. 1997. Živinarski proizvodi sa specifičnim osobinama kvaliteta namenjeni izvoru. In Naučni skup "Potencijali stočarstva SR Jugoslavija", Biotehnologija u stočarstvu, Posebna edicija, 1997. p. 27-34.
TOLIMIR, N., PAVLOVSKI, Z., MITROVIĆ, S., BLAGOJEVIĆ, M., ANOKIĆ, N. 2007. Quality of meat from broilers fed concentrate mixtures with different chromium source and level. In Biotechnol. in Anim. Husb., vol. 23, 2007, no. 5-6, p. 311-321. DOI: https://doi.org/10.2298/BAH0702311T
WANNA, D. L., ZHANG, M. H., DU, R., ZHANG, W. H. 1999. Effect dietary chromium picolinate level on growth performance, imune function and carcass fat content of broilers. In Acta Zoonutrimenta Sinica, vol. 11, 1999, no. 2, p. 19-23.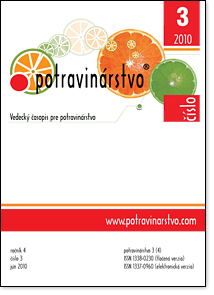 Downloads
How to Cite
Medveď, J. ., & Angelovičová, M. . (2010). Protein and fat in breast muscules of broilers in application welfare principles in practical conditions. Potravinarstvo Slovak Journal of Food Sciences, 4(3), 50–52. https://doi.org/10.5219/66
License
This license permits non-commercial re-use, distribution, and reproduction in any medium, provided the original work is properly cited, and is not altered, transformed, or built upon in any way.