COMPARISON OF THE QUALITY OF VEGETABLE OILS DESIGNED FOR THE FRYING FOOD
Keywords:
vegetable oil, frying, french fries, total polar materials, texture
Abstract
The object of the research was to investigate the quality of vegetable oils for cooking food. The analysis used two types of oils - oil Fritol and Promienna. Both oils were purchased commercially. Oil changes were observed at frying French fries. At the same changes were observed oil stored at room temperature and the temperature in the refrigerator. The determined parameters included the measurement of polar materials in oil with electronic device Testo 265 for measuring the quality of cooking oil. Determination of change in the texture of oil during the oil deterioration by device Texturometer TA.XT Plus and determination the peroxide value by STN EN ISO 3960:2007. The work is also evaluating the results of the studied parameters. In all compared cases based on the content of the TPM showed higher heat resistance oil Fritol and sample of oil stored in the refrigerator.

https://doi.org/10.5219/210
Downloads
Download data is not yet available.
References
ALANDER, J. et al. 2007. Vegetable oils and fats. 2nd edition. Sweden : Jan - Olof Lidefelt, 2007. 252 p. ISBN 978-91-633-1420-9.
DOBARGANES, C. MÁRQUEZ-RUIZ, G. VELASCO, J. 2000. Interactions between fat and food during deep-frying. In European Journal of Lipid Science and Technology., vol. 102, 2000, no. 8, p. 521-528. https://doi.org/10.1002/1438-9312(200009)102:8/9<521::AID-EJLT521>3.0.CO;2-A
HAJŠLOVÁ, J., OSTRÝ, V., RUPRICH, J. 2003. Použití odpadních rostlinných tuků po fritování bramborových lupínků (chipsů) do krmných směsí : stanovisko vědeckého výboru pro potraviny. Brno : VVP, 2003. 10 p.
HIRONORI, N., NISHIDA, M., ENDO, Y., FUJIMOTO, K. 2003. Effect of a modified deep - fat fryer on chemical and physical characteristics of frying oil. In Journal of the American Oil Chemists' Society., vol. 80, 2003, no. 2, p. 163-166.
HUNTER, J. E . 2002. Trans fatty acids: effects and alternatives. In Journal of Food and Nutrition Research., vol.12, 2002, p. 140.
CHOE, E., MIN, D. B. 2007. Chemistry of Deep - Fat Frying Oils. In Journal of Food Science., vol. 72, 2007, no. 5, p. 77-86. https://doi.org/10.1111/j.1750-3841.2007.00352.x PMiD:17995742
KOVÁČ, J. 2007. Fritovanie. In Svět Obchodu., 2007, no. 3, p. 36-39.
MAREČEK, J., MAUEROVÁ, J., MENDELOVÁ, A., FRANČÁKOVÁ, H., LÍŠKOVÁ, M., POBEREŹNY, J. 2010. Hodnotenie kvalitatívnych parametrov vybraných druhov rastlinných olejov In Potravinarstvo, vol. 4, 2010, mimoriadne číslo, p. 57-64.
POKORNÝ, J., PARKÁNYIOVÁ, L. 2001. Smažení potravin z pohledu chemika. In Chemické list., 2001, no. 95, p. 616-620.
RAŽNÁ, K., ŽIAROVSKÁ, J. 2011. Aplikácia DNA markérov pre identifikáciu nutrične významných genotypov ľanu siateho. In Výživa a zdravie 2011. Nitra : Slovenská poľnohospodárska univerzita v Nitre, 2011. p. 345-350.
SEDLÁČKOVÁ, H. 2000. Technologie přípravy pokrmů 3. 1. vyd. Praha : Nakladateľstvo Fortuna, 2000. 96 p. ISBN 80-7168-737-5.
SEDLÁČKOVÁ, H., OTOUPAL, P. 2007. Technologie přípravy pokrmů 1. Praha : Nakladateľstvo Fortuna, 2007.
p. ISBN 80-7168912-2.
ŠIMEK, J. 2008. Přístup k výběru a konzumaci rostlinných olejů. In Výživa a potraviny [online]. 2008, no. 6 [cit. 2012-13-03]. Retrieved from the web: <http://www.vyzivaspol.cz /clanky-casopis/pristup-k-vyberu-a-konzumaci-rostlinnych -oleju.html>.
Vyhláška č. 533/2007 Z. z. Ministerstva zdravotníctva Slovenskej republiky zo 16. augusta 2007 o podrobnostiach o požiadavkách na zariadenia spoločného stravovania.
VÝNOS Ministerstva pôdohospodárstva Slovenskej republiky a Ministerstva zdravotníctva Slovenskej republiky z 28. februára 2007 č. 1207/2007-100, ktorým sa vydáva hlava Potravinového kódexu Slovenskej Republiky upravujúca jedlé rastlinné tuky a jedlé rastlinné oleje a výrobky z nich.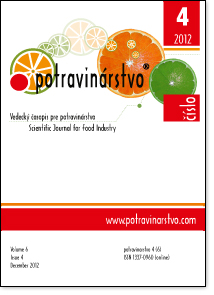 Downloads
How to Cite
Zeleňáková, L. ., Pastyriková, S. ., Židek, R. ., & Mura, L. . (2012). COMPARISON OF THE QUALITY OF VEGETABLE OILS DESIGNED FOR THE FRYING FOOD. Potravinarstvo Slovak Journal of Food Sciences, 6(4), 45–51. https://doi.org/10.5219/210
License
This license permits non-commercial re-use, distribution, and reproduction in any medium, provided the original work is properly cited, and is not altered, transformed, or built upon in any way.