Comparison of phytoestrogens dietary intake from vegetables and fruit in selected population in Slovakia
Keywords:
phytoestrogens, daily intake, vegetables, fruits
Abstract
Phytoestrogens are compounds that are naturally present in almost all plant foods to a varying degree. They include several different classes of chemical compounds known as isoflavones, coumestans and lignans. In our work we analyzed intake of phytoestrogens is based upon our answer questionaries' in different ages. Evaluating health effects of phytoestrogens is difficult and depends on numerous factors, including the kind and dose (amount) of phytoestrogens eaten and the age, gender, and health of the person. We are exposed daily to highly variable amounts of phytoestrogens. While adults are eating a vegetarian diet or those taking dietary supplements containing phytoestrogens have high levels of exposure, infants drinking soy-based formula have the highest exposure levels by far. Accurate information about dietary phytoestrogens is therefore important but there is very limited data concerning food contents. In this study, we analyzed the phytoestrogen content in fresh and processed fruits and vegetables. The comprehensive database of phytoestrogen content determined simultaneously in vegetables and fruits foods has been developed. The important source of phytoestrogens in Slovak men and women is garlic. Phytoestrogen intake of fruits in men as an in woman is very low. Slovak populations consume a lot of fruits but the total intake is low due to the lower content of phytoestrogens.
Downloads
Download data is not yet available.
References
Adlercreutz, H., Mazur, W. 1997. Phyto-estrogens and western diseases. Annals of Medicine, vol. 29, no. 2, p. 95-120. https://doi.org/10.3109/07853899709113696 PMid:9187225
Borrelli, F., Ernst, E. 2010. Alternative and complementary therapies for the menopause. Maturitas, vol. 66, no. 4, p. 333-343. https://doi.org/10.1016/j.maturitas.2010.05.010 PMid:20580501
Coward, L., Barnes, N. C., Setchell, K. D. R., Barnes, S. 1961. The isoflavone genestein diadzein soyabean foods from American and Asian diets. Journal of Agricultural and Food Chemistry, vol. 41, no. 11, p. 1961-1967. https://doi.org/10.1021/jf00035a027
Čurlej, J., Zidek, R., Belej, Ľ. , Zajác, P., Čapla, J. 2015. Phytoestrogens dietary intake and health status of retiree from middle-notrh Slovakia region. Potravinarstvo, vol. 9, no. 1, p. 573-579. https://doi.org/10.5219/572
Day, N., Oakes, S., Luben, R., Khaw, K. T., Bingham, S., Welch, A. 1999. EPIC-Norfolk: Study design and characteristics of the cohort. European ProspectiveInvestigation of Cancer. British Journal of Cancer, vol. 80, suppl. no. 1, p. 95-103. PMid:10466767
Herber, D. 2004. Vegetables, fruits and phytoestrogens in the prevention of diseases. Journal of Postgraduate Medicine, vol. 50, no. 2, p. 145-149.
Knight, D. C., Eden, J. A. 1996. A review of the clinical effects of phytoestrogens. Obstetrics and Gynecology, vol. 87, no. 5, p. 897-904. PMid:8677131
Kunhle, G. C., Dell´aquila, C., AspinalL, S. M., Runswick, S. A., Joosen, A. M. C. P., Mulligan, A. A., Bingham, S. A. 2009. Phytoestrogen content of fruits and vegetables commonly consumed in the UK based on LC-MS and 13C-labelled standards. Food Chemistry, vol. 116, no. 2, p. 542-554. https://doi.org/10.1016/j.foodchem.2009.03.002
Leathaby, A. E., Brown, J., Marjoribanks, J., Kronenberg, F., Roberts, H., Eden, J. 2007. Phytoestrogens for vasomotor menopausal symptoms. Cochrane Database of Systematic Reviews, vol. 4. https://doi.org/10.1002/14651858.CD001395.pub3 PMid:17943751
Mauvais-Jarvis, F., Clegg, D. J., Hevener, A. L. The role of estrogens in control of energy balance and glucose homeostasis. Endocrine Reviews, vol. 34, no. 3, p. 309-338. https://doi.org/10.1210/er.2012-1055 PMid:23460719
Messina, M. 1995. Isoflavone intake by Japanese were overestimated (letter to the editor). The American Journal of Clinical Nutrition, vol. 62, no. 3, p. 645. PMid:7661128
Miller, P. E., Snyder, D. C. 2012. Phytochemicals and cancer risk: a review of the epidemiological evidence. Nutrition in Clinical Practice, vol. 27, no. 5, p. 599-612. https://doi.org/10.1177/0884533612456043 PMid:22878362
Pilsáková, L., Riecansky, I., Jagla, F. 2010. The physiological actions of isoflavone phytoestrogens. Physiology Research, vol. 59, no. 5, p. 651-654. PMid:20406033
Thompson, L. U., Boucher, B. A., Liu, Z., Cotterchio, M., Kreiger, N. 2006. Phytoestrogen content of foods consumed in Canada, including isoflavones, lignans, and coumestan. Nutrition and Cancer, vol. 54, no. 2, p. 184-201. https://doi.org/10.1207/s15327914nc5402_5 PMid:16898863
Woodside, J. V., Morton M. S., Cooper A., Leathem, A. J. C. 2006. Short-term consumption of phytoestrogen-rich foods in humans alters dietary macro- and micronutrient intake. Nutrition Research, vol. 26, no. 1, p. 7-10. https://doi.org/10.1016/j.nutres.2005.11.007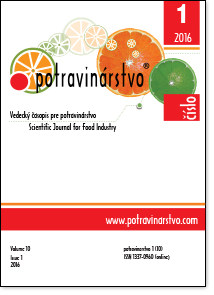 Downloads
How to Cite
Belej, Ľubomí­r ., Šnirc, M. ., Fekete, T. ., Židek, R. ., Čurlej, J. ., & Kozelová, D. . (2016). Comparison of phytoestrogens dietary intake from vegetables and fruit in selected population in Slovakia. Potravinarstvo Slovak Journal of Food Sciences, 10(1), 680–684. https://doi.org/10.5219/703
License
Authors who publish with this journal agree to the following terms:



Authors retain copyright and grant the journal right of first publication with the work simultaneously licensed under a Creative Commons Attribution License that allows others to share the work with an acknowledgement of the work's authorship and initial publication in this journal.


Authors are able to enter into separate, additional contractual arrangements for the non-exclusive distribution of the journal's published version of the work (e.g., post it to an institutional repository or publish it in a book), with an acknowledgement of its initial publication in this journal.


Authors are permitted and encouraged to post their work online (e.g., in institutional repositories or on their website) prior to and during the submission process, as it can lead to productive exchanges, as well as earlier and greater citation of published work (See The Effect of Open Access).