Selected parameters of quality and safety of herbal tea
Keywords:
tea, cadmium, mercury, lead, microbiological quality
Abstract
The aim of this work was to assess the heavy metal presence and possible microbiological contamination in herbal teas. Evaluation of selected tea products was performed from Nitra locality during years 2009 - 2013. Microscopic filamentous fungi detection, bacteria such as Escherichia coli and Salmonella spp. were compared to requirements given in the Codex Alimentarius of Slovakia. The highest permissible limit for microscopic filamentous fungi was not exceeded (in 32 observed herbal tea samples). For incidence of Escherichia coli, 93 samples were investigated and for Salmonella spp., 91 herbal tea samples. No sample showed the presence of Salmonella spp., and at E. coli maximum permitted presence was detected below limit. Among chemical parameters, cadmium, lead and mercury content were monitored. The highest amount of lead and mercury was found in year 2012. In 2009, the highest cadmium content was found. The average content of lead in all 100 inspected herbal tea samples was 0.784 mg.kg-1 so all the samples met requirements defined in the legislation. The mean content of mercury (98 investigated herbal tea samples) was 0.0161 mg.kg-1 so all samples met the requirements as well. Average cadmium content was 0.1702 mg.kg-1 while the highest permitted limit for cadmium is 1.0 mg.kg-1. All herbal tea samples were in accordance with the legislation except one (white willow bark tea) with a very high content of cadmium (4.36 mg.kg-1).
Downloads
Download data is not yet available.
References
Bansal, S., Choudhary, S., Sharma, M., Kumar, S. S., Lohan, S., Bhardwaj, V., Syan, N., Jyot, S. 2013. Tea: A nature source of antimicrobial agents. Food research international, vol. 53, no. 2, p. 568-584. https://doi.org/10.1016/j.foodres.2013.01.032
Bojňanská, T., Frančáková, H., Paulisová, D. 2002. Monitoring of the content of cadmium and lead in selected products of plant origin. Rizikové faktory potravového reťazca, Nitra: SPU, p. 21-23.
Cao, H. Zhu, H., Jia, Y., Chen, J., Zhang, H., Qiao, L. 2011. Heavy Metals in Food Crops and the Associated Potential for Combined Health Risk due to Interactions between Metals. Human and Ecological Risk Assessment, vol. 17, no. 3, p. 700-711. https://doi.org/10.1080/10807039.2011.571117
Codex Alimentorius SR 2006. Potravinový kódex SR 2006, Výnos MP SR a MZ SR zo 6. februára 2006 č. 06267/2006-SL, ktorým sa vydáva hlava PK SR upravujúca mikrobiologické požiadavky na potraviny a na obaly na ich balenie. p. 1-62. Available at: http://www.svps.sk/legislativa/legislativa_kodex.asp
Codex Alimentorius SR 2006. Potravinový kódex SR 2006, Výnos MP SR a MZ SR z 11. septembra 2006 č. 18558/2006-SL, ktorým sa vydáva hlava Potravinového kódexu Slovenskej republiky upravujúca kontaminanty v potravinách, p. 1-7. Available at: http://www.svps.sk/legislativa/legislativa_kodex.asp
Ďurža, O. 2003. Use of soil magnetometry in environmental geochemistry of heavy metals. Acta Geologica Universitatis Comenianae, vol. 15, no. 1, p. 5-11.
Együdová, I., Štrudík, E. 2004. Heavy metals and pesticides in foodstuffs. Nova Biotechnologica, vol. 6, p. 160-164.
Golian, J., Sokol, J., Chovanec, M. 2004. Cadmium, lead and mercury - risk of raw materials and foodstuffs in the catering facilities. Aktuálne problémy riešené v agrokomplexe. Nitra: SPU, p. 219-227, ISBN 80-8069-448-6.
Gonzaga, M., Bauab, T. 2012. Microbial Quality of Medicinal Plant Materials. Latest Research into Quality Control, Intech, p. 514. ISBN 978-953-51-0868-9. https://doi.org/10.5772/51072
Heindl, A., Müller, J. 2006. Drying of Medicinal Plants. Medicinal and Aromatic Plants, vol. 3, no. 2, p. 237-252.
Koch, J., Schrauder, A., Alpers, K., Werber, D., Frank, Ch., Prager, R., Rabsch, W., Broll, S., Feil, F., Roggentin, P., Bockemühl, J., Tschäpe, H., Ammon, A., Stark, K. 2005. Salmonella Agona Outbreak from Contaminated Aniseed, Germany. Emerging Infectious Diseases, vol. 11, no. 7, p. 1124-1127. https://doi.org/10.3201/eid1107.041022
Koslaec, I., Cvek, J., Tomic, S. 2010. Contaminants of medicinal herbs and herbal product. Archives of Industrial Hygiene and Toxicology, vol. 60, no. 4, p. 485-501. https://doi.org/10.2478/10004-1254-60-2009-2005
Limmatvapirat, C., Charonenteeraboon, J., Phaechamus, T. 2012. Determination of heavy metals in herbal teas by inductively coupled plasma mass spectrometry. Journal of Phatmaceutical, Biological and Chemical Sciences, vol. 3, no. 3, p. 952-958.
McHaughlin, M. J., Singh, B. R. 1999. Cadmium in Soils and Plants. Springer, 271 p., ISBN 978-94-011-4473-5. https://doi.org/10.1007/978-94-011-4473-5_10
Mishra, B., Gautam, S., Sharma, A. 2006. Microbial Decontamination of Tea (Camellia sinensis) by Gamma Radiation. Journal of Food Science, vol. 71, no. 6, p. 151-156. https://doi.org/10.1111/j.1750-3841.2006.00057.x
Nagajyoti, P. C., Lee, K. D., Sreekanth, T. V. M. 2010. Heavy metals, occurrence and toxicity for plants: a review. Environmental Chemistry Letters vol. 8, no. 3, p. 199-216. https://doi.org/10.1007/s10311-010-0297-8
Omogbai, B., Ikenebomeh, M. 2013. Microbiological characteristics and phytochemical screening of some herbal teas in Nigeria. European Scientific Journal, vol. 9, no. 18, p. 150-151.
Onyambu, M. O., Chepkwony, H. K., Thoithi, G. N., Ouya, G. O., Osanjo, G. O. 2013. Microbial quality of unregulated herbal medicinal products in Kenya. African Journal of Pharmacology and Therapeutics, vol. 2, no. 3, p. 70-75.
Sang, S., Lambert, J. D., Ho, CH. T., Yang, CH. S. 2011. The chemistry and biotransformation of tea constituents Pharmacological Research, vol. 64, no. 2, p. 87-99. https://doi.org/10.1016/j.phrs.2011.02.007
Stevic, T., Pavlovic, S., Stankovic, S., Savikin, K. 2012. Pathogenic microorganisms of medicinal herbal drugs. Archives of biological sciences, vol. 64, no. 1, p. 49-58. https://doi.org/10.2298/ABS1201049S
Storelli, M. M. 2014. Evaluation of toxic metal (Hg, Cd, Pb), polychlorinated biphenyl (PCBs), and pesticide (DDTs) levels in aromatic herbs collected in selected areas of Southern Italy. Environmental Science and Pollution Research, vol. 21, no. 2, p. 946-953. https://doi.org/10.1007/s11356-013-1967-4
Tasleem, A., Mohammed, A. R. N., Mohammad, A. W., Syed, G. A., Mohammad, A. K., Pawn, K. Y., Mohammad, U. K. 2013. Determination of heavy metals in some Indian herbs used in Unani system of Medicine by using Atomic absorption spectroscopy. Journal of advanced pharmaceutical research, vol .4, no. 2, p. 52-55. [cit. 2014-01-29] Available at: http://pharmresfoundation.com/JAPR-2013-4-2-2.pdf
Tournas, V., Katsoudas, E. 2008. Microbiological Quality of Various Medicinal Herbal Teas and Coffee Substitutes. Microbiology insights, vol. 1, p. 47-55.
The Public Health Authority 2012. A brief report of the official control by the public health authorities in the Slovakia in 2012: Research Report: Bratislava: RUVZ. 5 p.
Wuana, R. A., Okieimen, F. E. 2011. Heavy Metals in Contaminated Soils: A Review of Sources, Chemistry, Risks and Best Available Strategies for Remediation. ISRN Ecology, p. 1-20. https://doi.org/10.5402/2011/402647
Zweifel, C., Stephan, R. 2012. Spices and herbs as source of Salmonella-related foodborne diseases. Food Research International, vol 45, no. 2, p. 765-769. https://doi.org/10.1016/j.foodres.2011.02.024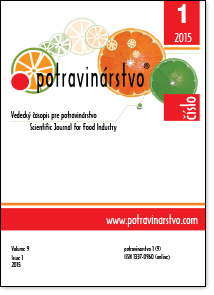 Downloads
How to Cite
Bobková, A. ., Fikselová, M. ., Bobko, M. ., Lopašovský, Ľubomí­r ., Tóth, T. ., & Zeleňáková, L. . (2015). Selected parameters of quality and safety of herbal tea. Potravinarstvo Slovak Journal of Food Sciences, 9(1), 183–189. https://doi.org/10.5219/451
License
This license permits non-commercial re-use, distribution, and reproduction in any medium, provided the original work is properly cited, and is not altered, transformed, or built upon in any way.