Examination of factors influencing the variability of yeast amount in the context of ph changes in bottled wines
Keywords:
wine, microbiological quality, yeast, condition of storage,
Abstract
Aim of this paper was to examine of factors (manufacturer, temperature and storage time) influencing the variability of yeast amount and pH changes in bottled white wines. It was confirmed that wine coming from the business network was better quality in contract to domestic wine. We have assumed that domestic wine was contaminated during the manufacturing process, while the most probable reason was imperfect filtration of wine, or its contamination during the bottling. The results showed that the way of storage wine in the room, resp. cooler temperature did not significant effect on changes in the amount of yeast (p-hodnota=0.2080). Regarding the period of storage of wine, the conclusions are identical to the previous factor, ie. storage time not significantly impacted amount of yeast in wine (p-value=0.5507).
Downloads
Download data is not yet available.
References
FUGELSANG, K. C., EDWARDS, CH. G. 2007. Wine microbiology. New York : SPRINGER, 2007. 393 p.
DÖRR, G., RÖDER, K., JOHN, F. 1999. Čo neviete o víne. Bratislava: Ikar, 1999. 166 p.
HRONSKÝ, Š. 2006. Vinárstvo. SPU: Nitra, 2006. 128 s. ISBN 80-8069-774-4.
ChLEBO, R. 2009. Víno a antioxidanty. In KERESTEŠ, J. et al. 2009. Biotechnológie, výživa a zdravie. Považská Bystrica : Uniprint s.r.o., 2009. 347 p. ISBN 978-80-970205-9-0.
LEJKOVÁ, L., JAVOREKOVÁ, S., KAČÁNIOVÁ, M., NOVÁKOVÁ, I., SELÉŠIOVÁ, Z., MAKOVÁ, J. 2011. Characteristic of microbiological community during fermentation of stum. In Potravinarstvo, special issue February 2011, p. 145 - 150. ISSN 1337-0960.
PAVLOUŠEK, P. 2006. Výroba vína u malovinářu. Praha: Grada Publishing a.s., 2006, 100 p.
SEDLO J., ŠEVČÍK J., LUDVÍKOVÁ I. 2004. Přehled odrůd révy 2004. 1st ed. Velké Bílovice : Svaz vinařů České republiky. ISBN 80-9035-343-6.
SLEZÁK, F. 2007. Zachovanie antioxidačných prvkov vo vínach z Malokarpatskej oblasti : výskumná správa. Modra : Biocentrum Modra a VÚP Bratislava, 2007. 19 p.
ŠAJBIDOROVÁ, V. 2010. Vinič hroznorodý, hroznové víno. Situačná a výhľadová správa k 31.7.2010. Bratislava : VÚEPP, 2010. 20 p. ISBN 978-80-8058-544-0.
TOFALO, R., SCHIRONE, M., TELERA, G. C., MANETTA, A. CH., CORSETTI, A., SUZZI, G. 2010. Influence of organic viticulture on non-Saccharomyces wine yeast populations In Annals of Microbiology, vol. 61, 2011. no. 1. https://doi.org/10.1007/s13213-010-0102-8
VAJCZIKOVÁ, I., BREIEROVÁ, E. 2003. Identifikácia a druhové zastúpenie kvasiniek pri fermentácii hroznového muštu. In Nova Biotechnologica, vol. 2, 2003, no. 3, p. 139 - 144. ISBN 80-89034-53-5.
VILELA-MOURA, A., SCHULLER, D., MENDES-FAIA, A., SILVA, R. D., CHAVES, S. R., SOUSA, M. J., CÔRTE-REAL, M. 2010. The impact of acetate metabolism on yeast fermentative performance and wine quality: reduction of volatile acidity of grape musts and wines In Applied Microbiology and Biotechnology, vol. 89, 2010, no. 2. https://doi.org/10.1007/s00253-010-2898-3
VOJTEKOVÁ, G. 2006. Prospešnosť vína pre zdravie ľudí. In Výživa a zdravie, 50, 2006, p. 20-21. ISSN 0042-9406.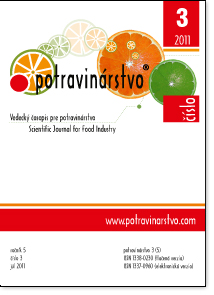 Downloads
How to Cite
Zeleňáková, L. ., Matejková, E. ., Lopašovský, Ľubomí­r ., Kozelová, D. ., & Mura, L. . (2011). Examination of factors influencing the variability of yeast amount in the context of ph changes in bottled wines. Potravinarstvo Slovak Journal of Food Sciences, 5(3), 44–49. https://doi.org/10.5219/151
License
Authors who publish with this journal agree to the following terms:



Authors retain copyright and grant the journal right of first publication with the work simultaneously licensed under a Creative Commons Attribution License that allows others to share the work with an acknowledgement of the work's authorship and initial publication in this journal.


Authors are able to enter into separate, additional contractual arrangements for the non-exclusive distribution of the journal's published version of the work (e.g., post it to an institutional repository or publish it in a book), with an acknowledgement of its initial publication in this journal.


Authors are permitted and encouraged to post their work online (e.g., in institutional repositories or on their website) prior to and during the submission process, as it can lead to productive exchanges, as well as earlier and greater citation of published work (See The Effect of Open Access).