The influence of Lactobacillus paracasei LPC-37 on selected properties of fermented sausages
Keywords:
fermented sausage, ripening, probiotic culture, starter culture
Abstract
Fermented sausages rank among non-heat-treated meat products. Their nutritional properties are similar to the raw material, simultaneously their microbial safety and stability is ensured using additives and specific microbial cultures. The use of probiotic cultures can positively affect the processing of fermented sausages, resulting in the new technological properties and beneficial effect on human health. However, commercial application of probiotic microorganisms in fermented sausages is not common yet. Lactobacillus paracasei LPC-37 is a gram-positive, non-spore forming, homofermentative rod, which according to studies may modulate immune responses in human organism and survives the passage through the gastrointestinal tract. The main object of this work was to evaluate technological properties of L. paracasei LPC-37, which have not been fully examined. Two groups of fermented sausages were analysed in this work. The first group of fermented sausages was prepared using lyophilized starter culture (Lyocarni RHM-33). The second group of fermented sausages was prepared by the combination of lyophilized starter culture and potential probiotic culture Lactobacillus paracasei LPC-37. The processing and ripening of sausages were carried out in meat processing plant to simulate real conditions of production. The changes of the products (water activity, pH, concentration of organic acids and microbial growth) were evaluated during ripening (3 weeks), while sensory analysis was carried out in the final stage of the process and during storage (3 weeks). It was found that the environment of raw-fermented sausages is suitable for the growth and survival of Lactobacillus paracasei LPC-37 and the microbiological quality of the final product was very good (absence of Salmonella and Listeria monocytogenes). The counts of lactobacilli reached 107 CFU/g of the product, which meet the requirements for functional foods. The results of the sensory evaluation showed that the overall quality of raw-fermented sausages with Lactobacillus paracasei LPC-37 was satisfactory and differed mainly in two taste descriptors (meaty and sour).
Downloads
Download data is not yet available.
References
Engelbrektson, A., Korzenik, J. R., Pittler, A., Sanders M. E., Klaenhammer, T. R., Leyer, G., Kitts, C. L. 2009. Probiotics to Minimize the Disruption of Faecal Microbiota in Healthy Subjects Undergoing Antibiotic Therapy. Journal of Medical Microbiology, vol. 58, no. 1, p. 663-670. https://doi.org/10.1099/jmm.0.47615-0 PMid:19369530
Grajek, W., Olejnik, A., Sip, A. 2005. Probiotics, Prebiotics and Antioxidants as Functional Foods. Acta Biochimica Polonica, vol. 52, no. 3, p. 665-671. [cit. 2015-02-05]. Available at: http://www.actabp.pl/pdf/3_2005/665s.pdf
Holck, A. L., Axelsson, L., Rode, T. M., Høy, M., Måge, I., Alvseike, O., L'abée-Lund, T. M., Omer, M. K., Granum, P. E., Heir, E. 2011. Reduction of Escherichia coli in Production of Fermented Sausages. Meat Science, vol. 89, no. 3, p. 286-295. https://doi.org/10.1016/j.meatsci.2011.04.031
ISO Standard 15214: 1998. Horizontal Method for the Enumeration of Mesophilic Lactic Acid Bacteria. Colony Count Techinque at 30 °C.
ISO Standard 11290-2: 1998. Horizontal Method for the Detection and Enumeration of Listeria monocytogenes. Part 2: Enumeration method
ISO Standard 6579: 2002. Horizontal Method for the Detection of Salmonella.
ISO Standard 2917: 1999. Meat and Meat Products - Measurement of pH - Reference method.
Ouwehand, A. C., Lian, C. D., Weijian, X., Stewart, M., Ni, J., Stewart, T., Miller, L. E. 2014. Probiotics Reduce Symptoms of Antibiotic Use in a Hospital Setting: A Randomized Dose Response Study. Vaccine, vol. 32, no. 4, p. 458-463. https://doi.org/10.1016/j.vaccine.2013.11.053 PMid:24291194
Paineau, D., Carcano, D., Leyer, G., Darquy, S., Alyanakian, M.-A., Simoneau, G., Bergmann, J.-F., Brassart, D., Bornet, F., Ouwehand, A. C. 2008. Effects of Seven Potential Probiotic Strains on Specific Immune Responses in Healthy Adults: a Double-Blind, Randomized, Controlled Trial. FEMS Immunology and Medical Microbiology, vol. 53, no. 1, p. 107-113. https://doi.org/10.1111/j.1574-695X.2008.00413.x PMid:18422632
Pereira, E. A., Petruci J. F. S., Cardoso, A. A. 2012. Determination of Nitrite and Nitrate in Brazilian Meats Using High Shear Homogenization. Food Analytical Methods, vol. 5, no. 4, p. 637-642. https://doi.org/10.1007/s12161-011-9294-1
Roessler , A. (nee Klein), Friedrich, U., Vogelsang, H., Bauer, A., Kaatz, M. Hipler, U. C., Schmidt, I. Jahreis, G. 2007. The immune system in healthy adults and patients with atopic dermatitis seems to be affected differently by a probiotic intervention. Clinical and Experimental Allergy, vol. 38, no. 1, p. 93-102. https://doi.org/10.1111/j.1365-2222.2007.02876.x PMid:18028460
Trautvetter, U., Ditscheid, B., Kiehntopfl, M., Jahreis, G. 2012. A Combination of Calcium Phosphate and Probiotics Beneficially Influences Intestinal Lactobacilli and Cholesterol Metabolism in Humans. Clinical Nutrition, vol. 31, no. 1, p. 230-237. https://doi.org/10.1016/j.clnu.2011.09.013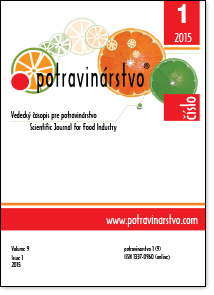 Downloads
How to Cite
Mati, M. ., Magala, M. ., Karovičová, J. ., & Staruch, L. . (2015). The influence of Lactobacillus paracasei LPC-37 on selected properties of fermented sausages. Potravinarstvo Slovak Journal of Food Sciences, 9(1), 58–65. https://doi.org/10.5219/430
License
Authors who publish with this journal agree to the following terms:



Authors retain copyright and grant the journal right of first publication with the work simultaneously licensed under a Creative Commons Attribution License that allows others to share the work with an acknowledgement of the work's authorship and initial publication in this journal.


Authors are able to enter into separate, additional contractual arrangements for the non-exclusive distribution of the journal's published version of the work (e.g., post it to an institutional repository or publish it in a book), with an acknowledgement of its initial publication in this journal.


Authors are permitted and encouraged to post their work online (e.g., in institutional repositories or on their website) prior to and during the submission process, as it can lead to productive exchanges, as well as earlier and greater citation of published work (See The Effect of Open Access).