Effect of humic substances and probiotics on growth performance and meat quality of rabbits
Keywords:
meat, quality, rabbits, humic substances, probiotics
Abstract
The aim of this work was determined effect of supplemental humic substances and probiotics on growth performance and meat quality of rabbits.  The growth performances were observed on two hundred and twelve growing rabbits assigned randomly by weight to two treatments. The treatments included: 1) Control group: in this group were rabbits fed with basal diet during all experiment (35th – 77th day), 2) experimental group: the animals were fed with basal diet+3kg/t humic substances – Humac Nature during whole experiment.  In this group was during fattening period (35th – 49th and 63rd – 70th days of age) added to feed the probiotic preparation – Propoul (Lactobacillus fermentum CCM 7158 1x108 CFU) 2 g per ten pieces. Body weight and feed intake were measured weekly in order to determine the average daily gain, average daily feed intake and gain/feed. The characteristics of meat quality were determined on twelve rabbit males at the age of 77 days, when the rabbits achieved average slaughter weight 2500g. Results of the whole experimental period showed that addition humic substances and probiotic preparation to the diet had positive effect (not significantly) on intensity of growth live weight in the last phase of fattening period. The results of this study suggest that humic substances with probiotics might be utilized as a feed additive in the rabbit diet. It could not significantly improve growth performance and meat quality of rabbits.
Downloads
Download data is not yet available.
References
AVCI, M., DENEK, N., KAPLAN, O. 2007. Effects of humic acid at different levels on growth performance, carcass yields and some biochemical parameters of quails. In J. Anim. Vet. Adv., vol. 6, 2007, p. 1-4.
HANAFY, M. M., EL-SHEIKH, A. M. H. 2008. The effect of dietary Humic Acid supplementation on some productive and physiological traits of laying hens. In Egypt. Poult. Sci., vol. 28, 2008, p. 1043-1058.
HUCK, J. A., PORTER, N., BUSHED, M. E. 1991. Effect of humates on microbial activity. In Journal of General Microbiology, vol. 137, 1991, p. 2321-2329. https://doi.org/10.1099/00221287-137-10-2321 PMid:1770349
JOONÉ, G. K., J. DEKKER, VAN RENSBURG, C. E. J. 2003. Investigation of the Immunostimulatory Properties of Oxyhumate. In Zeitschrift für Naturforschung Redaktion, vol. 58c, 2003, p. 263-267. PMid:12710739
KARAOGLU, M., MACIT, M., ESENBOGA, N., DURDAG, H., TURGUT, L., BILGIN, O.C. 2004. Effect of supplemental humate at different levels on the growth performance slaughter and carcass traits of broilers.
In International Journal of Poultry Science, vol. 3, 2004, p. 406-410. https://doi.org/10.3923/ijps.2004.406.410
KOCABAGLI, N., ALP, M., ACAR, N., KAHRAMAN, R. 2002. The effects of dietary humate supplementation on broiler growth and carcass yield. In Poult. Sci., vol. 81, 2002, p. 227-230. PMid:11873831
NDAYEGAMIYE, A., COTE, D. 1989. Effect of long-term pig slurry and solid cattle manure application on soil chemical and biological properties. In Can. J. Soil. Sci.,
vol. 69, 1989, p. 39-47. https://doi.org/10.4141/cjss89-005
SHI, Y., PARKER, D. B., COLE, N. A., AUVERMANN, B. W., MEHLHORN, J. E. 2001. Surface amendments to minimize ammonia emissions from beef cattle feedlots.
In Trans. Am. Soc. Agric. Eng., vol. 44, 2001, p. 677-682.
THIEL, K. D., KLOCKING, R., SCHWEIZER, H., SPROSSIG, M. 1977. Invitro studies of the antiviral activity of ammonium humate against herpes simplex virus type 1 and type 2. In Zentralbl Bakteriol, vol. 239, 1977, p. 304-321.
YALCIN, S., ERGUN, A., EROL, H., YALCIN, S., OZSOY, B. 2005. Use of L-carnitine and humate in laying quail diets. In Acta Veterinaria Hungarica, vol. 53, 2005,
no 3, p. 361-370. PMid:1615613
YAMADA, E., OZAKI, T., KIMURA, M. 1998. Determination and behavior of humic substances as precursors of trihalomethane in environmental water. In Anal. Sci., vol. 14, 1998, p. 327-332. https://doi.org/10.2116/analsci.14.327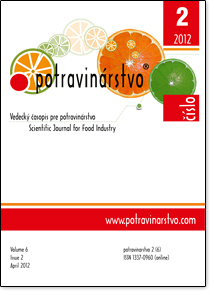 Downloads
How to Cite
Ondruška, Ľubomí­r ., Chrastinová, Ľubica ., Rafay, J. ., Pospí­šilová, D. ., & Parkányi, V. . (2012). Effect of humic substances and probiotics on growth performance and meat quality of rabbits. Potravinarstvo Slovak Journal of Food Sciences, 6(2), 39–41. https://doi.org/10.5219/192
License
Authors who publish with this journal agree to the following terms:



Authors retain copyright and grant the journal right of first publication with the work simultaneously licensed under a Creative Commons Attribution License that allows others to share the work with an acknowledgement of the work's authorship and initial publication in this journal.


Authors are able to enter into separate, additional contractual arrangements for the non-exclusive distribution of the journal's published version of the work (e.g., post it to an institutional repository or publish it in a book), with an acknowledgement of its initial publication in this journal.


Authors are permitted and encouraged to post their work online (e.g., in institutional repositories or on their website) prior to and during the submission process, as it can lead to productive exchanges, as well as earlier and greater citation of published work (See The Effect of Open Access).