Viability of the probiotic bacteria L. acidophilus in dairy products
Keywords:
L. acidophilus, probiotics, viability, dairy food
Abstract
A number of health benefits have been claimed for probiotic bacteria such as Lactobacillus acidophilus. Because of the potential health benefits, these organisms are increasingly incorporated into dairy foods. Viability of probiotic bacteria is important in order to provide health benefits. However, many studies have shown low viability of probiotics in market preparations. This study cover selective enumeration and survival of probiotic bacteria L. acidophilus in some dairy drinks. L. acidophilus was found in the range from 106 to 107 CFU.g-1 in five types of fermented milk products containing probiotic cultures. Two investigated products were up to standard according to Regulation of Ministry of Agriculture and Ministry of Health of Slovak Republic.
Downloads
Download data is not yet available.
References
ANONYMOUS, 1999. Physiological effects of Bifidobacterium longum BB 536 - in vitro tests and administration to humans and animals. Morinaga milk Industry, Tokyo, 1999.
ANONYMOUS, 2006. Effect of Bifidobacterium longum BB 536 on prevention of influenza virus infection of elderly. Morinaga probiotics news release. Annual meeting of japan Society for bioscience, biotechnology, and agrochemistry, 2006.
ANONYMOUS, 2007. Enumeration of L.acidophilus,in fermented milk products – Guidelines, Technical bulletin P-10, Chr. Hansen, nov. 2007.
ANONYMOUS, 2009. Lactobacillus acidophillus NCFM® - a probiotic with proven efficacy. Technical memorandum TM 54-I e, Danisco, 2009.
CIAA, 2007a. Industry contribution to Article 13 under Health and Nutrition Claims Regulation 1924/2006/EC [online].
CIAA e-newsletter - Issue 7 - [online] 15/10/2007 [cit. 2009]. Dostupné na internete: <http://www.ciaa.be/e-newsletter/print_full_nsl.asp?nsl_id=16>.
CIAA, 2007b. List of health and nutritional claims [online]. Explanatory cover note to the food industry's contribution to the list of claims according to Article 13 (3) of EU regulation 1924/2006/EC on nutrition and health claims made on foods. [online] s.a. [cit. 2009]. Dostupné na internete: <http://www.anilact.pt/documentos/healthclaims01.pdf>.
DAVE, R. I., SHAH, N. P., 1996. Evaluation of Media for Selective Enumeration of Streptococcus thermophilus, Lactobacillus delbrueckii ssp. bulgaricus, Lactobacillus acidophilus, and Bifidobacteria. In J. Dairy Sci. vol. 79, 1996, no. 9, p. 1529-1536. PMid:8899517
EFSA, 2009. Register of Questions [online] s.a. [cit.20.02.2009] Dostupné na internete: <http://registerofquestions.efsa.europa.eu/roqFrontend/questionsListLoader?panel=ALL>.
HOLM, F., 2001. Zdravé črevá. Syntetická správa Flair-Flow Europe o priaznivom účinku pro a prebiotík na zdravie. VÚP Bratislava, 28 p. ISBN: 80-89088-02-3.
HORÁKOVÁ, K., BARÁTHOVÁ, H., VOLLEK, W. 1993. Mikrobiológia. Návody na cvičenia. STU Bratislava, 201 p., ISBN 80-227-0057-6.
HUGHES, D. B., HOOVER, D. G., 1991. Bifidobacteria - Their Potential for Use in American Dairy Products. In Food Technology, vol. 45, 1991, no. 4, p. 75.
ISO 20128:2006, IDF 192: Milk products – Enumeration of presumptive Lactobacillus acidophilus on selective medium – Colony count technique at 37°C.
KUCHTA, M., PRUŽINEC, P., BOMBA, A., BUNGANIČ, I., BUTÁŠOVÁ, G., EBRINGER, L., ČERVENKOVÁ, D., FIRMENT, J., GÖBÖOVÁ, M., GOMBOŠOVÁ, K., HALUŠKOVÁ, V., HRUBIŠKO, M., HUDÁK, V., JARČUŠKA, P., KALETOVÁ, V., KERTYS, P., KLIMENT, M., KRISTIAN, P., KUŽELA, L., MAGULOVÁ, L., MEGO, M., MIKUŠ, M., NEMCOVÁ, R., NOVÁKOVÁ, B., OLTMAN, M., PETRÁŠOVÁ, D., ŠUTKA, J., 2006. Probiotiká, ich miesto a využitie v medicíne. Bratislava: Bonus CCS, 163 p., ISBN 80-968491-7-4.
LEAHY, S. C., HIGGINS, D. G., FITZGERALD, G. F., VAN SINDEREN, D., 2005. Getting better with bifidobacteria. In J. Appl. Microbiol., vol. 98, 2005, p.1303-1315. https://doi.org/10.1111/j.1365-2672.2005.02600.x PMid:15916644
LEE, Y. K., SALMINEN, S., 1995. The coming of age probiotics. In Trends in Food Sci. & Technol., vol. 6, 1995, no.7, p. 241-245.
MICHALÍK, I., URMINSKÁ, D., BAUEROVÁ, M., ŠILHÁR, S., SOKOL, J., OUWEHAND, A., KIRJAVAINEN, P., SHORTT, C., SALMINEN, S., 1999. Probiotics: mechanism and established effects. In Int. Dairy J., vol. 9, 1999, p. 43-52. https://doi.org/10.1016/S0958-6946(99)00043-6
NARIADENIE Európskeho parlamentu a Rady (ES) č. 1924/2006 z 20. decembra 2006 o výživových a zdravotných tvrdeniach o potravinách. Official Journal of the European Union OJ L12, 2007, p. 3–18.
QUILLIEN, G., 2001. Probiotiká. Syntetická správa Flair-Flow Europe. VÚP Bratislava, ISBN: 80-89088-01-5, 16 p.
RADA, V., 2006. Bifidobakterie v mléčných kysaných výrobcích a funkčních potravinách. In Potravinářská revue 2, p. 10-14.
RAVULA, R. R., SHAH, N. P., 1998. Selective enumeration of Lactobacillus casei from yogurt and fermented milk drinks. In Biotechnol. Tech. vol. 12, 1998, p. 819-822. https://doi.org/10.1023/A:1008829004888
REID, G., 1999. Minireview. The scientific basis for probiotics strains of Lactobacillus. In. Applied and Enviromental Microbiology, vol. 65, 1999, no. 9, p. 3763-3765. PMid:10473372
ROBINSON, R. K., 1987. Survival of Lactobacillus acidophilus in fermented products. In Suid Afrikaanse Tydskrif Vir Suiwelkunde, vol. 19, 1987, p. 25-27.
SANDERS, M. E., KLAENHAMMER, T. R., 2001. Invited Review: The Scientific Basis of Lactobacillus acidophilus NCFM Functionality as a Probiotic. In J. Dairy Sci., vol. 84, 2001, no. 2, p. 319-331. https://doi.org/10.3168/jds.S0022-0302(01)74481-5 PMid:11233016
SHAH, N. P., 2000. Probiotic Bacteria: Selective Enumeration and Survival in Dairy Foods. In J. Dairy Sci., vol. 83, 2000, no. 4, p. 894-907. https://doi.org/10.1016/0958-6946(95)00028-2 PMid:10791807
SHAH, N. P., LANKAPUTHRA, W. E. V., BRITZ, M., KYLE, W. S. A., 1995.Survival of L. acidophilus and Bifidobacterium bifidum in commercial yoghurt during refrigerated storage. In Int. Dairy J., vol. 5, 1995, p. 515-521. https://doi.org/10.1016/0958-6946(95)00028-2
STN EN ISO 8261:2001: Mlieko a mliečne výrobky. Všeobecné pravidlá úpravy analytických vzoriek, prípravy základných suspenzií a desaťnásobných riedení na mikrobiologické skúšanie (ISO 8261: 2001). Bratislava: SUTN, 2002.
TEITELBAUM. J. E., WALKER, W. A., 2002. Nutritional impact of pre- and probiotics as protective gastrointestinal organisms. In Annual Review of Nutrition, vol. 22, p. 107-138. PMid:12055340
ÜRGEOVÁ, E., MARECOVÁ, M., 2003. Probiotické kmene mikroorganizmov a ich účinok na hostiteľský organizmus. In Nova Biotechnologica III-2, p. 145-157.
VÝNOS Ministerstva pôdohospodárstva Slovenskej republiky a Ministerstva zdravotníctva Slovenskej republiky zo 14. augusta 2006 . 2143/2006-100, ktorým sa vydáva hlava Potravinového kódexu Slovenskej republiky upravujúca mlieko a výrobky z mlieka. Vestník MP SR, 38 (18), 2006, p. 1-16.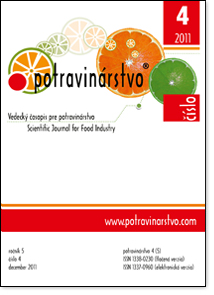 Downloads
How to Cite
Koreňová, J. . (2011). Viability of the probiotic bacteria L. acidophilus in dairy products. Potravinarstvo Slovak Journal of Food Sciences, 5(4), 34–37. https://doi.org/10.5219/147
License
Authors who publish with this journal agree to the following terms:



Authors retain copyright and grant the journal right of first publication with the work simultaneously licensed under a Creative Commons Attribution License that allows others to share the work with an acknowledgement of the work's authorship and initial publication in this journal.


Authors are able to enter into separate, additional contractual arrangements for the non-exclusive distribution of the journal's published version of the work (e.g., post it to an institutional repository or publish it in a book), with an acknowledgement of its initial publication in this journal.


Authors are permitted and encouraged to post their work online (e.g., in institutional repositories or on their website) prior to and during the submission process, as it can lead to productive exchanges, as well as earlier and greater citation of published work (See The Effect of Open Access).