Effect of bee pollen extract as a supplemental diet on broilers´s ross 308 breast and thigh meat muscles fatty acids
Keywords:
broiler Ross 308, bee pollen, feed mixture, fatty acid
Abstract
The present study was aimed to study the effect of the bee pollen extract on the broiler Ross 308 breast and thigh meat fatty acids. The experiment enrolled 90 chicks in one day old, which were divided into 3 groups (control, E1 and E2). The broiler has been bred in a cage condition for 42 days. To the experimental groups were added bee pollen extract in the amount (400, 800  mg.kg-1). The chickens have been bred in a cage conditions, each cage was equipped with feed dispenser and water intake was ensured ad libitum through a self feed-pump. The temperature was controlled during the fattening period and it was 33 °C at the first day and every week was reduced about 2 °C the end temperature was 23 °C. At the end of the experiment the fatty acids have beenevaluatedby using Agilent 7890A Gas Chromatograph apparatus (USA). The findings have been shown that the myristoleic acid, linoleic acid, linoelaidic acid, arachidonic acid, and archaic acid were decreased after using the bee pollen into broiler feed mixture otherwise, the bee pollen has been increased the polemic acids and oleic acid and there were found no significant differences (P ≥0.05) among all the experimental groups.From the recent experiment, we conclude that bee pollen extract has decreasedthe fattyacids except palmitoleic acid acid and oleic acid, whichwere higher compared to control groupand there were no significant differences (P ≥0.05) between experimental groups.
Downloads
Download data is not yet available.
References
Bolsoni-Lopes, A, Festuccia, W. T., Farias, T. S., Chimin, P., Torres-Leal, F. L., Derogis, P. B., de Andrade, P. B., Miyamoto, S., Lima, F. B., Curi, R., Alonso-Vale, M. I. 2013. Palmitoleic acid (n-7) increases white adipocyte lipolysis and lipase content in a PPARα-dependent manner, American Journal of Physiology - Endocrinology and Metabolism, vol. 305, 2013, p. 1093-1102. PMid:24022867
Bonoli, M., Caboni, M. F., Rodriguez-Estrada, M. T., Lercker, G. 2007 Effect offeeding fat sources on the quality and composition of lipids of pre-cookedready-to-eat fried chicken patties. Food Chemistry, vol. 101, p. 1327-1337. https://doi.org/10.1016/j.foodchem.2006.03.038
Cicero, A. F., Nascetti, S., López-Sabater, M. C., Elosua R., Salonen, J. T., Nyyssönen, K., Poulsen, H. E., Zunft, H. J., Kiesewetter, H., De La Torre, K., Covas, M. I., Kaikkonen, J., Mursu, J., Koenbick, C., Bäumler H., Gaddi A, V. 2008. Changes in LDL fatty acid composition as a response to olive oil treatment are inversely related to lipid oxidative damage. The Eurolive study. Journal of American College of Nutrition, vol. 27, no. 2, p. 314-320. https://doi.org/10.1080/07315724.2008.10719705 PMid:18689564
Damasceno, N. R T., Pérez-Heras, A., Serra, M., Cofán, M., Sala-Vila, A., Salas-Salvadó, J., Ros, E. 2011. Crossover study of diets enriched with virgin olive oil, walnuts oralmonds. Effects on lipids and other cardiovascular risk markers. Nutr. Metab. Cardiovasc. Dis., vol. 21, suppl. 1, p. 14-20. https://doi.org/10.1016/j.numecd.2010.12.006 PMid:21421296
Estévez-González, M. D., Saavedra-Santana, P., López-Ríos, L., Chirino, R., Cebrero-García, E., Peña-Quintana, L., Betancor-León, P. 2010. HDL cholesterol levels in children with mild hypercholesterolemia: effect of consuming skim milk enriched with olive oil and modulation by the TAQ 1B polymorphism in the CETP gene. Ann. Nutr. Metab., vol. 56, no. 4, p. 288-293. https://doi.org/10.1159/000290405 PMid:20413969
Gibbs, R.A., Rymer, C., Givens D. I. 2013. Fatty acid composition of cooked chicken meat and chicken meat products as influenced by price range at retail. Food chemistry, vol. 138, no. 2-3, p. 1749-1756. https://doi.org/10.1016/j.foodchem.2012.11.002 PMid:23411307
Gillingham, L. G., Gustafson, J. A., Han, S. Y., Jassal, D. S., Jones, P. J. 2010. High-oleicrapeseed (canola) and flaxseed oils modulate serum lipids and inflammatory biomarkers in hypercholesterolaemic subjects. British Journalof Nutrition, vol. 105, no. 3, p. 417-427. https://doi.org/10.1017/S0007114510003697 PMid:20875216
Givens, D. I., Gibbsr, A., Rymer, C., Brownr, H. 2011. Effect of intensive vs. free range production on the fat and fatty acid composition of whole birds and edible portions of retail chickens in the UK. Food Chemistry, vol. 127, no. 4, p. 1549-1554. https://doi.org/10.1016/j.foodchem.2011.02.016
Goodhart, R. S., Shils, M. 1980. Modern Nutrition in Health and Disease (6th ed.). Philadelphia: Lea and Febinger, p. 134-138. ISBN0-8121-0645-8.
Grundy, S. M. 1986. Comparison of monounsaturated fatty acids and carbohydrates for lowering plasma cholesterol. New England Journal of Medicine, vol. 314, no. 12, p. 745-748. https://doi.org/10.1056/NEJM198603203141204 PMid:3951504
Horrobin, D. F. 1980. A biochemical basis for alcoholism and alcohol-induced damage including the fetal alcohol syndrome and cirrhosis: Interference with essential fatty acid and Prostaglandin metabolism. Medical Hypotheses, vol. 6, p. 929-942. https://doi.org/10.1016/0306-9877(80)90045-6
Mc Carty, M. F. 1999. Interleukin-6 as a central mediator of cardiovascular risk associated with chronic inflammation, smoking, diabetes, and visceral obesity: down-regulation with essential fatty acids, ethanol and pentoxifylline. Medical Hypotheses, vol. 52, no. 5, p. 465-477. https://doi.org/10.1054/mehy.1997.0684 PMid:10416955
Høstmark, A. T., Haug, A. 2013. Percentages of oleic acid and arachidonic acidbare inversely related in phospholipids of human sera. Lipids in Health and Disease, vol. 12, p. 1-6. https://doi.org/10.1186/1476-511X-12-40 PMid:23870138
Krell R. 1996. Value-Added products from bee keeping. Milan, FAO Publications, 1996, p. 395, ISBN 92-5-103819-8.
Leeson, S. 1999. The role of nutrition in maintaining quality of poultry products. Poultry Industry. p. 89-102. [cit. 2007-08-01]. Retrieved from the web: http://en.engormix.com/MA-poultry-industry/articles/the-role-nutrition-maintaining-t682/p0.htm
Marin-Valencia, I., Good, L. B., Qian, M., Craig R. M., Malloy, C. R., Pascual, J. M. 2012. Heptanoate as a neural fuel: energetic and neurotransmitter precursors in normal and glucose transporter I-deficient (G1D) brain. Journal of cerebral blood flow and metabolism, vol. 33, p. 175-182. https://doi.org/10.1038/jcbfm.2012.151 PMid:23072752
Paillarda, F., Cathelineb, D., Le Duffc, F., Bourielb, M., Deugnierd, Y., Poucharde, M., Dauberta, J. C., Legrandb, P. 2008. Plasma palmitoleic acid, a product of stearoyl-coA desaturase activity, is an independent marker of triglyceridemia and abdominal adiposity, Nutrition, Metabolism & Cardiovascular Diseases, vol. 18, no. 6, p. 436-440. https://doi.org/10.1016/j.numecd.2007.02.017 PMid:18068341
Roche, H. 2001. Olive oil, high-oleic acid sunflower oil and CHD. British Journal of Nutrition, vol. 85, no. 1, p. 3-4. https://doi.org/10.1079/BJN2000242 PMid:11227027
Ryan, M., Mcinerney, D., Owens, D., Collins, P., Johnson, A., Tomkin, G. H. 2000. Diabetes and the Mediterranean diet: a beneficial effect of oleic acid on insulin sensitivity, adipocyte glucose transport and endothelium-dependentvasoreactivity. QJM, vol 93, no. 2, p. 85-91. https://doi.org/10.1093/qjmed/93.2.85 PMid:10700478
Rymer, C., Givens, D. I. 2005. n-3 fatty acid enrichment of edible tissues of poultry: A review. Lipids, vol. 40, no. 2, p. 121-140. https://doi.org/10.1007/s11745-005-1366-4 PMid:15884759
Tholstrup, T., Ehnholm, Ch., Jauhiainen, M., Petersen, M., Høy, C. E., Lund, P., Sandström, B. 2004. Effects of medium-chain fatty acids and oleic acid on blood lipids, lipoproteins, glucose, insulin, and lipid transfer protein activities. Am. J. Clin. Nutr., vol. 79, no. 4, p. 564-569. PMid:15051598
Wood, J. D., Richardson, R. I., Nute, G. R., Fisher, A. V., Campo, M. M., Kasapidou, E., Sheard, P. R., Enser, M. 2003. Effects of fatty acids on meat quality: a review. Meat Science, vol. 66, p. 21-32. https://doi.org/10.1016/S0309-1740(03)00022-6
Yang, K., Wu, D., Ye, X., Liu, D., Chen, J., Sun, P. 2013. Characterization of chemical composition of bee pollen in China. Journal Agric. Food Chem., vol. 61, no. 3, p. 708-718. https://doi.org/10.1021/jf304056b PMid:23265625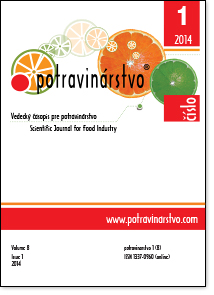 Downloads
How to Cite
Haščí­k, P. ., Elimam, I. ., Garlí­k, J. ., Bobko, M. ., Tkáčová, J. ., & Kačániová, M. . (2014). Effect of bee pollen extract as a supplemental diet on broilers´s ross 308 breast and thigh meat muscles fatty acids. Potravinarstvo Slovak Journal of Food Sciences, 8(1), 167–171. https://doi.org/10.5219/374
License
Authors who publish with this journal agree to the following terms:



Authors retain copyright and grant the journal right of first publication with the work simultaneously licensed under a Creative Commons Attribution License that allows others to share the work with an acknowledgement of the work's authorship and initial publication in this journal.


Authors are able to enter into separate, additional contractual arrangements for the non-exclusive distribution of the journal's published version of the work (e.g., post it to an institutional repository or publish it in a book), with an acknowledgement of its initial publication in this journal.


Authors are permitted and encouraged to post their work online (e.g., in institutional repositories or on their website) prior to and during the submission process, as it can lead to productive exchanges, as well as earlier and greater citation of published work (See The Effect of Open Access).