Perception of basic tastes and threshold sensitivity during testing of selected judges
Keywords:
taste perception, smoking, treshold sensitivity, judge
Abstract
The sense of taste is one of the most important human senses. Alteration in taste perception can greately interfere to our lives, because it influences our dietary habits and consequently general human health. Many physiological and external factors can cause the loss of taste perception. These factors include for example certain diseases, the side effect of the use of certain medicaments, head trauma, gender, dietary habbits, smoking, role of saliva, age, stress and many more. In this paper we are discussing perception of basic tastes and treshold sensitivity during testing of selected groupe of 500 sensory judges. A resolution taste test and sensitivity treshold test were performed using basic tastes (sour, bitter, salty, sweet, umami, astringent, metallic). We have found that the perception of basic tastes decreese with human age. Smoking leads to significant errors in the determination of basic tastes. Different mistakes occures in different age categories. This study suggests further researches, investigating various factors influencing taste perception.  
Downloads
Download data is not yet available.
References
Bartoshuk, L. M., Duffy, V. B., Miller, I. J. 1994. PTC/PROP tasting: anatomy, psychophysics, and sex effects, Physiol Behav, vol. 56, p. 1165-1171 https://doi.org/10.1016/0031-9384(94)90361-1
Gromysz-Kałkowska, K., Wójcik, K, Szubartowska, E., Unkiewicz-Winiarczyk, A. 2002. The perception of cigarette smokers. Ann Univ Mariae Curie Sklodowska Med., vol. 57, no. 2, p. 143-154 PMiD:12898832
Heath, T. P., Melichar, J. K., Nutt, D. J., Donaldson, L. F. 2006. Human taste thresholds are modulated by serotonin and noradrenaline. Journal of Neuroscience, vol. 49, p. 12664-12671https://doi.org/10.1523/JNEUROSCI.3459-06.2006
Horčin, V. 2002. Senzorické hodnotenie potravín. Učebné texty SPU, Nitra 2002. ISBN 80-80-8069-112-6
Hummel, T., Welge-Lüssen, A. 2006. Taste and smell. Karger Publishers : Basel, Switzerland, 294 p. ISBN-10: 3-8055-8123-8
Ju-Hee Hong, Jin-Woo Chung, Young-Ku Kim, Sung-Chang Chung, Sung-Woo Lee, Hong-Seop Kho. 2005. The relationship between PTC taster status and taste thresholds in young adults, Oral Surgery, Oral Medicine, Oral Pathology, Oral Radiology, and Endodontology, vol. 99, issue 6, p. 711-715, ISSN 1079-2104 https://doi.org/10.1016/j.tripleo.2004.08.004
Kopec, K., Horčin, V. 1997. Senzorická analýza ovocia a zeleniny. 1. Vyd. Universum : Bratislava, 194 p.
Leshem, M., Haliwa, M., Hochman, A., Manasherov, M., Yaccobi, A. Gender differences in basic taste perception. Appetite, vol. 51, issue 2, p. 380 https://doi.org/10.1016/j.appet.2008.04.146
Miller, I. J., Reedy, F. E. 1990. Variations in human taste bud density and taste intensity perception, Physiol Behav, vol. 47, p. 1213-1219 https://doi.org/10.1016/0031-9384(90) 90374-D
Mojet, J., Hazelhof, E., Heidema, J. 2001. Taste Perception with Age: Generic or Specific Losses in Threshold Sensitivity to the Five Basic Tastes? Chemical Senses, vol. 26, issue 7, p. 845-860https://doi.org/10.1093/chemse/26.7.845 PMiD:11555480
Murphy, C. 1979. The effects of age on taste sensitivity. In Han, S. S., Coons, D. H. (eds), Special Senses in Aging. University of Ann Arbor, Institute of Gerontology, Ann Arbor, MI, p. 21-33.
Murphy, C. 1986. Taste and smell in the elderly. In Meiselmann, H. L. and Rivlin, R. S. (eds), Clinical Measurements of Taste and Smell. Macmillan : New York, p. 343-371. PMid:3961902
Pasquet, B., Oberti, J., Ati, E., Hladik, C. M. 2002. Relationships between threshold-based PROP sensitivity and food preferences of Tunisians, Appetite, vol. 39, p. 167-173. https://doi.org/10.1006/appe.2002.0503 PMid:12354685
Purves, D., Augustine, G. J., Fitzpatrik, D., Katz, L. C., LaMantia, A. S., McNamara, J. O., Williams, S. M. 2001. Neuroscience, 2nd ed., Sinauer Associates, Inc. : Sunderland (MA), 681 p., ISBN-10: 0-87893-740-0
Ritchie, C. S. 2002. Oral health, taste and olfaction. Clin. Geriatr. Med. vol. 18, p. 709-717 https://doi.org/10.1016/ S0749-0690(02)00041-1
Suliburska, J., Duda, G., Pupek-Musialik, D. 2004. Effect of tobacco smoking on taste sensitivity in adults. Przegl Lek., vol 61, no. 10, p. 1174-1176. PMiD:15794282
Yamamoto, K., Ishimaru, Y. 2012. Oral and extra-oral taste perception. Seminars in Cell & Developmental Biology, In Press, https://doi.org/10.1016/j.semcdb.2012.08.005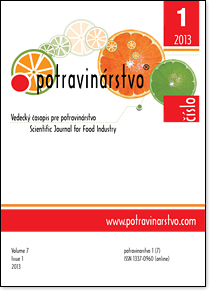 Downloads
How to Cite
Barborová, P. ., Jančovičová, J. ., Zajác, P. ., Čapla, J. ., & Vietoris, V. . (2013). Perception of basic tastes and threshold sensitivity during testing of selected judges. Potravinarstvo Slovak Journal of Food Sciences, 7(1), 12–17. https://doi.org/10.5219/259
License
Authors who publish with this journal agree to the following terms:



Authors retain copyright and grant the journal right of first publication with the work simultaneously licensed under a Creative Commons Attribution License that allows others to share the work with an acknowledgement of the work's authorship and initial publication in this journal.


Authors are able to enter into separate, additional contractual arrangements for the non-exclusive distribution of the journal's published version of the work (e.g., post it to an institutional repository or publish it in a book), with an acknowledgement of its initial publication in this journal.


Authors are permitted and encouraged to post their work online (e.g., in institutional repositories or on their website) prior to and during the submission process, as it can lead to productive exchanges, as well as earlier and greater citation of published work (See The Effect of Open Access).