Enterococci and their ability to form a biofilm
Keywords:
milk, enterococci, identification, biofilm
Abstract
Number of enterococci determined in raw milk cistern samples was in range of 2.95 to 4.18 log CFU.ml-1 and raw milk samples obtained from storage tanks contained enterococci count in the range of 3.04 to 4.51 log CFU.ml-1. Results of microbiological quality evaluation showed, that count of enterococci increased during cold storage of raw milk. Portion of enterococci from the total microflora of raw milk taken from cistern samples was 0.44 %, otherwise in raw milk samples taken from storage tanks portion of enterococci decreased to 0.38 %. Among enterococci isolates  E. faecalis was the predominat species in tested samples of raw milk from both cistern – 58.1 % and storage tank – 71.7 %. The following species were identified E. faecium, E. group III., E. mundtii, E. casseliflavus. It was found that 38 % E. faecalis isolates were able to form a biofilm.
Downloads
Download data is not yet available.
References
BARBOSA, J., GIBBS, P. A., TEIXEIRA, P. 2010. Virulence factors among enterococci isolated from traditional fermented meat products produced in the North of Portugal. In Food Control., vol. 21, 2010, no. 5, p. 651-656. https://doi.org/10.1016/j.foodcont.2009.10.002
BIENDO, M., ADJIDE, C., CASTELAIN, S., BELMEKKI, M., ROUSSEAU, F., SLAMA, M., GANRY, O., SCHMIT, J. L., EB, F. 2010. Molecular Characterization of Glycopeptide-Resistant Enterococci from Hospitals of the Picardy Region (France). In International Journal of Microbiology, vol. 2010, no. 1, p. 1-8.https://doi.org/10.1155/2010/150464 PMid:21052490
CITAK, S., GUNDOGAN, N., MEND, A. 2006. Occurence, isolation and antibiotic resistance of Enterococcus species isolated from raw milk samples in Turkey. In Milchwissenschaft., vol. 61, 2006, no. 2, p. 150-152.
DI ROSA, R., CRETI, R., VENDITTI, M., D´AMELIO, R., ARCIOLA, C., MONTANARO, L., BALDASSARRI, L. 2006. Relationship between biofilm formation, the enterococcal surface protein and gelatinase in clinical isolates of Enterococcus faecalis and Enterococcus faecium. In FEMS Micobiology Letters. vol. 256, 2006, no. 1, p. 145-150. https://doi.org/10.1111/j.1574-6968.2006.00112.xPMid:16487332
DUCKOVÁ, V., ČANIGOVÁ, M., KROČKO, M. 2009. Enterococcus species isolated from sheep milk and Slovak Bryndza cheese and their antibiotic suspectibility. In Milchwissenschaft., vol. 64, 2009, no. 1, p. 70-74.
FOULQUIE MORENO, M. R., SARATINOPOULUS, P., TSAKALIDOU, E., DE VUYST, L. 2006. The role and application of enterococci in food and health. In International Journal of Systematic Bacteriology., vol.106, 2006, no.1, p. 1-24.
GOMES, B. C., ESTEVES, C. T., PALAZZO, I. C. V., FELIS, G. E., SECHI, L. A., FRANCO, B. D. G. M., DE MARTINIS, E. C. P. 2008. Prevalence and characterization of Enterococcus spp. isolated from Brazilian foods. In Food Microbiology., vol 25, 2008, no. 5, p. 668-675. doi.org/10.1016/j.fm.2008.03.008PMid:18541165
KOREŇOVÁ, J., LOPAŠOVSKÁ, J., KUCHTA, T. 2008. Comparison of three microtitre plate-based methods for quantification of biofilm formation ability of bacteria contaminating food technologies. In Journal of Food and Nutrition Research., vol. 47, 2008, no. 2, p. 100-104.
KROČKO, M., ČANIGOVÁ, M., DUCKOVÁ, V. 2007. Porovnanie selektívnych kultivačných médií pre stanovenie počtu enterokokov. In Laboralim 2007: zborník prednáškových a posterových príspevkov zo XVI. Medzinárodnej konferencie o analytických metódach v potravinárstve v súlade s harmonizáciou legislatívy EÚ v dňoch 7. a 8. februára 2007 v Banskej Bystrici. Bratislava: Slovenská technická univerzita. 2007, ISBN 80-227-2222-7, p. 295-299.
METZGER, S. 2008. Biofilm formation by Enterococcus species of bovine mammary gland and environmental origins. In: The Knowledge bank at OSU, The Ohio State University: Department of Animal Sciences Honors Theses, 2008, pp 11.
MOHAMED, J. A., HUANG, W., NALLAPAREDDY, S. R., TENG, F., MURRAY, B. E. 2004. Influence of origin of isolates, especially endocarditis isolates, and various genes on biofilm formation by Enterococcus faecalis. In Infection and Immunity., vol. 72, 2004, no. 6, p. 3658-3663. https://doi.org/10.1128/IAI.72.6.3658-3663.2004PMid:15155680
NECIDOVÁ, L., JANŠTOVÁ, B., KARPÍŠKOVÁ, S., CUPÁKOVÁ, S., DUŠKOVÁ, M., KARPÍŠKOVÁ, R. 2009. Importance of Enterococcus spp. for forming a biofilm. In Czech Journal of Food Science, vol. 27, 2009, no. 2, p. 354-356.
NES, I. F., DIEP, D. B., HOLO, H. 2007. Bacteriocin Diversity in Streptococcus and Enterococcus. In Journal of Bacteriology., vol. 189, 2007, no. 4, p. 1189-1198. https://doi.org/10.1128/JB.01254-06 PMid: 17098898
PANFILI, G., FRATIANNI, A., DI CRISCIO, T., GAMMARIELLO, D., SORRENTINO, E. 2008. Influence of microorganisms on retinol isomerization in milk. In Journal of Dairy Research., vol. 75, 2008, no. 1, p. 37-43. https://doi.org/10.1017/S0022029907003044PMid:18226309
SERIO, A., CHAVES-LÓPEZ, C., PAPARELLA, A. SUZZI, G. 2010. Evaluation of metabolic activities of enterococci isolated from Pecorino Abruzzese cheese. In International Dairy Journal., vol. 20, 2010, no. 7, p. 459-464.https://doi.org/10.1016/j.idairyj.2010.02.005
STN 56 0100: 1970. Mikrobiologické skúšanie požívatín, predmetov bežnej spotreby a prostredia potravinárskych prevádzok. Bratislava : ÚNMS, 1970. 239 s.
STANDAROVÁ, E., BORKOVCOVÁ, I., DUŠKOVÁ, M., PRIDALOVÁ, H., DRAČKOVÁ, M., VORLOVÁ, L. 2009. Effect of Some Factors on the Biogenic Amines and Polyamines Content in Blue-Veined Cheese Niva. In Czech Journal of Food Science vol. 27, 2009, special issue, p. 410-413.
TENDOLKAR, P. M., BAGHDAYAN, A. S., GILMORE, M. S., SHANKAR, N. 2004. Enterococcal surface protein, Esp, enhances biofilm formation by Enterococcus faecalis. In Infection and Immunity., vol. 72, 2004, no. 10, p. 6032-6039. https://doi.org/10.1128/IAI.72.10.6032-6039.2004 PMid:15385507
TEIXEIRA, L. M., CARVALHO, M. S., FACKLAM, R. R. 2007. Enterococcus. In Manual of Clinical Microbiology, 9th ed., Murray, P. R., Baron, E. J., Jorgensen, J. H., Landry, M. L., Pfaller, M. A. (eds), ASM Press: Washington D.C. 2007, chap. 30. p. 698-715.
TRIVEDI, K., CUPÁKOVÁ, S., KARPIŠKOVÁ, R. 2011. Virulence factors and antibiotic resistance in enterococci isolated from food-stuffs. In Veterinarni Medicina., vol. 56, 2011, no. 7, p. 352-357.
TUNCER, Y. 2009. Some technological properties of phenotypically identified enterococci strains isolated from Turkish tulum cheese. In African Journal of Biotechnology., vol. 8, 2009, no. 24, p. 7008-7016.
WEISS, A., DOMIG, K. J., KNEIFEL, W. 2005. Selective media for enumeration of probiotic enterococci. In Food technology and biotechnology, vol. 43, 2005, no. 2, p. 147-155.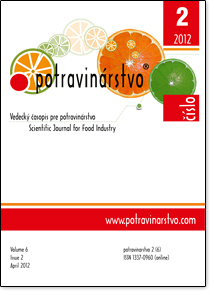 Downloads
How to Cite
Čanigová, M. ., Ducková, V. ., Kročko, M. ., Račková, J. ., & Bezeková, J. . (2012). Enterococci and their ability to form a biofilm. Potravinarstvo Slovak Journal of Food Sciences, 6(2), 15–18. https://doi.org/10.5219/200
License
Authors who publish with this journal agree to the following terms:



Authors retain copyright and grant the journal right of first publication with the work simultaneously licensed under a Creative Commons Attribution License that allows others to share the work with an acknowledgement of the work's authorship and initial publication in this journal.


Authors are able to enter into separate, additional contractual arrangements for the non-exclusive distribution of the journal's published version of the work (e.g., post it to an institutional repository or publish it in a book), with an acknowledgement of its initial publication in this journal.


Authors are permitted and encouraged to post their work online (e.g., in institutional repositories or on their website) prior to and during the submission process, as it can lead to productive exchanges, as well as earlier and greater citation of published work (See The Effect of Open Access).