'Obwarzanek Krakowski' as a traditional food
Keywords:
'obwarzanek krakowski', traditional food, composition
Abstract
The aim of this work was to evaluate the quality and to compare the traditional ('obwarzanek krakowski') with the non-traditional ('obwarzanek') bakery products. Four samples were analysed for chemical composition and texture and colour of crumb. The analysed products differed in the features of general appearance and chemical composition. The traditional products became much more hard during storage time than the non-traditional ones.
Downloads
Download data is not yet available.
References
AOAC OFFICIAL METHOD 991.43. Total, Soluble and Insoluble Dietary Fiber in Foods.
CODEX ALIMENTARIUS, 2001. Food Labelling – Complete Texts. Joint FAO/WHO Food Standards Programme. Codex Alimentarius Commission, Rome.
FISZMAN, S. M., SALVADOR, A., VARELA, P. 2005. Methodological developments in bread staling assessment: application to enzyme-supplemented brown pan bread. In Eur. Food Res. Technol., vol. 221, p. 616-623. https://doi.org/10.1007/s00217-005-0082-2
OFFICIAL JOURNAL OF THE EUROPEAN UNION, 16.2.2010. Publication of an application pursuant to Article 6(2) of Council Regulation (EC) No 510/2006 on the protection of geographical indications and designations of origin for agricultural products and foodstuffs, EC 2010/C 38/08.
POLISH STANDARD PN-A-74105:1992. Wheat baked goods (in Polish).
POLISH STANDARD PN-A-74108:1996. Bakery products. Testing methods (in Polish).
POLISH STANDARD PN-A-74111:1998. Bakery products. Product made of dough steamed in a sodium hydrate solution or water (in Polish).
POLISH STANDARD PN-A-79011-6:1998. Dry food mixes. Test methods. Determination of calorific value (in Polish).
PRZYGODA, B., KUNACHOWICZ, H., PACZKOWSKA, M., DANIEWSKI, W., SEKUŁA, W., 2009. Nutritional value of selected traditional food. Part 1. Energy value and major constituents content. In Bromat. Chem. Toxikol., vol. 42, 2009, no. 3, p. 231-235.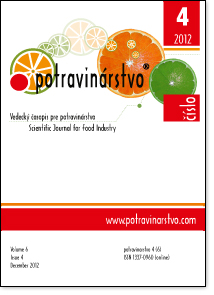 Downloads
How to Cite
Gałkowska, D. ., & Sobolewska-Zielińska, J. . (2012). 'Obwarzanek Krakowski' as a traditional food. Potravinarstvo Slovak Journal of Food Sciences, 6(4), 16–19. https://doi.org/10.5219/197
License
Authors who publish with this journal agree to the following terms:



Authors retain copyright and grant the journal right of first publication with the work simultaneously licensed under a Creative Commons Attribution License that allows others to share the work with an acknowledgement of the work's authorship and initial publication in this journal.


Authors are able to enter into separate, additional contractual arrangements for the non-exclusive distribution of the journal's published version of the work (e.g., post it to an institutional repository or publish it in a book), with an acknowledgement of its initial publication in this journal.


Authors are permitted and encouraged to post their work online (e.g., in institutional repositories or on their website) prior to and during the submission process, as it can lead to productive exchanges, as well as earlier and greater citation of published work (See The Effect of Open Access).