The yield of dna in thermal terated deer meat
Keywords:
DNA, temperature, deer meat
Abstract
Residuals of DNA are one of the most important factors for detection, traceability and reverse authentication of deer meat. In this project we isolated DNA from deer processed meat and analysed by electrophoresis. Goal of the study was compute ratio between raw meat and several heat processed deer meat. Samples were prepared by five heat treatment techniques (pan roasted with temperature 180-240°C, fried with 156°C, braised with temperature 100-150°C, boiled in 100.2°C water and autoclaved in different time intervals). The highest amount of residual DNA 1927ng was obtained with two hours boiled sample. The lowest value 89.89ng was obtained with one hour braised sample. In technological adjustments highest amount of DNA and 1927ng, so the total yield of 192.7ng.-l was observed in the sample we cooked for two hours at boiling temperature. 
Downloads
Download data is not yet available.
References
BAUER, T., WELLER,P., HAMMES, W. P., HERTEL, C. 2003. The effect of processing on the DNA degradation in Food. In European Food Research and Technology, vol. 217. p. 338-343. https://doi.org/10.1007/s00217-003-0743-y
BRODMANN, P. D., NICHOLAS, G., SCHALTENBRAND, P., & ILG, E. C. 2001. Identifying unknown game species: experience with nucleotide sequencing of the mitochondrial cytochrome b gene and a subsequent basic local alignment search tool search. In European Food Research and Technology, vol.212, 2001, p. 491–496. https://doi.org/10.1007/s002170000284
HIRD, H., J. CHISHOLM, A. SANCHEZ, M. HERNANDEZ, R. GOODIER, K. SCHNEEDE, C. BOLT, and B. POPPING. 2006. Effect of heat and pressure processing on DNA fragmentation an implications for the detection of meat using a real-time polymerase chain reaction. In Food Addit Contam., vol. 23, 2006, no.7, p. 645- 50. PMid:16751140
HOFMANN, K. 1994. What is quality? In Meat Focus International, vol. 3, 1994, no. 2, p. 73-82.
HOLME, D., PECK, H. 1998. Analytical biochemistry. 3. vyd. London: Longman,. 481p. ISBN 0-582-29438-X.
CHIKUNI, K., OZUTSUMI, K., KOISHIKAWA, T., AND KATO, S. 1990. Species identification of cooked meat by DNA hybridization assay. In Meat Science, vol. 27, 1994 p. 119-128. https://doi.org/10.1016/0309-1740(90)90060-J
CHUDÝ, J. et al. 2000. Hodnotenie surovín a potravín živočíšneho pôvodu. Nitra: Vydavateľské a edičné stredisko SPU, 2000. p. 204. ISBN 80-7137-692-2.
KLEIN, J., ALTENBUCHNER, J., MATTES, R. 1998. Nucleic acid and protein elimination during the sugar manufacturing process of conventional and transgenic sugar beets. In Journal of Biotechnology, vol. 60,1998, p. 145- 153. https://doi.org/10.1016/S0168-1656(98)00006-6
PMid: 9608751
LOFUS, R. 2005. Traceability of biotech-derived animals: application of DNA technology. In Rev. Sci. Tech. Off. Int. Epiz, vol. 24, 2005, no.1, p. 231-242. PMid:16110891
MEYER, R., U. Candrian, and J. Luthy. 1994. Detection of pork in heated meat products by polymerase chain reaction. J. AOAC Int. vol. 77, 1994, no.3, p. 617-622. PMid:8012209
SAMBROOK, J., FRITZ, E. F., MANIATIS, T. 1989. Molecular cloning: A laboratory manual. 2nd ed., Cold Spring Harb. Lab. Press, USA. Vol. 1-3, 1989.
STEVENSON, J. M., SEMAN, D. L., & LITTLEJOHN, R.P. 1992. Seasonal variation in venison quality of mature, farmed red deer stags in New Zealand. In Journal of Animal Science, vol. 70, 1992, p. 1389-1396. PMid:1526907
TELETCHEA, F., C. MAUDET, C. HANNI. 2005. Food and forensic molecular identification: update and challenges. In Trends Biotechnol. vol. 23, 2005, no. 7, p. 359- 366. http://www.sciencedirect.com/scidirimg/clear.gifhttps://doi.org/10.1016/j.tibtech.2005.05.006 PMid:15927295
VOLPELLI, L. A., VALUSSO, R., PIASENTIER, E. 2002. Carcass quality in Male fallow deer (Dama dama): effects of age and supplementary feeding. In Meat Science, vol. 60, 2002, p. 423-427. https://doi.org/10.1016/S0309-1740(01)00156-5
ZHANG, C. L., FOWLER, M. R., SCOTT, N. W., LAWSON, G., SLATER, A. 2007. A TaqMan real-time PCR system for the identification and quantification of bovine DNA in meats, milks and cheeses. In Food Control, vol. 18, 2007, p. 1149-1158. https://doi.org/10.1016/j.foodcont.2006.07.018
ŽIDEK, R. , POKORÁDI, J., BANDRY Ľ. 2008. Biodiversity in deer population observed by microsatellite markers. In Journal of Agrobiology, vol. 25, 2008, p. 113-115.
ŽIDEK, R., MARŠALKOVÁ, L. GOLIAN, J., POKORÁDI, J., 2009. Potencial of microsatelite markers in traceability of red deer product. In Hygiena alimentorum XXX : production of poultry, eggs, fish and game in conditions of common market., 13.-15. May 2009, Štrbské Pleso - Vysoké Tatry. - Košice : Univerzity of veterinary medicine, 2009. - ISBN 978-80-7148-060-0. p. 341-343.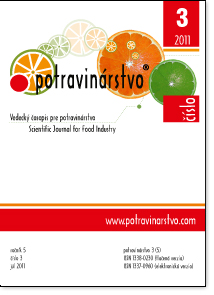 Downloads
How to Cite
Belej, Ľubomir ., Barnová, M. ., Maršálková, L. ., & Golian, J. . (2011). The yield of dna in thermal terated deer meat. Potravinarstvo Slovak Journal of Food Sciences, 5(3), 6–10. https://doi.org/10.5219/153
License
Authors who publish with this journal agree to the following terms:



Authors retain copyright and grant the journal right of first publication with the work simultaneously licensed under a Creative Commons Attribution License that allows others to share the work with an acknowledgement of the work's authorship and initial publication in this journal.


Authors are able to enter into separate, additional contractual arrangements for the non-exclusive distribution of the journal's published version of the work (e.g., post it to an institutional repository or publish it in a book), with an acknowledgement of its initial publication in this journal.


Authors are permitted and encouraged to post their work online (e.g., in institutional repositories or on their website) prior to and during the submission process, as it can lead to productive exchanges, as well as earlier and greater citation of published work (See The Effect of Open Access).