Comparative assessment of storage stability of ginger-garlic and chemical preservation on fruit juice blends
Storage Stability of selected juice blends
Keywords:
juice blends, ginger, garlic, stability, preservatives
Abstract
The study aimed at reduction of wastage of fruit, encourage production, consumption and preservation of fruit juice blends using garlic ginger filtrate with health benefits as biopreservative thus providing alternatives with biological advantage over chemical preservatives (ascorbic and benzoate acids) without altering the organoleptic and physicochemical properties of fruit juice blends. The study evaluated the potential of natural preservatives (ginger, garlic and ginger-garlic filtrates) in comparison with two conventional chemical preservatives (ascorbic and benzoate acids) for fruit juice blends preservation. The juice blend used was cashew, pineapple and watermelon. In terms of flavor and mouth feel, the order of preference of the juice were the preserved with 1% garlic-ginger > 1% ginger > 1% garlic > 1% ascorbic acid > and preserved with 1% sodium benzoate at ambient temperature. Maximum decrease in pH was observed in the juice sample that had no added preservative. Generally, all the fruit blends (preserved and unpreserved), with the exception of the one preserve with 1% ginger-garlic showed growth of bacteria after one week of storage. Juice blends preserved with the 1% ginger-garlic were most acceptable compared to other preservatives. The synergistic biopreservative ability observed with the ginger-garlic may be a preferable alternative to conventional preservatives.
Downloads
Download data is not yet available.
References
Afolayan, G., Babajide, A. A., Adebayo, S. O. 2016. An evaluation of the possibility of incorporating waste cashew apple bagasse into fish diet so as to reduce its wastage. International Journal of Agricultural Sciences, vol. 6, no. 2, p. 909-912.
Aneja, K. R., Dhiman, R., Aggarwal, N. K., Kumar, V., Kaur, M. 2014. Microbes associated with freshly prepared juices of citrus and carrots. International Journal of Food Science, vol. 2014, p. 1-8. https://doi.org/10.1155/2014/408085
APHA. 2015. Compendium of Methods for the Microbiological Examination of Foods. Fifth edition, American Public Health Association Washington, DC., USA, p. 769-774.
AOAC. 2010. W., Horwitz, W., Latimer, G. W. 2010. Official methods of analysis of AOAC International. Gaithersburg MD.: AOAC International. Retrieved from https://www.worldcat.org/title/official-methods-of-analysis-of-aoac-international/oclc/649275444
Mohammad, A. I. 2016. Effect of Different Storage Condition on pH and Vitamin C Content in Some Selected Fruit Juices (Pineapple, Pawpaw and Watermelon). International Journal of Biochemistry Research and Review, vol. 11, no. 2, p. 1-5. https://doi.org/10.9734/IJBCRR/2016/23462
Baskaran, S. A., Amalaradjou, M. A. R., Hoagland, T., Venkitanarayanan, K. 2010. Inactivation of Escherichia coli O157:H7 in apple juice and apple cider by trans-cinnamaldehyde. International Journal Food Microbiology, vol.141, no. 1, p. 126-129. https://doi.org/10.1016/j.ijfoodmicro.2010.04.002
Borode, O. F. 2017. The Effect of Water and Ethanol Extracts of Ginger and Garlic on the Nutritional Quality and Physico-Chemical Properties of Stored Soymilk. International Journal of Food Science and Biotechnology, vol. 2, no. 2, p. 43-50.
Chia, S. L., Rosnah, S., Noranizan, M. A., Ramli, W. 2012. The effect of storage on the quality attributes of ultraviolet- irradiated and thermally pasteurised pineapple juices. International Food Research Journal, vol. 19, p. 1001-1010.
Ephrema, E, Najjara, A., Charcosset, C., Greige-Gergesa, H. 2018. Encapsulation of natural active compounds, enzymes, and probiotics for fruit juice fortification, preservation, and processing: An overview. Journal of Functional Foods, vol. 48, p. 65-84. https://doi.org/10.1016/j.jff.2018.06.021
Eke-Ejiofor, J., 2016. Microbial population and shelf life study of spiced water. European Journal of Food Science and Technology, vol. 4, no. 4, p. 1-11.
Igbinadolor, R., Yahaya, L., Jayeola, C. A. S. 2017. Addressing the Post-harvest Wastages and Under-utilization of Cashew Apple in Nigeria-A Review. The International Journal of Science and Technoledge, vol. 5, no. 7, p. 5-8.
Juan G., Joana A., Ana Luísa P., Luciana S, Virgílio, F., Maria, J. F., Luís, P. 2017. Influence of Food Characteristics and Food Additives on the Antimicrobial Effect of Garlic and Oregano Essential Oils, Foods, vol. 6, no. 44, 10 p. https://doi.org/10.3390/foods6060044
Kaddumukasa, P. P., Imathiu, S. M., Mathara, J. M., Nakavuma, J. L., Kaddumukasa, C. P. 2017. Influence of physicochemical parameters on storage stability: Microbiological quality of fresh unpasteurized fruit juices. Food Science and Nutrition, vol. 5, p. 1098-1105. https://doi.org/10.1002/fsn3.500
Makebe, C., Desobgo, Z., Nso, E., Makebe, C. W., Desobgo, Z. S. C., Nso, E. J. 2017. Optimization of the Juice Extraction Process and Investigation on Must Fermentation of Overripe Giant Horn Plantains. Beverages, vol. 3, no. 4, p. 19. https://doi.org/10.3390/beverages3020019
Mancini, S., Nuvoloni, R., Pedonese, F., Paci, G. 2019. Effects of garlic powder and salt additions in rabbit meat burgers: Preliminary evaluation. Journal of Food Processing and Preservation, vol. 43, no. 3, p. e13894. https://doi.org/10.1111/jfpp.13894
Naz, R., 2018. Storage in Polyethylene Terephthalate Bottles: Changes and Shelf Life. In Rajauria, G., Tiwari, B. K. Fruit Juices. Cambridge, USA : Academic Press, p. 621-635. ISBN 978-0-12-802230-6. https://doi.org/10.1016/B978-0-12-802230-6.00031-X
Neeraj, S., Sushila, K., Neeraj, D., Milind, P., Minakshi, P. 2014. Garlic: A Pungent wonder from nature. International Research Journal of Phamacy, vol. 5, no. 7, p. 523-529. https://doi.org/10.7897/2230-8407.0507106
Nwachukwu, E., Ezejiaku, F. C. 2014. Microbial and Physicochemical characteristics of Locally produced Pineapple juice treated with Garlic and Ginger. International Journal of Current Microbiology and Applied Science, vol. 3, no. 6, p. 895-901.
Oduah, N. O., Longe, O. A., Elemo, G. N., Oke, O. V. 2015. Effects of fermentation on the Quality and composition of Cassava mash (Gari). International Journal of Food Nutrition and Safety, vol. 6, no. 1, p. 30-41.
Okwori, E., Onu, R., Adamu, M. O., Chindo, H., Dikko, H., Odunze, I. I., Baidu, A. L., Natala, C., Eze, P. 2017. Production and shelf life determination of fruit/vegetable juices using watermelon, cucumber, pineapple and carrot. African Journal
of Food Science and Technology, vol. 8, no. 3, p. 34-39. https://doi.org/10.14303/ajfst.2017.015
Olaniran, A. F., Abiose, S. H. 2018. Proximate and antioxidant activities of bio-preserved ogi flour with garlic and ginger. F1000Research, vol. 7, no. 1936, p. 1-13. https://doi.org/10.12688/f1000research.17059.1
Olaniran, A. F., Abiose, S. H., Adeniran, A. H. 2015. Biopreservative Effect of Ginger (Zingiber officinale) and Garlic Powder (Allium sativum) on Tomato Paste. Journal of Food Safety, vol. 35, no. 4, p. 440-452. https://doi.org/10.1111/jfs.12193
Olaniran, A. F., Abiose, S. H., Gbadamosi, S. O. 2019a. Quality attributes and acceptability of Ogi Flour Biofortified with Garlic and Ginger. Journal of Health Science, vol. 7, no. 2, p. 101-109. https://doi.org/10.17265/2328-7136/2019.02.005
Olaniran, A. F., Okolie, C., Abu, H. E., Afolabi, R. O., Owolabi, A. 2019b. Preservative Effect of Garlic-ginger, Sodium Benzoate and Ascorbic Acid in Unpasteurized Cashew Apple Juice. Asian Journal of Scientific Research, vol. 12, p. 414-420. https://doi.org/10.3923/ajsr.2019.414.420
Piper, P. W. 2018. Potential Safety Issues Surrounding the use of Benzoate preservatives. Beverages, vol. 4, no. 33, p. 1-7. https://doi.org/10.3390/beverages4020033
Pongsavee, M. 2015. Effect of sodium benzoate preservative on micronucleus ınduction, chromosome break, and Ala40Thr superoxide dismutase gene mutation inlymphocytes. BioMed Research International., vol. 2015, p. 1-5 https://doi.org/10.1155/2015/103512
Rapisarda, P., Bellomo, S., Fabroni, S., Russo, G. l. 2008. Juice quality of two new mandarin-like hybrids (Citrus clementina Hort. ex Tan x Citrus sinensis L. Osbeck) containing anthocyanins. Journal of Agriculture and Food Chemistry, vol. 56, p. 2074-2078. https://doi.org/10.1021/jf072616e
Rebouças, M. C., Rodrigues, M. C. P., Freitas, S. M. De, Ferreira, B. B. A. 2016. The physicochemical optimization and acceptability of a Cashew Nut-based beverage varying in Mango juice and sugar : A pilot study. Beverages, vol. 2, no. 23, p. 1-7. https://doi.org/10.3390/beverages2030023
Reut, H., Alexandra, L., Hagai, A. 2004. Benzoic Acid, a Weak Organic Acid Food Preservative, Exerts Specific Effects on Intracellular Membrane Trafficking Pathways in Saccharomyces cerevisiae. Applied and Environmental Microbiology, vol 70, no. 8, p. 4449-4457. https://doi.org/10.1128/AEM.70.8.4449-4457.2004
Sádecká, J., Polovka, M., Kolek, E., Belajová, E., Tobolková, B., Daško, Ľ. U., Durec, J. Á. N. 2014. Orange juice with pulp : impact of pasteurization and storage on flavour , polyphenols , ascorbic acid and antioxidant activity. Journal of Food and Nutrition Research, vol. 53, no. 4, p. 371-388.
Samad, M., Sajid, M., Hussain, I., Samad, N., Jan, N. 2019. Influence of herbal extract and storage duration on fruit quality of china lime. Horticulture International Journal Vol. 3, no. 3, p. 153-158.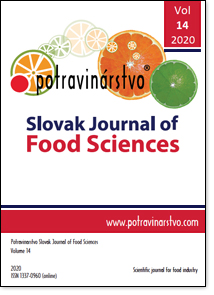 How to Cite
Olaniran, A., Abu, H. ., Afolabi, R. ., Okolie, C. ., Owolabi, A. ., & Akpor, O. . (2020). Comparative assessment of storage stability of ginger-garlic and chemical preservation on fruit juice blends: Storage Stability of selected juice blends. Potravinarstvo Slovak Journal of Food Sciences, 14, 88–94. https://doi.org/10.5219/1262
License
This license permits non-commercial re-use, distribution, and reproduction in any medium, provided the original work is properly cited, and is not altered, transformed, or built upon in any way.