Use of ultra-high-temperature processing of raw milk to improve cheese quality
Keywords:
milk, cheese, UHT processing, cheeseability of milk, cheese ripening
Abstract
The increase in natural cheese production has brought issues related to ensuring the production of high-quality competitive products to the fore. The development of the cheese market requires constant improvement of the existing methods of production and the search for new technological solutions, which will allow us to counterbalance the low quality of raw materials, which is currently a serious problem for domestic cheese production. A promising method of realising the benefits of high-temperature (HT) and ultra-high-temperature (UHT) milk processing in cheese making is the development of new types of cheese with a high moisture content; however, there are very few publications that discuss these approaches. The development of advanced technologies for the production of low-temperature second-degree solid cheeses with the use of HT and UHT processing, related to the improvement of the technological process and the equipment and technological scheme of production of solid cheeses. The main direction of the development of cheese production at the present stage is the improvement of existing technological processes, the development of resource-saving technologies and the improvement of the natural solid rennet cheese quality. The results of our research, related to the study of the composition and safety of milk raw materials, the impact of various technological factors on the cheese production process and the quality of the products obtained, are the basis for our resource-saving technology for the production of solid rennet cheese.
Downloads
Download data is not yet available.
References
Adámek, M., Adámková, A., Řezníček, M., Kouřimská, L. 2016. The estimated possibilities of process monitoring in milk production by the simple thermodynamic sensors. Potravinarstvo, vol. 10, no. 1, p. 643-648. https://doi.org/10.5219/462
Bashaeva, D. V., Khaerdynov, R. R. 2008. Changes in milk proteins during heat treatment. Dairy Industry, vol. 7, p. 74-75.
Horbatova, K. K. 1984. Biochemistry of milk and dairy products. Moscow, Russia : Light and food industry, 344 p. ISBN 5-901065-48-4.
Hudkov, A. V. 2003. Cheesemaking: technological, biochemical and physico-chemical aspects. Moscow, Russia : DeLy Print, 800 p. ISBN 5-94343-071-7.
Kazumoto, H. U., Tetsuo, S. 1988. Gel-Forming Characteristics of Milk Proteins. 1. Effect of Heat Treatment. J. Dairy Sci., vol. 71, no. 6, p. 1439-1446. https://doi.org/10.3168/jds.S0022-0302(88)79706-4
Khramtsov, A. H., Emelianov, S. A., Evdokymov, Y. A. 2006. The need for bacterial sanitation of raw milk. Dairy Industry, vol. 3, p. 11-16.
Kuznytsov, V. V., Shyler, H. H. 2003. Handbook of a dairy production technologist. Technology and Recipes. St. Peterburg, Russia : GIORD, 512 p. ISBN 5-901065-47-6.
Singh, H., Waungana, A. 2001. Influence of heat treatment of milk on cheesemaking properties. Int. Dairy I., vol. 11, no. 3, p. 543-551. https://doi.org/10.1016/S0958-6946(01)00085-1
Skott, R., Robynson, R. K., Uylby, R. A. 2005. Cheese production: scientific foundations and technologies. St. Peterburg, Russia : Professyia, 464 p. ISBN 5-93913-071-2.
Tepel, A. 1979. Chemistry and physics of milk. Moscow, Russia : Food industry, 623 p. ISBN 978-5-904757-34-2.
Tverdokhleb, H. V., Ramanauskas, R. Y. 2006. Chemistry and Physics of Milk and Dairy Products. Moscow, Russia : DeLy Print, 360 p. ISBN 5-94343-114-4.
Zolotyn, Y. P. 1979. Sterilized milk. Moscow, Russia : Food Industry, 158 p.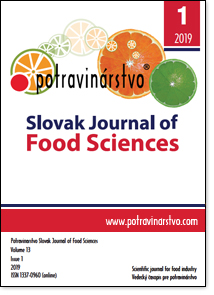 How to Cite
Semko, T. ., Palamarchuk, V., & Sukhenko, V. (2019). Use of ultra-high-temperature processing of raw milk to improve cheese quality. Potravinarstvo Slovak Journal of Food Sciences, 13(1), 840–845. https://doi.org/10.5219/1186
License
Authors who publish with this journal agree to the following terms:



Authors retain copyright and grant the journal right of first publication with the work simultaneously licensed under a Creative Commons Attribution License that allows others to share the work with an acknowledgement of the work's authorship and initial publication in this journal.


Authors are able to enter into separate, additional contractual arrangements for the non-exclusive distribution of the journal's published version of the work (e.g., post it to an institutional repository or publish it in a book), with an acknowledgement of its initial publication in this journal.


Authors are permitted and encouraged to post their work online (e.g., in institutional repositories or on their website) prior to and during the submission process, as it can lead to productive exchanges, as well as earlier and greater citation of published work (See The Effect of Open Access).