The composition and content of phenolic compounds in tea, grown in humid subtropics of Russia
Keywords:
Camellia sinensis, cultivar, black tea, green tea, hydrothermal condition, tannin, extractive compounds, flavonoid, catechin
Abstract
The article presents the results of studies on the dynamics, qualitative and quantitative composition of phenolic compounds of tea raw materials and tea of new forms of selection of the Institute. The regularity in their synthesis by months is determined, which affects the quality indicators of the end product and necessitates blending to the repaired tea. The accumulation of tannins in tea raw materials depends on hydrothermal conditions, in particular, the amount of precipitation. The content of tannin increases from May to June, then there is some decline in their content, due to hydrothermal stress, slowing the synthesis of tannins in the tea leaf. The content of the water-soluble fraction gradually increases from May to July, and then there is a slight decline. It is shown that the accumulation of phenolic compounds in tea raw materials varies during the collection season. The contents of theaflavins increased from the beginning of the collecting sheet to its completion. The content of thearubigins showed peaks: the lowest rate in June, the highest in August. It was revealed that a sharp drop in the synthesis of thearubigins in June is associated with the onset of the summer dormancy of growth and synthetic processes. The synthesis of both indicators depends on meteorological conditions. The comparative analysis of the samples of tea raw materials collected from experimental plants is carried out. It is shown that the content of tannin and extractive substances in the raw materials of the studied varieties and mutant forms is high. In terms of the ratio of theaflavins and thearubigins, tea made from experienced raw materials meets international requirements. Determination of the qualitative composition of the catechin group of green tea, produced from raw materials of new forms, showed a high level of accumulation of the main groups of catechins.
Downloads
Download data is not yet available.
References
AOAC International, 2009. Quality assuarance check list for small laboratories, vol. 16, no. 11, 13 p.
Belous, O. G. 2008. Diagnostics of tea plant resistance to stress factors. Vestnik of the Russian agricultural science, vol. 6, no. 6, p.41-43. https://doi.org/10.30850/vrsn/2018/2/27-30
Belous, O. G. 2013. Influence of microelements on biochemical parameters of tea. Potravinarstvo, vol. 7, no. 1, p. 149-152.
Belous, O., Platonova, N. 2018. Physiological foundations of sustainability Camellia sinensis (L.) O. Kuntze and Corylus pontica C. Koch. in the conditions of humid subtropics of Russia. American Journal of Plant Sciences. Special Issue on Plants in Extreme Environment, vol. 9, no. 9, p. 1771-1780. https://doi.org/10.4236/ajps.2018.99129
Dzhemuhadze, M. K. 1946. Biochemical control of withering of tea leaves. Biochemistry of tea production, vol. 5, no. 1, p. 125-142.
Gramza, A., Pawlak-Lemanska, K., Korczak, J., Wаsowicz, E., Rudzinska, M. 2005. Tea extracts as free radical scavengers. Polish Journal Environment Studies, vol. 14, p. 861-867.
Gvasaliya, М. V. 2018. Economic estimation of new varieties and mutant forms of tea (Camellia sinensis (L.) Kuntze) in Russian subtropics. Pomiculture and small fruits culture in Russia, vol. 53, no. 1, p. 104-111.
Gzhidzhiechvili, G. А., Guguchvili, Т. А., Hurdidze, G. А., Tsanava, V. P. 1984. Phenolic compounds of tea materials of the Kolkhida variety. Subtropical cultures, vol. 1, no. 1, p. 39-43.
Haslam, E. 1989. Plant polyphenols: vegetable tannins revisited. In Phillipson, J. D. et al. Chemistry and Pharmacology of Natural Products. Cambridge : Cambridge University Press, 230 p. ISBN: 0-521-32189-1.
ISO 14502-2: 2005. Determination of substances characteristic of green and black tea - Requirements.
Khan, N., Mukhtar, H. 2007. Tea polyphenols for health promotion. Life Science, vol. 81, no. 7, p. 519-533. https://doi.org/10.1016/j.lfs.2007.06.011
Khvedelidze, V. G., Gvinianidze, T. N. 2004. New aspects of biochemistry and pharmacology of tea. Beer and beverages, vol. 6, no. 5, p. 56-57.
Mgaloblishvili, E. K., Tsutsunava, A. Y.1979. Tea and medicine. Batumi : Sabchota Adjara, 35 p.
Platonova N., Belous, O. 2018. The content of flavonoids, depending on the growing conditions and varieties of tea plants. In Material symposium: Phenolic compounds: fundamental and applied aspects. Moscow, Russia : IFR RAS, p. 319-326. ISBN 978-5-6040654-5-7.
Platonova, N., Belous, O., Ostadalova, М. 2017. Comparative analysis of biochemical components of tea. Subtropical and Ornamental Gardening, vol. 61, no. 1, p. 180-189.
Prokopenko, I. А., Tuov, М. Т. 1994. New perspective clones of tea in the subtropics of Russia. Subtropical and Ornamental Gardening, vol. 38, no. 1, p. 153-160.
Ryndin, A., Belous, O., Abilfazova, Y., Prytula, Z. 2017. The regulation of the functional state of subtropical crops with micronutrients. Potravinarstvo Slovak Journal of Food Sciences, vol. 11, no. 1, p. 175-182. https://doi.org/10.5219/669
Salah, N., Miller, N., Paganga, G., Tijburg, L. 1995. Polyphenolic Flavanols as Scavengers of Aqueous Phase Radicals and as Chain-Breaking Antioxidants. Archives of Biochemistry and Biophysics, no 322, p. 339-346. https://doi.org/10.1006/abbi.1995.1473
Vorontsov, V. Е. 1946. Tea biochemistry. Moscow, Russia : Pishepromizdat, 279 p.
Willson, K. C. 1975. Studies on the mineral nutrition on tea. Plant and Soil, vol. 42, no 3, p. 501-516. https://doi.org/10.1007/BF00009939
Wright, L. P. 2005. Biochemical analyses for identification of quality in black tea (Camellia sinensis) Pretoria, South Africa : dissertation theses, University of Pretoria. 216 p.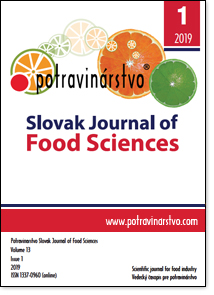 How to Cite
Platonova, N. ., Astanin, A. ., Sedykh, S. ., Samarina, L. ., & Belous, O. . (2019). The composition and content of phenolic compounds in tea, grown in humid subtropics of Russia. Potravinarstvo Slovak Journal of Food Sciences, 13(1), 32–37. https://doi.org/10.5219/990
License
Authors who publish with this journal agree to the following terms:



Authors retain copyright and grant the journal right of first publication with the work simultaneously licensed under a Creative Commons Attribution License that allows others to share the work with an acknowledgement of the work's authorship and initial publication in this journal.


Authors are able to enter into separate, additional contractual arrangements for the non-exclusive distribution of the journal's published version of the work (e.g., post it to an institutional repository or publish it in a book), with an acknowledgement of its initial publication in this journal.


Authors are permitted and encouraged to post their work online (e.g., in institutional repositories or on their website) prior to and during the submission process, as it can lead to productive exchanges, as well as earlier and greater citation of published work (See The Effect of Open Access).