Determination of flavonoids content in coloured peas (Pisum sativum L.) In relation to cultivar's dependence and storage duration under natural conditions
Keywords:
yellow and green pea, flavonoid, storage
Abstract
Our attention is being given especially to four representative flavonoids: kaempherol, apigenin, genistein and daidzein. These flavonoids were studied in the seeds of colored varieties of dry pea. Isocratic HPLC analysis with DAD detection after acid hydrolysis of samples was performed. The differences of flavonoid contents in individual pea varieties were not significant. The determined values of  flavonoids in green peas were: daidzein 1,746-2,688 mg.kg-1, genistein  0,412-0,706 mg.kg-1, kaempherol 0,621-1,484 mg.kg-1, apigenin 0,261-0,479 mg.kg-1. Yellow varieties of pea contained between 0,375-0,779 mg.kg-1 daidzein, 0,115-0,158 mg.kg-1 genistein, kaempherol 0,742-1,314 mg.kg-1, apigenin  0,462-0,698 mg.kg-1. Also the changes in content of chosen flavonoids in pea in the dependence on variety in dried legumes stored under natural conditions were surveyed. From the results it came out that in interval 7 month the content of all observed flavonoids declined in dry material (in some cases even to non-detectable levels). 
Downloads
Download data is not yet available.
References
BENINGER, C. W., HOSFIELD, G. L., BASSETT, M. J. 1999. Flavonoid composition of three genotypes of dry bean (Phaseolus vulgaris L.) differing in seedcoat color. In Journal of the American Society for Horticultural Science, vol. 124, 1999, no. 5, p. 514-518.
BILBAO, T., HAMPE, S., SMITH, R. A., PUERTA, F., LEDESMA, L. 2000. Presence of natural antinutrients and toxins red beans and pea during storage at ambient. In Alimentaria, 314, 2000, p. 147-150.
DUENAS, M., ESTRELLA, I., HERNANDEZ, T. 2004. Occurrence of phenolic compounds in the seed coat and the cotyledon of peas (Pisum sativum L.). In European Food Research and Technology, vol. 219, 2004, no. 2, p. 116-123.
HEMPEL, J., BOHM, H. 1996. Quality and quantity of prevailing flavonoid glycosides of yellow and green French bean. In Journal of Agricultural and Food Chemistry, vol. 44, 1996, no. 8, p. 2114-2116.
KALOGEROPOULOS, N., CHIOU, A., IOANNOU, M., HASSAPIDOU, M., KARATHANOS, V. T., ADRIKOPOULOS, N. K. 2010. Nutritional evaluation and bioactive microconstituents (phytosterols, tocopherols, polyphenols, triterpenic acids) in cooked dry legumes usually consumed in the Mediterranean countries. In Food Chemistry, vol. 121, 2010, p. 682–690.
LACHMAN, J., HAMOUZ, K., ORSÁK, M. 2005. Červeně a modře zbarvené brambory. Významný zdroj antioxidantů v lidské výživě. In Chemické listy, vol. 99, 2005, no. 6, p. 474-482.
MAGÁLOVÁ, T. 1999. Výživa a nádorové ochorenia ženského prsníka. In Bratisl. Lek. Listy, vol. 100, 1999, no. 9, p. 503-514.
TROSZYNSKA, A., ESTERELLA, I. LOPEZAMORES, L., HERNANDEZ, T. 2002. Antioxidants activity of pea seed coat acetone extract. In Lebensmittel, Wissenschaft und Technologie, vol. 35, 2002, no. 2, p. 154-158.
TROSZYNSKA, A., AMAROWICZ, R., LAMPARSKI, G., WOLEJSZO, A., BARYLKO-PIKIELNA, N. 2006. Investigation of astringency of extracts obtained from selected tannins-rich legume seeds. In Food Quality and Preference, vol. 17, 2006, p. 31-35.
WANG, G., MURPHY, P. 1990. A simplified HPLC methods for the determination of phytoestogens in soybean and its processed products. In J. Agric. Food Chem., 38, 1990, p. 185-190.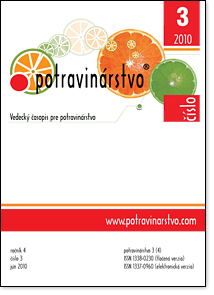 Downloads
How to Cite
Timoracká, M. ., & Vollmannová, A. . (2010). Determination of flavonoids content in coloured peas (Pisum sativum L.) In relation to cultivar's dependence and storage duration under natural conditions. Potravinarstvo Slovak Journal of Food Sciences, 4(3), 58–62. https://doi.org/10.5219/70
License
Authors who publish with this journal agree to the following terms:



Authors retain copyright and grant the journal right of first publication with the work simultaneously licensed under a Creative Commons Attribution License that allows others to share the work with an acknowledgement of the work's authorship and initial publication in this journal.


Authors are able to enter into separate, additional contractual arrangements for the non-exclusive distribution of the journal's published version of the work (e.g., post it to an institutional repository or publish it in a book), with an acknowledgement of its initial publication in this journal.


Authors are permitted and encouraged to post their work online (e.g., in institutional repositories or on their website) prior to and during the submission process, as it can lead to productive exchanges, as well as earlier and greater citation of published work (See The Effect of Open Access).