Study on fatty acids composition of lipid class in fish oil, proximate analysis and calorie value of kijar in Iran
Keywords:
Kijar, biochemical composition, fish oil, oil fatty acids
Abstract
This aim of this research was to determine fatty acids and raw proximate composition and calorie value of fish Kijar in Iran. The fatty acids and proximate composition Kijar was determined. The established AOAC (Association of Official Agricultural Chemist, USA) methods were followed for composition bio chemical of fish. Mean moisture, fat, protein, ash, carbohydrate contents and calorie value of raw fish were 70.81%, 5.88%, 17.80%, 3.41%, 2.1% and 132.52 kcal, respectively. Among fatty acids, palmitic acid was a major fatty acid while stearic acid was the other major constituent. Unsaturated monoenoic fatty acids (oleic and palmitoleic acids were major constituents. Important unsaturated fatty acids such as EPA and DHA, were also identified. percentage composition of fatty acids in the lipid classes of oil of Saurida undosquamis which the saturated fatty acids ranges from 58% to 72.14%. Palmitic acid is predominant and its composition ranges 38.64% to 48.98% while stearic acid ranges from 11.35% to 19.50%. Among unsaturated fatty acids, monoenoic are the major fatty acids. Oleic acid ranges from 12.15% to 27.48%. It is concluded that fish kijar found as health seafood for Iranian southern peoples form point of view of nutritional values and valuable fatty acids. Therefore it is recommended people put this fish in diet basket and it consumed three times in the week.
Downloads
Download data is not yet available.
References
AOAC. 2000. Association of Official Analytical Chemists. Official methods of analysis (14th ed.) Arlington, VA. Kjeldahl J. 1883. Determination of protein nitrogen in food products. Encyclopedia of Food Science. p.439-441.
AOCS. 1979. Official and Tentative Methods of the American Oil Chemists' Society. Vol.1, AOCS, Champaign, IL.
Damsgaard, C. T., Schack-Nielsen, L., Michaelsen K. F. 2006. Fish oil affects blood pressure and the plasma lipid profile in healthy Danish infants. Journal of Nutrition, vol. 136, p. 94-99.
Elagba, H. A. M., Rabie, A., Mansour, H. M. 2010. Proximate composition, amino acid and mineral contents of five commercial Nile fishes in Sudan. African Journal of Food Science, vol. 4, no. 10, p. 650-654.
Falch Overrian, I., Solberg, C., Slyzyete, R. 2010. Compositions and calories In Nollet, L. M. L. And Toldrá, F. Handbook of seafood and seafood product analysis. New Boca Raton, FL : CRC Press. Taylor and Francies Group. p. 257-288.
García-Arias, M. T, Álvarez-Pontez, E, García-Linares, M.C., García-Fernández, M. C., Sánchez-Muniz, F. J. 2003. Cooking-freezing-reheating (CFR) of sardine (Sardinapichardus) fillets, effect of different cooking and reheating procedures on the proximate and fatty acid compositions. Food Chemistry, vol. 83, no. 3, p.349-356. https://dx.doi.org/10.1016/S0308-8146(03)00095-5
Harris, W. S. 1997. n-3 fatty acids and serum lipoproteins: human studies. American Journal of Clinical Nutrition, vol. 65, no. 164, p. 5S-54S.
Kaur, N., Chugh, V., Gupta, A. K. 2012. Essential fatty acids as functional components of foods - a review. Journal of Food Science and Technology, vol. 51, no. 10, p. 2289-2303. https://doi.org/10.1007/s13197-012-0677-0 PMid:25328170
Khan, A. H., Khalid, Q., Ali, S. S. 1970. Studies on the seed oil of Abrus precatorius. L. Composition of the lipid classes. Pakistan Journal of Science of Industry Research, vol. 13, p. 391.
Kubow, S. 1992. Routes of formation and toxic consequences of lipid oxidation products in foods. Free Radical Biological Medicine, vol. 12, p. 63-81.
Puwastien, P., Judprasong, K., Kettwan, E. 1999. Proximate composition of raw and cooked Thai freshwater and marine fish. Journal of Food Composition and Analysis, vol. 12, p. 9-16. https://doi.org/10.1006/jfca.1998.0800
Siddique, M. A. M., Mojumder, P., Zamal, H. 2012. Proximate composition of three commercially available marine dry fishes (Harpodon nehereus, Johnius dussumieri and Lepturacanthus savala). American Journal of Food Technology, vol. 7, no.7, p. 429-436. https://doi.org/10.3923/ajft.2012.429.436
Wang, Y. W., Jones, P. J. H. 2004. Conjugated linoleic acid and obesity control: efficacy and mechanisms. International Journal of Obesity and Related Metabolic Disorders, vol. 28, p. 941-955. https://doi.org/10.1038/sj.ijo.0802641 PMid:15254484
Yanar, Y., Küçükgülmez, A., Ersoy, B., Çelik, M. 2007. Cooking effects on fatty acid composition of cultured sea bass (Dicentrarchus labrax) fillets. Journal of Muscle Foods, vol.18, p.88-94. https://doi.org/10.1111/j.1745-4573.2007.00068.x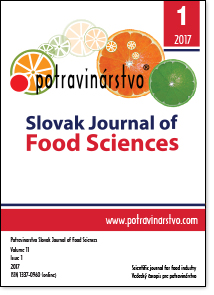 Downloads
How to Cite
Aberoumand, A. ., Mohamedi, N. ., & Zemanpoor, M. . (2017). Study on fatty acids composition of lipid class in fish oil, proximate analysis and calorie value of kijar in Iran. Potravinarstvo Slovak Journal of Food Sciences, 11(1), 7–10. https://doi.org/10.5219/418
License
Authors who publish with this journal agree to the following terms:



Authors retain copyright and grant the journal right of first publication with the work simultaneously licensed under a Creative Commons Attribution License that allows others to share the work with an acknowledgement of the work's authorship and initial publication in this journal.


Authors are able to enter into separate, additional contractual arrangements for the non-exclusive distribution of the journal's published version of the work (e.g., post it to an institutional repository or publish it in a book), with an acknowledgement of its initial publication in this journal.


Authors are permitted and encouraged to post their work online (e.g., in institutional repositories or on their website) prior to and during the submission process, as it can lead to productive exchanges, as well as earlier and greater citation of published work (See The Effect of Open Access).