The effect of melon and watermelon concentrates on consumer properties of polycomponent dairy dessert
Keywords:
milk dessert, jelly, carrageenan, melon, watermelon
Abstract
A full balanced nutrition is a necessary condition for a person"™s normal physical and mental development, resistance to the effects of adverse environmental factors and strengthening immunity, which is of particular importance in the bad ecological situation in the world. Providing the population with high-quality bio-functional food is an important state task, the fulfillment of which is the key to the health of the nation, and ultimately ensures the security of the country. One of the effective ways to prevent and treat various diseases is the development of a new generation of functional dessert products with dietary properties. As a basis, there has been a principle considered, i.e., the high nutritional, biological value and physiological activity of the product are predetermined by the high quality of the raw materials. The article analyzes the state of the dairy industry at the present stage. The efficiency of melon and watermelon concentrates in the production of multicomponent dairy dessert has been substantiated. The positive effect of the tested concentrates on the structural and mechanical properties of the jelly part of the dessert, organoleptic characteristics and nutritional value of the product has been established. The optimal concentration of the gelling agent in the jelly has been determined. There were some conducted experiments aimed at maximum reducing of the gelling agent"™s weight fraction in the product.
Downloads
Download data is not yet available.
References
Ajewole, I. A., Ozo, O. N., Ezenweke, L. O., Okoli, E. 1999. Enrichment of pregelatinized cocoyam flour with melon seed protein concentrate as an instant food gel. Discovery and Innovation, vol. 11, no. 3-4, p. 185-188. https://doi.org/10.4314/dai.v11i3.15552
Balaghi, S., Senge, B. 2014. Structural development of semi-solid dairy desserts influenced by hydrocolloids and temperature: Rheology and particle size distribution. International Dairy Journal, vol. 39, p. 184-192. https://doi.org/10.1016/j.idairyj.2014.06.007
Basiria, S., Haidarya, N., Shekarforousha, S. S., Niakousari, M. 2018. Flaxseed mucilage: A natural stabilizer in stirred yogurt. Carbohydrate Polymers, vol. 187, p. 59-65. https://doi.org/10.1016/j.carbpol.2018.01.049
Buldakov, A. S. 2001. Food supplements: a reference book. Moscow, Russia : DeLi, 436 p. ISBN 5-7443-0023-6.
Crus, G. N., Tinyakov, V. G., Fofanov, Y. F. 1986. Milk technology and dairy industry equipment: study manual. Moscow, Russia : Agropromizdat, 280 p. ISBN 5-9532-0081-1.
Edwards, B. 2009. Caramels, fondants and jellies as centers and fillings. In Talbot, G. Science and Technology of Enrobed and Filled Chocolate, Confectionery and Bakery Products. Cambridge, UK : Woodhead Publishing, p. 123-151. ISBN 9781845696436. https://doi.org/10.1533/9781845696436.1.123
Faryabi, B., Mohr, S., Onwulata, C. I., Mulvaney, S. J. 2009. Foods Containing Whey Proteins. In Onwulata, CH. I., Huth, P. J. Whey Processing, Functionality and Health Benefits. Hoboken, USA : John Wiley & Sons, p. 213-226. ISBN 9780813803845. https://doi.org/10.1002/9780813803845
Ghosh, S., Playford, R. J. 2003. Bioactive natural compounds for the treatment of gastrointestinal disorders. Clinical Science, vol. 104, no. 6, p. 547-556. https://doi.org/10.1042/CS20030067
Gomes, J. J. L., Duarte, A. M., Batista, A. S. M., de Figueiredo, R. M. F., de Sousa, E. P., de Souza, E. L. 2013. Physicochemical and sensory properties of fermented dairy beverages made with goat's milk, cow's milk and a mixture of the two milks. LWT Food Science and Technology, vol. 54, no. 1, p. 18-24. https://doi.org/10.1016/j.lwt.2013.04.022
Gorlov, I. F., Mosolova, N. I., Korotkova, A. A. 2012. New in the production of functional products from goat milk. Bulletin of the Russian Academy of Agricultural Sciences, vol. 4, p. 16-18.
Gorlov, I. F., Mosolova, N. I., Zlobina, E. Y., Pryanichnikova, N. S., Randelin, D. A., Fedulova, L.V. 2015. Development and implementation of innovative technologies of production, processing and creation of competitive meat and dairy products of a new generation. Volgograd, Russia : Volgograd Scientific Publishing House, 151 p. ISBN 978-5-00072-111-7.
GOST 3624-92. Milk and milk products. Titrimetric methods of acidity determination.
GOST 3626-73. Milk and milk products. Methods for determination of moisture and dry substance.
GOST R 54758-2011. Milk and milk products. Methods for determination of density.
Gul, K., Singh, A. K., Jabeen, R. 2016. Nutraceuticals and Functional Foods: The Foods for the Future World. Critical Reviews in Food Science and Nutrition, vol. 56, p. 2617-2627. https://doi.org/10.1080/10408398.2014.903384
Karnopp, A. R., Oliviera, K. G., Forville de Andrade, E., Postingher, B. M., Granato, D. 2017. Optimization of an organic yogurt based on sensorial, nutritional, and functional perspectives. Food Chemistry, vol. 233, p. 401-411. https://doi.org/10.1016/j.foodchem.2017.04.112
Khramtsov, A. G., Vasilisin, S. G. 2004. Reference technologist dairy production. Technology and recipes. Products from skimmed milk, buttermilk and whey vol. 5. St-Petersburg, Russia : GIORD, 576 p. ISBN 5-901065-47-6.
Krupin, A. V. 2009. The main patterns of structure formation in whey under the influence of gelling agents. Food industry: science and technology, vol. 3, p. 40-46.
Mgebrishvili, I. V., Gorlov, I. F. 2012. Parfait from goat milk using melon crops concentrates. In Technologies and healthy food. Functional foods: Proceedings of anniversary X scientific-practical. conf. with Intern. Participation. Moscow, Russia, p. 179-182.
Mgebrishvili, I. V., Gorlov, I. F., Selezneva, E. A., Korotkova, A. A. 2013a. Milk dessert Sankarini as a functional product of the new generation. Innovative technologies in the production and processing of agricultural products in the conditions of the WTO: Proceedings of international scientific-practical Conf. Volgograd, Russia : Volga Region Research Institute of Manufacture and Processing of Meat-and-Milk Production, p. 324-327.
Mgebrishvili, I. V., Selezneva, E. A., Korotkova, A. A., Gorlov, I. F. 2013b. Functional polycomponent dessert product. Actual problems of development of the agro-industrial complex of the Caspian sea region. Elista, Russia : Kalmyk State University, p. 61-62.
Mgebrishvili, I. V., Selezneva, E. A., Korotkova, A. A., Gorlov, I. F. 2013c. Efficiency of application of melon concentrates in the formulation of a multicomponent dairy dessert. Storage and processing of agricultural raw materials vol. 8, p. 44-45.
Sethi, S., Tyagi, S. K., Anurag, R. K. 2016. Plant-based milk alternatives an emerging segment of functional beverages: a review. Food Sci Technol., vol. 53, no. 9, p. 3408-3423. https://doi.org/10.1007/s13197-016-2328-3
Yang, H., Irudayaraj, J., Sakhamuri, S. 2001. Characterization of Edible Coatings and Microorganisms on Food Surfaces Using Fourier Transform Infrared Photoacoustic Spectroscopy. Applied Spectroscopy, vol. 55, no. 5, p. 162-170. https://doi.org/10.1366/0003702011952370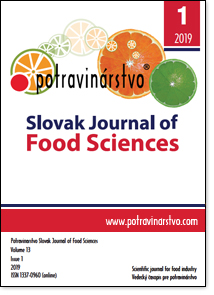 How to Cite
Gorlov, I. F., Mgebrishvili, I. V., Slozhenkina, M. I., Mosolova, N. I., & Tarasova, I. A. . (2019). The effect of melon and watermelon concentrates on consumer properties of polycomponent dairy dessert. Potravinarstvo Slovak Journal of Food Sciences, 13(1), 438–442. https://doi.org/10.5219/1115
License
This license permits non-commercial re-use, distribution, and reproduction in any medium, provided the original work is properly cited, and is not altered, transformed, or built upon in any way.