Physical factors relevant for efficient Hawthorn fruit extraction
Keywords:
dietary fiber, extraction, fermented milk product, hawthom fruit, pectic substances, tannins
Abstract
Today, the healthy nutrition market is one of the most promising market niches; modern consumers increasingly claim fortified products for their diets. One of the ways to increase the biological and physiological value of products is their enrichment with extracts of plant origin. The aim of the work was to study the influence of various factors on the process of hawthorn fruit extraction and determine the optimal parameters of the technological process. The study objects were hawthorn fruit extracts produced by the statistical method of maceration (with stirring). In the extracts obtained, there were determined the quantitative content of tannins and pectin substances, dietary fiber and vitamins. Currently, the global health and wellness food market is steadily growing due to changes in consumer behaviour patterns and developing of healthy self-consciousness. The studies conducted by the authors have shown that extracting of plant materials and the efficiency of biologically active substances extraction are influenced by the following factors: the extractant pH, grinding type and size of raw materials and process parameters. The optimal technological regimes have been established. They are the extraction temperature of 60 °C and extraction time of 30 minutes. The appropriate grinding size of dry hawthorn fruit has been determined to be up to 2.8 mm of a particle. In case of milk being an extractant, a high extraction dynamic of pectic substances and dietary fibers was observed. So, the hawthorn milk extract has been revealed to have higher organoleptic characteristics.
Downloads
Download data is not yet available.
References
Aliyev, A. M., Stepanov, G. V. 2006. Investigation of the Pressure Effect on the Process of Supercritical Extraction of Biologically Active Substances from Plant Raw Materials. Supercritical Fluids: Theory and Practice, vol. 1, p. 101-105.
Fedoseeva, L. M. 2005. The study of tannins of underground and above-ground vegetative organs of bergenia thick-leaved growing in Altai. Chemistry of plant materials, vol. 3, p. 45-50.
Ishanhodzhaeva, M. M. 2012. Physical chemistry. Part 1. Diffusion in systems with a solid phase: a teaching aid. St-Petersburg, Russia : HSTE, 35 p.
Iudina, Y. 2015. The study of the calendula flowers extraction process. Pharmacy Bulletin ,vol. 3, no. 83, p. 28-31. https://doi.org/10.24959/nphj.15.2016
Ivanova, Y. A., Malkov, V. A., Babkin, V. A. 2008. Characteristic parameters of the extraction process of larch with ethyl acetate. Chemistry of plant raw materials, vol. 2, p. 39-42.
Khalanskaya, D. M., Lodygin, A. D., Kurchenko, V. P. 2017. Study of the influence of technological factors on the extraction of biologically active substances of plant materials. Molecular-genetic and biotechnological bases for the production and use of synthetic and natural biologically active substances: proceedings of the International Scientific and Practical Conference. Stavropol, Russia : North Caucasus Federal University, p. 290-293.
Kňazovická, V., Bačiková, A., Bányiová, R., Tkáčová, J., Čanigová, M., Haščík, P. 2015. Honey characteristics after extraction and half-year storage. Potravinarstvo, vol. 9, no. 1, p. 543-549. https://doi.org/10.5219/560
Kukharenko, A. A., Bogatyrev, A. N., Korotkiy, V. M. 2008. Scientific principles of micronutrient food fortification. Food industry, vol. 5, p. 62-66.
Leonova, M. V., Klimochkin, Y. N. 2012. Extraction methods for the manufacture of drugs from plant materials, teaching guide. Samara, Russia : Samara State Technical University, 118 p. ISBN 5-7964-0707-4.
Lincheva, V., Petkova, N., Ivanov, I. 2017. Optimization of biologically active substances extraction process from Potentilla reptans L. aerial parts. Journal of Applied Pharmaceutical Science, vol. 7, p. 174-179.
Lyapin, O. A., Shevchenko, V. V., Kiselev, V. S., Radchenko, M. V., Radchenko, T. B. 2009. Improvement of machinery for the extraction of plant materials. Mechanization and electrification of agriculture, vol. 5, p. 22-23.
Nikolaev, O. A. 2012. Genesis and development of the functional food market. Modern competition, vol. 2, p. 85-96.
Okhrimenko, O. V., Golovlev, D. A., Ryzhkova, I. P. 2011. The study of the extraction process of dry substances from pine needles. Part 1. The study of the influence of the degree of grinding pine needles and exposure on the intensity of extraction. Mlochnokhozyastvenny Vestnik, vol. 2, p. 46-50.
Oorzhak, U. S., Ushanova, V. M., Repyakh, S. M. 2003. The study of the influence of technological factors on the process of extracting extractive substances from larch sponge. Chemistry of plant materials, vol. 1, p. 69-72.
Sorokopud, А. F., Mustafina, A. S., Fedyaev, K. S. 2012. The influence of the main factors on the extraction of fruits of schizandra. Chemistry of plant materials, vol. 1, p. 161-164.
Terletskaya, V. А., Planer, E. V., Zinchenko, I. N. 2013. The influence of technological factors on the extraction process of black chokeberry fruit. Technique and technology of food production, vol. 31, p. 127-131.
Tikhonov, A. I., Yarnykh, T. G. 2002. Drug technology: study book for pharm universities and faculties. Kharkov, Russia : Publishing House NFAU "Golden pages", 704 p. ISBN 966-615-103-0.
Titova, L. M., Aleksanyan, I. Y. 2013. The study of the kinetics of the extraction process in the technology of complex processing of citrus. Vestnik ASTU, vol.1, p. 35-38.
Tretyakova, N. R. 2014. Advancement in technology and formulations of juice-containing drinks with plant food fibers : dissertation theses. Krasnodar, Russia : Kuban State Tehnol. University, 147 p.
Yenipinar, U., Yildirim, E. 2014. Extraction and characterization of pectin from red hawthorn (Crataegus spp.) using citric acid and lemon juice. Asian Journal of Chemistry. vol. 26, no. 19, p. 6674-6678. https://doi.org/10.14233/ajchem.2014.17590
Zyubr, T. P., Vasiliev, I. B. 2008. Liquid dosage forms. Water extracts from medicinal plant materials: teaching aid. Irkutsk, Russia : Russian Ministry of Health ISMU, 45 p.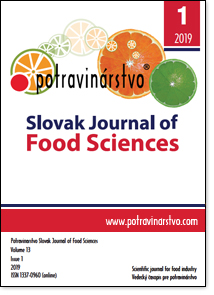 How to Cite
Gorlov, I. F., Drucker, O. V., Kryuchkova, V. V., Slozhenkina, M. I., Mosolova, N. I., & Knyazhechenko, O. A. (2019). Physical factors relevant for efficient Hawthorn fruit extraction. Potravinarstvo Slovak Journal of Food Sciences, 13(1), 651–657. https://doi.org/10.5219/1141
License
This license permits non-commercial re-use, distribution, and reproduction in any medium, provided the original work is properly cited, and is not altered, transformed, or built upon in any way.