Comparison of the influence of defined storing conditions on asian and european pear cultivars
Keywords:
pear fruit, storage, ethylene, carbon dioxide, acid
Abstract
The study observed changes in the material composition of European (Conference) and Asian (Yali) pears during the storage period at different temperatures. Three different temperatures were selected for storing, i.e. 1 °C, 5 °C and 20 °C. Assessed for each of the pieces of fruit were flesh firmness, titratable acidity, soluble solids content, content of organic acids, and production of ethylene and carbon dioxide. Fruit stored at 1 °C and 5 °C was analysed before the moment of putting to the store and then after 25, 55 and 70 days of storing. Fruit stored at 20 °C was analysed before the moment of putting to the store and then after 14, 22 and 30 days of storing. The respiration intensity observed through carbon dioxide production at refrigeration conditions was approximately of the same progress for both of the varieties. For the Yali variety, the intensity of respiration of the fruit at the start of the storing period strongly decreased.The same progress was recorded for the Conference variety. Storing at 20 °C increased the respiration intensity. The varieties Yali and Conference which were stored under the temperature of 5 °C had the highest CO2 production after 70 days of storage. For both varieties the lowest ethylene production during storage was observed at 1 °C. Ethylene production was higher in Yali pear fruits. The Yali variety stored at 20 °C from the beginning produced up to 10 times higher concentration of ethylene than the fruit of the Conference variety. The highest amount of ethylen by the Conference variety was produced by the fruits which were stored under the temperature of 5 °C. At the beginning of the storage period the Conference pears had two-fold higher flesh firmness than the Yali fruit. Fruits of the varieties Yali and Conference which were stored 70 days under the temperature of 1 °C had the highest flesh firmness. For soluble solids and titratable acidity no clear progress was recorded. Malic acid was predominant in both varieties. The Yali fruit contained more citric acid than the Conference fruit. In both varieties soluble solids gradually increased in the early days of storage at all of the monitored temperatures.
Downloads
Download data is not yet available.
References
Arzani, K., Khoshghalb, H., Malakouti, J. M., Barzegar, M. 2008. Postharvest Fruit Physicochemical Changes and Properties of Asian (Pyrus serotina Rehd.) and European (Pyrus communis L.) Pear Cultivars. Horticulture, Enviroment and Biotechnology, vol. 49, no. 4, p. 244-252.
Bao, L., Chen, K., Lu, B., Zhang, D., He, Y., Li, X., Teng, Y. 2008. An assessment of genetic variability relationships within Asian pears based on AFLP markers. Scientia Horticulturae, vol. 116, no. 4, p. 374-380. https://doi.org/10.1016/j.scienta.2008.02.008
Colaric, M., Stampar, F., Solar, A., Hudina, M. 2006. Influence of branch bending on sugar, organic acid and phenolic content in fruits on Williams pears. Jurnal of the science of food and agriculture, vol. 86, no. 14, p. 2463-2467.
Crisosto, H. C., Garner, D., Crisosto, M. G. 1994. Late Harvest and Delayed Cooling Induce Internal Browning of 'Ya Li'and 'Seuri' Chinese Pear. Horticultural Science, vol. 29, no. 6, p. 667-670.
Chen, L. J., Wu, H. J., Wang, Q., Deng, H., Hu, S. X. 2006. Changes in the Volatile Compounds and Chemical and Physical Properties of Kuerle Fragrant Pear (Pyrus serotina Reld) during Storage. Journal of Agricultural and Food Chemistry, vol. 54, no. 2, p. 8842-8847. https://doi.org/10.1021/jf061089g PMid:1709013
Elgar, J. H., Watkins, B. C., Murray, H. S., Gunson, A.F. 1997. Quality of 'Buerre Bosc' and 'Doyenne du Comice' pears in relation to harvest date and storage period. Postharvest Biology and Technology, vol. 10, no. 1, p. 29-37. https://doi.org/10.1016/S0925-5214(96)00058-0
Itai, A., Fujita, N. 2008. Identification of Climacteric and Nonclimacteric Phenotypes of Asian Pear Cultivars by CAPS Analysis of 1-Aminocyclopropane-1-Carboxylate Synthase Genes. Horticultural Science, vol. 43, no. 1, p. 119-121.
Itai, A., Kotaki, T., Tanabe, K., Tamura, F., Kawaguchi, D., Fukuda, M. 2003. Rapid identification of 1-aminocyclopropane-1-carboxylate (ACC) synthase genotypes in cultivars of Japanese pear (Pyrus pyrifolia Nakai) using CAPS markers. Theoretical and Applied Genetics, vol. 106, no. 7, p. 1266-1272. https://doi.org/10.1007/s00122-002-1186-8 PMid:12748778
Jackson, J. E. 2003. Biology of apples and pears. Cambridge, UK : Cambridge University Press. ISBN-13 978-0-511-05900-1 https://doi.org/10.1017/CBO9780511542657
Mahajan, B. V. C, Dhatt, A. S. 2004. Studies on postharvest calcium chloride application on storage behaviour and quality of Asian pear during cold storage. Journal of Food, Agriculture & Environment, vol. 2, no. 3-4, p. 157-159.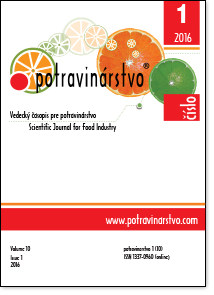 Downloads
How to Cite
Šnurkovič, P. ., Balí­k, J. ., Goliáš, J. ., Horák, M. ., & Němcová, A. . (2016). Comparison of the influence of defined storing conditions on asian and european pear cultivars. Potravinarstvo Slovak Journal of Food Sciences, 10(1), 598–604. https://doi.org/10.5219/672
License
Authors who publish with this journal agree to the following terms:



Authors retain copyright and grant the journal right of first publication with the work simultaneously licensed under a Creative Commons Attribution License that allows others to share the work with an acknowledgement of the work's authorship and initial publication in this journal.


Authors are able to enter into separate, additional contractual arrangements for the non-exclusive distribution of the journal's published version of the work (e.g., post it to an institutional repository or publish it in a book), with an acknowledgement of its initial publication in this journal.


Authors are permitted and encouraged to post their work online (e.g., in institutional repositories or on their website) prior to and during the submission process, as it can lead to productive exchanges, as well as earlier and greater citation of published work (See The Effect of Open Access).