Placing of aroma compounds by food sales promotion in chosen services business
Keywords:
food sales promotion, aroma compounds, services business, consumer behaviour
Abstract
There are several ways to get higher sale involving human senses too. One of the options is a security of stimulating atmosphere of sale/ business environment. In addition to equipment, design and staff, the lighting, sound (noise), and last ones but not least smell, respectively air quality significantly take part on that. Aroma is the element that inherently belongs to the visual merchandising tools. It can influence not only emotions, memory, but total customers´ satisfaction and preferences as well as spending time in that place. In this context, it is important to find right compromise when choosing the aromatic compounds for various products, in the process of their application (intensity, process of aromatization) and security of sufficient air quality, because everybody perceives the odours with different sensitivity. Properly chosen smell and factors of air quality bring for business operators (services trades) many advantages; from staff, who more relax and friendly behave to the guests until making of various associations and stimulations of customers, who spend time inside of service. Fragrance or air quality looks like based on of present researches as the most important factor directly on point-of-sale, while aroma acquires the importance in case of memory too. On the one side, the thinks, which are seen or heard by customers, could be memorized by them few days or weeks, so on the second side, the thinks which are smelled, could be memorized by guests many decades. Except this, the Scientifics studies show, that over 75 % of all emotions are generated based on scent´ perception. The main aim of this paper is a research, how aroma influences customer purchasing decision (preferences) in chosen service provider through the tracking of daily sales of baked baguettes (Paninis) with using of aroma equipment; Aroma Dispenser.
Downloads
Download data is not yet available.
References
Alankin, A. 2016. "Multisensory Experiential Marketing". Experiential Marketing Blog. Eventige Media Group. Available at: https://eventige.com/multisensory-experiential-marketing/
Barborová, P., Jančovičová, J., Zajác, P., Čapla, J., Vietoris, V. 2013. Perception of basis tastes and threshold sensitivity during testing of selected judges. Potravinarstvo, vol. 7, no 1, p. 12-17. https://dx.doi.org/10.5219/259
Berčík, J., Horská, E., Wang, W. Y. R., Chen, Y. Ch. 2015. How can food retailing benefit from neuromarketing research: a case of various parameters of store illumination and consumer response? In EAAE. Seminar of the European association of agricultural economics. Hague, Netherlands : European association of agricultural economists, p. 22.
Bradford, K. D., Desrochers, D. M. 2009. The Use of Scents to Influence Consumers: The Sense of Using Scents to Make Cents. Journal of Business Ethics, vol. 90, no. 2, p. 141-153. https://doi.org/10.1007/s10551-010-0377-5
Carter, R., Aldridge, S., Page, M., Parker, S. 2014. The Human Brain Book. New York, USA : DK Publishing, p. 264. ISBN 978-1465416025.
Chebat, J. Ch., Michon, R. 2003. Impact of ambient odours on mall shoppers' emotions, cognition, and spending. A test of competitive causal theories. Journal of Business Research, vol. 56, p. 529-539. https://doi.org/10.1016/S0148-2963(01)00247-8
Emsenhuber, B. 2009. Scent Marketing: Subliminal Advertising Messages. Conjunction with Informatik. Lübeck, Germany. Available at: https://www.pervasive.jku.at/Research/Publications/_Documents/Scent%20Marketing%202009.pdf
Fedoroff, I., Polivy, J., Herman, C. P. 2003. The specificity of restrained versus unrestrained eaters' responses to food cues: General desire to eat, or craving for the cued food? Appetite, vol. 41, no. 1, p. 7-13. https://doi.org/10.1016/S0195-6663(03)00026-6
Ferriday, D., Brunstrom, J. M. 2011. "I just can't help myself": Effects of food-cue exposure in overweight and lean individuals. International journal of obesity, vol. 35, p. 142-149. https://doi.org/10.1038/ijo.2010.117 PMid:20548302
Gaillet-Torrent, M., Sulmont-Rossé, C., Issanchou, S., Chabanet, C., Chambaron, S. 2014. Impact of a non-attentively perceived odour on subsequent food choices. Appetite, vol. 76, p. 17-22. https://doi.org/10.1016/j.appet.2014.01.009 PMid:24462492
Guéguen, N., Petr, Ch. 2006. Odors and consumer behavior in a restaurant. International Journal of Hospitality Management, vol. 25, no 2, p. 335-339. https://doi.org/10.1016/j.ijhm.2005.04.007
Herz, R. S. 2009. Aromatherapy facts and fictions: a scientific analysis of olfactory effects on mood, physiology and behavior. International Journal of Neuroscience, vol. 119, no. 2, p. 263-290. https://doi.org/10.1080/00207450802333953 PMid:19125379
Kleinová, K., Paluchová, J., Berčík, J., Horská, E. 2015. Visual merchandising and its marketing components in the chosen restaurants in Slovakia. Procedia Economics and Finance, vol. 34, p. 3-10. https://doi.org/10.1016/S2212-5671(15)01594-4
Knasko, S. C., Gilbert, A. N., Sabini, J. 1990. Emotional State, Physical Well-Being, and Performance in the Presence of Feigned Ambient Odor. Journal of Applied Social Psychology, vol. 20, no. 16, p. 1345-1357. https://doi.org/10.1111/j.1559-1816.1990.tb01476.x
Kozelová, D., Matejková, E., Fikselová, M., Dékányová, J. 2014. Analysis of consumer behavior at chocolate purchase. Potravinarstvo, vol. 8, no 1, p. 62-66. https://doi.org/10.5219/325
Lorig, T. S. 2000. The application of electroencephalographic techniques to the study of human olfaction: a review and tutorial. International Journal Psychophysiology, vol. 36, no. 2, p. 91-104. https://doi.org/10.1016/S0167-8760(99)00104-X
McGlone, F., Österbauer, R. A., Demattè, L. M., Spence, S. 2016. The Crossmodal Influence of Odour Hedonics on Facial Attractiveness: Behavioural and fMRI Measures. Chapter 11. In Signorelli, F., Chirchiglia, D. (eds.) Neuroscience. Rijeka, Croatia, InTech. ISBN 978-953-51-1160-3 https://dx.doi.org/10.5772/56504
Müller, J., Alt, F., Michelis, D. 2011. Pervasive Advertising. London, UK : Springer Dordrecht Heidelberg, p. 361. ISBN: 978-0-85729-351-0. https://doi.org/10.1007/978-0-85729-352-7 PMid:21412843
Neumann, P. 2011. Navoďte v predajni pocity pohody (Do in a store feeling of peace). Tovar & Predaj, vol. 1, no. 1, p. 20-21.
Ostertagová, E. 2012. Aplikovaná štatistika v počítačovom prostredí MATLABU (Applicated statistics in computer enviroment). Košice, Slovak Republic : Equilibria, s.r.o., p. 192. ISBN 9788081430060.
Paluchová, J., Kleinová, K., Berčík, J., Horská, E. 2015. The perception of merchandising visual components in the fast food restaurants of chosen shopping mall. In ICABR X. International Conference on Applied Business Research, 14.9.-18.9. 2015. Brno, Czech Republic : Mendel University, p. 426-437. ISBN 978-80-7509-379-0
Prokeinová, R., Hanová, M. 2016. Modelling consumer´s behaviour of the meat consumption in Slovakia. Agricultural economics, vol. 62, no. 5, p. 235-245.
Ramaekers, M. G., Boesveldt, S., Gort, G., Lakemond, C. M. M., van Boekel, M. A. J. S., Luning, P. A. 2014. Sensory-specific appetite is affected by actively smelled food odors and remains stable over time in normal-weight women. Journal of Nutrition, vol. 144, no. 8, p. 1314-1319. https://doi.org/10.3945/jn.114.192567 PMid:24966408
Ramaekers, M. G., Boesveldt, S., Lakemond, C. M. M., van Boekel, M. A. J. S., Luning, P. A. 2013. Odours: Appetizing or satiating? Development of appetite during odor exposure over time. International journal of obesity, vol. 38, no. 5, p. 650-656. https://doi.org/10.1038/ijo.2013.143 PMid:23917805
Rita J. C., Pinto, I. P. P. P., Xavier, M. do R. A., Calado, S. J., Mariano. 2014. Analysis of the Human Reaction to Odors Using Electroencephalography Responses. In Proceedings of the World Congress on Engineering. London, UK : WCE, p. 1-5.
Rybanská, J., Nagyová, Ľ., Košičiarová, I. 2014. Sensory marketing: sensory perceptions and emotions as the key factors influencing consumer behaviour and decision-making. In Marketing identity. Trnava, Slovak Republic : University of Ss. Cyril and Methodius. p. 198-215. ISBN 978-80-8105-666-6.
Sikela, H. 2014. Vyzkoušejte aróma marketing, váš úspěch je ve vzduchu (Try aroma marketing, your success is in an air) Available at: http://www.podnikatel.cz/clanky/vyzkousejte-aroma-marketing-vas-uspech-je-ve-vzduchu/
Solomon, M. R., Marshall, G. W., Stuart, E. W. 2006. Marketing: Očima světových marketing manažerů (Eyes global marketing managers). Brno, Czech Republic : Computer Press, p. 572. ISBN 80-251-1273-X.
Sýkora, V., Šulcerová, H., Mihok, M., Pytel, R. 2016. Influence of type and shelf-life on two brands complementary food in color, vitamins, and sensory evaluation. Potravinarstvo, vol. 10, no. 1, p. 265-271. https://doi.org/10.5219/618
Tarczydło, B. 2013. Scents and Elements of Aroma Marketing in Building of an Appropriate Brand Image. Chap.10. In Jaki, A., Mikuła, B. (eds.) Knowledge economy society managing organizations: concepts and their applications. Kraków, Poland : Publisher AGH, p. 98-107. Available at: https://cfm.uek.krakow.pl/media/files/0b/25/CFM_2014_ksiazka_2.pdf#page=98
Vysekalová, J. 2014. Emoce v marketingu (Emotion in marketing). Praha, Czech Republic : Grada Publishing, p. 296. ISBN 978-80-247-4843-6.
Warrenburg, S. 2005. Effects of fragrance on emotions: moods and physiology. Journal of Chemical Senses, vol. 30, no. 1, p. 248-249. https://doi.org/10.1093/chemse/bjh208 PMid:15738139
Zoon, H. F. A., de Graaf, C., Boesveldt, S. 2016. Food Odours Direct Specific Appetite. Foods, vol. 5, no. 1, p. 2-10. https://doi.org/10.3390/foods5010012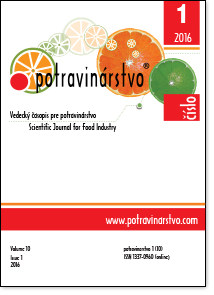 Downloads
How to Cite
Berčí­k, J. ., Palúchová, J. ., Vietoris, V. ., & Horská, E. . (2016). Placing of aroma compounds by food sales promotion in chosen services business. Potravinarstvo Slovak Journal of Food Sciences, 10(1), 672–679. https://doi.org/10.5219/666
License
This license permits non-commercial re-use, distribution, and reproduction in any medium, provided the original work is properly cited, and is not altered, transformed, or built upon in any way.