The influence of feeding GMO-peas on growth of animal models
Keywords:
geneticaly modified crops, pea preclinical studies
Abstract
Introduction of genetically modified (GM) food or feed into the commercial sale represents a very complicated process. One of the most important steps in approval process is the evaluation of all risks on the health status of people and animal models. Within our project the genetically modified peas was breeded that showed significant resistance against Pea seed-borne mosaic virus and Pea enation mosaic virus. Preclinical studies have been conducted to found out the effect of GMO peas on animals - rats of outbreeding line Wistar. In a total, 24 male, specific pathogen free Wistar rats were used in the experiment. At the beginning of the experiment, the animals were 28 days old. The three experimental groups with 8 individuals were created. The first group of rats was fed with GMO peas, the second group of rats consumed mix of pea cultivar Raman and the third group was control without pea addition (wheat and soya were used instead of pea). In the present study we focused our attention on health, growth and utility features of rats fed with GM pea. All characteristic were observed during the experiment lasting 35 days. Consumed feed was weighted daily and the weight of the animals was measured every seven days. The average values were compared within the groups. The aim of the experiment was to verify if resistant lines of pea influence the weight growth of animal models. The results of our experiment showed that even a high concentration (30% of GM pea) did not influence growth rate of rats to compare with both rats fed with pea of Raman cultivar and control group. We did not observe any health problems of animal models during the experiment.
Downloads
Download data is not yet available.
References
Aapola, A. A., Mink, G. I. 1973. Potential aphid vectors of pea seedborne mosaic-virus in Washington. Plant Disease Reporter, vol. 57, no. 6, p. 552-552.
Ahmad, P., Ashraf, M., Younis, M., Hu, X. Y., Kumar, A., Akram, N. A., Al-Qurainy, F. 2012. Role of transgenic plants in agriculture and biopharming. Biotechnology Advances, vol. 30, no. 3, p. 524-540.https://doi.org/10.1016/j.biotechadv.2011.09.006 PMid: 21959304
Alconero, R., Hoch, J. G. 1989. Incidence of pea seedborne mosaic-virus pathotypes in the United States national pisum germplasm colection. Annals of Applied Biology, vol. 114, no. 2, p. 311-315.https://doi.org/10.1111/j.1744-7348.1989.tb02107.x
Gilliland, A., Singh, D. P., Hayward, J. M., Moore, C. A., Murphy, A. M., York, C. J., Slator, J., Carr, J. P. 2003. Genetic modification of alternative respiration has differential effects on antimycin A-induced versus salicylic acid-induced resistance to Tobacco mosaic virus. Plant Physiology, vol. 132, no. 3, p. 1518-1528. https://doi.org/10.1104/pp.102.017640 PMid: 12857832
Gryson, N. 2010. Effect of food processing on plant DNA degradation and PCR-based GMO analysis: a review. Analytical and Bioanalytical Chemistry, vol. 396, no. 6, p. 2003-2022.https://doi.org/10.1007/s00216-009-3343-2 PMid: 20012944
Han, S. W., Jung, H. W. 2013. Molecular sensors for plant immunity; pattern recognition receptors and race-specific resistance proteins.Journal of Plant Biology, vol. 56, no. 6, p. 357-366. https://doi.org/10.1007/s12374-013-0323-z
Hjulsager, C. K., Lund, O. S., Johansen, I. E. 2002. A new pathotype of Pea seedborne mosaic virus explained by properties of the p3-6k1-and viral genome-linked protein (VPg)-coding regions. Molecular Plant-Microbe Interactions, vol. 15, no. 2, p. 169-171.https://doi.org/10.1094/MPMI.2002.15.2.169 PMid: 11876428
Hodge, S., Powell, G. 2010. Conditional facilitation of an aphid vector, Acyrthosiphon pisum, by the plant pathogen, pea enation mosaic virus. Journal of Insect Science, vol. 10, p. 1-14 https://doi.org/10.1673/031.010.14115 PMid: 21067425
Huyghe, C. 1998. Genetics and genetic modifications of plant architecture in grain legumes: a review. Agronomie, vol. 18, no. 5-6, p. 383-411. https://doi.org/10.1051/agro:19980505
Inouye, T. 1967. A seed-borne mosaic virus of pea. Japanese Journal of Phytopathology. vol. 33, p. 38-42.https://doi.org/10.3186/jjphytopath.33.38
Jeger, M., Chen, Z. Y., Cunningham, E., Martin, G., Powell, G. 2012. Population biology and epidemiology of plant virus epidemics: from tripartite to tritrophic interactions. European Journal of Plant Pathology, vol. 133, no. 1, p. 3-23.https://doi.org/10.1007/s10658-011-9913-0
Johansen, E., Rasmussen, O. F., Heide, M., Borkhardt, B. 1991. The complete nucleotide-sequence of pea seed-borne mosaic-virus RNA.Journal of General Virology, vol. 72, p. 2625-2632.https://doi.org/10.1099/0022-1317-72-11-2625 PMid: 1940858
Kvicala, B. A., Musil, M. 1967. Transmission of pea leaf rolling virus by aphids. Biologia, vol. 22, no. 1, p. 10-16. PMid: 6043114
Larsen, R., Timmerman-Vaughan, G., Murray, S. 2007. Molecular evidence that Pea enation mosaic virus is seed borne but not seed transmitted in Pisum sativum. Phytopathology, vol. 97, no. 7, p. S62-S62.
Lawlor, D. W. 2013. Genetic engineering to improve plant performance under drought: physiological evaluation of achievements, limitations, and possibilities. Journal of Experimental Botany, vol. 64, no. 1, p. 83-108.https://doi.org/10.1093/jxb/ers326 PMid: 23162116
Morisset, D., Stebih, D., Cankar, K., Zel, J., Gruden, K. 2008. Alternative DNA amplification methods to PCR and their application in GMO detection: a review. European Food Research and Technology, vol. 227, no. 5, p. 1287-1297. https://doi.org/10.1007/s00217-008-0850-x
Musil, M., 1966. Über das Vorkommen des Virus des Blattrollens der Erbse in der Slowakei (Vorläufige Mitteilung). Biologia (Bratislava) vol. 21, p. 133-138.
Nicaise, V., German-Retana, S., Sanjuan, R., Dubrana, M. P., Mazier, M., Maisonneuve, B., Candresse, T., Caranta, C., Le Gall, O. 2003. The eukaryotic translation initiation factor 4E controls lettuce susceptibility to the potyvirus Lettuce mosaic virus. Plant Physiology,
vol. 132, no. 3, p. 1272-1282.https://doi.org/10.1104/pp.102.017855 PMid: 12857809
Pflughoft, O., Merker, C., Von Tiedemann, A., Schafer, B. C. 2012. Incidence and Importance of Fungal Infection in Field Peas (Pisum sativum L.) in Germany. Gesunde Pflanzen, vol. 64, no. 1, p. 39-48.
Safarova, D., Navratil, M., Petrusova, J., Pokorny, R., Plakova, Z. 2008. Genetic and biological diversity of the pea seed-borne mosaic virus isolates occurring in Czech Republic. Acta Virologica, vol. 52, no. 1, p. 53-57.
Sakamoto, A., Sulpice, R., Hou, C. X., Kinoshita, M., Higashi, S. I., Kanaseki, T., Nonaka, H., Moon, B. Y., Murata, N. 2004. Genetic modification of the fatty acid unsaturation of phosphatidylglycerol in chloroplasts alters the sensitivity of tobacco plants to cold stress.Plant Cell and Environment, vol. 27, no. 1, p. 99-105.https://doi.org/10.1046/j.0016-8025.2003.01131.x
Soylu, S., Dervis, S. 2011. Determination of prevalence and incidence of fungal disease agents of pea (Pisum sativum L.) plants growing in Amik plain of Turkey. Research on Crops, vol. 12, no. 2, p. 588-592.
Stevenson, W., Hagedorn, D. J. 1969. A new seed-borne virus of peas. Phytopathology, vol. 59, no. 8, p. 1051.
Ujhelyi, G., Van Dijk, J. P., Prins, T. W., Voorhuijzen, M. M., Van Hoef, A. A., Beenen, H. G., Morisset, D., Gruden, K., Kok, E. J., 2012. Comparison and transfer testing of multiplex ligation detection methods for GM plants. Bmc Biotechnology, vol. 12, p. 4.https://doi.org/10.1186/1472-6750-12-4 PMid: 22257760
Wang, Z. Y., Brummer, E. C., 2012. Is genetic engineering ever going to take off in forage, turf and bioenergy crop breeding? Annals of Botany, vol. 110, no. 6, p. 1317-1325.https://doi.org/10.1093/aob/mcs027 PMid: 22378838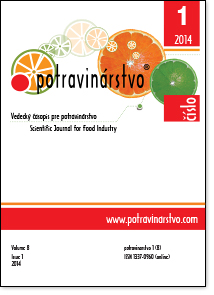 Downloads
How to Cite
Mares, P. ., Pokorna, T. J., Sochor, J. ., Zeman, L. ., Baron, M. ., Mlcek, J. ., & Balla, S. . (2014). The influence of feeding GMO-peas on growth of animal models. Potravinarstvo Slovak Journal of Food Sciences, 8(1), 20–24. https://doi.org/10.5219/322
License
Authors who publish with this journal agree to the following terms:



Authors retain copyright and grant the journal right of first publication with the work simultaneously licensed under a Creative Commons Attribution License that allows others to share the work with an acknowledgement of the work's authorship and initial publication in this journal.


Authors are able to enter into separate, additional contractual arrangements for the non-exclusive distribution of the journal's published version of the work (e.g., post it to an institutional repository or publish it in a book), with an acknowledgement of its initial publication in this journal.


Authors are permitted and encouraged to post their work online (e.g., in institutional repositories or on their website) prior to and during the submission process, as it can lead to productive exchanges, as well as earlier and greater citation of published work (See The Effect of Open Access).