Sensory evaluation for broiler meat after addition Slovak bee pollen in their feed mixture
Keywords:
broiler, bee pollen, sensory, smell, juiciness, shear force
Abstract
The study aimed to investigate the impact of  Slovak bee pollen as supplement dietary in different doses (1000, 1500, 2500, 3500 and 4500 mg.kg-1 of feed mixture) on the sensory quality of broiler chickens. The study was carried out  180 one day-old  chickens, which were divided into 6 groups (n=30). From each halves were separately sensory evaluated part from a thigh and breast. Samples of heat treated meat were evaluated by a 6 member semi-trained panel of laboratory co-workers. Panelists evaluate aroma, juiciness, taste and tenderness on 5 point hedonic scale where 1 (the worst) and 5 (the best) were the extremes of each characteristic. The values of aroma, taste, juiciness and tenderness in breast and thigh muscles were higher in experimental groups in compare to control. The bee pollen has a positive impact on the taste, aroma, juiciness and tenderness of chickens thighs and breasts. Although the value of shear force in chicken thigh was significantly highest in E2 samples, addition of bee pollen to the diet for broiler chickens had no significatly negative effect on the thigh tenderness. Baking losses, as the second technological parameter, were also not significantly affected by nutrition with bee pollen supplement.
Downloads
Download data is not yet available.
References
Abreu, M. 1992. Food use of pollen in relation to human nutrition. Alimentaria, vol. 235, p. 45-46.
Almeida-Muradian, L. B., Pamplona, L. C., Coimbra, S., Barth, O. M. 2005. Chemical composition and botanical evaluation of dried bee pollen pellets. Journal of Food Composition and Analysis, vol. 18, no. 1, p. 105-111. https://doi.org/10.1016/j.jfca.2003.10.008
Baltrusaityte, V., Venscutonis, P. R., Ceksteryte, V. 2007. Radical scavenging activity of different floral origin honey and beebread phenolic exreacts. Food Chemistry, vol.101, no. 2. p. 502-514. https://doi.org/10.1016/j.foodchem.2006.02 .007
Berri, C., Wacreinier, N., Millet, N., Le Bihan-Duval, E. 2001. Effect of selection for improved body composition on muscle and meat characteristics of broilers from experimental and commercial lines. Poultry Science, vol. 80, p. 833-838. PMid:11469641
Bobko, M., Haščík, P., Bobková, A., Kňazovická, V., Tóth, T., Angelovičová, M., 2012. Influence of different plant supplements applied in chicken nutrition on quality of their meat. Journal of microbiology biotechnology and food sciences. no. 1, p. 1020-1031.
Lyon, B. G, Lyon, C. E., 2000. Meat quality: sensory and instrumental evaluations. Poultry Meat Processing. Print ISBN: 978-0-8493-0120-9, eBook ISBN: 978-1-4200-4217-7.
Broadhurst, C. L. 1999 . Bee products: medicine from the hive. Nutrition Science, vol. 4, p. 366-368.
Carpes, S. T., DeAlencar, S. M., Masson, M. L. 2009. Chemical composition and free radical scavenging activity of Apismellifera bee pollen from Southern Brazil. Journal Food Technology, vol. 12, no. 3, p. 220-229. https://doi.org/10.4260/BJFT2009800900016
Crane, E., 1990. Bees and Beekeeping. Science, Practice and World Resources. Comstock Pub. Ithaca, NY, USA, 593-594.
Čuboň, J., Haščík, P., Elimam, I. O., Garlík, J., Kačániová, M., Mohammed, H. A. 2013. The influence of bee pollen on the meat chemical composition for broiler´s Rosas' 308 muscles. Journal of Microbiology, Biotechnology and Food Sciences, vol. 2, p. 1128-1137.
FAO. 2002. World agriculture towards 2015/2030. Rome, Italy.
Ciurescu, G. Anca, G., Nagy, C. I. 2007. Effects of the mineral premix based on phosphate fritte with chelated bioelements on broiler performance. Archiva Zootechnica vol. 10, p. 26-32.
Goodson, K. J., Morgan, W. W., Reagan, J. O. 2002. Beef customer satisfaction:Factors affecting consumer evaluation of clod steaks. Journal Animal Science, vol. 80, p. 401-408. PMid:11881929
Gueye, E. F. 2009. The role of networks in information dissemination to family poultry farmers. World's Poultry Science Journal, vol. 65, p. 115-123.
Haščík, P., Elimam, I. E., Garlík, J., Kačániová, M., Bobko, M., Kňazovická, V., Vavrišinová, K., Arpášová, H., Bučko, O. 2013. The effect of bee pollen as dietary Supplement on meat chemical Composition for broiler Ross 308. Acta Universitatis Agriculturae et Silviculturae
Mendelianae Brunensis, vol. 12, p. 71-76. https://doi.org/ 10.11118/actaun201361010071
Haščík, P., Garlík, J., Kňazovická, V., Kačániová, M., Elimam, I., Omer, E., Pochop, J., Benczová, E., Vavrišinová, K. 2012. Technological properties of chickens meat after application of propolis extract in their diet. Journal fo microbiology, biotechnology and food sciences, vol. 1, p. 1295-1304.
LeBlanc, B. W., Davis O. K., Boue S., DeLucca A., Debby T. 2009. Antioxidativ activity of sonorant desert bee pollen. Food Chemistry, vol. 115, p. 1299-1305. https://doi.org/10.1016/j.foodchem.2009.01.055
Leja, M., Mareczek, A., Wyzgolik, G., Klepacz-Baniak, J., Czekonska, K. 2007. Antioxidative properties of bee pollen in selected plant species. Food Chemistry, vol. 100, p. 237-240. https://doi.org/10.1016/j.foodchem.2005.09.047
Liu, Y., Lyon, B., G., Windham, W. R., Lyon., C. E., Savage, E. M. 2004. Prediction of physical, color, and sensory characteristics of broiler breastsby visible/near infrared reflectance spectroscopy. Poultry Science, vol. 83, no. 8, p. 1467-1474. PMid:153390271
Lyon, B. G., Windham, W. R., Lyon, C. E., Barton, F. E. 2001. Sensory characteristics and nearinfrared spectroscopy of broiler breast meat from various chill-storage regimes. Journal Food Qual, vol. 24, 2001, p. 435-52. https://doi.org/10.1111/j.1745-4557.2001.tb00621.x
Saric, A., Balog, T., Sobocanec, S., Kusic, B., Sverko, V., Rusak, G., Likic, S., Bubalo, D., Pinto, B., Reali, D., Marott, T. 2009. Antioxidant effects of flavonoid from Croatian Cystus incanus L. rich bee pollen. Food and Chemical Toxicology, vol. 47, p. 547-554. https://doi.org/ 10.1016/j.fct.2008.12.007 PMid:19124059
Shackelford, S. D., Wheeler, T. L., Koohmaraie, M. 1999. Evaluation of slice shear force as an objective method of assessing beeflongissimus tenderness. Journal of Animial Sciences, vol. 77, p. 2693-2699. PMid:10521029
Strakova, E., Večerek, V., Suchy, P., Vitula, F. 2003. The comparison of carcass quality in fattening chicks and pheasants. Současnost a perspektivy chovu drůbeže. Praha, p. 83-87, ISBN 80-213-1037-5.
Swatland, H. J. 1999. On-line assessment of poultry meat quality. Richardson RI, Mead GC, editor. Poultry meat science. New York: CABI Publishing. p 315-345.
Xu, X., Sun, L., Dong, J., Zhang, H. 2009. Breaking the cells of rape bee pollen and consecutive extraction of functional oil with supercritical carbon oxide. Innovative food science & emerging technologies, vol. 10, p. 42-46. https://doi.org/10.1016/j.ifset.2008.08.004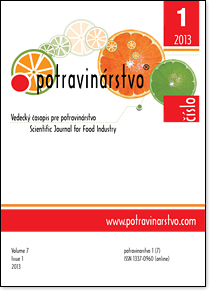 Downloads
How to Cite
Haščí­k, P. ., Elimam, I. O. E., Garlí­k, J. ., Bobko, M. ., & Kročko, M. . (2013). Sensory evaluation for broiler meat after addition Slovak bee pollen in their feed mixture. Potravinarstvo Slovak Journal of Food Sciences, 7(1), 107–110. https://doi.org/10.5219/280
License
Authors who publish with this journal agree to the following terms:



Authors retain copyright and grant the journal right of first publication with the work simultaneously licensed under a Creative Commons Attribution License that allows others to share the work with an acknowledgement of the work's authorship and initial publication in this journal.


Authors are able to enter into separate, additional contractual arrangements for the non-exclusive distribution of the journal's published version of the work (e.g., post it to an institutional repository or publish it in a book), with an acknowledgement of its initial publication in this journal.


Authors are permitted and encouraged to post their work online (e.g., in institutional repositories or on their website) prior to and during the submission process, as it can lead to productive exchanges, as well as earlier and greater citation of published work (See The Effect of Open Access).