Comparison and assessment of leptin receptor expression by the following Origami aetheroleum study at broiler chickens COBB 500
Keywords:
leptin receptor, gene expression, broiler chickens, origami aetheroleum
Abstract
The recently discovered protein, leptin, is a 16 kD protein consisting of 146 amino acids which is synthesized primarily by adipose tissue and is secreted into the bloodstream after cleavage of the 21 amino acids signal peptide. Leptin impacts feed intake, the neuroendocrine-axis, metabolism and immunological processes. Leptin was first identified as the gene product found deficient in the obese ob/ob mouse. The hypothalamus appears to be the primary site of action, since leptin receptors are located within hypothalamic areas associated with control of appetite, reproduction and growth. Using herbs and essential oils depends on their antimicrobial activity. Most plants have favorable multifunctional properties, which are the specific content of bioactive components. Some authors characterize phytogenic substance such as natural substances plant origin, which leave no residues in animal products and is not necessary to keep the trade period before slaughter animals. Analyzes suggest that the structural function of the receptor exists as a dimer constructively in the plasma membrane. Each receptor dimer pair is reversibly bound to one molecule of leptin. When bound, signaling pathways are responsible for beginning the activation receptor associated Janus kinase 2 (JAK2) and tyrosine phosphorylation of two key residues in the intracellular part of receptor. The aim of our experiment was to optimize the methodology for monitoring the expression of the leptin receptor extracellular avian model. We used samples of internal organs and abdominal fat chickens that were fed spirit and also fat and organ samples from broiler chickens from the control group. In heard tissue, spleen, liver at a relatively high concentration of total cDNA in the sample length leptin receptor extracellular fragment located in the expected quantities.
Downloads
Download data is not yet available.
References
AUWERX, R. S., STAELS, B. 1998. Leptin. In Lancet, vol. 351, 1998, p. 737-742. https://doi.org/10.1016/S0140-6736(97)06348-4 PMiD:9504534
CASSY, S., METAYER, S., CROCHET, S., RIDEAU, N., COLLIN, A., TESSERAUD, S. 2004. Leptin receptor in the chicken ovary: potential involvement in ovarian dysfunction of ad libitum-fed broiler breeder hens. In Reproductive Biology and Endocrinology, vol. 2, 2005, no. 72, p. 178-186. https://doi.org/10.1186/1477-7827-2-72 PMiD:15473907
HOREV, G., EINAT, P., AHARONI, T., ESHDAT, Y., FRIEDMAN-EINAT, M. 2000. Molecular cloning and properties of the chicken leptin-receptor (CLEPR) gene. In Molecular and Cellular Endocrinology, vol. 162, 2000, p. 95-106. https://doi.org/10.1016/S0303-7207(00)00205-7 PMiD:10854702
KUNOVÁ, S., HLEBA, L., HAŠČÍK, P., ČUBOŇ, J., KAČÁNIOVÁ, M. 2011. Determination of leptin expression in beef cattle blood samples used by RTQ PCR. In Journal of Microiology, Biotechology and Food Sciences, vol. 1, 2011, no.1, p. 21-38.
LEE, G. H., PROENCA, R., MONTEZ, J. M., CARROLL, K. M., DARVISHZADEH, J. G., LEE, J. I. 1996. Abnormal splicing of the leptin receptor. in diabetic mice. In Nature, vol. 379, 1996, p. 632-635. https://doi.org/10.1038/379632a0 PMiD:8628397
LIU, X., DUNN, J. C., SHARP, P. J., BOSWELL, T. 2006. Molecular cloning snd tissue distribution of a short form chicken leptin receptor mRNA. In Domestic Animal Endocrinoogy, vol. 32, 2007, p. 155-166. https://doi.org/10.1016/j.domaniend.2006.02.001 PMiD:16531001
MATARESE, G., MOSCHOS, S., MANTZOROS, C. S. 2005. Leptin in immunology. In Journal of Immunology, vol. 174, 2005, p. 3137-3142. https://doi.org/10.1097/01.med.0000177421.80858.74 PMiD:15749839
O'ROURKE L., SHEPHERD, P. R. 2002. Biphasic regulation of extracellular-signal-regulated protein kinase by leptin in macrophages: role in regulating STAT3 Ser727 phosphorylation and DNA binding. In Journal of Biochemistry, vol. 364, 2002, p. 875-879. https://doi.org/10.1042/BJ20020295 PMiD:12049654
RICHARDS, M. P., POCH, S. M. 2003. Molecular cloning and expression of the turkey leptin receptor gene. In Comparative Biochemistry and Physiology., vol. 136, 2003. p. 833-847. https://doi.org/10.1016/S1096-4959(03)00260-4 PMiD:14662306
ROSENBLUM, C. I., TOTA, M., CULLY, D., SMITH, T., COLLUM, R., QURESHI, S., HESS, J. F., PHILLIPS, M. S., HEY, P. J., VONGS, A., FONG, T. M., XU, L., CHEN, H. Y., SMITH, R. G., SCHINDLER, C., VAN DER PLOEG, L. H. 1996. Functional STAT 1 and 3 signaling by the leptin receptor (OB-R); reduced expression of the rat fatty leptin receptor in transfected cells. In Endocrinology, vol. 137, 1996, p. 5178-5181. https://doi.org/10.1210/en.137.11.5178
SCHENKEL, F. S., MILLER, S. P., YE, X., MOORE, S. S. 2005. Association of single nucleotide polymorphismus in the leptin gene with carcass and meat quality traits of beef cattle. In Journal of Animal Science, vol. 83, 2005, p. 2009-2020. PMiD:16100055
SOUKAS, A., COHEN, P., SOCCI, N. D., FRIEDMAN, J. M. 2000. Leptin-specific patterns of gene expression in white adipose tissue. In Genes and Development, vol. 14, 2000, p. 963-980. PMiD:10783168
VAISSE, C., HALASS, J. V., HORVATH, C. M., DARNELL, J. E., STOFFEL, M., FRIEDMAN, J. M. 1996. Leptin activation of Stat3 in the hypothalamus of wild-type and ob/ob mice but not db/db mice. In Nature Genetics, vol. 14, 1996, p. 95-97. https://doi.org/10.1038/ng0996-95 PMiD:8782827
TARTAGLIA, L. A., DEMBSKI, M., WWNG, X., DENG, N., CULPEPPER, J., DEVOS, R. 1995. Identification and expression cloning of a leptin receptor, OB-R. In. Cell Technology, vol. 83,1995, p. 1263-1271. https://doi.org/10.1016/0092-8674(95)90151-5 PMiD:8548812
WANG, M. Y., ZHOU, Y. T., NEWGARD, C. B., UNGER, R. H. 1996. A novel leptin receptor isoform in rat. In FEBS Letters, vol. 392, 1996, p. 87-90. https://doi.org/10.1016/0014-5793(96)00790-9 PMiD:8772180
ZHANG, Y., PROENCA, R., MAFFEI, M., BARONE, M., LEOPOLD, L., FRIEDMAN, J. M. 1994. Positional cloning of the mouse obesegene and its human homologue. In Nature Medicine, vol. 372, 1994, p. 425-432. https://doi.org/10.1038/372425a0 PMiD:7984236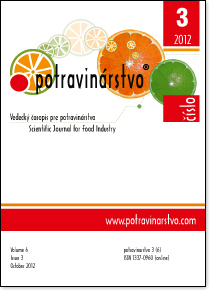 Downloads
How to Cite
Mrázová, Ľubica ., Židek, R. ., Angelovičová, M. ., & Král, M. . (2012). Comparison and assessment of leptin receptor expression by the following Origami aetheroleum study at broiler chickens COBB 500. Potravinarstvo Slovak Journal of Food Sciences, 6(3), 16–20. https://doi.org/10.5219/209
License
Authors who publish with this journal agree to the following terms:



Authors retain copyright and grant the journal right of first publication with the work simultaneously licensed under a Creative Commons Attribution License that allows others to share the work with an acknowledgement of the work's authorship and initial publication in this journal.


Authors are able to enter into separate, additional contractual arrangements for the non-exclusive distribution of the journal's published version of the work (e.g., post it to an institutional repository or publish it in a book), with an acknowledgement of its initial publication in this journal.


Authors are permitted and encouraged to post their work online (e.g., in institutional repositories or on their website) prior to and during the submission process, as it can lead to productive exchanges, as well as earlier and greater citation of published work (See The Effect of Open Access).