Monitoring of genetic diversity in farmed deer populations using microsatellite markers
Keywords:
genetic variability, microsatellite markers, Red deer
Abstract
Deer (Cervidaei) belong to the most important species used as farmed animals. We focused on assesing the genetic diversity among five deer populations. Analysis has been performed on a total of 183 animals originating from Czech Republic, Hungary, New Zealand, Poland and Slovak Republic. Genetic variability were investigated using 8 microsatellite markers used in deer. Statistical data of all populations we obtained on the basis of Nei statistics, using by POWERMARKER 3.23 programme. Graphical view of relationships among populations and individuals in the populations was obtained using the Dendroscope software. Molecular genetic data combinated with evaluation in statistical programmes could lead to a complex view of populations and diffrences among them.
Downloads
Download data is not yet available.
References
ADESIYUM, A.A., TATINI, S.R., HOOVER, D.G., 1984. Production of enterotoxins by Staphylococcus hyicus. In Veter. Microbiol., vol. 9, 1984, p. 487-495.
BAUTISTA, L., GAYA, P., MEDINA, M., NUNEZ, M., 1988. A quantitative study of enterotoxin production by sheep milk staphylococci. In Appl. Environ. Microbiol., vol. 54, 1988, p. 566-569.
BEATRIZ, M., BORELLI, E.G., FERREIRA, I.C., LACERDA, D.A., SANTOS, L.S., CARMO, R.S., DIAS, M., CRISOLITA C., SILVA, C.A., 2006. Enteroxigenic Staphylococcus spp. and other microbial contaminants during production of Canastra cheese, Brazil. In Braz. J. Microbiol., vol. 37, no. 4, 2006, p. 545-550.
BECKER, K., ROTH, R., PETERS, G., 1998. Rapid and specific detection of toxigenic Staphylococcus aureus: use of two multiplex PCR enzyme immunoassays for ammplification and hybridization of staphylococcal enterotoxin genes, exfoliative toxin genes, and toxic syndrome toxin-1 gene. In J. Clin. Microbiol., vol. 36, 1998, p. 2548-2553.
BECKER, K., KELLER, B., VON E.C., BRÜCK, M., LUBRITZ, G., ETIENNE, J., PETERS, G.,2001. Enterotoxigenic potential of Staphylococcus intermedius. In Appl. Environ. Microbiol., vol. 67, 2001, p. 5551-5557
BERGDOLL, M.S., 1991. Staphylococcus aureus ,In J. of the Assoc. of Offic. Analyt. Chemists, vol. 74, no. 4, 1991, p. 706 – 710.
HARIHARAN, H., DONACHIE, W., MACALDOWIE, C., KEEFE G., 2004. Bacteriology and somatic cell counts in milk samples from ewes on a Scottish farm. In Can. J. Vet. Res., July, vol.68, no.3, 2004, p. 188–192.
VASIĽ, M., 2007. Aetiology of mastites and enterotoxin production by Staphylococcus spp. isolated from milk of two sheep herds. In Slovak J. Anim. Sci., vol. 40, 2007, p. 189-195.
VERNOZ, Y., ROZAN, D.C., MAZURY, C., PREVOST, G., LAPEYRE, C., BES, M., BRUN, Y., FlEURETTE, J., 1996. Enterotoxin production by coagulase- negative staphylococci isolated from goat's milk a cheese. In Int. J. Food Microbiol., vol. 30, 1996, p. 271-280.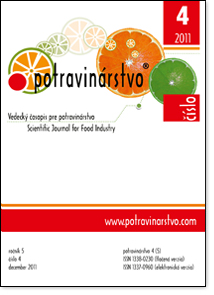 Downloads
How to Cite
Maršálková, L. ., Belej, Ľubomí­r ., Bajzí­k, P. ., & Pokorádi, J. . (2011). Monitoring of genetic diversity in farmed deer populations using microsatellite markers. Potravinarstvo Slovak Journal of Food Sciences, 5(4), 45–47. https://doi.org/10.5219/172
License
Authors who publish with this journal agree to the following terms:



Authors retain copyright and grant the journal right of first publication with the work simultaneously licensed under a Creative Commons Attribution License that allows others to share the work with an acknowledgement of the work's authorship and initial publication in this journal.


Authors are able to enter into separate, additional contractual arrangements for the non-exclusive distribution of the journal's published version of the work (e.g., post it to an institutional repository or publish it in a book), with an acknowledgement of its initial publication in this journal.


Authors are permitted and encouraged to post their work online (e.g., in institutional repositories or on their website) prior to and during the submission process, as it can lead to productive exchanges, as well as earlier and greater citation of published work (See The Effect of Open Access).