Monitoring the stability of fortified cold-pressed sunflower oil under different storage conditions
Keywords:
sesame, chia, hemp, oil dressings, storability
Abstract
The aim of the study was to evaluate the stability of cold-pressed sunflower oil mixed with different seeds and herb. The seeds and herb were added at 1% and 5% concentrations; samples were divided into 2 groups: stored in the dark and light. The primary products of oxidation and chlorophyll content were monitored during 3 months of storage. The results showed very low oxidation stability of experimentally produced cold-pressed oil mixtures/dressings, especially during storage on the light. The samples with 5% of hemp herb addition showed the best stability since they have peroxide value under 20 mekv O2.kg-1, both in the dark and on the light. Other samples, both stored in the dark and on light, were declared as not for human consumption due to high oxidative product development. The research represents an important storability evaluation of products that can be found on the market and that can be found very attractive for consumers.
Downloads
Download data is not yet available.
References
Bartkiene, E., Zokaityte, E., Lele, V., Sakiene, V., Zavistanaviciute, P., Klupsaite, D., Bendoraitiene, J., Navikaite‐Snipaitiene, V., Ruzauskas, M. 2019. Technology and characterisation of whole hemp seed beverages prepared from ultrasonicated and fermented whole seed paste. International Journal of Food Science & Technology, vol. 55, no. 1, p. 406-419. https://doi.org/10.1111/ijfs.14285
Caponio, F., Bilancia, M. T., Pasqualone, A., Sikorska, E., Gomes, T. 2005. Influence of the exposure to light on extra virgin olive oil quality during storage. European Food Research and Technology, vol. 221, no. 1-2, p. 92-98. https://doi.org/10.1007/s00217-004-1126-8
Choe, E., Min, D. B. 2006. Mechanisms and factors for edible oil oxidation. Comprehensive reviews in food science and food safety, vol. 5, no. 4, p. 169-186. https://doi.org/10.1111/j.1541-4337.2006.00009.x
Diaz, G., Pega, J., Primrose, D., Sancho, A. M., Nanni, M. 2019. Effect of Light Exposure on Functional Compounds of Monovarietal Extra Virgin Olive Oils and Oil Mixes During Early Storage as Evaluated by Fluorescence Spectra. Food Analytical Methods, vol., 12, no. 12, p. 2709-2718. https://doi.org/10.1007/s12161-019-01629-x
Ekwenye, U. N. 2006. Chemical characteristics of palm oil biodeterioration. Biokemistri, vol. 18, no. 2, p. 141-149. https://doi.org/10.4314/biokem.v18i2.56415
Febrianto, N. A., Yang, T. A. 2011. Producing High Quality Edible Oil by using Eco-Friendly Technology: A Review. Advance Journal of Food Science and Technology, vol. 3, no. 4, p. 317-326.
Foppa Pedretti, E., Del Gatto, A., Pieri, S., Mangoni, L., Ilari, A., Mancini, M., Feliciangeli, G., Leoni, E., Toscano, G., Duca, D. 2019. Experimental Study to Support Local Sunflower Oil Chains: Production of Cold Pressed Oil in Central Italy. Agriculture, vol. 9, no. 11, p. 231. https://doi.org/10.3390/agriculture9110231
Islam, M., Zhang, M. and Mujumdar, A. S. 2019. Low temperature vacuum frying of edamame assisted by ultrasound and microwave: Effects on the kinetics of oil and product storage properties. Drying Technology, p. 1-12. https://doi.org/10.1080/07373937.2019.1700272
ISO 3960. 2017. Animal and vegetable fats and oils - Determination of peroxide value - Iodometric (visual) endpoint determination.
Kermani, S. G., Saeidi, G., Sabzalian, M. R., Gianinetti, A. 2019. Drought stress influenced sesamin and sesamolin content and polyphenolic components in sesame (Sesamum indicum L.) populations with contrasting seed coat colors. Food chemistry, vol. 289, p. 360-368. https://doi.org/10.1016/j.foodchem.2019.03.004
Kiritsakis, A. 1995. Efectos del á-caroteno y del O-tocoferol en la estabilidad fotooxidativa del aceite de oliva (Effects of α-carotene and O-tocopherol on the photo-oxidative stability of olive oil). Olivae, vol. 56, p. 25-28. (In Spanish)
Kiritsakis, A., Markakis, P. 1984. Effect of olive collection regime on olive oil quality. J. Sci. Food Agric., vol. 35, no. 6, p. 677–678. https://doi.org/10.1002/jsfa.2740350614
Kraljić, K., Škevin, D., Pospišil, M., Obranović, M., Neđeral, S., Bosolt, T. 2013. Quality of rapeseed oil produced by conditioning seeds at modest temperatures. Journal of the American Oil Chemists' Society, vol. 90, no. 4, p. 589-599. https://doi.org/10.1007/s11746-012-2195-7
Lee, E., Ahn, H., Choe, E. 2014. Effects of light and lipids on chlorophyll degradation. Food Science and Biotechnology, vol. 23, no. 4, p. 1061-1065. https://doi.org/10.1007/s10068-014-0145-x
Mazaheri, Y., Torbati, M., Azadmard‐Damirchi, S. and Savage, G.P. 2019. Oil extraction from blends of sunflower and black cumin seeds by cold press and evaluation of its physicochemical properties. Journal of Food Processing and Preservation, vol. 43, no. 10, p. e14154. https://doi.org/10.1111/jfpp.14154
Parker, T. D., Adams, D. A., Zhou, K., Harris, M., Yu, L. 2003. Fatty acid composition and oxidative stability of cold‐pressed edible seed oils. Journal of Food Science, vol. 68, no. 4, p. 1240-1243. https://doi.org/10.1111/j.1365-2621.2003.tb09632.x
Rasul, H., İnanc, A. 2014. Thermal Stability of Chlorophyll Pigments in Virgin Olive Oil. KSÜ Doğa Bilimleri Dergisi, vol. 17, no. 2, p. 34-40. https://doi.org/10.18016/ksujns.55749
Song, J. G., Cao, C., Li, J., Xu, Y. J., Liu, Y. 2019. Development and validation of a QuEChERS-LC-MS/MS method for the analysis of phenolic compounds in rapeseed oil. Journal of Agricultural and Food Chemistry. vol. 67, no. 14. https://doi.org/10.1021/acs.jafc.9b00029
Szydłowska‐Czerniak, A., Tułodziecka, A., Momot, M. Stawicka, B. 2019. Physicochemical, Antioxidative, and Sensory Properties of Refined Rapeseed Oils. Journal of the American Oil Chemists' Society. vol. 96, no. 4, p. 405-419. https://doi.org/10.1002/aocs.12199
Urbizo-Reyes, U., San Martin-González, M. F., Garcia-Bravo, J., Malo, A. L., Liceaga, A. M. 2019. Physicochemical characteristics of chia seed (Salvia hispanica) protein hydrolysates produced using ultrasonication followed by microwave-assisted hydrolysis. Food Hydrocolloids, vol. 97, p. 105187. https://doi.org/10.1016/j.foodhyd.2019.105187
Wu, Y., Zhou, R., Wang, Z., Wang, B., Yang, Y., Ju, X., He, R. 2019. The effect of refining process on the physicochemical properties and micronutrients of rapeseed oils. PloS one, vol. 14, no. 3, p. e0212879. https://doi.org/10.1371/journal.pone.0212879
Zehnalek, P. 2019. Seznam doporucenych odrud repky olejky ozime 2019 (List of recommended winter oilseed rape varieties 2019). Ústrední kontrolní a zkušební ústav zemedelský Brno, 50 p. Available at: http://eagri.cz/public/web/file/319030/Priloha_c._2_SDO_repky_olejniny_Zehnalek.pdf.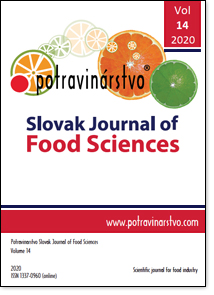 How to Cite
Dordevic, D., Jancikova, S., Lankovova, A., & Tremlova, B. (2020). Monitoring the stability of fortified cold-pressed sunflower oil under different storage conditions. Potravinarstvo Slovak Journal of Food Sciences, 14, 887–892. https://doi.org/10.5219/1348
License
This license permits non-commercial re-use, distribution, and reproduction in any medium, provided the original work is properly cited, and is not altered, transformed, or built upon in any way.