Recombinant metalloprotease as a perspective enzyme for meat tenderization
Keywords:
meat tenderization, recombinant peptidase, M9 family peptidase
Abstract
eptidase family M9 (MEROPS database) is true collagenases and contains bacterial collagenases from Vibrio and Clostridium. One of the producers of M9A subfamily peptidase is Aeromonas salmonicida (locus - ASA_3723). The aim of the study was production of recombinant metallopeptidase Aeromonas salmonicida by transformation Pichia pastoris for further meat tenderization. Laboratory amounts of recombinant peptidase were obtained and test evaluation of enzyme activity was performed. Recombinant peptidase broke the peptide bond «Pro-Leu-Gly-Met-Trp-Ser-Arg» (one of the collagen chains, (Mw = 846.06)). The concentration of the substrate (peptide) after 180 min was 2 – fold decrease as compared with control. The maximum shear force of heat-treated samples had a 1.27 – fold decrease as compared with the control. As a result of histological studies of beef shank samples, the specific effect of the supernatant on the structure of connective tissue was established. Muscle fibers have not changed. The recombinant enzyme could be used for the meat tenderization.
Downloads
Download data is not yet available.
References
Angelovičová, M., Mellen, M., Zajác, P., Čapla, J., Angelovič, M. 2018. Tibia mineralization of chickens determined to meat production using a microbial phytase. Potravinarstvo Slovak Journal of Food Sciences, vol. 12, no. 1, p. 40-49. https://doi.org/10.5219/805
Antipova, L. V., Glotova, I. A. 2006. The use of secondary collagen containing raw materials of the meat industry. Improvement and development of new technologies based on the enzymatic processing of collagen-containing raw materials. SPb : GIORD, 384 p. ISBN 5-98879-007-0.
Bailey, A. J., Light, N. D. 1989. Connective Tissue in Meat and Meat Products. London, UK : Elsevier Applied Science, 355 p. ISBN 1851662847.
Bekhit, A. A., Hopkins, D. L., Geesink, G., Bekhit, A. A., Franks, P. 2014. Exogenous proteases for meat tenderization. Critical reviews in food science and nutrition, vol. 54, no. 8, p. 1012-31. https:// doi.org/10.1080/10408398.2011.623247
Eckhard, U., Schönauer, E., Brandstetter, H. 2013. Structural basis for activity regulation and substrate preference of clostridial collagenases G, H, and T. J. Biol Chem., vol. 288, p. 20184-20194. https://doi.org/10.1074/jbc.M112.448548
Goodson, K. J., Morgan, W. W., Reagan, J. O., Gwartney, B. L., Courington, S. M., Wise, J. W., Savell, J. W. 2002. Beef customer satisfaction: Factors affecting consumer evaluations of clod steaks. Journal of Animal Science, vol. 80, no. 2, p. 401-408.
Guo, J., Ma, Y. 2008. High-level expression, purification and characteriza-tion of recombinant Aspergillus oyrzae alkaline protease in Pichia pastoris. Pro-tein Expression and Purification, vol. 58, p. 301-308. https://doi.org/10.1016/j.pep.2007.12.005
Chanalia, P., Gandhi, D., Attri, P., Dhanda, S. 2018. Extraction. purification and characterization of low molecular weight Proline iminopeptidase from probiotic L. plantarum for meat tenderization. International journal of biological macromolecules, vol. 1, no. 109, p. 651-663. https://doi.org/10.1016/j.ijbiomac.2017.12.092
Ke, Y., Huang, W., Li, J., Xie, M., Luo, X. 2012. Enzymatic characteristics of a recombinant neutral protease I (rNpI) from Aspergillus oryzae expressed in Pichia pastoris. Journal of Agricultural and Food Chemistry, vol. 60, p. 12164-12169. https://doi.org/10.1021/jf303167r
Kotenkova, E., Polishchuk, E. 2019. Assessment of antimicrobial potential of substances isolated from some wastes of meat processing industry. Potravinarstvo Slovak Journal of Food Sciences, vol. 13, no. 1, p. 308-313. https://doi.org/10.5219/1079
Laemmli, U. K. 1970. Cleavage of Structural Proteins during the Assembly of the Head of Bacteriophage T4. Nature, vol. 227, p. 680-685. https://doi.org/10.1038/227680a0
Light, N., Champion, A. E. 1984. Characterization of muscle epimysium, perimysium and endomysium collagens. Biochem. J., vol. 219, no. 3, p. 1017-26. https://doi.org/10.1042/bj2191017
Macauley-Patrick, S., Fazenda, M. L., McNeil, B., Harvey, L. M. 2005. Heterologous protein production using the Pichia pastoris expression sys-tem. Yeast, vol. 22, p. 249-270. https://doi.org/10.1002/yea.1208
Miyoshi, S., Nitanda, Y., Fujii, K., Kawahara, K., Li, T., Maehara, Y., Ramamurthy, T., Takeda, Y., Shinoda, S. 2008. Differential gene expression and extracellular secretion of the collagenolytic enzymes by the pathogen Vibrio parahaemolyticus. FEMS microbiology letters, vol. 283, no. 2, p. 176-81. https://doi.org/10.1111/j.1574-6968.2008.01159.x
Nezafat, N., Negahdaripour, M., Gholami, A., Younes, G. 2015. Computational analysis of collagenase from different Vibrio, Clostridium and Bacillus strains to find new enzyme sources. Trends in Pharma-ceutical Sciences, vol. 1, no. 4, p. 213-222. https://doi.org/10.1111/tips.v1i4.52
Qian, S., Chen, F., Geng, F., Luo, Y., Gong, S., Jiang, Z. 2017. A novel aspartic protease from Rhizomucor miehei expressed in Pichia pastoris and its application on meat tenderization and preparation of turtle peptides. Food Chemistry, vol. 245, p. 570-577. https://doi.org/10.1016/j.foodchem.2017.10.113
Queiroz Brito Cunha, C. C., Gama, A. R., Cintra, L. C., Bataus, L. A. M., Ulhoa, C. J. 2018. Improvement of bread making quality by supplementation with a recombinant xylanase produced by Pichia pastoris. PLoS ONE, vol. 13, no. 2, p. e0192996. https://doi.org/10.1371/journal.pone.0192996
Rabert, C., Weinacker, D., Pessoa, A., Farías, J. G. 2013. Recombinants proteins for industrial uses: utilization of Pichia pastoris expression system. Brazilian Journal of Microbiology, vol. 44, no. 2, p. 351-356. https://doi.org/10.1590/S1517-83822013005000041
Silva, V. C., Peres, M. F. S., Gattas, E. A. L. 2009. Application of methylotrophic yeast Pichia pastoris in the field of food industry - A review. Journal of Food, Agriculture and Environment,vol. 2, p. 268-273.
Tyagi, A., Kumar, A., Mohanty, A. K., Kaushik, J. K., Grover, S., Batish, V. K. 2017. Expression of buffalo chymosin in Pichia pastoris for application in mozarella cheese. LWT - Food Science and Technology, vol. 84, p. 733-739. https://doi.org/10.1016/j.lwt.2017.06.033
Yegin, S., Fernandez-Lahore, M. 2013. A thermostable aspartic proteinase from Mucor mucedo DSM 809: gene identification, cloning, and functional expression in Pichia pastoris. Molecular Biotechnology, vol. 54, p. 661-672. https://doi.org/10.1007/s12033-012-9608-6
Zhang, Y. Z., Ran, L. Y., Li, C. Y., Chen, X. L. 2015. Diversity, structures, and collagen-degrading mechanisms of bacterial collagenolytic proteases. Applied and Environmental Microbiology, vol. 81, no. 18, p. 6098-6107. https://doi.org/10.1128/AEM.00883-15
Zhao, G. Y., Zhou, M. Y., Zhao, H. L., Chen, X. L., Xie, B. B., Zhang, X. Y., He, H. L., Zhou, B. C., Zhang, Y. Z. 2012. Tenderization effect of coldadapted collagenolytic protease MCP-01 on beef meat at low temperature and its mechanism. Food Chemistry, vol. 134, no. 4, p. 1738-1744. https://doi.org/10.1016/j.foodchem.2012.03.118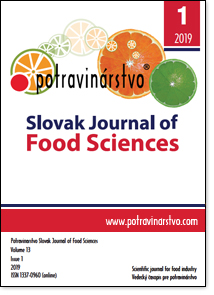 How to Cite
Minaev, M., & Makhova, A. A. (2019). Recombinant metalloprotease as a perspective enzyme for meat tenderization. Potravinarstvo Slovak Journal of Food Sciences, 13(1), 628–633. https://doi.org/10.5219/1087
License
Authors who publish with this journal agree to the following terms:



Authors retain copyright and grant the journal right of first publication with the work simultaneously licensed under a Creative Commons Attribution License that allows others to share the work with an acknowledgement of the work's authorship and initial publication in this journal.


Authors are able to enter into separate, additional contractual arrangements for the non-exclusive distribution of the journal's published version of the work (e.g., post it to an institutional repository or publish it in a book), with an acknowledgement of its initial publication in this journal.


Authors are permitted and encouraged to post their work online (e.g., in institutional repositories or on their website) prior to and during the submission process, as it can lead to productive exchanges, as well as earlier and greater citation of published work (See The Effect of Open Access).