Antioxidant properties of caroot juices and their impact on intestinal and probiotic bacteria
Keywords:
carrot juice, antibacterial activity, intestinal microbiota, probiotic
Abstract
There is a growing interest in non-dairy probiotic products. The main aim of the study was to evaluate the impact of juice prepared from 15 various cultivars of carrot on the growth of representatives of human intestinal microbiota (Bifidobacterium catenulatum, Escherichia coli) and probiotic strains (Lactobacillus acidophilus LA-5, Lactobacillus casei 01). Carrot juice was added to liquid medium at a final concentration of 5.0% and their impact on the bacteria number was assessed by measurement of the turbidity after 24 h of culture. The number of cells was expressed as % of positive control (medium without juice addition). Juices prepared from all tested cultivars of carrot inhibited the growth of Bifidobacterium catenulatum, and the strongest inhibitory effect was observed for juices obtained from the 'Kongo F1' cultivar (3.40 ±2.85% of positive control), 'Rumba F1'(4.17 ±2.27%) and 'Broker F1' (5.35 ±2.14%). The majority of tested juices also inhibited the growth of E. coli, but those prepared from the 'Niland F1', 'Napa F1', 'Afro F1'and 'Samba F1' cultivars stimulated the growth of this bacterium. The probiotic strains were less sensitive to carrot juice impact than intestinal species, however both stimulation and inhibition could be observed. Juices made from the cultivars 'Kongo F1' and 'Deep Purple F1' acted negatively on the growth of both probiotic strains, while juice from 'Bangor F1' cultivar inhibited L. casei 01 growth, but stimulated the growth of LA-5. The obtained results suggest that 'Kongo F1' and 'Deep Purple F1' cultivars are not suitable as an additive or raw material for the production of probiotic products, because of their inhibitory properties against probiotic strains. Concluding, carrots can be used as raw material for the production of probiotic beverages, however both the cultivar of carrot and the strains of probiotic bacteria used for the production should be selected carefully. The most suitable for production of probiotic beverages seems to be the 'Rumba F1', followed by the 'Polka F1' and 'Yellowstone F1' cultivars. They inhibited the growth of intestinal bacteria, which are undesirable in the final product, without negative effect on the probiotic species.
Downloads
Download data is not yet available.
References
Alasalvar, C., Grigor, J. M., Zhang, D., Quantick P. C., Shahidi F. 2001. Comparison of volatiles, phenolics, sugars, antioxidant vitamins, and sensory quality of different colored carrot varieties. J. Agr. Food Chem., vol. 49, p. 1410-1416. https://doi.org/10.1021/jf000595h
Duda-Chodak, A. 2012. The inhibitory effect of polyphenols on human gut microflora. J. Physiol. Pharmacol., vol. 63, no. 5, p. 497-450. PMid:23211303
Duda-Chodak, A., Tarko, T., Statek, M. 2008. The effect of antioxidants on Lactobacillus casei cultures. Acta Sci. Pol., Technol. Aliment., vol. 7, no. 4, p. 39-51. https://doi.org/10.3382/ps.0641399 PMid:4022914
Gajewski, M., Szymczak, P., Elkner, K., Dąbrowska, A., Kret, A., Danilcenko, H. 2007. Some aspects of nutritive and biological value of carrot cultivars with orange, yellow and purple-coloured roots. Veg. Crops Res. Bull., vol. 67, p. 149-161. https://doi.org/10.2478/v10032-007-0039-z
Leja, M., Kamińska, I., Kramer, M., Maksylewicz-Kaul, A., Kammerer, D., Carle, R., Baranski, R. 2013. The content of phenolic compounds and radical scavenging activity varies with carrot origin and root color. Plant Foods Hum. Nutr., vol. 68, p.163-170. https://doi.org/10.1007/s11130-013-0351-3
Majkowska-Gadomska, J., Wierzbicka, B. 2010. The yield and nutritive value of selected carrot cultivars with orange - and purple - colored storage roots. Acta Sci. Pol. Hortorum Cultus, vol. 9, no. 4, p. 75-84.
Mech-Nowak, A., Świderski, A, Kruczek, M., Łuczak, I., Kostecka-Gugała, A. 2012. Content of carotenoids in roots of seventeen cultivars of Daucus carota L. Acta Biochim. Pol., vol. 59, no. 1, p. 139-141. PMid:22428130
Nazzaro, F., Fratianni, F., Sada, A., Orlando, P. 2008. Synbiotic potential of carrot juice supplemented with Lactobacillus spp. and inulin or fructooligosaccharides. J. Sci. Food Agric., vol. 88, p. 2271-2276. https://doi.org/10.1002/jsfa.3343
Prado, F. C., Parada, J. L., Pandey, A., Soccol, C. R. 2008 Trends in non-dairy probiotic beverages. Food Res. Int., vol. 41, no. 2, p. 111-123. https://doi.org/10.1016/j.foodres.2007.10.010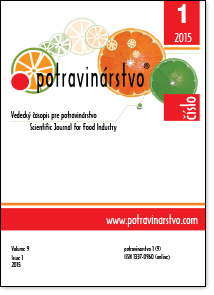 Downloads
How to Cite
Duda-Chodak, A. ., Tarko, T. ., Wajda, Łukasz ., & Kręcioch, B. . (2015). Antioxidant properties of caroot juices and their impact on intestinal and probiotic bacteria. Potravinarstvo Slovak Journal of Food Sciences, 9(1), 337–341. https://doi.org/10.5219/483
License
Authors who publish with this journal agree to the following terms:



Authors retain copyright and grant the journal right of first publication with the work simultaneously licensed under a Creative Commons Attribution License that allows others to share the work with an acknowledgement of the work's authorship and initial publication in this journal.


Authors are able to enter into separate, additional contractual arrangements for the non-exclusive distribution of the journal's published version of the work (e.g., post it to an institutional repository or publish it in a book), with an acknowledgement of its initial publication in this journal.


Authors are permitted and encouraged to post their work online (e.g., in institutional repositories or on their website) prior to and during the submission process, as it can lead to productive exchanges, as well as earlier and greater citation of published work (See The Effect of Open Access).