The influence of Pichia killer toxins on the wine spoilage yeasts
Keywords:
Pichia, killer yeast, killer toxin, wine spoilage
Abstract
Killer yeasts are able to produce toxins that antagonize the growth of susceptible yeasts cells of the same species or the ones that are related to them. Killer strains are resistant to their own toxins but can be sensitive to killer proteins of other yeasts. The killer proteins of Pichia spp. are known for its broad spectrum of antifungal activity including pathogens such as Candida albicans. The aim of the study was to investigate the potential of the partly purified killer toxins to inhibit the growth of selected yeast strains which can contribute to wine spoilage. Three Pichia killer yeast strains (CBS 1982, CBS 5759, CBS 7373) were used in the study. The killer protein secreted by Pichia anomala CBS 1982 was characterized by the highest antifungal activity. The most pronounced effect of the reduction of cell proliferation by killer toxin preparations was found after 2 and 20 h cultivation. Among the 13 tested strains, all Pichia killer toxin preparations inhibited the growth of Rhodotorula graminis Rg, Rhodotorula mucilaginosa Rm and Schizosaccharomyces pombe DSM 70576. Killer toxins produced by Pichia anomala CBS 1982 (K8) and CBS 5759 (K4) limited the growth of Candida pulcherrima K5 and Hanseniaspora guillermondii DSM 3432 after 2, 20 and 168 h of incubation. A significant reduction of Debaryomyces hansenii DSM 3428 biomass was observed in medium with the addition of one toxin preparation (Pichia anomala CBS 1982). The growth limitation of Candida glabrata DSM 6425, Hanseniaspora uvarum DSM 2768, Metchnikowia pulcherrima DSM 70321 and Cryptococcus laurentii DSM 70766 was noticed only after 2 hours cultivation in presence of killer protein preparations. The killer toxins could be used in the food industry as selective tools to control infections during the fermentation of wine and improve the quality of the final product.
Downloads
Download data is not yet available.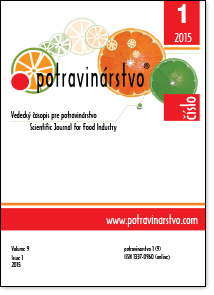 Downloads
How to Cite
Błaszczyk, U. ., Satora, P. ., & Sroka, P. . (2015). The influence of Pichia killer toxins on the wine spoilage yeasts. Potravinarstvo Slovak Journal of Food Sciences, 9(1), 284–287. https://doi.org/10.5219/481
License
Authors who publish with this journal agree to the following terms:



Authors retain copyright and grant the journal right of first publication with the work simultaneously licensed under a Creative Commons Attribution License that allows others to share the work with an acknowledgement of the work's authorship and initial publication in this journal.


Authors are able to enter into separate, additional contractual arrangements for the non-exclusive distribution of the journal's published version of the work (e.g., post it to an institutional repository or publish it in a book), with an acknowledgement of its initial publication in this journal.


Authors are permitted and encouraged to post their work online (e.g., in institutional repositories or on their website) prior to and during the submission process, as it can lead to productive exchanges, as well as earlier and greater citation of published work (See The Effect of Open Access).