Issues
Volume 15 Potravinarstvo Slovak Journal of Food Sciences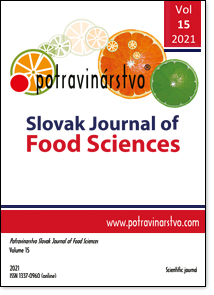 Vol. 15, All articles [PDF]
PUBLISHED: 28. January 2021
THE INFLUENCE OF YEAST EXTRACT AND JASMONIC ACID ON PHENOLIC ACIDS CONTENT OF IN VITRO HAIRY ROOT CULTURES OF ORTHOSIPHON ARISTATUS
Iryna Smetanska, Oksana Tonkha, Tetjana Patyka, Dase Hunaefi, Diaa Mamdouh, Mуkola Patyka, Anatolyi Bukin, Mikhailo Mushtruk, Natalia Slobodyanyuk, Alina Omelian
Potravinarstvo Slovak Journal of Food Sciences, vol. 15, 2021, p. 1-8
[abstract] doi: https://doi.org/10.5219/1508 [fulltext]
THE SUSTAINABILITY OF RICE FARMING PRACTICES IN TIDAL SWAMPLANDS OF SOUTH SUMATRA INDONESIA
Khairul Fahmi Purba, Muhammad Yazid, Mery Hasmeda, Dessy Adriani, Meitry Firdha Tafarini
Potravinarstvo Slovak Journal of Food Sciences, vol. 15, 2021, p. 9-17
[abstract] doi: https://doi.org/10.5219/1473 [fulltext]
THE INFLUENCE OF CAVITATION EFFECTS ON THE PURIFICATION PROCESSES OF BEET SUGAR PRODUCTION JUICES
Marija Zheplinska, Mikhailo Mushtruk, Volodymyr Vasyliv, Viktor Sarana, Maxim Gudzenko, Natalia Slobodyanyuk, Anatolii Kuts, Serhii Tkachenko, Roman Mukoid
Potravinarstvo Slovak Journal of Food Sciences, vol. 15, 2021, p. 18-25
[abstract] doi: https://doi.org/10.5219/1494 [fulltext]
THE QUALITY CHARACTERISTICS OF SAUSAGE PREPARED FROM DIFFERENT RATIOS OF FISH AND DUCK MEAT
Nataliia Bozhko, Vasyl Tischenko, Vasyl Pasichnyi, Yevgenia Shubina, Oleksandr Kyselov, Andriy Marynin, Igor Strashynskyi
Potravinarstvo Slovak Journal of Food Sciences, vol. 15, 2021, p. 26-32
[abstract] doi: https://doi.org/10.5219/1482 [fulltext]
THE CONTRIBUTION OF PROTEINS, FATS, CARBOHYDRATES, AND ALCOHOL TO THE TOTAL ENERGY VALUE OF THE DIET: A CROSS-SECTIONAL STUDY
Alexey Galchenko, Elizaveta Sidorova, Artem Barinov, Nikita Titov, Andrew Skalny
Potravinarstvo Slovak Journal of Food Sciences, vol. 15, 2021, p. 33-39
[abstract] doi: https://doi.org/10.5219/1435 [fulltext]
THE POSSIBILITY OF IMPROVING MEAT QUALITY BY USING PEAS AND FABA BEANS IN FEED FOR BROILER CHICKENS
Liga Proskina, Sallija Cerina, Anda Valdovska, Irina Pilvere, Vilija Alekneviciene
Potravinarstvo Slovak Journal of Food Sciences, vol. 15, 2021, p. 40-51
[abstract] doi: https://doi.org/10.5219/1451 [fulltext]
COMPARATIVE STUDY OF WEANING PIGS' MUSCLE PROTEINS USING TWO-DIMENSIONAL ELECTROPHORESIS
Anastasiya Akhremko, Liliya Fedulova
Potravinarstvo Slovak Journal of Food Sciences, vol. 15, 2021, p. 52-57
[abstract] doi: https://doi.org/10.5219/1449 [fulltext]
NUMERICAL METHODS AND IMAGE PROCESSING TECHNIQUES FOR MELISSOPALYNOLOGICAL HONEY ANALYSIS
Zdeňka Javůrková, Matej Pospiech, Simona Ljasovká, Pavel Hrabec, Bohuslava Tremlová
Potravinarstvo Slovak Journal of Food Sciences, vol. 15, 2021, p. 58-65
[abstract] doi: https://doi.org/10.5219/1517 [fulltext]
PUBLISHED: 28. February 2021
THE INFLUENCE OF THE DENITRIFYING STRAIN OF STAPHYLOCOCCUS CARNOSUS NO. 5304 ON THE CONTENT OF NITRATES IN THE TECHNOLOGY OF YOGURT PRODUCTION
Iryna Smetanska, Oksana Tonkha, Tetjana Patyka, Dase Hunaefi, Diaa Mamdouh, Mуkola Patyka, Anatolyi Bukin, Mikhailo Mushtruk, Natalia Slobodyanyuk, Alina Omelian
Potravinarstvo Slovak Journal of Food Sciences, vol. 15, 2021, p. 66-73
[abstract] doi: https://doi.org/10.5219/1492 [fulltext]
THE MINERAL COMPOSITION OF CHERRY (PRUNUS CERASUS MILL.) FRUITS DEPENDING ON THE SCION-STOCK COMBINATION
Svetlana Motyleva, Galina Upadysheva, Tatyana Tumaeva
Potravinarstvo Slovak Journal of Food Sciences, vol. 15, 2021, p. 74-82
[abstract] doi: https://doi.org/10.5219/1454 [fulltext]
THE MICROPERFORATED PACKAGING DESIGN AND EVALUATION OF SHELF LIFE OF FRESH-SLICED MUSHROOMS
Ozlem Kizilirmak Esmer, Erinç Koçak, Aslı Şahiner, Can Türksever, Pınar Akın, Aylin Acar, Nil Deniz Adman
Potravinarstvo Slovak Journal of Food Sciences, vol. 15, 2021, p. 83-94
[abstract] doi: https://doi.org/10.5219/1530 [fulltext]
MICROBIOLOGICAL, CHEMICAL AND ORGANOLEPTIC EVALUATION OF FRESH FISH AND ITS PRODUCTS IRRADIATED BY GAMMA RAYS
Amal Al-Kuraieef
Potravinarstvo Slovak Journal of Food Sciences, vol. 15, 2021, p. 95-100
[abstract] doi: https://doi.org/10.5219/1505 [fulltext]
THE EFFECT OF KEFIR-SPIRULINA ON GLYCEMIC STATUS AND ANTIOXIDANT ACTIVITY IN HYPERGLYCEMIA RATS
Nur Laela, Anang Mohamad Legowo, Faizah Fulyani
Potravinarstvo Slovak Journal of Food Sciences, vol. 15, 2021, p. 101-110
[abstract] doi: https://doi.org/10.5219/1445 [fulltext]
IMPROVEMENT SUNFLOWER OIL STABILITY BY BLENDING WITH MORINGA OR SESAME OILS
Amina Aly, Hoda Ali, Mohamed Abdeldaiem
Potravinarstvo Slovak Journal of Food Sciences, vol. 15, 2021, p. 111-120
[abstract] doi: https://doi.org/10.5219/1491 [fulltext]
THE NUTRITIONAL CHARACTERISTICS AND ACCEPTABILITY OF BAOBAB (ADANSONIA DIGITATA L) PULP AS NUTRIENT CONCENTRATE SUBSTITUTE IN CUSTARD POWDER
Kazeem Olatoye, Oluwatobi Olusanya, Abiola Olaniran
Potravinarstvo Slovak Journal of Food Sciences, vol. 15, 2021, p. 121-130
[abstract] doi: https://doi.org/10.5219/1500 [fulltext]
СONSUMER PREFERENCES ON THE MARKET OF PLANT-BASED MILK ANALOGUES
Natalia Pritulska, Iuliia Motuzka, Anna Koshelnyk, Olena Motuzka, Ludmila Yashchenko, Malgorzata Jarossová, Paulína Krnáčová, Joanna Wyka, Ewa Malczyk, Marta Habánová
Potravinarstvo Slovak Journal of Food Sciences, vol. 15, 2021, p. 131-142
[abstract] doi: https://doi.org/10.5219/1485 [fulltext]
CHARACTERIZATION OF LACTOBACILLUS SPECIES PROPOSED AS PROBIOTICS
Saad Sabah Fakhry, Ahmed Ibrahim Jessim, Ghada Al Kattan, Saba Talib Hashim
Potravinarstvo Slovak Journal of Food Sciences, vol. 14, 2020, p. 143-150
[abstract] doi: https://doi.org/10.5219/1479 [fulltext]
PUBLISHED: 28. March 2021
SURVEY OF SOMATIC CELL COUNTS AND MILK COMPOSITION IN BULK MILK OF EWES IN DAIRY PRACTICE
Martina Vršková, Vladimír Tančin, Michal Uhrinčať, Lucia Mačuhová, Kristína Tvarožková
Potravinarstvo Slovak Journal of Food Sciences, vol. 15, 2021, p. 151-155
[abstract] doi: https://doi.org/10.5219/1325 [fulltext]
THE STUDY OF RAPESEEDS ASH COMPOSITION IN THE CONDITIONS OF AGROECOLOGICAL EXPERIMENT
Tatyana Zubkova, Svetlana Motyleva, Olga Dubrovina, Jan Brindza
Potravinarstvo Slovak Journal of Food Sciences, vol. 15, 2021, p. 156-161
[abstract] doi: https://doi.org/10.5219/1356 [fulltext]
STUDY ON THE PROCESS OF DEHYDRATING LEGUMES DURING HIGH-TEMPERATURE MICRONIZATION WITH INFRARED RAYS
Otari Sesikashvili, Nodari Mardaleishvili, Elene Gamkrelidze, Shalva Tsagareishvili
Potravinarstvo Slovak Journal of Food Sciences, vol. 15, 2021, p. 162-172
[abstract] doi: https://doi.org/10.5219/1511 [fulltext]
THE EFFECT OF TEMPEH FLOUR FROM TREE BEAN (PARKIA TIMORIANA (DC) MERR.,) SEEDS ON LIPID PROFILE IN PROTEIN-ENERGY MALNUTRITION RATS
Nurmasari Widyastuti, Nita Hasna Luthfiah, Rimadhani Ulfa, Mohammad Sulchan, Gemala Anjani, Nyoman Suci Widyastiti, Diana Nur Afifah, Vita Gustin Almira
Potravinarstvo Slovak Journal of Food Sciences, vol. 15, 2021, p. 173-180
[abstract] doi: https://doi.org/10.5219/1525 [fulltext]
THE STUDY OF THE VARIABILITY OF MORPHOBIOLOGICAL INDICATORS OF DIFFERENT SIZE AND WEIGHT GROUPS OF HYBRID SILVER CARP (HYPOPHTHALMICHTHYS SPP.) AS A PROMISING DIRECTION OF DEVELOPMENT OF THE FISH PROCESSING INDUSTRY
Alina Makarenko, Mikhailo Mushtruk, Natalia Rudyk-Leuska, Iryna Kononenko, Petro Shevchenko, Melania Khyzhniak, Natalia Martseniuk, Julia Glebova, Alevtina Bazaeva, Maksim Khalturin
Potravinarstvo Slovak Journal of Food Sciences, vol. 15, 2021, p. 181-191
[abstract] doi: https://doi.org/10.5219/1537 [fulltext]
THE EFFECT OF TREATMENT CONDITIONS ON COLOR CHARACTERISTICS AND MEASURE OF CHOLESTEROL REMOVAL FROM MILK BY Β-CYCLODEXTRIN APPLICATION
Lukáš Kolarič, Peter Šimko
Potravinarstvo Slovak Journal of Food Sciences, vol. 15, 2021, p. 192-198
[abstract] doi: https://doi.org/10.5219/1557 [fulltext]
A PILOT PLANT SCALE OF YELLOW KONJAC (AMORPHOPHALLUS MUELLERI BLUME) FLOUR PRODUCTION BY A CENTRIFUGAL MILL USING RESPONSE SURFACE METHODOLOGY
Jatmiko Eko Witoyo, Bambang Dwi Argo, Sudarminto Setyo Yuwono, Simon Bambang Widjanarko
Potravinarstvo Slovak Journal of Food Sciences, vol. 15, 2021, p. 199-209
[abstract] doi: https://doi.org/10.5219/1455 [fulltext]
EVALUATION OF VAPOR-PHASE ANTIFUNGAL ACTIVITIES OF SELECTED PLANT ESSENTIAL OILS AGAINST FUNGAL STRAINS GROWING ON BREAD FOOD MODEL
Veronika Valková, Hana Ďúranová, Lucia Galovičová, Eva Ivanišová, Miroslava Kačániová
Potravinarstvo Slovak Journal of Food Sciences, vol. 15, 2021, p. 210-217
[abstract] doi: https://doi.org/10.5219/1483 [fulltext]
THE POTENTIAL OF RED DRAGON FRUIT PEEL YOGURT TO IMPROVE PLATELET LEVELS IN HEPARIN-INDUCED THROMBOCYTOPENIA IN WISTAR RATS
Widya Hary Cahyati, Nur Siyam, Natalia Desy Putriningtyas
Potravinarstvo Slovak Journal of Food Sciences, vol. 15, 2021, p. 218-225
[abstract] doi: https://doi.org/10.5219/1497 [fulltext]
IMPACT OF CONSUMER PERSONALITY ON PURCHASING BEHAVIOR IN THE DAIRY MARKET IN TERMS OF PSYCHOLOGICAL FACTORS
Ľudmila Nagyová, Andrej Géci, Alexandra Krivošíková, Elena Horská
Potravinarstvo Slovak Journal of Food Sciences, vol. 15, 2021, p. 226-234
[abstract] doi: https://doi.org/10.5219/1556 [fulltext]
SOCIAL DEMOGRAPHIC FACTORS INFLUENCING CONSUMER'S PREFERENCES ON RICE ATTRIBUTES IN INDONESIA: A MULTINOMIAL LOGISTIC APPROACH
Julkhaidar Romadhon, Muhammad Yazid, Andy Mulyana, Yunita
Potravinarstvo Slovak Journal of Food Sciences, vol. 15, 2021, p. 235-244
[abstract] doi: https://doi.org/10.5219/1526 [fulltext]
COMPARATIVE CHARACTERISTICS OF EGGS OF CHICKENS OF DOMESTIC AND FOREIGN SELECTION IN THEIR DIVERSE AGE
Lyudmyla Nalyvayko, Kateryna Rodionova, Svitlana Pankova, Natalia Shomina, Oleg Katerynych, Mariia Khimych
Potravinarstvo Slovak Journal of Food Sciences, vol. 15, 2021, p. 245-253
[abstract] doi: https://doi.org/10.5219/1501 [fulltext]
AMINO ACIDS IN ENTERAL FORMULA BASED ON LOCAL FERMENTED FOOD FOR CHILDREN WITH PROTEIN ENERGY MALNUTRITION
Yessie Finandita Pratiwi, Mohammad Sulchan, Diana Nur Afifah, Rusdin Rauf
Potravinarstvo Slovak Journal of Food Sciences, vol. 15, 2021, p. 254-261
[abstract] doi: https://doi.org/10.5219/1480 [fulltext]
PUBLISHED: 28. April 2021
RESEARCH OF HOP POLYPHENOLS IMPACT ON MALT HOPPED WORT AROMA FORMATION MODEL EXPERIMENTS
Marina Gernet, Irina Gribkova, Maxim Zakharov, Konstantin Kobelev
Potravinarstvo Slovak Journal of Food Sciences, vol. 15, 2021, p. 262-273
[abstract] doi: https://doi.org/10.5219/1518 [fulltext]
BEE STIMULATION TO FORM PROTEIN FOOD RESERVES
Serhii Velychko, Valeryii Brovarskyi, Ján Brindza
Potravinarstvo Slovak Journal of Food Sciences, vol. 15, 2021, p. 274-284
[abstract] doi: https://doi.org/10.5219/1562 [fulltext]
EVALUATION OF NUTRITIONAL COMPOSITION AND SENSORY PROPERTIES OF CHEESES, CHEESE SPREADS AND TRADITIONAL BUTTER FROM SLOVAK PRODUCTION
Silvia Jakabová, Lucia Benešová, Miroslav Kročko, Peter Zajác, Jozef Čapla, Adam Partika, Jozef Golian, Jana Štefániková
Potravinarstvo Slovak Journal of Food Sciences, vol. 15, 2021, p. 285-295
[abstract] doi: https://doi.org/10.5219/1614 [fulltext]
USE OF AROMATIC ROOT VEGETABLES IN THE TECHNOLOGY OF FRESHWATER FISH PRESERVES
Nataliia Holembovska, Liudmyla Tyshchenko, Natalia Slobodyanyuk, Valentyna Israelian, Yuliya Kryzhova, Anastasiia Ivaniuta, Oksana Pylypchuk, Alina Menchynska, Oksana Shtonda, Dmytro Nosevych
Potravinarstvo Slovak Journal of Food Sciences, vol. 15, 2021, p. 296-305
[abstract] doi: https://doi.org/10.5219/1581 [fulltext]
STUDIES ON THE CHEMICAL COMPOSITION OF FRUITS AND SEEDS OF PSEUDOCYDONIA SINENSIS (THOUIN) C.K. SCHNEID.
Olga Grygorieva, Svitlana Klymenko, Olena Vergun, Olga Shelepova, Yulia Vinogradova, Inna Goncharovska, Vladimíra Horčinová Sedláčková, Katarína Fatrcová Šramková, Ján Brindza
Potravinarstvo Slovak Journal of Food Sciences, vol. 15, 2021, p. 306-317
[abstract] doi: https://doi.org/10.5219/1583 [fulltext]
THE EFFECT OF DRY DEMINERALIZED WHEY (DDW) AND COCONUT OIL ON THE RHEOLOGICAL CHARACTERISTICS OF LEGUME BUTTER
Igor Stadnyk, Volodymyr Piddubnuy, Mykhail Kravchenko, Larysa Rybchuk, Stepan Balaban, Taisia Veselovska
Potravinarstvo Slovak Journal of Food Sciences, vol. 15, 2021, p. 318-329
[abstract] doi: https://doi.org/10.5219/1578 [fulltext]
HEAVY METALS ANALYSIS, GCMS-QP QUANTIFICATION OF FLAVONOIDS, AMINO ACIDS AND SAPONINS, ANALYSIS OF TANNINS AND ORGANOLEPTIC PROPERTIES OF POWDER AND TINCTURE OF ECHINACEA PURPUREA (L.) AND RHAPÓNTICUM CARTHAMOÍDES
Aitbek Kakimov, Alibek Muratbayev, Klara Zharykbasova, Samat Amanzholov, Gulmira Mirasheva, Samat Kassymov, Asiya Utegenova, Madina Jumazhanova, Mohammad Ali Shariati
Potravinarstvo Slovak Journal of Food Sciences, vol. 15, 2021, p. 330-339
[abstract] doi: https://doi.org/10.5219/1476 [fulltext]
THE DIVERSITY OF FUNGAL POPULATION FROM GRAPE HARVEST TO YOUNG WINE IN SMALL CARPATHIAN WINE REGION
Soňa Felšöciová, Jozef Sabo, Lucia Galovičová, Miroslava Kačániová
Potravinarstvo Slovak Journal of Food Sciences, vol. 15, 2021, p. 340-349
[abstract] doi: https://doi.org/10.5219/1609 [fulltext]
THE STUDY OF SOLUBLE SOLIDS CONTENT ACCUMULATION DYNAMICS UNDER THE INFLUENCE OF WEATHER FACTORS IN THE FRUITS OF CHERRIES
Iryna Ivanova, Maryna Serdiuk, Vira Malkina, Iryna Bandura, Ihor Kovalenko, Tetiana Tymoshchuk, Oksana Tonkha, Oleksandr Tsyz, Mikhailo Mushtruk, Alina Omelian
Potravinarstvo Slovak Journal of Food Sciences, vol. 15, 2021, p. 350-359
[abstract] doi: https://doi.org/10.5219/1554 [fulltext]
BIOLOGICALLY ACTIVE SUBSTANCES OF CAMELLIA SINENSIS IN A HUMID SUBTROPICAL CLIMATE OF RUSSIA
Oksana Belous, Natalia Platonova
Potravinarstvo Slovak Journal of Food Sciences, vol. 15, 2021, p. 360-368
[abstract] doi: https://doi.org/10.5219/1440 [fulltext]
THE ATTITUDE OF CZECH UNIVERSITY STUDENTS TO BEER CONSUMPTION FROM MICROBREWERIES
Vratislav Kozák, Vendula Lapčíková
Potravinarstvo Slovak Journal of Food Sciences, vol. 15, 2021, p. 369-377
[abstract] doi: https://doi.org/10.5219/1397 [fulltext]
INFLUENCE OF EIGHT CHOSEN ESSENTIAL OILS IN THE VAPOR PHASE ON THE GROWTH OF RHIZOPUS STOLONIFER AND RHIZOPUS LYOCOCCUS
Dana Tančinová, Miroslava Hlebová, Denisa Foltinová, Zuzana Mašková, Zuzana Barboráková
Potravinarstvo Slovak Journal of Food Sciences, vol. 15, 2021, p. 378-386
[abstract] doi: https://doi.org/10.5219/1586 [fulltext]
THE ATTITUDE OF CZECH UNIVERSITY STUDENTS TO BEER CONSUMPTION FROM MICROBREWERIES
Vratislav Kozák, Vendula Lapčíková
Potravinarstvo Slovak Journal of Food Sciences, vol. 15, 2021, p. 387-395
[abstract] doi: https://doi.org/10.5219/1516 [fulltext]
PUBLISHED: 28. May 2021
HYGIENE MEASURES IN SUPERMARKETS, RETAIL FOOD STORES, AND GROCERY SHOPS DURING THE COVID-19 PANDEMIC IN SLOVAKIA
Peter Zajác, Jozef Čurlej, Lucia Benešová, Jozef Čapla
Potravinarstvo Slovak Journal of Food Sciences, vol. 15, 2021, p. 396-422
[abstract] doi: https://doi.org/10.5219/1592 [fulltext]
ASCORBIC ACID SUPPLEMENTATION SUPPRESSES CADMIUM-DERIVED ALTERATIONS IN THE FISSION YEAST SCHIZOSACCHAROMYCES POMBE
Marek Kovár, Alica Navrátilová, Anna Trakovická, Miroslava Požgajová
Potravinarstvo Slovak Journal of Food Sciences, vol. 15, 2021, p. 423-432
[abstract] doi: https://doi.org/10.5219/1618 [fulltext]
THE CHEMICAL COMPOSITION OF POLLEN, STAMINATE CATKINS, AND HONEY OF CASTANEA SATIVA MILL.
Vladimíra Horčinová Sedláčková, Olga Grygorieva, Katarína Fatrcová Šramková, Olga Shelepova, Inna Goncharovska, Erika Mňahončáková
Potravinarstvo Slovak Journal of Food Sciences, vol. 15, 2021, p. 433-444
[abstract] doi: https://doi.org/10.5219/1627 [fulltext]
BASIL – A COMPARISON OF THE TOTAL PHENOLIC CONTENT AND ANTIOXIDANT ACTIVITY IN SELECTED CULTIVARS
Martin Adámek, Jiří Mlček, Anna Adámková, Vít Guiglielmo Mišurec, Jana Orsavová, Martina Bučková, Martin Búran, Anna Plášková, Lenka Kouřimská
Potravinarstvo Slovak Journal of Food Sciences, vol. 15, 2021, p. 445-452
[abstract] doi: https://doi.org/10.5219/1623 [fulltext]
THE MICROBIOLOGICAL QUALITY OF MINCED PORK TREATED WITH GARLIC IN COMBINATION WITH VACUUM PACKAGING
Simona Kunová, Peter Haščík, Ľubomír Lopašovský, Miroslava Kačániová
Potravinarstvo Slovak Journal of Food Sciences, vol. 15, 2021, p. 453-459
[abstract] doi: https://doi.org/10.5219/1585 [fulltext]
POTENTIAL PROBIOTIC YEAST ISOLATED FROM AN INDONESIAN INDIGENOUS FERMENTED FISH (IKAN BUDU)
Yetti Marlida, Nurul Huda, Harnentis, Yuliaty Shafan Nur, Nuri Mekar Lestari, Frederick Adzitey, Mohd Rosni Sulaiman
Potravinarstvo Slovak Journal of Food Sciences, vol. 15, 2021, p. 460-466
[abstract] doi: https://doi.org/10.5219/1544 [fulltext]
THE ANTIMICROBIAL ACTIVITY OF POLYFLORAL HONEY AND ITS AWARENESS AMONG URBAN CONSUMERS IN SLOVAKIA
Peter Šedík, Kristína Predanócyová, Elena Horská, Miroslava Kačániová
Potravinarstvo Slovak Journal of Food Sciences, vol. 15, 2021, p. 467-474
[abstract] doi: https://doi.org/10.5219/1621 [fulltext]
MICROBIAL, PHYSICOCHEMICAL AND SENSORY CHARACTERISTICS OF SALAMI PRODUCED FROM WILD BOAR (SUS SCROFA)
Rossana Roila, Raffaella Branciari, Sara Primavilla, Dino Miraglia, Francesca Vercillo, David Ranucci
Potravinarstvo Slovak Journal of Food Sciences, vol. 15, 2021, p. 475-483
[abstract] doi: https://doi.org/10.5219/1551 [fulltext]
A POLICY CONSTRUCTION FOR SUSTAINABLE RICE FOOD SOVEREIGNTY IN INDONESIA
Adriani Kusumawardani, Bambang Shergi Laksmono, Lugina Setyawati, Tri Edhi Budhi Soesilo
Potravinarstvo Slovak Journal of Food Sciences, vol. 15, 2021, p. 484-496
[abstract] doi: https://doi.org/10.5219/1533 [fulltext]
INVESTIGATION OF DEPENDENCES OF THE MORPHOLOGICAL COMPOSITION OF BODY AND AMINO ACID COMPOSITION OF TROUT MEAT PROTEINS (ONCORHYNCHUS MYKISS) ON LEVELS OF THE ENERGY VALUE OF FEEDS
Vadym Kondratiuk, Volodymyr Otchenashko
Potravinarstvo Slovak Journal of Food Sciences, vol. 15, 2021, p. 497-505
[abstract] doi: https://doi.org/10.5219/1601 [fulltext]
USE OF MUTTON IN SAUSAGE PRODUCTION
Juraj Čuboň, Peter Haščík, Peter Herc, Lukáš Hleba, Miroslava Hlebová, Nikoleta Šimonová, Ondřej Bučko
Potravinarstvo Slovak Journal of Food Sciences, vol. 15, 2021, p. 506-512
[abstract] doi: https://doi.org/10.5219/1602 [fulltext]
PUBLISHED: 28. June 2021
ASPECTS OF THE INFLUENCE OF VEGETABLE-OIL-BASED MARINADE ON ORGANOLEPTIC AND PHYSICOCHEMICAL INDICATORS OF THE QUALITY OF SEMI-FINISHED NATURAL MARINATED MEAT PRODUCTS
Oksana Shtonda, Kateryna Semeniuk
Potravinarstvo Slovak Journal of Food Sciences, vol. 15, 2021, p. 513-520
[abstract] doi: https://doi.org/10.5219/1527 [fulltext]
THE CARCASS AND MEAT QUALITY CHARACTERISTICS OF JAPANESE QUAIL FED A DIET SUPPLEMENTED WITH POWDERED LACTUCA SERIOLA LEAVES
Azad Sabow, Nazim Abdulla, Bestoon Ahmed
Potravinarstvo Slovak Journal of Food Sciences, vol. 15, 2021, p. 521-527
[abstract] doi: https://doi.org/10.5219/1534 [fulltext]
THE MICRONUTRIENT PROFILE OF MEDICINAL PLANT EXTRACTS
Marija Zheplinska, Mikhailo Mushtruk, Volodymyr Vasyliv, Anatolii Kuts, Natalia Slobodyanyuk, Larysa Bal-Prylypko,
Mykola Nikolaenko, Olena Kokhan, Yuriy Reznichenko, Oksana Salavor
Potravinarstvo Slovak Journal of Food Sciences, vol. 15, 2021, p. 528-535
[abstract] doi: https://doi.org/10.5219/1553 [fulltext]
INCREASING THE RETURN ON EQUITY BY FINANCIAL LEVERAGE IN SUGAR BEET FARMS IN SLOVAKIA
Tomáš Rábek, Andrea Boháčiková, Ivan Holúbek, Zuzana Strápeková
Potravinarstvo Slovak Journal of Food Sciences, vol. 15, 2021, p. 536-545
[abstract] doi: https://doi.org/10.5219/1619 [fulltext]
THE USE OF SECONDARY FISH RAW MATERIALS FROM SILVER CARP IN THE TECHNOLOGY OF STRUCTURING AGENTS
Anastasiia Ivaniuta, Alina Menchynska, Natalia Nesterenko, Nataliia Holembovska, Viktor Yemtcev, Yevheniia Marchyshyna, Yuliya Kryzhova, Elena Ochkolyas, Оksana Pylypchuk, Valentyna Israelian
Potravinarstvo Slovak Journal of Food Sciences, vol. 15, 2021, p. 546-554
[abstract] doi: https://doi.org/10.5219/1626 [fulltext]
THE BIOCHEMICAL CHANGES IN LEGUMES DURING HIGH-TEMPERATURE MICRONIZATION
Otari Sesikashvili, Elene Gamkrelidze, Nodari Mardaleishvili, Gia Dadunashvili, Shalva Tsagareishvili, George Pkhakadze
Potravinarstvo Slovak Journal of Food Sciences, vol. 15, 2021, p. 555-565
[abstract] doi: https://doi.org/10.5219/1629 [fulltext]
THE NUTRITIONAL PROFILE OF INDONESIAN SALMON VAN JAVA MAHSEER T. SORO SPECIES
Ekowati Chasanah, Diini Fithriani, Achmad Poernomo, Mohammad Halim Jeinie, Nurul Huda
Potravinarstvo Slovak Journal of Food Sciences, vol. 15, 2021, p. 566-574
[abstract] doi: https://doi.org/10.5219/1552 [fulltext]
THE ANTIMICROBIAL EFFECT OF THYME AND ROSEMARY ESSENTIAL OILS AGAINST LISTERIA MONOCYTOGENES IN SOUS VIDE TURKEY MEAT DURING STORAGE
Miroslava Kačániová, Simona Kunová, Peter Haščík, Karol Pietrzyk, Maciej Kluz, Margarita Terentjeva, Tatsiana Savitskaya, Dmitrij Grinshpan
Potravinarstvo Slovak Journal of Food Sciences, vol. 15, 2021, p. 575-584
[abstract] doi: https://doi.org/10.5219/1655 [fulltext]
THE STATE AND THE SHARE OF RURAL WOMEN ON THE AGRICULTURAL ENTERPRENEURSHIP ACTIVITIES IN SLOVAK REPUBLIC
Zuzana Kapsdorferová, Silvia Jacková, Petronela Švikruhová
Potravinarstvo Slovak Journal of Food Sciences, vol. 15, 2021, p. 585-591
[abstract] doi: https://doi.org/10.5219/1484 [fulltext]
EVALUATION OF THE BASIC SACCHARIDES CONTENT IN TOMATOES
Andrea Mendelová, Ľubomír Mendel, Miriam Solgajová, Ján Mareček
Potravinarstvo Slovak Journal of Food Sciences, vol. 15, 2021, p. 592-598
[abstract] doi: https://doi.org/10.5219/1543 [fulltext]
PUBLISHED: 28. July 2021
THE EFFECT OF ANTIOXIDANTS ON XANTHINE OXIDASE ACTIVITY IN FRESH OVINE MILK
Akmaral Mukhamejanova, Zerekbay Alikulov, Nelya Shapekova, Karlygash Aubakirova, Abilkhas Mukhtarov
Potravinarstvo Slovak Journal of Food Sciences, vol. 15, 2021, p. 599-607
[abstract] doi: https://doi.org/10.5219/1662 [fulltext]
INCIDENCE OF HORMONAL GROWTH STIMULANT AND ANTIBIOTICS RESIDUES IN CHICKEN MEAT
Zhanar Akhmet, Gulshat Zhaxylykova, Rashidah Sukor, Assiya Serikbayeva, Karima Myrzabek
Potravinarstvo Slovak Journal of Food Sciences, vol. 15, 2021, p. 608-615
[abstract] doi: https://doi.org/10.5219/1663 [fulltext]
VETERINARY AND SANITARY ASSESSMENT AND DISINFECTION OF REFRIGERATOR CHAMBERS OF MEAT PROCESSING ENTERPRISES
Kateryna Rodionova, Anatoliy Paliy, Mariia Khimych
Potravinarstvo Slovak Journal of Food Sciences, vol. 15, 2021, p. 616-626
[abstract] doi: https://doi.org/10.5219/1628 [fulltext]
GENETIC IDENTIFICATION OF THE CAUSATIVE AGENT OF BRUCELLOSIS
Yerkebulan Jakipov, Muafik Mustafin, Anda Valdovska, Sayat Baiseitov, Ayauly Aitkulova
Potravinarstvo Slovak Journal of Food Sciences, vol. 15, 2021, p. 627-631
[abstract] doi: https://doi.org/10.5219/1664 [fulltext]
THE XANTHINE OXIDASE AND ITS ASSOCIATED ACTIVITIES IN THE OVINE MILK AND LIVER: DISTINCTIVE IN IMPACT OF IN VIVO MOLYBDENUM
Akmaral Mukhamejanova, Zerekbay Alikulov, Galiya Kazhibayeva, Bakyt Tuganova, Zhanna Adamzhanova
Potravinarstvo Slovak Journal of Food Sciences, vol. 15, 2021, p. 632-638
[abstract] doi: https://doi.org/10.5219/1665 [fulltext]
THE STUDY OF THE PRODUCTIVITY POTENTIAL OF GRAPE VARIETIES ACCORDING TO THE INDICATORS OF FUNCTIONAL ACTIVITY OF LEAVES
Olena Vasylenko, Tetiana Kondratenko, Oleksandr Havryliuk, Yurii Andrusyk, Vira Kutovenko, Yuliia Dmytrenko, Natalia Grevtseva, Yevheniia Marchyshyna
Potravinarstvo Slovak Journal of Food Sciences, vol. 15, 2021, p. 639-647
[abstract] doi: https://doi.org/10.5219/1638 [fulltext]
CHARACTERISTICS OF GELATIN FROM SKIN AND BONE OF SNAKEHEAD (CHANNA STRIATA) EXTRACTED WITH DIFFERENT TEMPERATURE AND TIME
Rosmawati, Abu Bakar Tawali, Muhammmad Irfan Said, Wahidu Zzaman, Rovina Kobun, Nurul Huda
Potravinarstvo Slovak Journal of Food Sciences, vol. 15, 2021, p. 648-661
[abstract] doi: https://doi.org/10.5219/1639 [fulltext]
PUBLISHED: 28. September 2021
THE EFFECT OF SORGHUM TEMPEH (SORGHUM BICOLOR L. MOENCH) ON LOW-DENSITY LIPOPROTEIN (LDL) AND MALONDIALDEHYDE (MDA) LEVELS IN ATHEROGENIC DIET-INDUCED RATS
Ana Khoirun Nisa, Diana Nur Afifah, Kis Djamiatun, Ahmad Syauqy
Potravinarstvo Slovak Journal of Food Sciences, vol. 15, 2021, p. 662-671
[abstract] doi: https://doi.org/10.5219/1589 [fulltext]
MONITORING OF RISK FACTORS OF CARDIOVASCULAR DISEASES IN ADULT MEN
Jana Mrázová, Soňa Bӧtӧšová, Jana Kopčeková, Petra Lenártová, Martina Gažarová, Marta Habánová, Kristína Jančichová
Potravinarstvo Slovak Journal of Food Sciences, vol. 15, 2021, p. 672-679
[abstract] doi: https://doi.org/10.5219/1641 [fulltext]
JUSTIFICATION OF THERMODYNAMIC EFFICIENCY OF THE NEW AIR HEAT PUMP IN THE SYSTEM OF REDISTRIBUTION OF ENERGY RESOURCES AT THE ENTERPRISE
Igor Stadnyk, Anatoly Sokolenko, Volodymyr Piddubnuy, Kostiantyn Vasylkivsky, Andrii Chahaida, Viktor Fedoriv
Potravinarstvo Slovak Journal of Food Sciences, vol. 15, 2021, p. 680-693
[abstract] doi: https://doi.org/10.5219/1666 [fulltext]
COMPETITIVENESS OF AGRI-FOOD FOREIGN TRADE IN CONDITIONS OF THE SLOVAK REPUBLIC
Anna Látečková, Michaela Trnková, Jozef Palkovič, Ivan Holúbek
Potravinarstvo Slovak Journal of Food Sciences, vol. 15, 2021, p. 694-702
[abstract] doi: https://doi.org/10.5219/1686 [fulltext]
THE IMPROVEMENT OF INSULIN RESISTANCE AND THE ANTIOXIDANT CAPACITY IN TYPE 2 DIABETES MELLITUS RATS WITH WHITELEG SHRIMP SHELL POWDER (LITOPENAEUS VANNAMEI)
Risya Ahriyasna, Tri Winarni Agustini, Kis Djamiatun, Def Primal
Potravinarstvo Slovak Journal of Food Sciences, vol. 15, 2021, p. 703-711
[abstract] doi: https://doi.org/10.5219/1684 [fulltext]
THE EFFECT OF EXTRACTION TIME ON THE PHYSICOCHEMICAL CHARACTERISTICS OF NANOCALCIUM POWDER FROM CHICKEN AND DUCK EGGSHELLS
Nura Malahayati, Tri Wardhani Widowati, Nurul Saniah Alsoyuna
Potravinarstvo Slovak Journal of Food Sciences, vol. 15, 2021, p. 712-722
[abstract] doi: https://doi.org/10.5219/1675 [fulltext]
THE COMPARISON OF BIOCHEMICAL COMPOSITION OF ACTINIDIA KOLOMIKTA AND ACTINIDIA POLYGAMA FRUITS
Darya Panishcheva, Svetlana Motyleva, Nataliya Kozak
Potravinarstvo Slovak Journal of Food Sciences, vol. 15, 2021, p. 723-731
[abstract] doi: https://doi.org/10.5219/1682 [fulltext]
CHANGES IN ORGANOLEPTIC, MICROBIOLOGICAL AND BIOCHEMICAL PROPERTIES OF KEFIR WITH IODINE ADDITION DURING THE STORAGE
Diana Dalevska, Oleg Pokotylo, Mykola Kukhtyn, Nataliia Kopchak, Volodymyr Salata, Yulia Horiuk, Tetyana Uglyar
Potravinarstvo Slovak Journal of Food Sciences, vol. 15, 2021, p. 732-740
[abstract] doi: https://doi.org/10.5219/1679 [fulltext]
MODIFICATION OF THE PROPERTIES OF MILK-FAT EMULSIONS WITH THE PHASE STRUCTURE OF "OIL IN WATER" IN THE DEPENDENCE ON THE MASS PART OF THE LIPOID AND THE STABILIZING SYSTEMS
Igor Stadnyk, Oksana Bodnarchuk, Kateryna Kopylova, Pylyp Petrov, Larysa Bal-Prylypko, Sergiy Narizhnyy
Potravinarstvo Slovak Journal of Food Sciences, vol. 15, 2021, p. 741-748
[abstract] doi: https://doi.org/10.5219/1389 [fulltext]
ASSESSMENT OF THE EFFECT OF BIOACTIVE NUTRIENTS AND PROBIOTIC MICROORGANISMS ON THE PARAMETERS OF LIPID METABOLISM IN THE BODY
Natalia Rodionova, Evgeny Popov, Natalia Zakharova, Ekaterina Pozhidaeva, Anna Derkanosova, Nikolay Tychinin, Anatoly Khitrov, Mikhail Syromyatnikov
Potravinarstvo Slovak Journal of Food Sciences, vol. 15, 2021, p. 749-757
[abstract] doi: https://doi.org/10.5219/1685 [fulltext]
THE CONTENT OF SILVER, ALUMINUM, AND ZINC IN WILD DIBLE MUSHROOM MACROLEPIOTA PROCERA
Hana Franková, Ivona Jančo, Natália Čeryová
Potravinarstvo Slovak Journal of Food Sciences, vol. 15, 2021, p. 758-767
[abstract] doi: https://doi.org/10.5219/1673 [fulltext]
ADOPTION OF SUSTAINABLE AGRICULTURE PRACTICES BY CITRUS FARMERS AND ITS DETERMINANTS IN THE JORDAN VALLEY: THE CASE OF NORTHERN GHOR
Safaa Alwedyan, AymenTaani
Potravinarstvo Slovak Journal of Food Sciences, vol. 15, 2021, p. 768-775
[abstract] doi: https://doi.org/10.5219/1676 [fulltext]
DEVELOPMENT OF NUTRITIONAL MEALS AND GRUELS FROM BLENDS OF PRO-VITAMIN A CASSAVA GRITS AND AFRICAN YAM
Ololade Abosede Olodude, Victoria Funmilayo Abioye, Yetunde Mary Iranloye
Potravinarstvo Slovak Journal of Food Sciences, vol. 15, 2021, p. 776-783
[abstract] doi: https://doi.org/10.5219/1677 [fulltext]
PHENOLIC CONTENT AND ANTIOXIDANT ACTIVITY OF ECHINOCYSTIS LOBATA (MICH.) TORR. ET GRAY (CUCURBITACEAE)
Yulia Vinogradova, Olga Shelepova, Olena Vergun, Olga Grygorieva, Ján Brindza
Potravinarstvo Slovak Journal of Food Sciences, vol. 15, 2021, p. 784-791
[abstract] doi: https://doi.org/10.5219/1579 [fulltext]
DETERMINING THE EFFECT OF REPLACING COMPOSITE FLOUR MIXTURE WITH CASSAVA STARCH ON NUTRITIONAL AND PHYSICAL PROPERTIES OF CHICKEN SAUSAGES
Rakinahewage Kalpani Lakma Weerasinghe, Indira Wickramasinghe, Madame Arachchige Dulani Somendrika
Potravinarstvo Slovak Journal of Food Sciences, vol. 15, 2021, p. 792-798
[abstract] doi: https://doi.org/10.5219/1611 [fulltext]
SATUREJA MONTANA L. ESSENTIAL OIL VARIOUS DOSAGES EFFECT ON THE MAIN RATS' BIOLOGICAL FEATURES
Vladimir Pashtetsky Pavel Ostapchuk, Elena Usmanova, Eugenia Zyablitskaya, Tatiana Makalish, Irina Danilova, Tatiana Kuevda, Denis Zubochenko, Veronica Uppe, Aleksandra Pashtetskaia, Natalia Kashirina, Anna Pikhtereva, Viktor Abalduev, Vitalii Delov, Alina Posobilova
Potravinarstvo Slovak Journal of Food Sciences, vol. 15, 2021, p. 799-809
[abstract] doi: https://doi.org/10.5219/1643 [fulltext]
FORMATION OF HEAT AND MASS TRANSFER BONDS WHEN MIXING COMPONENTS IN A SUSPENDED STATE
Igor Stadnyk, Volodymyr Piddubnyi, Liudmila Beyko, Igor Dobrotvor, Ganna Sabadosh, Tetiana Hushtan
Potravinarstvo Slovak Journal of Food Sciences, vol. 15, 2021, p. 810-823
[abstract] doi: https://doi.org/10.5219/1645 [fulltext]
THE EFFECT OF HEAT-MOISTURE TREATMENT CONDITIONS ON THE STRUCTURE PROPERTIES AND FUNCTIONALITIES OF POTATO STARCH
Chunli Deng, Oksana Melnyk, Yanghe Luo
Potravinarstvo Slovak Journal of Food Sciences, vol. 15, 2021, p. 824-834
[abstract] doi: https://doi.org/10.5219/1647 [fulltext]
REMNANT PHOTOSYNTHETIC PIGMENTS IN TEA DREGS: IDENTIFICATION, COMPOSITION, AND POTENTIAL USE AS ANTIBACTERIAL PHOTOSENSITIZER
Renny Indrawati, Elok Zubaidah, Aji Sutrisno, Leenawaty Limantara, Tatas Hardo Panintingjati Brotosudarmo
Potravinarstvo Slovak Journal of Food Sciences, vol. 15, 2021, p. 835-845
[abstract] doi: https://doi.org/10.5219/1651 [fulltext]
THE NUTRITIONAL VALUE, BACTERIAL COUNT AND SENSORY ATTRIBUTES OF LITTLE TUNA (EUTHYNNUS AFFINIS) FLOSS INCORPORATED WITH THE BANANA BLOSSOM
Hartati Kartikaningsih, Yahya, Yuniar Tri Hartita, Abdul Aziz Jaziri, Wahidu Zzaman, Rovina Kobun, Nurul Huda
Potravinarstvo Slovak Journal of Food Sciences, vol. 15, 2021, p. 846-857
[abstract] doi: https://doi.org/10.5219/1657 [fulltext]
PUBLISHED: 28. October 2021
THE SYSTEM OF MONITORING OF INHIBITORY DRUG RESIDUES IN RAW COWS' MILK IN SLOVAKIA
Peter Zajác, Stanislava Zubrická, Jozef Čapla, Jozef Čurlej, Maroš Drončovský
Potravinarstvo Slovak Journal of Food Sciences, vol. 15, 2021, p. 858-868
[abstract] doi: https://doi.org/10.5219/1687 [fulltext]
THE ROLE OF GAMBIR FILTRATE AND RED PALM OIL IN THE FORMATION OF CANNA STARCH BASED-FUNCTIONAL EDIBLE FILM
Budi Santoso, Doni Andrian Saragih, Gatot Priyanto, Hermanto Hermanto
Potravinarstvo Slovak Journal of Food Sciences, vol. 15, 2021, p. 869-876
[abstract] doi: https://doi.org/10.5219/1580 [fulltext]
AN IMPROVED METHOD FOR DETERMINING THE MASS FRACTION OF CALCIUM CARBONATE IN THE CARBONATE BEDROCK
Tatiana Kos, Inha Kuznietsova, Tamila Sheiko, Liubomyr Khomichak, Yuliia Kambulova, Larysa Bal-Prylypko, Volodymyr Vasyliv, Mykola Nikolaenko, Mykola Bondar, Iryna Babych
Potravinarstvo Slovak Journal of Food Sciences, vol. 15, 2021, p. 877-890
[abstract] doi: https://doi.org/10.5219/1591 [fulltext]
THE INFLUENCE OF VARIETAL CHARACTERISTICS ON THE QUALITY INDICATORS OF CANDIED FRUITS FROM PLUM FRUITS
Tatiana Prichko, Natalia Droficheva
Potravinarstvo Slovak Journal of Food Sciences, vol. 15, 2021, p. 891-900
[abstract] doi: https://doi.org/10.5219/1597 [fulltext]
IMPROVING THE METHOD OF DETERMINING THE MASS FRACTION OF MAGNESIUM CARBONATE AND THE STUDY OF THE CHEMICAL COMPOSITION OF CARBONATE ROCKS FOR THE EFFECTIVE CONDUCT OF THE TECHNOLOGICAL PROCESS OF SUGAR PRODUCTION
Tatiana Kos, Inha Kuznietsova, Tamila Sheiko, Liubomyr Khomichak, Larysa Bal-Prylypko, Volodymyr Vasyliv, Maxim Gudzenko, Mykola Nikolaenko, Bondar Mykola, Haidai Irina
Potravinarstvo Slovak Journal of Food Sciences, vol. 15, 2021, p. 901-916
[abstract] doi: https://doi.org/10.5219/1620 [fulltext]
CONSUMPTION DIETARY SOURCES OF LYCOPENE, LUTEIN, AND ZEAXANTHIN AMONG YOUNG ADULTS LIVING IN MOSCOW
Aleksei Korolev, Ekaterina Kirpichenkova, Elena Nikitenko, Elena Denisova, Elena Fanda, Irina Barasheva, Roman Fetisov, Olga Popova, Lubov Kuznetsova, Ekaterina Petrova
Potravinarstvo Slovak Journal of Food Sciences, vol. 15, 2021, p. 917-925
[abstract] doi: https://doi.org/10.5219/1633 [fulltext]
THE TECHNOLOGICAL PROPERTIES OF WINTER WHEAT GRAIN DURING LONG-TERM STORAGE
Nadiia Yashchuk, Liudmyla Matseiko, Anatolii Bober, Matvei Kobernyk, Sergiy Gunko, Nataliya Grevtseva, Yuriy Boyko, Oksana Salavor, Natalia Bublienko, Iryna Babych
Potravinarstvo Slovak Journal of Food Sciences, vol. 15, 2021, p. 926-938
[abstract] doi: https://doi.org/10.5219/1642 [fulltext]
PRODUCT LINE OF SELECTED AGRICULTURAL ENTITY IN SLOVAKIA AND SUGGESTION FOR ITS EXPANSION BASED ON ANALYSIS OF CONSUMERS' INTEREST IN DAIRY AND MEAT PRODUCTS
Jana Kozáková, Erika Hornáčková
Potravinarstvo Slovak Journal of Food Sciences, vol. 15, 2021, p. 939-960
[abstract] doi: https://doi.org/10.5219/1654 [fulltext]
THE ORGANOLEPTIC QUALITY OF LIQUID FOOD FORMULA MADE FROM SNAIL (PILA AMPULLACEA), TEMPEH, AND MORINGA LEAVES
Fery Lusviana Widiany, Mochammad Sja'bani, Susetyowati, Emy Huriyati
Potravinarstvo Slovak Journal of Food Sciences, vol. 15, 2021, p. 961-969
[abstract] doi: https://doi.org/10.5219/1672 [fulltext]
INNOVATIVE APPROACHES TO THE DEVELOPMENT OF A NEW SOUR MILK PRODUCT
Irina Vlasenko, Valentyna Bandura, Tetyana Semko, Larisa Fialkovska, Olga Ivanishcheva, Vladyslav Palamarchuk
Potravinarstvo Slovak Journal of Food Sciences, vol. 15, 2021, p. 970-981
[abstract] doi: https://doi.org/10.5219/1688 [fulltext]
DEVELOPMENT OF THE FOOD ACT OF THE SLOVAK REPUBLIC FROM 1995 TO 2021
Katarína Ševcová, Jozef Čapla, Peter Zajác, Jozef Čurlej
Potravinarstvo Slovak Journal of Food Sciences, vol. 15, 2021, p. 982-994
[abstract] doi: https://doi.org/10.5219/1689 [fulltext]
THE INHIBITION OF WINE MICROORGANISMS BY SILVER NANOPARTICLES
Aleš Vavřiník, Kateřina Štůsková, Adrian Alumbro, Methusela Perrocha, Lenka Sochorová, Mojmír Baroň, Jiří Sochor
Potravinarstvo Slovak Journal of Food Sciences, vol. 15, 2021, p. 995-1004
[abstract] doi: https://doi.org/10.5219/1604 [fulltext]
DEVELOPMENT OF A TWO-LEVEL CONTROL SYSTEM FOR THE ANALYSIS OF THE COMPOSITION OF MEAT PRODUCTS
Natalya Vostrikova, Daniil Khvostov, Anatoly Zherdev, Mikhail Minaev, Elena Zvereva
Potravinarstvo Slovak Journal of Food Sciences, vol. 15, 2021, p. 1005-1017
[abstract] doi: https://doi.org/10.5219/1632 [fulltext]
THE EFFECT OF CARBON DIOXIDE ON THE QUALITY OF THE MUSHROOMS
Sergiy Gunko, Olga Trynchuk, Oksana Naumenko, Hryhorii Podpriatov, Lubomyr Khomichak, Anatoliy Bober, Volodymyr Zavhorodnii, Volodymyr Voitsekhivskyi, Oksana Zavadska, Lesia Bondareva
Potravinarstvo Slovak Journal of Food Sciences, vol. 15, 2021, p. 1018-1028
[abstract] doi: https://doi.org/10.5219/1634 [fulltext]
INFLUENCE OF ROOTSTOCKS ON THE PRODUCTIVITY AND CHEMICAL COMPOSITION OF PRUNUS DOMESTICA L. FRUITS
Svetlana Motyleva, Galina Upadysheva, Tatyana Tumaeva
Potravinarstvo Slovak Journal of Food Sciences, vol. 15, 2021, p. 1029-1038
[abstract] doi: https://doi.org/10.5219/1650 [fulltext]
THE EFFECT OF RAW PEARL MILLET FLOUR INCLUSION ON THE QUALITY AND FORMULATION COST OF BEEF SAUSAGES
Fredrick Adzitey, Joseph Yaro, Joseph Kudadam Korese, Mohammad Halim Jeinie, Nurul Huda
Potravinarstvo Slovak Journal of Food Sciences, vol. 15, 2021, p. 1039-1048
[abstract] doi: https://doi.org/10.5219/1658 [fulltext]
THE EFFECT OF CHAYOTE LEAVES (SECHIUM EDULE)'S FLAVONOID FRACTION ON THE REDUCTION OF THE SERUM URIC ACID LEVELS THROUGH THE INHIBITION OF XANTHINE OXIDASE ACTIVITY
Diah Pitaloka Putri, Aulia Putri Wahyuningtyas, Ahmad Ni'matullah Al-Baarri, Nani Maharani
Potravinarstvo Slovak Journal of Food Sciences, vol. 15, 2021, p. 1049-1055
[abstract] doi: https://doi.org/10.5219/1667 [fulltext]
THE SERUM URIC ACID LEVELS THROUGH THE INHIBITION OF XANTHINE OXIDASE ACTIVITY THE EFFECT OF OREGANO ESSENTIAL OIL ON CHICKEN MEAT LIPID OXIDATION AND PEROXIDATION
Mária Angelovičová, Michal Angelovič, Jozef Čapla, Peter Zajác, Petra Folvarčíková, Jozef Čurlej
Potravinarstvo Slovak Journal of Food Sciences, vol. 15, 2021, p. 1056-1068
[abstract] doi: https://doi.org/10.5219/1690 [fulltext]
THE EFFECT OF ESSENTIAL OILS ON CHOLESTEROL CONTENT IN CHICKEN MEAT
Mária Angelovičová, Michal Angelovič, Peter Zajác, Jozef Čapla, Klaudia Šaraková, Jozef Čurlej
Potravinarstvo Slovak Journal of Food Sciences, vol. 15, 2021, p. 1069-1081
[abstract] doi: https://doi.org/10.5219/1691 [fulltext]
THE CHEMICAL COMPOSITION OF TWO KINDS OF GRAPE JUICE WITH MEDICINAL PLANT ADDITION
Jakub Mankovecký, Lucia Galovičová, Miroslava Kačániová
Potravinarstvo Slovak Journal of Food Sciences, vol. 15, 2021, p. 1082-1092
[abstract] doi: https://doi.org/10.5219/1692 [fulltext]
ANTIBIOFILM AND ANTIOXIDANT ACTIVITY OF ROSMARINUS OFFICINALIS ESSENTIAL OIL
Lucia Galovičová, Petra Borotová, Veronika Valková, Miroslava Kačániová
Potravinarstvo Slovak Journal of Food Sciences, vol. 15, 2021, p. 1093-1103
[abstract] doi: https://doi.org/10.5219/1693 [fulltext]
THE CONTENT OF BIOACTIVE COMPOUNDS AND ANTIOXIDANT ACTIVITY OF GARLIC (ALLIUM SATIVUM L.)
Natália Čeryová, Iveta Čičová, Judita Lidiková, Marek Šnirc, Jarmila Horváthová, Helena Lichtnerová, Hana Franková
Potravinarstvo Slovak Journal of Food Sciences, vol. 15, 2021, p. 1104-1111
[abstract] doi: https://doi.org/10.5219/1694 [fulltext]
THE CITRUS RETICULATA ESSENTIAL OIL: EVALUATION OF ANTIFUNGAL ACTIVITY AGAINST PENICILLIUM SPECIES RELATED TO BAKERY PRODUCTS SPOILAGE
Veronika Valková, Hana Ďúranová, Lucia Galovičová, Jana Štefániková, Nenad Vukovic, Miroslava Kačániová
Potravinarstvo Slovak Journal of Food Sciences, vol. 15, 2021, p. 1112-1119
[abstract] doi: https://doi.org/10.5219/1695 [fulltext]
THE EFFECT OF SOIL BIOSTIMULANT AGRIFUL ON THE SELECTED QUANTITATIVE AND QUALITATIVE PARAMETERS OF CARROT (DAUCUS CAROTA SUBSP. SATIVUS (HOFFM.) ARCANG.)
Júlia Fabianová, Alena Andrejiová, Miroslav Šlosár, Lenka Benzová, Alžbeta Hegedűsová
Potravinarstvo Slovak Journal of Food Sciences, vol. 15, 2021, p. 1120-1127
[abstract] doi: https://doi.org/10.5219/1696 [fulltext]
Volume 14 Potravinarstvo Slovak Journal of Food Sciences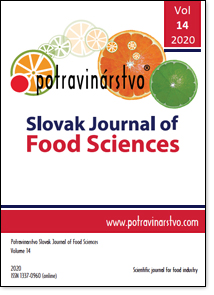 Vol. 14, All articles [PDF]
PUBLISHED: 28. January 2020
EDIBLE WILD PLANTS GROWING IN ADJACENT SPONTANEOUS VEGETATION OF ENERGY PLANTATIONS IN SOUTHWEST SLOVAKIA
Lýdia Končeková, Daniela Halmová, Alexander Fehér
Potravinarstvo Slovak Journal of Food Sciences, vol. 14, 2020, p. 1-7
[abstract] doi: https://doi.org/10.5219/1220 [fulltext]
THE EFFECT OF PROCESSED TEMPEH GEMBUS TO HIGH SENSITIVITY C-REACTIVE PROTEIN (hsCRP) AND HIGH-DENSITY LIPOPROTEIN (HDL) LEVELS IN WOMEN WITH OBESITY
Desti Ambar Wati, Fika Shafiana Nadia, Muflihah Isnawati, Mohammad Sulchan, Diana Nur Afifah
Potravinarstvo Slovak Journal of Food Sciences, vol. 14, 2020, p. 8-16
[abstract] doi: https://doi.org/10.5219/1236 [fulltext]
INTERACTION OF POLYPHENOLS EXTRACT FROM POLYGONUM MULTIFLORUM THUNB. ROOTS WITH GELATIN AND TOXICITY OF EXTRACT IN MICE
Le Pham Tan Quoc
Potravinarstvo Slovak Journal of Food Sciences, vol. 14, 2020, p. 17-23
[abstract] doi: https://doi.org/10.5219/1222 [fulltext]
SLOVAK CONSUMERS´ PERCEPTION OF BAKERY PRODUCTS AND THEIR OFFER IN RETAILS
Ľubica Kubicová, Kristína Predanocyová, Zdenka Kádeková, Ingrida Košičiarová
Potravinarstvo Slovak Journal of Food Sciences, vol. 14, 2020, p. 24-32
[abstract] doi: https://doi.org/10.5219/1240 [fulltext]
DIETARY FIBRE CONTENT IN ETHNIC AND UNCONVENTIONAL VEGETABLES AND FRUITS GROWING IN BANGLADESH
Ruheea Taskin Ruhee, Samia Sams, Amena Begum, Mohammad Khairul Alam, Parveen Begum, Maksuda Khatun, Mahbuba Kawser, Silvia Saberin, Monira Ahsan, Sheikh Nazrul Islam
Potravinarstvo Slovak Journal of Food Sciences, vol. 14, 2020, p. 33-41
[abstract] doi: https://doi.org/10.5219/1202 [fulltext]
FEEDING AND WEANING PRACTICES AMONG MOTHERS OF UNDER-FIVE CHILDREN IN SELECTED PRIMARY HEALTH CARE CENTRES IN ADO-EKITI, EKITI, NIGERIA
Oluwaseyi Akpor, Tunrayo Oluwadare, Omotola Taiwo, Bukola Aladenika, Oghenerobor Akpor
Potravinarstvo Slovak Journal of Food Sciences, vol. 14, 2020, p. 42-51
[abstract] doi: https://doi.org/10.5219/1211 [fulltext]
AUTHENTICATION OF WISTAR RAT FATS WITH GAS CHROMATOGRAPHY MASS SPECTOMETRY COMBINED BY CHEMOMETRICS
Any Guntarti, Ibnu Gholib Gandjar, Nadia Miftahul Jannah
Potravinarstvo Slovak Journal of Food Sciences, vol. 14, 2020, p. 52-57
[abstract] doi: https://doi.org/10.5219/1229 [fulltext]
PUBLISHED: 28. February 2020
OPTIMIZATION OF BREWING TIME AND TEMPERATURE FOR CAFFEINE AND TANNIN LEVELS IN DAMPIT COFFEE LEAF TEA OF ROBUSTA (COFFEA CANEPHORA) AND LIBERICA (COFFEA LIBERICA)
Dewi Melani Hariyadi, Cynthia Amelia Tedja, Elok Zubaidah, Sudarminto Setyo Yuwono, Kiki Fibrianto
Potravinarstvo Slovak Journal of Food Sciences, vol. 14, 2020, p. 58-68
[abstract] doi: https://doi.org/10.5219/1212 [fulltext]
THE CHARACTERISTIC OF SHEEP CHEESE "BRYNDZA" FROM DIFFERENT REGIONS OF SLOVAKIA BASED ON MICROBIOLOGICAL QUALITY
Miroslava Kačániová, Ľudmila Nagyová, Jana Štefániková, Soňa Felsöciová, Lucia Godočíková, Peter Haščík, Elena Horská, Simona Kunová
Potravinarstvo Slovak Journal of Food Sciences, vol. 14, 2020, p. 69-75
[abstract] doi: https://doi.org/10.5219/1239 [fulltext]
INFLUENCE OF REDUCTION ON ADHESIVE PROPERTIES
Igor Stadnyk, Volodymyr Piddubnyi, Svitlana Krsnozhon, Nataliia Antoshkova
Potravinarstvo Slovak Journal of Food Sciences, vol. 14, 2020, p. 76-87
[abstract] doi: https://doi.org/10.5219/1195 [fulltext]
COMPARATIVE ASSESSMENT OF STORAGE STABILITY OF GINGER-GARLIC AND CHEMICAL PRESERVATION ON FRUIT JUICE BLENDS
Abiola Olaniran, Helen Abu, Ruth Afolabi, Charles Okolie, Akinyomade Owolabi, Oghenerobor Akpor
Potravinarstvo Slovak Journal of Food Sciences, vol. 14, 2020, p. 88-94
[abstract] doi: https://doi.org/10.5219/1262 [fulltext]
INVESTIGATION OF ZERANOL IN BEEF OF UKRAINIAN PRODUCTION AND ITS REDUCTION WITH VARIOUS TECHNOLOGICAL PROCESSING
Mykola Kukhtyn, Volodymyr Salata, Ruslan Pelenyo, Volodymyr Selskyi, Yulia Horiuk, Nataliia Boltyk, Larisa Ulko, Volodymyr Dobrovolsky
Potravinarstvo Slovak Journal of Food Sciences, vol. 14, 2020, p. 95-100
[abstract] doi: https://doi.org/10.5219/1224 [fulltext]
TECHNICAL EFFICIENCY AND FACTORS AFFECTING RICE PRODUCTION IN TIDAL LOWLANDS OF SOUTH SUMATRA PROVINCE INDONESIA
Khairul Fahmi Purba, Muhammad Yazid, Mery Hasmeda, Dessy Adriani, Meitry Firdha Tafarini
Potravinarstvo Slovak Journal of Food Sciences, vol. 14, 2020, p. 101-111
[abstract] doi: https://doi.org/10.5219/1287 [fulltext]
NUTRITIONAL AND BIOLOGICAL VALUE OF PORK OBTAINED FROM ANIMALS FED WITH LYSINE AND METHIONINE
Ivan Gorlov, Marina Sklosenkina, Alexander Mosolov, Vladimir Baranikov, Dmitry Nikolaev, Alexander Chernyak, Bogdan Sherstyuk, Olga Krotova
Potravinarstvo Slovak Journal of Food Sciences, vol. 14, 2020, p. 112-117
[abstract] doi: https://doi.org/10.5219/1192 [fulltext]
PUBLISHED: 28. March 2020
THE COMPARISON OF HPLC AND SPECTROPHOTOMETRIC METHOD FOR CHOLESTEROL DETERMINATION
Lukáš Kolarič, Peter Šimko
Potravinarstvo Slovak Journal of Food Sciences, vol. 14, 2020, p. 118-124
[abstract] doi: https://doi.org/10.5219/1302 [fulltext]
PARAMETERS OF ANTIOXIDANT ACTIVITY OF GALEGA OFFICINALIS L. AND GALEGA ORIENTALIS LAM. (FABACEAE LINDL.) PLANT RAW MATERIAL
Olena Vergun, Oksana Shymanska, Dzhamal Rakhmetov, Olga Grygorieva, Eva Ivanišová, Jan Brindza
Potravinarstvo Slovak Journal of Food Sciences, vol. 14, 2020, p. 125-134
[abstract] doi: https://doi.org/10.5219/1271 [fulltext]
COMPARISON OF THE PHYSICO-CHEMICAL MEAT QUALITY OF THE BREEDS MANGALITSA AND LARGE WHITE WITH REGARD TO THE SLAUGHTER WEIGHT
Ivan Imrich, Eva Mlyneková, Juraj Mlynek, Marko Halo, Tomáš Kanka
Potravinarstvo Slovak Journal of Food Sciences, vol. 14, 2020, p. 135-141
[abstract] doi: https://doi.org/10.5219/1334 [fulltext]
RESEARCH ON MILK HOMOGENIZATION IN THE STREAM HOMOGENIZER WITH SEPARATE CREAM FEEDING
Kyrylo Samoichuk, Dmytro Zhuravel, Olga Viunyk, Dmytro Milko, Andrii Bondar, Yuriy Sukhenko, Vladyslav Sukhenko, Leonora Adamchuk, Sergey Denisenko
Potravinarstvo Slovak Journal of Food Sciences, vol. 14, 2020, p. 142-148
[abstract] doi: https://doi.org/10.5219/1289 [fulltext]
COMPARISON OF HEAT-STABLE PEPTIDES USING A MULTIPLE-REACTION MONITORING METHOD TO IDENTIFY BEEF MUSCLE TISSUE
Daniil Khvostov, Natalya Vostrikova, Irina Chernukha
Potravinarstvo Slovak Journal of Food Sciences, vol. 14, 2020, p. 149-155
[abstract] doi: https://doi.org/10.5219/1317 [fulltext]
RESEARCH OF QUALITY INDICATORS IN PROTEIN-BLUEBERRY CONCENTRATES
Olena Grek, Tetiana Pshenychna, Alla Tymchuk, Oleksandr Savchenko, Olena Ochkolyas
Potravinarstvo Slovak Journal of Food Sciences, vol. 14, 2020, p. 156-163
[abstract] doi: https://doi.org/10.5219/1255 [fulltext]
PUBLISHED: 28. April 2020
MASTITIS PATHOGENS AND SOMATIC CELL COUNT IN EWES MILK
Kristína Tvarožková, Vladimír Tančin, Michal Uhrinčať, Lukáš Hleba, Lucia Mačuhová
Potravinarstvo Slovak Journal of Food Sciences, vol. 14, 2020, p. 164-169
[abstract] doi: https://doi.org/10.5219/1338 [fulltext]
EFFECT OF THERMAL STABILIZATION ON PHYSICO-CHEMICAL PARAMETERS AND FUNCTIONAL PROPERTIES OF WHEAT BRAN
Michaela Lauková, Jolana Karovičová, Lucia Minarovičová, Zlatica Kohajdová
Potravinarstvo Slovak Journal of Food Sciences, vol. 14, 2020, p. 170-177
[abstract] doi: https://doi.org/10.5219/1321 [fulltext]
NEW TRENDS AND INNOVATIVE APPROACHES IN PERSONNEL MANAGEMENT OF FOOD BUSINESSES IN SLOVAKIA
Zuzana Lušňáková, Silvia Lenčéšová, Mária Šajbidorová, Veronika Hrdá, Boris Rumanko
Potravinarstvo Slovak Journal of Food Sciences, vol. 14, 2020, p. 178-188
[abstract] doi: https://doi.org/10.5219/1233 [fulltext]
SUBSTANTIATION OF BASIC STAGES OF GLUTEN-FREE STEAMED BREAD PRODUCTION AND ITS INFLUENCE ON QUALITY OF FINISHED PRODUCT
Olga Shanina, Sergii Minchenko, Tetyana Gavrysh, Yuriy Sukhenko, Vladyslav Sukhenko, Volodimir Vasyliv, Natalia Miedviedieva, Mikhailo Mushtruk, Myroslav Stechyshyn, Tatyana Rozbytska
Potravinarstvo Slovak Journal of Food Sciences, vol. 14, 2020, p. 189-201
[abstract] doi: https://doi.org/10.5219/1200 [fulltext]
EXTRACTIVE STRIPPING VOLTAMMETRY AT A GLASSY CARBON PASTE ELECTRODE FOR ANALYSIS OF COW'S MILK AND CREAM
Granit Jashari, Michaela Frühbauerová, Milan Sýs, Libor Červenka
Potravinarstvo Slovak Journal of Food Sciences, vol. 14, 2020, p. 202-207
[abstract] doi: https://doi.org/10.5219/1299 [fulltext]
EVALUATION OF THE FOLIAR NUTRITION INFLUENCE ON SELECTED QUANTITATIVE AND QUALITATIVE PAPRAMETERS OF SUGAR MAYZE (ZEA MAYS SK SACCHARATA)
Samuel Adamec, Alena Andrejiová, Alžbeta Hegedűsová, Marek Šemnicer
Potravinarstvo Slovak Journal of Food Sciences, vol. 14, 2020, p. 208-215
[abstract] doi: https://doi.org/10.5219/1194 [fulltext]
MINERAL COMPOSITION OF ALLIUM CEPA L. LEAVES OF SOUTHERN SUBSPECIES
Victor Nemtinov, Yulia Kostanchuk, Svetlana Motyleva, Alena Katskaya, Lidiya Timasheva, Olga Pekhova, Vladimir Pashtetskiy, Ivan Kulikov, Sergei Medvedev, Alexander Bokhan
Potravinarstvo Slovak Journal of Food Sciences, vol. 14, 2020, p. 216-223
[abstract] doi: https://doi.org/10.5219/1243 [fulltext]
MILK YIELD AND SOMATIC CELLS IN DAIRY EWES WITH RESPECT TO THEIR MUTUAL RELATIONS
Marta Oravcová, Kristína Tvarožková, Vladimír Tančin, Michal Uhrinčať, Lucia Mačuhová
Potravinarstvo Slovak Journal of Food Sciences, vol. 14, 2020, p. 224-229
[abstract] doi: https://doi.org/10.5219/1309 [fulltext]
ANTIOXIDANT PROPERTIES OF PROCESSED CHEESE SPREAD AFTER FREEZE-DRIED AND OVEN-DRIED GRAPE SKIN POWDER ADDITION
Michaela Frühbauerová, Libor Červenka, Tomáš Hájek, Richardos Nikolaos Salek, Helena Velichová, František Buňka
Potravinarstvo Slovak Journal of Food Sciences, vol. 14, 2020, p. 230-238
[abstract] doi: https://doi.org/10.5219/1310 [fulltext]
PUBLISHED: 28. May 2020
MODELLING OF THE PROCESS OF VYBROMECHANICAL ACTIVATION OF PLANT RAW MATERIAL HYDROLYSIS FOR PECTIN EXTRACTION
Igor Palamarchuk, Mikhailo Mushtruk, Vladislav Sukhenko, Vladislav Dudchenko, Lidija Korets, Aleksandr Litvinenko, Olena Deviatko, Sergii Ulianko, Natalia Slobodyanyuk
Potravinarstvo Slovak Journal of Food Sciences, vol. 14, 2020, p. 239-246
[abstract] doi: https://doi.org/10.5219/1305 [fulltext]
EFFECT OF PROCESS PARAMETERS ON THE FUNCTIONAL AND PHYSICOCHEMICAL PROPERTIES OF EXTRUDATES ENRICHED WITH STARCH-BASED NUT FLOUR
Davit Tsagareishvili, Otari Sesikashvili, Dodo Tavdidishvili, Gia Dadunashvili, Nugzari Sakhanberidze, Shalva Tsagareishvili
Potravinarstvo Slovak Journal of Food Sciences, vol. 14, 2020, p. 247-253
[abstract] doi: https://doi.org/10.5219/1296 [fulltext]
137Cs ACTIVITY CONCENTRATION IN MUSHROOMS FROM THE BOBRŮVKA RIVER VALLEY
Petr Dvořák, Jana Doležalová, Katarína Beňová, Martin Tomko
Potravinarstvo Slovak Journal of Food Sciences, vol. 14, 2020, p. 254-257
[abstract] doi: https://doi.org/10.5219/1245 [fulltext]
EFFECTS OF THE ADMINISTRATION OF BREWED ROBUSTA COFFEE LEAVES ON TOTAL ANTIOXIDANT STATUS IN RATS WITH HIGH-FAT, HIGH-FRUCTOSE DIET-INDUCED METABOLIC SYNDROME
Nurmasari Widyastuti, Gemala Anjani, Vita Gustin Almira, Suci Eka Putri, Amali Rica Pratiwi
Potravinarstvo Slovak Journal of Food Sciences, vol. 14, 2020, p. 258-263
[abstract] doi: https://doi.org/10.5219/1350 [fulltext]
PERSONALIZED NUTRITION AND "DIGITAL TWINS" OF FOOD
Marina Nikitina, Irina Chernukha
Potravinarstvo Slovak Journal of Food Sciences, vol. 14, 2020, p. 264-270
[abstract] doi: https://doi.org/10.5219/1312 [fulltext]
EFFECTS OF TRADITIONAL FISH PROCESSING METHODS ON THE PROXIMATE COMPOSITION AND PH OF FISH BLACK POMFRET (PARASTROMATEUS NIGER)
Ali Aberoumand
Potravinarstvo Slovak Journal of Food Sciences, vol. 14, 2020, p. 271-276
[abstract] doi: https://doi.org/10.5219/1294 [fulltext]
EFFECT OF FUZZY-CONTROLLED SLOW FREEZING ON PUMPKIN (CUCURBITA MOSCHATA DUCH) CELL DISINTEGRATION AND PHENOLICS
Yohanes Kristianto, Wigyanto, Bambang Dwi Argo, Imam Santoso
Potravinarstvo Slovak Journal of Food Sciences, vol. 14, 2020, p. 277-285
[abstract] doi: https://doi.org/10.5219/1303 [fulltext]
EVALUATION OF THE PHYSIOLOGICAL STATE OF FEIJOA (FEIJOA SELLOWIANA BERG) IN SUBTROPICAL RUSSIA
Zuhra Omarova, Nataliia Platonova, Oksana Belous, Magomed Omarov
Potravinarstvo Slovak Journal of Food Sciences, vol. 14, 2020, p. 286-291
[abstract] doi: https://doi.org/10.5219/1290 [fulltext]
THE EFFECT OF INFRARED DRYING TO THE MICROSTRUCTURAL STRUCTURE AND TEXTURE OF WHOLE DUKU INTACT SKIN BY MEANS OF SCANNING ELECTRON MICROSCOPY (SEM) TECHNIQUE
Laila Rahmawati, Daniel Saputra, Kaprawi Sahim, Gatot Priyanto
Potravinarstvo Slovak Journal of Food Sciences, vol. 14, 2020, p. 292-299
[abstract] doi: https://doi.org/10.5219/1234 [fulltext]
EFFECT OF COMMERCIAL YOGURT STARTER CULTURES ON FERMENTATION PROCESS, TEXTURE AND SENSORIC PARAMETERS OF WHITE YOGURT
Peter Zajác, Lenka Kúšová, Lucia Benešová, Jozef Čapla, Jozef Čurlej, Jozef Golian
Potravinarstvo Slovak Journal of Food Sciences, vol. 14, 2020, p. 300-306
[abstract] doi: https://doi.org/10.5219/1377 [fulltext]
BIOCHEMICAL COMPOSITION OF THE HOPS AND QUALITY OF THE FINISHED BEER
Anatolii Bober, Mykola Liashenko, Lidiia Protsenko, Nataliia Slobodaniuk, Liudmyla Matseiko, Nadiia Yashchuk, Serhii Gunko, Mikhailo Mushtruk
Potravinarstvo Slovak Journal of Food Sciences, vol. 14, 2020, p. 307-317
[abstract] doi: https://doi.org/10.5219/1311 [fulltext]
PUBLISHED: 28. June 2020
THE INFLUENCE OF LIFESTYLE ON CONSUMER BEHAVIOR AND DECISION MAKING IN RESEARCH AIMED AT PROTEIN BARS
Andrej Géci, Alexandra Krivošíková, Ľudmila Nagyová, Dagmar Cagáňová
Potravinarstvo Slovak Journal of Food Sciences, vol. 14, 2020, p. 318-327
[abstract] doi: https://doi.org/10.5219/1231 [fulltext]
ISOLATION AND IDENTIFICATION OF ACTIVE COUMPOUND FROM BENGLE RHIZOME (ZINGIBER CASSUMUNAR ROXB) AS A STIMULANT IN PHAGOCYTOSIS BY MACROPHAGES
Muhamad Fauzi Ramadhan, Nurkhasanah Mahfud, Nanik Sulistyani
Potravinarstvo Slovak Journal of Food Sciences, vol. 14, 2020, p. 328-335
[abstract] doi: https://doi.org/10.5219/1238 [fulltext]
AN ANALYSIS OF THE USE OF MARKETING 4.0 PRINCIPLES FOR MANAGING CUSTOMERS RELATIONSHIPS IN MICROBREWERIES IN THE CAPITAL CITY OF PRAGUE
Vendula Kolářová, Eva Kolářová
Potravinarstvo Slovak Journal of Food Sciences, vol. 14, 2020, p. 336-342
[abstract] doi: https://doi.org/10.5219/1261 [fulltext]
CONSUMPTION OF FOOD IN THE EU BY THE DEGREE OF URBANIZATION: DATA VISUALIZATION AND CLUSTER ANALYSIS OF THE EU SAMPLE
Lenka Maličká
Potravinarstvo Slovak Journal of Food Sciences, vol. 14, 2020, p. 343-350
[abstract] doi: https://doi.org/10.5219/1282 [fulltext]
SHELF LIFE OF TEMPEH PROCESSED WITH SUB-SUPERCRITICAL CARBON DIOXIDES
Maria Erna Kustyawati, Filli Pratama, Daniel Saputra, Agus Wijaya
Potravinarstvo Slovak Journal of Food Sciences, vol. 14, 2020, p. 351-357
[abstract] doi: https://doi.org/10.5219/1247 [fulltext]
IMPACT OF HUMIC ACID AS AN ORGANIC ADDITIVE ON THE MILK PARAMETERS AND OCCURRENCE OF MASTITIS IN DAIRY COWS
František Zigo, Milan Vasiľ, Zuzana Farkašová, Silvia Ondrašovičová, Martina Zigová, Jana Maľová, Jana Výrostková, Jolanta Bujok, Ewa Pecka-Kiełb
Potravinarstvo Slovak Journal of Food Sciences, vol. 14, 2020, p. 358-364
[abstract] doi: https://doi.org/10.5219/1340 [fulltext]
POLYPHENOLS AND ANTIOXIDANT ACTIVITY IN PSEUDOCEREALS AND THEIR PRODUCTS
Soňa Škrovánková, Dagmar Válková, Jiří Mlček
Potravinarstvo Slovak Journal of Food Sciences, vol. 14, 2020, p. 365-370
[abstract] doi: https://doi.org/10.5219/1341 [fulltext]
INFLUENCE OF PACKAGING ATTRIBUTES ON PERCEPTION OF JUICE: EYE-TRACKING STUDY
Ján Nemergut, Stanislav Mokrý
Potravinarstvo Slovak Journal of Food Sciences, vol. 14, 2020, p. 371-378
[abstract] doi: https://doi.org/10.5219/1267 [fulltext]
ANTIOXIDANT ACTIVITIES OF SNAKEHEAD (CHANNA STRIATA) FISH SKIN: PEPTIDES HYDROLYSIS USING PROTEASE TP2 ISOLATE FROM SWAMP PLANT SILAGE
Ace Baehaki, Indah Widiastuti, Citra Nainggolan, Nuni Gofar
Potravinarstvo Slovak Journal of Food Sciences, vol. 14, 2020, p. 379-384
[abstract] doi: https://doi.org/10.5219/1264 [fulltext]
EFFECT OF INOCULATION ON THE CONTENT OF BIOGENIC ELEMENTS IN THE WHITE LUPINE AND GRASS PEA
Erika Zetochová, Alena Vollmannová, Ivana Tirdiľová
Potravinarstvo Slovak Journal of Food Sciences, vol. 14, 2020, p. 385-392
[abstract] doi: https://doi.org/10.5219/1327 [fulltext]
COMPARATIVE ANALYSIS OF ANTIOXIDANT ACTIVITY AND PHENOLIC COMPOUNDS IN THE FRUITS OF ARONIA SPP.
Yulia Vinogradova, Olena Vergun, Olga Grygorieva, Eva Ivanišová, Ján Brindza
Potravinarstvo Slovak Journal of Food Sciences, vol. 14, 2020, p. 393-401
[abstract] doi: https://doi.org/10.5219/1360 [fulltext]
RATIONAL AND IRRATIONAL BEHAVIOR OF SLOVAK CONSUMERS IN THE PRIVATE LABEL MARKET
Ingrida Košičiarová, Zdenka Kádeková, Ľubica Kubicová, Kristína Predanocyová, Jana Rybanská, Milan Džupina, Ivana Bulanda
Potravinarstvo Slovak Journal of Food Sciences, vol. 14, 2020, p. 402-411
[abstract] doi: https://doi.org/10.5219/1272 [fulltext]
EFFECTS OF PROCESSING METHODS ON NUTRITIONAL COMPOSITION OF FISH PAMPUS ARGENTEUS (WHITE POMFRET) IN IRAN
Ali Aberoumand
Potravinarstvo Slovak Journal of Food Sciences, vol. 14, 2020, p. 412-416
[abstract] doi: https://doi.org/10.5219/1274 [fulltext]
FOOD ADULTERATION AND SAFETY REGARDING DETECTED MARKET CASES AND CONSUMER OPINIONS
Martina Fikselová, Lucia Benešová, Peter Zajác, Jozef Golian, Jozef Čapla
Potravinarstvo Slovak Journal of Food Sciences, vol. 14, 2020, p. 417-428
[abstract] doi: https://doi.org/10.5219/1345 [fulltext]
THE EFFECT OF ANTIOXIDANTS ON THE QUALITY OF SEMI-FNISHED MINCEDRABBIT MEAT
Dodo Tavdidishvili, Tsira Khutsidze, Manana Pkhakadze, Aleko Kalandia, Maia Vanidze
Potravinarstvo Slovak Journal of Food Sciences, vol. 14, 2020, p. 429-436
[abstract] doi: https://doi.org/10.5219/1335 [fulltext]
PUBLISHED: 28. July 2020
THE USE OF BIOFORTIFICATION FOR PRODUCTION OF SELENIUM ENRICHED GARDEN PEA
Silvia Jakabová, Jozef Čurlej, Martina Fikselová, Luboš Harangozo, Dagmar Kozelová,
Ondrej Hegedűs, Alžbeta Hegedűsová
Potravinarstvo Slovak Journal of Food Sciences, vol. 14, 2020, p. 437-442
[abstract] doi: https://doi.org/10.5219/1359 [fulltext]
RESEARCH OF MILK FAT OXIDATION PROCESSES DURING STORAGE OF BUTTER PASTES
Olha Yatsenko, Nataliia Yushchenko, Uliana Kuzmyk, Vasyl Pasichnyi, Oksana Kochubei-Lytvynenko, Nataliia Frolova, Olga Korablova, Ivan Mykoliv, Volodymyr Voitsekhivskyi
Potravinarstvo Slovak Journal of Food Sciences, vol. 14, 2020, p. 443-450
[abstract] doi: https://doi.org/10.5219/1283 [fulltext]
THE INFLUENCE OF CAVITATION EFFECTS ON THE PURIFICATION PROCESSES OF BEET SUGAR PRODUCTION JUICES
Marija Zheplinska, Mikhailo Mushtruk, Tatiana Kos, Volodymyr Vasyliv, Yuliya Kryzhova, Roman Mukoid, Marina Bilko, Anatolii Kuts, Yuliia Kambulova, Sergiy Gunko
Potravinarstvo Slovak Journal of Food Sciences, vol. 14, 2020, p. 451-457
[abstract] doi: https://doi.org/10.5219/1284 [fulltext]
A RANDOMISED CONTROLLED TRIAL OF INNOVATIVE SPECIALISED MEAT PRODUCT FOR PATIENTS WITH CARDIOVASCULAR AND METABOLIC DISORDERS
Irina Chernukha, Elena Kotenkova
Potravinarstvo Slovak Journal of Food Sciences, vol. 14, 2020, p. 458-464
[abstract] doi: https://doi.org/10.5219/1298 [fulltext]
UTILISATION OF QUINOA FOR DEVELOPMENT OF FERMENTED BEVERAGES
Jolana Karovičová, Zlatica Kohajdová, Lucia Minarovičová, Michaela Lauková, Mária Greifová, Gabriel Greif, Jarmila Hojerová
Potravinarstvo Slovak Journal of Food Sciences, vol. 14, 2020, p. 465-472
[abstract] doi: https://doi.org/10.5219/1323 [fulltext]
FRUIT RED COLORANTS IMPACT ON THE ANTIRADICAL ACTIVITY DETERMINED BY DPPH METHOD
Ondrej Hegedűs, Boglárka Borovicza, Katarína Szarka, Andrea Vargová, Dániel Reménység, Adriána Maťová, Barnabás Czibor, Alžbeta Hegedűsová
Potravinarstvo Slovak Journal of Food Sciences, vol. 14, 2020, p. 473-482
[abstract] doi: https://doi.org/10.5219/1374 [fulltext]
METHODS FOR DETERMINING THE BOTANICAL ORIGIN OF HONEY
Leonora Adamchuk, Vladyslav Sukhenko, Oleksandra Akulonok, Tetiana Bilotserkivets, Volodymyr Vyshniak, Dina Lisohurska, Olha Lisohurska, Natalia Slobodyanyuk, Olga Shanina, Ivan Galyasnyj
Potravinarstvo Slovak Journal of Food Sciences, vol. 14, 2020, p. 483-493
[abstract] doi: https://doi.org/10.5219/1386 [fulltext]
ANTIMICROBIAL POTENTIAL OF DIFFERENT MEDICINAL PLANTS AGAINST FOOD INDUSTRY PATHOGENS
Miroslava Kačániová, Jana Žiarovská, Simona Kunová, Katarína Rovná, Tatsiana Savistkaya, Dzmitry Hrinshpan, Veronika Valková, Lucia Galovičová, Petra Borotová, Eva Ivanišová
Potravinarstvo Slovak Journal of Food Sciences, vol. 14, 2020, p. 494-500
[abstract] doi: https://doi.org/10.5219/1387 [fulltext]
ESTIMATION OF PHENOLIC COMPOUNDS CONTENT AND ANTIOXIDANT ACTIVITY OF LEAVES EXTRACTS OF SOME SELECTED NON-TRADITIONAL PLANTS
Olga Grygorieva, Olena Vergun, Svitlana Klymenko, Mykhailo Zhurba, Vladimíra Horčinová Sedláčková, Eva Ivanišova, Jan Brindza
Potravinarstvo Slovak Journal of Food Sciences, vol. 14, 2020, p. 501-509
[abstract] doi: https://doi.org/10.5219/1314 [fulltext]
GENETIC DIVERGENCE IN TUNISIAN CASTOR BEAN GENOTYPES BASED ON TRAP MARKERS
Martin Vivodík, Želmíra Balážová, Zdenka Gálová
Potravinarstvo Slovak Journal of Food Sciences, vol. 14, 2020, p. 510-518
[abstract] doi: https://doi.org/10.5219/1292 [fulltext]
EFFECT OF SUPPLEMENTATION WITH SOLID-STATE FERMENTED FEED IN THE DIET OF LAYING HENS ON EGG QUALITATIVE VARIABLES
Boris Semjon, Eva Dudriková, Iveta Jaďuttová, Martin Bartkovský, Tatiana Klempová, Dana Marcinčáková, Ondrej Slaný, Slavomír Marcinčák
Potravinarstvo Slovak Journal of Food Sciences, vol. 14, 2020, p. 519-527
[abstract] doi: https://doi.org/10.5219/1337 [fulltext]
THE EFFECTS OF NUTRITIONAL SUPPORT ON SELECTED LABORATORY PARAMETERS IN PATIENTS WITH COLORECTAL CANCER UNDERGOING SURGICAL RESECTION OF THE COLON
Mária Servátková, Peter Chlebo, Zuzana Chlebová
Potravinarstvo Slovak Journal of Food Sciences, vol. 14, 2020, p. 528-534
[abstract] doi: https://doi.org/10.5219/1355 [fulltext]
THERMAL STABILITY OF PREPARED CHICKEN FEET GELATINE GEL IN COMPARISON WITH COMMERCIAL GELATINES
Petr Mrázek, Robert Gál, Pavel Mokrejš, Ondřej Krejčí, Jana Orsavová
Potravinarstvo Slovak Journal of Food Sciences, vol. 14, 2020, p. 535-543
[abstract] doi: https://doi.org/10.5219/1297 [fulltext]
DOES FOODSERVICE INDUSTRY CARE ABOUT CSR? A STUDY IN PORTUGAL AND UKRAINE
Oksana Sokil, Iveta Ubrežiová, Teresa Eugenio, Tânia Marques
Potravinarstvo Slovak Journal of Food Sciences, vol. 14, 2020, p. 544-553
[abstract] doi: https://doi.org/10.5219/1281 [fulltext]
ASSESSMENT OF POSSIBILITIES OF STRAWBERRY JAM REFORMULATION
Ladislava Rýdlová, Tereza Škorpilová, Gabriela Juhászová, Aleš Rajchl
Potravinarstvo Slovak Journal of Food Sciences, vol. 14, 2020, p. 554-561
[abstract] doi: https://doi.org/10.5219/1326 [fulltext]
EFFECT OF THE LACTATION PERIOD, BREED AND FEED ON AMINO ACIDS PROFILE OF MARE'S MILK
Miroslav Fišera, Stanislav Kráčmar, Květoslava Šustová, Pavel Tvrzník, Helena Velichová, Lenka Fišerová, Vlastimil Kubáň
Potravinarstvo Slovak Journal of Food Sciences, vol. 14, 2020, p. 562-572
[abstract] doi: https://doi.org/10.5219/1344 [fulltext]
PHYTOCHEMICAL PROFILE AND BIOLOGICAL ACTIVITY OF SELECTED KIND OF MEDICINAL HERBS
Eva Ivanišová, Dajana Vasková, Grzegorz Zagula, Dzmitry Grynshpan, Tatsiana Aleksandrovna Savitskaya, Miroslava Kačániová
Potravinarstvo Slovak Journal of Food Sciences, vol. 14, 2020, p. 573-579
[abstract] doi: https://doi.org/10.5219/1370 [fulltext]
EFFECT OF GERMINATED WHEAT (TRITICUM AESTIVUM) ON CHEMICAL, AMINO ACID AND ORGANOLEPTIC PROPERTIES OF MEAT PATE
Bahytkul Assenova, Eleonora Okuskhanova, Maksim Rebezov, Oksana Zinina, Nadezhda Baryshnikova, Evgeniya Vaiscrobova, Elena Kasatkina, Mohammad Ali Shariati, Muhammad Usman Khan, Godswill Ntsomboh Ntsefong
Potravinarstvo Slovak Journal of Food Sciences, vol. 14, 2020, p. 580-586
[abstract] doi: https://doi.org/10.5219/1273 [fulltext]
PUBLISHED: 28. August 2020
ASSESSMENT OF FLAVONOIDS AND PHENOLIC COMPOUND ACCUMULATION IN INVASIVE SOLIDAGO CANADENSIS L. IN SLOVAKIA
Olga Shelepova, Yulia Vinogradova, Olena Vergun, Olga Grygorieva, Ján Brindza
Potravinarstvo Slovak Journal of Food Sciences, vol. 14, 2020, p. 587-594
[abstract] doi: https://doi.org/10.5219/1378 [fulltext]
ADAPTATION OF TWO-DIMENSIONAL ELECTROPHORESIS FOR MUSCLE TISSUE ANALYSIS
Anastasiya Akhremko, Ekaterina Vasilevskaya, Liliya Fedulova
Potravinarstvo Slovak Journal of Food Sciences, vol. 14, 2020, p. 595-601
[abstract] doi: https://doi.org/10.5219/1380 [fulltext]
EVALUATION OF STORAGE METHODS OF BEEF BY MICROBIOLOGICAL AND CHEMICAL INDICATORS
Mykola Kukhtyn, Volodymyr Salata, Oleksandra Berhilevych, Zoya Malimon, Anatoliy Tsvihun, Bogdan Gutyj, Yulia Horiuk
Potravinarstvo Slovak Journal of Food Sciences, vol. 14, 2020, p. 602-611
[abstract] doi: https://doi.org/10.5219/1381 [fulltext]
INFLUENCE OF MAINTENANCE TECHNOLOGY IN ARID CONDITIONS ON EFFICIENCY OF MARBLED BEEF PRODUCTION
Ivan Fiodorovich Gorlov, Gilian Vasylevna Fedotova, Marina Ivanovna Slozhenkina, Elena Yurevna Anisimova, Ayzhan Andreevna Kaydulina, Vladimir Sergeevich Grishin, Olga Andreevna Knyazhechenko, Darya Aleksandrovna Mosolova
Potravinarstvo Slovak Journal of Food Sciences, vol. 14, 2020, p. 612-618
[abstract] doi: https://doi.org/10.5219/1391 [fulltext]
EFFECTS OF SELENIUM ON MACRO- AND MICRO NUTRIENTS AND SELECTED QUALITATIVE PARAMETERS OF OAT (AVENA SATIVA L.)
Ladislav Ducsay, Alexandra Zapletalová, Peter Hozlár, Ivan Černý, Ladislav Varga, Marek Slepčan
Potravinarstvo Slovak Journal of Food Sciences, vol. 14, 2020, p. 619-624
[abstract] doi: https://doi.org/10.5219/1400 [fulltext]
ASSESSMENT OF A NEW ARTIFICIAL BUCKWHEAT SPECIES FAGOPYRUM HYBRIDUM AS A SOURCE OF PLANT RAW MATERIALS COMPARED TO F. TATARICUM AND F. ESCULENTUM
Elena Klimova, Ivan Fesenko, Elena Kuznetsova, JánBrindza, Gyunesh Nasrullaeva, Olga Rezunova, Elena Kuznetsova
Potravinarstvo Slovak Journal of Food Sciences, vol. 14, 2020, p. 625-632
[abstract] doi: https://doi.org/10.5219/1393 [fulltext]
IMPROVING THE QUALITY OF MILK DISPERSION IN A COUNTER-JET HOMOGENIZER
Kyrylo Samoichuk, Dmytro Zhuravel, Nadiya Palyanichka, Vadim Oleksiienko, Serhii Petrychenko, Natalia Slobodyanyuk, Olga Shanina, Ivan Galyasnyj, Leonora Adamchuk, Vladyslav Sukhenko
Potravinarstvo Slovak Journal of Food Sciences, vol. 14, 2020, p. 633-640
[abstract] doi: https://doi.org/10.5219/1407 [fulltext]
BRYNDZA CHEESE OF SLOVAK ORIGIN AS POTENTIAL RESOURCES OF PROBIOTIC BACTERIA
Miroslava Kačániová, Petra Borotová, Margarita Terentjeva, Simona Kunová, Soňa Felšöciová, Peter Haščík, Ľubomír Lopašovský, Jana Štefániková
Potravinarstvo Slovak Journal of Food Sciences, vol. 14, 2020, p. 641-646
[abstract] doi: https://doi.org/10.5219/1413 [fulltext]
ANALYSIS OF THE POSSIBILITY OF FISH AND MEAT RAW MATERIALS COMBINATION IN PRODUCTS
Nataliia Bozhko, Vasyl Pasichnyi, Vasyl Tischenko, Yuliiа Matsuk
Potravinarstvo Slovak Journal of Food Sciences, vol. 14, 2020, p. 647-655
[abstract] doi: https://doi.org/10.5219/1372 [fulltext]
EFFECT OF MODELLED STRESS AND ADAPTOGENS ON MICROSTRUCTURAL CHARACTERISTICS OF PORK FROM FAST-GROWING HYBRID ANIMALS
Anastasia Semenova, Tatyana Kuznetsova, Victoria Nasonova, Roman Nekrasov, Nadezhda Bogolubova
Potravinarstvo Slovak Journal of Food Sciences, vol. 14, 2020, p. 656-663
[abstract] doi: https://doi.org/10.5219/1388 [fulltext]
IDENTIFICATION OF THE NEEDS OF PRIMARY MILK PRODUCERS IN THE NEW COMMON AGRICULTURAL POLICY 2021 – 2027
Petronela Švikruhová, Zuzana Kapsdorferová, Radka Kataniková, Zuzana Poláková, Pavol Grman
Potravinarstvo Slovak Journal of Food Sciences, vol. 14, 2020, p. 664-672
[abstract] doi: https://doi.org/10.5219/1403 [fulltext]
CONSUMER PREFERENCES AND DECISION-MAKING DETERMINANTS FOR THE PURCHASE OF SHEEP'S MILK AND ITS PRODUCTS
Ľudmila Nagyová, Andrej Géci, Elena Horská
Potravinarstvo Slovak Journal of Food Sciences, vol. 14, 2020, p. 673-681
[abstract] doi: https://doi.org/10.5219/1424 [fulltext]
PUBLISHED: 28. September 2020
FUNCTIONAL PROPERTIES OF THREE NATIVE STARCHES AND THEIR MODIFIED DERIVATIVES
Funmilayo Deborah Adewumi, Labunmi Lajide, Abayomi Olagunjoye Adetuyi, Olajide Ayodele
Potravinarstvo Slovak Journal of Food Sciences, vol. 14, 2020, p. 682-691
[abstract] doi: https://doi.org/10.5219/1232 [fulltext]
SPONTANEOUS FERMENTATION IN WINE PRODUCTION AS A CONTROLLABLE TECHNOLOGY
Radim Holešinský, Božena Průšová, Mojmír Baroň, Jaromír Fiala, Petra Kubizniakova, Vít Paulíček, Jiří Sochor
Potravinarstvo Slovak Journal of Food Sciences, vol. 14, 2020, p. 692-703
[abstract] doi: https://doi.org/10.5219/1280 [fulltext]
ASSESSMENT OF THE INTAKE OF SELECTED MINERALS IN POPULATION OF PREMENOPAUSAL WOMEN BASED ON SPECIFIC SOCIO-DEMOGRAPHIC INDICATORS
Kristína Jančichová, Marta Habánová, Jana Mrázová, Martina Gažarová, Jana Kopčeková
Potravinarstvo Slovak Journal of Food Sciences, vol. 14, 2020, p. 704-712
[abstract] doi: https://doi.org/10.5219/1288 [fulltext]
PREPARATION OF PROTEIN PRODUCTS FROM COLLAGEN-RICH POULTRY TISSUES
Aneta Polaštíková, Robert Gál, Pavel Mokrejš, Jana Orsavová
Potravinarstvo Slovak Journal of Food Sciences, vol. 14, 2020, p. 713-720
[abstract] doi: https://doi.org/10.5219/1319 [fulltext]
SURVEY OF MYCOBIOTA ON SLOVAKIAN WINE GRAPES FROM SMALL CARPATHIANS WINE REGION
Soňa Felšöciová, Miroslava Kačániová, František Vrábel
Potravinarstvo Slovak Journal of Food Sciences, vol. 14, 2020, p. 721-728
[abstract] doi: https://doi.org/10.5219/1322 [fulltext]
SENSORY ACTIVE SUBSTANCES CAUSING OFF-ODOUR IN LIQUID WHEY DURING STORAGE
Mariana Hanková, Helena Čížková
Potravinarstvo Slovak Journal of Food Sciences, vol. 14, 2020, p. 729-734
[abstract] doi: https://doi.org/10.5219/1324 [fulltext]
MEAT PERFORMANCE OF JAPANESE QUAILS AFTER THE APPLICATION OF BEE BREAD POWDER
Adriana Pavelková, Peter Haščík, Marcela Capcarová, Anna Kalafová, Emília Hanusová, Jana Tkáčová, Marek Bobko, Juraj Čuboň, Matej Čech, Miroslava Kačániová
Potravinarstvo Slovak Journal of Food Sciences, vol. 14, 2020, p. 735-743
[abstract] doi: https://doi.org/10.5219/1330 [fulltext]
FACTORS AFFECTING RAW MILK QUALITY OF DAIRY COWS UNDER PRACTICAL CONDITIONS
Vladimír Tančin, Šimon Mikláš, Maroš Čobirka, Michal Uhrinčať, Lucia Mačuhová
Potravinarstvo Slovak Journal of Food Sciences, vol. 14, 2020, p. 744-749
[abstract] doi: https://doi.org/10.5219/1336 [fulltext]
INTELLIGENT CONTROL SYSTEM FOR MINCED MEAT PRODUCTION
Boris Kapovsky, Alexander Zakharov, Marina Nikitina
Potravinarstvo Slovak Journal of Food Sciences, vol. 14, 2020, p. 750-758
[abstract] doi: https://doi.org/10.5219/1342 [fulltext]
THE STUDY OF SELECTED COMPONENTS OF GRAPE AND FRUIT WINES
Marcela Cehula, Mojmir Baron, Tunde Jurikova, Adrian Alumbro, Methusela Perrocha, Ivo Ondrasek, Jiri Mlcek, Anna Adamkova, Jiri Sochor
Potravinarstvo Slovak Journal of Food Sciences, vol. 14, 2020, p. 759-766
[abstract] doi: https://doi.org/10.5219/1390 [fulltext]
DETERMINATION OF VOLATILE ORGANIC COMPOUNDS IN SLOVAK BRYNDZA CHEESE BY THE ELECTRONIC NOSE AND THE HEADSPACE SOLID-PHASE MICROEXTRACTION GAS CHROMATOGRAPHY-MASS SPECTROMETRY
Jana Štefániková, Július Árvay, Michal Miškeje, Miroslava Kačániová
Potravinarstvo Slovak Journal of Food Sciences, vol. 14, 2020, p. 767-773
[abstract] doi: https://doi.org/10.5219/1300 [fulltext]
INFLUENCE OF INULIN AND OLIGOFRUCTOSE ON THE SENSORY PROPERTIES AND ANTIOXIDANT ACTIVITY OF APPLE JELLY
Mariusz Witczak, Grażyna Jaworska, Teresa Witczak
Potravinarstvo Slovak Journal of Food Sciences, vol. 14, 2020, p. 774-780
[abstract] doi: https://doi.org/10.5219/1332 [fulltext]
OCCURRENCE OF RESISTANCE TO ANTIBIOTICS THERAPY IN COAGULASE-POSITIVE AND COAGULASE-NEGATIVE STAPHYLOCOCCI ISOLATED FROM SHEEP´S MILK IN HOLDING IN SLOVAKIA
Milan Vasiľ, Zuzana Farkašová, Juraj Elečko, František Zigo
Potravinarstvo Slovak Journal of Food Sciences, vol. 14, 2020, p. 781-787
[abstract] doi: https://doi.org/10.5219/1333 [fulltext]
MILK THISTLE FLOUR EFFECT ON DOUGH RHEOLOGICAL PROPERTIES
Tatiana Bojňanská, Alena Vollmannová, Janette Musilová
Potravinarstvo Slovak Journal of Food Sciences, vol. 14, 2020, p. 788-797
[abstract] doi: https://doi.org/10.5219/1365 [fulltext]
THE CONSUMER BEHAVIOR OF SLOVAK MILLENNIALS IN THE SEGMENT OF MILK AND DAIRY PRODUCTS WITHIN PRIVATE LABELS
Ingrida Košičiarová, Zdenka Kádeková, Ľubica Kubicová, Jana Rybanská
Potravinarstvo Slovak Journal of Food Sciences, vol. 14, 2020, p. 798-806
[abstract] doi: https://doi.org/10.5219/1404 [fulltext]
ZINGIBER CASSUMUNAR ROXB. EXTRACT INCREASE THE REACTIVE OXIDANT LEVEL AND INTERLEUKINS EXPRESSION IN VITRO
Nurkhasanah Mahfudh, Nanik Sulistyani, Ghina Adhila
Potravinarstvo Slovak Journal of Food Sciences, vol. 14, 2020, p. 807-814
[abstract] doi: https://doi.org/10.5219/1418 [fulltext]
PREVALENCE OF CAMPYLOBACTER SPP. IN A POULTRY AND PORK PROCESSING PLANTS
Yuliya Yushina, Dagmara Bataeva, Anzhelika Makhova, Elena Zayko
Potravinarstvo Slovak Journal of Food Sciences, vol. 14, 2020, p. 815-820
[abstract] doi: https://doi.org/10.5219/1422 [fulltext]
THE DONOR PROPERTIES OF RESOURCES RESISTANCE AGAINST THE EXCITER OF WHEAT RUST WHEAT
Hanna Kovalyshyna, Yuliia Dmytrenko, Oleksandr Makarchuk, Natalia Slobodyanyuk, Mikhailo Mushtruk
Potravinarstvo Slovak Journal of Food Sciences, vol. 14, 2020, p. 821-827
[abstract] doi: https://doi.org/10.5219/1427 [fulltext]
EFFECTS OF MEAT AND PROCESSED MEAT CONSUMPTION ON THE LIPID PROFILE IN THE POPULATION WITH CARDIOVASCULAR DISEASES
Jana Kopčeková, Jana Mrázová, Martina Gažarová, Marta Habánová
Potravinarstvo Slovak Journal of Food Sciences, vol. 14, 2020, p. 828-835
[abstract] doi: https://doi.org/10.5219/1428 [fulltext]
DIETARY SUPPLEMENTATION WITH MAGNESIUM CITRATE MAY IMPROVE PANCREATIC METABOLIC INDICES IN AN ALLOXAN-INDUCED DIABETES RAT MODEL
Olena Shatynska, Oleksandr Tokarskyy, Petro Lykhatskyi, Olha Yaremchuk, Iryna Bandas, Andrii Mashtalir
Potravinarstvo Slovak Journal of Food Sciences, vol. 14, 2020, p. 836-846
[abstract] doi: https://doi.org/10.5219/1375 [fulltext]
THE EVALUATION OF EXTRACTION OF SOME NUT OILS USING SCREW PRESSING
Vladimír Mašán, Lukáš Vaštík, Patrik Burg, Radek Sotolář, Miroslav Macák
Potravinarstvo Slovak Journal of Food Sciences, vol. 14, 2020, p. 847-853
[abstract] doi: https://doi.org/10.5219/1379 [fulltext]
BIOLOGICALLY ACTIVE COMPOUNDS CONTAINED IN GRAPE POMACE
Klára Vojáčková, Jiří Mlček, Soňa Škrovánková, Anna Adámková, Martin Adámek, Jana Orsavová, Martina Bučková, Vlastimil Fic, Lenka Kouřimská, Martin Búran
Potravinarstvo Slovak Journal of Food Sciences, vol. 14, 2020, p. 854-861
[abstract] doi: https://doi.org/10.5219/1433 [fulltext]
DEVELOPMENT OF AN INTEGRATED FOOD QUALITY MANAGEMENT SYSTEM
Mykola Nikolaenko, Larysa Bal-Prylypko
Potravinarstvo Slovak Journal of Food Sciences, vol. 14, 2020, p. 862-873
[abstract] doi: https://doi.org/10.5219/1434 [fulltext]
PUBLISHED: 28. October 2020
THE INFLUENCE OF HONEY ENRICHMENT WITH BEE POLLEN OR BEE BREAD ON THE CONTENT OF SELECTED MINERAL COMPONENTS IN MULTIFLORAL HONEY
Celina Habryka, Robert Socha, Lesław Juszczak
Potravinarstvo Slovak Journal of Food Sciences, vol. 14, 2020, p. 874- 880
[abstract] doi: https://doi.org/10.5219/1329 [fulltext]
SIMULTANEOUS DETERMINATION OF SWEETENERS AND PRESERVATIVES IN BEVERAGES BY HPLC-DAD-ELSD
Pavel Diviš, Zuzana Jurečková, Milena Vespalcová, Jaromír Pořízka, Lenka Punčochářová
Potravinarstvo Slovak Journal of Food Sciences, vol. 14, 2020, p. 881-886
[abstract] doi: https://doi.org/10.5219/1339 [fulltext]
MONITORING THE STABILITY OF FORTIFIED COLD-PRESSED SUNFLOWER OIL UNDER DIFFERENT STORAGE CONDITIONS
Dani Dordevic, Simona Jancikova, Alexandra Lankovova, Bohuslava Tremlova
Potravinarstvo Slovak Journal of Food Sciences, vol. 14, 2020, p. 887-892
[abstract] doi: https://doi.org/10.5219/1348 [fulltext]
RESEARCH OF SELECTED PHYSICAL INDICATORS OF TABLE EGGS IN THE SMALL-SCALE BREEDINGS FROM THE ASPECT OF HEALTH SAFETY
Mária Angelovičová, Michal Angelovič, Lucia Zeleňaková
Potravinarstvo Slovak Journal of Food Sciences, vol. 14, 2020, p. 893-904
[abstract] doi: https://doi.org/10.5219/1357 [fulltext]
PERCEPTION OF SENSORY ATTRIBUTES AND MARKETING TOOLS OF SELECTED MILK BRANDS
Alexandra Krivošíková, Ľudmila Nagyová, Andrej Géci
Potravinarstvo Slovak Journal of Food Sciences, vol. 14, 2020, p. 905-913
[abstract] doi: https://doi.org/10.5219/1363 [fulltext]
THE NOVA SYSTEM AND ULTRA-PROCESSED FOODS IN RELATION TO CONSUMER DECISION-MAKING IN FOODS CHOICE
Mária Angelovičová, Lucia Zeleňaková, Peter Zajác, Jozef Čapla
Potravinarstvo Slovak Journal of Food Sciences, vol. 14, 2020, p. 914-920
[abstract] doi: https://doi.org/10.5219/1358 [fulltext]
EVALUATION AND ACCEPTANCE OF FOOD MADE OF EDIBLE INSECTS
Martin Adámek, Anna Adámková, Lenka Kouřimská, Jiří Mlček, Klára Vojáčková, Jana Orsavová, Martina Bučková, Oldřich Faměra, Martin Búran
Potravinarstvo Slovak Journal of Food Sciences, vol. 14, 2020, p. 921-928
[abstract] doi: https://doi.org/10.5219/1430 [fulltext]
THE EFFECT OF STORAGE ON THE QUALITY PARAMETERS OF BABY FOOD
Hyrije Koraqi, Namik Durmishi, Diellëza Azemi, Sara Selimi
Potravinarstvo Slovak Journal of Food Sciences, vol. 14, 2020, p. 929-936
[abstract] doi: https://doi.org/10.5219/1431 [fulltext]
MATHEMATICAL MODELING OF THE OIL EXTRUSION PROCESS WITH PRE-GRINDING OF RAW MATERIALS IN A TWIN-SCREW EXTRUDER
Mikhailo Mushtruk, Maxim Gudzenko, Igor Palamarchuk, Volodymyr Vasyliv, Natalia Slobodyanyuk, Anatolii Kuts, Oksana Nychyk, Oksana Salavor, Anatolii Bober
Potravinarstvo Slovak Journal of Food Sciences, vol. 14, 2020, p. 937-944
[abstract] doi: https://doi.org/10.5219/1436 [fulltext]
DIFFERENCES BETWEEN MICROBIOTA, PHYTOCHEMICAL, ANTIOXIDANT PROFILE AND DNA FINGERPRINTING OF CABERNET SAUVIGNON GRAPE FROM SLOVAKIA AND MACEDONIA
Simona Kunová, Eva Ivanišová, Jana Žiarovská, Lucia Zamiešková, Soňa Felsöciová, Anka Trajkovska Petkoska, Daniela Nikolovska Nedelkoska, Miroslava Kačániová
Potravinarstvo Slovak Journal of Food Sciences, vol. 14, 2020, p. 945-953
[abstract] doi: https://doi.org/10.5219/1353 [fulltext]
FLOW CYTOMETRY AS A RAPID TEST FOR DETECTION OF TETRACYCLINE RESISTANCE DIRECTLY IN BACTERIAL CELLS IN MICROCOCCUS LUTEUS
Elena Zayko, Dagmara Bataeva, Yuliya Yushina, Anzhelika Makhova, Mariya Grudistova
Potravinarstvo Slovak Journal of Food Sciences, vol. 14, 2020, p. 954-959
[abstract] doi: https://doi.org/10.5219/1354 [fulltext]
THE EFFECT OF FORTIFIED DADIH (FERMENTED BUFFALO MILK) WITH VITAMIN D3 ON CAECUM CHOLESTEROL CONCENTRATION AND HIGH SENSITIVITY C-REACTIVE PROTEIN (hs-CRP) LEVEL IN TYPE 2 DIABETES MELLITUS RAT MODEL
Ayu Meilina, Gemala Anjani, Kis Djamiatun
Potravinarstvo Slovak Journal of Food Sciences, vol. 14, 2020, p. 960-966
[abstract] doi: https://doi.org/10.5219/1446 [fulltext]
THE OCCURRENCE OF ELEVEN ELEMENTS IN DAIRY COW´S MILK, FEED, AND SOIL FROM THREE DIFFERENT REGIONS OF SLOVAKIA
Robert Toman, Martina Pšenková, Vladimír Tančin
Potravinarstvo Slovak Journal of Food Sciences, vol. 14, 2020, p. 967-977
[abstract] doi: https://doi.org/10.5219/1461 [fulltext]
PROCEDURES FOR THE IDENTIFICATION AND DETECTION OF ADULTERATION OF FISH AND MEAT PRODUCTS
Jozef Čapla, Peter Zajác, Jozef Čurlej, Ľubomír Belej, Miroslav Kročko, Marek Bobko, Lucia Benešová, Silvia Jakabová, Tomáš Vlčko
Potravinarstvo Slovak Journal of Food Sciences, vol. 14, 2020, p. 978-994
[abstract] doi: https://doi.org/10.5219/1474 [fulltext]
INVESTIGATING CHEMICAL CHANGES DURING SNAKE FRUIT AND BLACK TEA KOMBUCHA FERMENTATION AND THE ASSOCIATED IMMUNOMODULATORY ACTIVITY IN SALMONELLA TYPHI-INFECTED MICE
Elok Zubaidah, Vania Valencia, Muhaimin Rifa'i, Ignatius Srianta, Ihab Tewfik
Potravinarstvo Slovak Journal of Food Sciences, vol. 14, 2020, p. 995-1000
[abstract] doi: https://doi.org/10.5219/1416 [fulltext]
DIVERSITY OF WINTER COMMON WHEAT VARIETIES FOR RESISTANCE TO LEAF RUST CREATED IN THE V. M. REMESLO MYRONIVKA INSTITUTE OF WHEAT
Hanna Kovalyshyna, Yuliia Dmytrenko, Oksana Tonkha, Oleksandr Makarchuk, Oleksandr Demydov, Oleksandr Humeniuk, Natalia Kozub, Anatolii Karelov, Igor Sozinov, Mikhailo Mushtruk
Potravinarstvo Slovak Journal of Food Sciences, vol. 14, 2020, p. 1001-1007
[abstract] doi: https://doi.org/10.5219/1447 [fulltext]
SUBSTANTIATION OF FOAMY STRUCTURE FORMATION IN A GLUTEN-FREE BISCUIT
Igor Stadnyk, Olena Kolomiiets, Oksana Dziana
Potravinarstvo Slovak Journal of Food Sciences, vol. 14, 2020, p. 1008-1019
[abstract] doi: https://doi.org/10.5219/1399 [fulltext]
RELATIONSHIP BETWEEN THE ACTIVITY OF GUAIACOL PEROXIDASE AND THE CONTENT OF PHOTOSYNTHETIC PIGMENTS IN TEA LEAVES
Nataliia Platonova, Oksana Belous
Potravinarstvo Slovak Journal of Food Sciences, vol. 14, 2020, p. 1020-1026
[abstract] doi: https://doi.org/10.5219/1401 [fulltext]
TRANSFER EFFICACY OF ESCHERICHIA COLI O157:H7 BETWEEN SURFACES OF GREEN MATURE TOMATOES AND COMMON FOOD PROCESSING MATERIALS
Oleksandr Tokarskyy, Mykhaylo Korda, Halyna Lukyantseva
Potravinarstvo Slovak Journal of Food Sciences, vol. 14, 2020, p. 1027-1034
[abstract] doi: https://doi.org/10.5219/1408 [fulltext]
EFFECT OF SOMATIC CELL COUNT ON MILKABILITY AND MILK COMPOSITION OF EWES
Lucia Mačuhová, Vladimír Tančin, Juliana Mačuhová, Michal Uhrinčať, Marta Oravcová, Martina Vršková, Kristína Tvarožková
Potravinarstvo Slovak Journal of Food Sciences, vol. 14, 2020, p. 1035-1041
[abstract] doi: https://doi.org/10.5219/1411 [fulltext]
PUBLISHED: 28. December 2020
AROMA MARKETING AS A TOOL TO INCREASE TURNOVER IN A CHOSEN BUSINESS ENTITY
Jakub Berčík, Roderik Virágh, Zdenka Kádeková, Tatiana Duchoňová
Potravinarstvo Slovak Journal of Food Sciences, vol. 14, 2020, p. 1161-1175
[abstract] doi: https://doi.org/10.5219/1475 [fulltext]
CHEMICAL PROPERTIES AND ACCEPTANCE IN THE BISCUIT FORMULA OF BELITUNG TARO (Xanthosoma sagittifolium) ADDITION OF ANT NEST TUBERS (Hydnophytum formicarum) PLANT
Anjar Briliannita, La Supu
Potravinarstvo Slovak Journal of Food Sciences, vol. 14, 2020, p. 1176-1182
[abstract] doi: https://doi.org/10.5219/1241 [fulltext]
THE INFLUENCE OF CHOSEN ORGANIC FERTILIZERS ON QUALITATIVE PARAMETERS OF THREE DAUCUS CAROTA L. VARIETIES
Marcel Golian, Lucia Hlavačková, Adriána Maťová, Ivana Mezeyová, Miroslav Šlosár, Alžbeta Hegedűsová, Samuel Adamec
Potravinarstvo Slovak Journal of Food Sciences, vol. 14, 2020, p. 1183-1190
[abstract] doi: https://doi.org/10.5219/1423 [fulltext]
A CASE STUDY COMPARING DISTILLATION TECHNOLOGIES FOR PLUM PALINKA PRODUCTION
Péter Korzenszky, Gábor Barátossy, László Székely, Gábor Géczi
Potravinarstvo Slovak Journal of Food Sciences, vol. 14, 2020, p. 1191-1199
[abstract] doi: https://doi.org/10.5219/1472 [fulltext]
THE USE OF CONSUMER NEUROSCIENCE IN AROMA MARKETING OF A SERVICE COMPANY
Jabuk Berčík, Anna Mravcová, Jana Gálová, Martin Mikláš
Potravinarstvo Slovak Journal of Food Sciences, vol. 14, 2020, p. 1200-1210
[abstract] doi: https://doi.org/10.5219/1465 [fulltext]
PREFERENCE MAPPING OF SLOVAK CHEESE
Patrícia Martišová, Jana Štefániková, Matej Hynšt, Vladimír Vietoris, Patrícia Macková
Potravinarstvo Slovak Journal of Food Sciences, vol. 14, 2020, p. 1211-1217
[abstract] doi: https://doi.org/10.5219/1092 [fulltext]
Volume 13 Potravinarstvo Slovak Journal of Food Sciences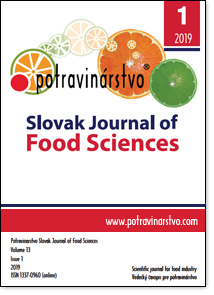 Vol. 13, No. 1/2019, All articles [PDF]
PUBLISHED: 31. January 2019
VARIATION OF FRUITS MORPHOMETRIC PARAMETERS AND BIOACTIVE COMPOUNDS OF ASIMINA TRILOBA (L.) DUNAL GERMPLASM COLLECTION
Ján Brindza, Olga Grygorieva, Svitlana Klymenko, Olena Vergun, Ján Mareček, Eva Ivanišová
Potravinarstvo Slovak Journal of Food Sciences, vol. 13, no. 1, 2019, p. 1-7
[abstract] doi: https://doi.org/10.5219/1019 [fulltext]
CONSUMERS´ AWARENESS OF FOOD SAFETY
Ľudmila Nagyová, Alexandra Andocsová, Andrej Géci, Peter Zajác, Jozef Palkovič, Ingrida Košičiarová, Jozef Golian
Potravinarstvo Slovak Journal of Food Sciences, vol. 13, no. 1, 2019, p. 8-17
[abstract] doi: https://doi.org/10.5219/1003 [fulltext]
CONSUMER BEHAVIOUR OF YOUNG GENERATION IN SLOVAKIA TOWARDS COCOA-ENRICHED HONEY
Peter Šedík, Elena Horská, Eva Ivanišová, Miroslava Kačániová, Andrzej Krasnodębski
Potravinarstvo Slovak Journal of Food Sciences, vol. 13, no. 1, 2019, p. 18-24
[abstract] doi: https://doi.org/10.5219/1013 [fulltext]
ECOTOXICOLOGICAL STUDIES OF AKMOLA REGION LAKES
Lyailya Akbayeva, Erdaulet Tulegenov, Ainur Omarbayeva, Nazira Kobetaeva, Zina Nurgalieva, Yerlan Nurkeyev, Patrícia Martišová, Vladimir Vietoris, Assylbek Zhanabayev
Potravinarstvo Slovak Journal of Food Sciences, vol. 13, no. 1, 2019, p. 25-31
[abstract] doi: https://doi.org/10.5219/824 [fulltext]
THE COMPOSITION AND CONTENT OF PHENOLIC COMPOUNDS IN TEA, GROWN IN HUMID SUBTROPICS OF RUSSIA
Nataliia Platonova, Anton Astanin, Sergey Sedykh, Lidiia Samarina, Oksana Belous
Potravinarstvo Slovak Journal of Food Sciences, vol. 13, no. 1, 2019, p. 32-37
[abstract] doi: https://doi.org/10.5219/990 [fulltext]
NEUROMARKETING AND THE DECISION-MAKING PROCESS OF THE GENERATION Y WINE CONSUMERS IN THE SLOVAK REPUBLIC
Jana Němcová, Jakub Berčík
Potravinarstvo Slovak Journal of Food Sciences, vol. 13, no. 1, 2019, p. 38-45
[abstract] doi: https://doi.org/10.5219/1018 [fulltext]
PUBLISHED: 28. February 2019
RHEOLOGICAL AND FUNCTIONAL PROPERTIES OF ROSELLE (HIBISCUS SABDARIFFA) LEAVES PUREE
Jaga Mohan Meher, Amit Keshav, Bidyut Mazumdar
Potravinarstvo Slovak Journal of Food Sciences, vol. 13, no. 1, 2019, p. 46-57
[abstract] doi: https://doi.org/10.5219/929 [fulltext]
THE FIELD AND LABORATORY STUDY OF THE COLLECTION SAMPLES OF ONION BREED ALLIUM CEPA L.
Viktor Nemtinov, Yulia Kostanchuk, Svetlana Motyleva, Lidiya Timasheva, Olga Pekhova, Ivan Kulikov, Sergei Medvedev, Alexander Bokhan
Potravinarstvo Slovak Journal of Food Sciences, vol. 13, no. 1, 2019, p. 58-64
[abstract] doi: https://doi.org/10.5219/1012 [fulltext]
BIOINFORMATICS ANALYSIS OF AFLATOXINS PRODUCED BY ASPREGILLUS SP. IN BASIC CONSUMER GRAIN (CORN AND RICE) IN SAUDI ARABIA
Latifa Al Husnan, Muneera Al Kahtani, Randa Mohamed Farag
Potravinarstvo Slovak Journal of Food Sciences, vol. 13, no. 1, 2019, p. 65-75
[abstract] doi: https://doi.org/10.5219/1020 [fulltext]
SENSORY PROFILE OF PARENICA CHEESE VARIETIES MADE FROM PASTEURIZED COW'S MILK
Boris Semjon, Jana Maľová, Tatiana Vataščinová, Pavel Maľa
Potravinarstvo Slovak Journal of Food Sciences, vol. 13, no. 1, 2019, p. 76-82
[abstract] doi: https://doi.org/10.5219/1024 [fulltext]
HEALTHY EATING INDEX AND DIFFERENT FRUIT DIETARY HABITS IN SLOVAK ADULT FEMALE
Katarína Fatrcová-Šramková, Marianna Schwarzová, Tűnde Juríková
Potravinarstvo Slovak Journal of Food Sciences, vol. 13, no. 1, 2019, p. 83-93
[abstract] doi: https://doi.org/10.5219/1010 [fulltext]
BIOACTIVE COMPOUNDS EVALUATION IN DIFFERENT TYPES OF CZECH AND SLOVAK HONEYS
Soňa Škrovánková, Lukáš Snopek, Jiří Mlček, Eva Volaříková
Potravinarstvo Slovak Journal of Food Sciences, vol. 13, no. 1, 2019, p. 94-99
[abstract] doi: https://doi.org/10.5219/1025 [fulltext]
MOLECULAR CHARACTERIZATION AND GENETIC DIVERSITY IN SOME EGYPTIAN WHEAT (TRITICUM AESTIVUM L.) USING MICROSATELLITE MARKERS
Ayman El-Fiki, Mohamed Adly
Potravinarstvo Slovak Journal of Food Sciences, vol. 13, no. 1, 2019, p. 100-108
[abstract] doi: https://doi.org/10.5219/978 [fulltext]
WHEAT BRAN STABILIZATION AND ITS EFFECT ON COOKIES QUALITY
Michaela Lauková, Jolana Karovičová, Lucia Minarovičová, Zlatica Kohajdová
Potravinarstvo Slovak Journal of Food Sciences, vol. 13, no. 1, 2019, p. 109-115
[abstract] doi: https://doi.org/10.5219/1021 [fulltext]
CHARACTERISTICS OF TEXTURAL AND SENSORY PROPERTIES OF OŠTIEPOK CHEESE
Peter Zajác, Patrícia Martišová, Jozef Čapla, Jozef Čurlej, Jozef Golian
Potravinarstvo Slovak Journal of Food Sciences, vol. 13, no. 1, 2019, p. 116-130
[abstract] doi: https://doi.org/10.5219/855 [fulltext]
THE EVALUATION OF SELECTED QUALITATIVE PARAMETERS OF SWEET POTATO (IPOMOEA BATATAS L.) IN DEPENDENCE ON ITS CULTIVAR
Miroslav Šlosár, Alžbeta Hegedűsová, Ondrej Hegedűs, Ivana Mezeyová, Ján Farkaš, Marcel Golian
Potravinarstvo Slovak Journal of Food Sciences, vol. 13, no. 1, 2019, p. 131-137
[abstract] doi: https://doi.org/10.5219/1036 [fulltext]
THERMO-DEGRADATIVE CHANGES OF RAPESEED AND SUNFLOWER OILS DURING DEEP-FRYING FRENCH FRIES
Lucia Zeleňáková, Mária Angelovičová, Marek Šnirc, Jana Žiarovská, Stanislav Kráčmar, Branislav Gálik, Simona Kunová
Potravinarstvo Slovak Journal of Food Sciences, vol. 13, no. 1, 2019, p. 138-149
[abstract] doi: https://doi.org/10.5219/1080 [fulltext]
GOAT YOGHURT DRINKS WITH ELEVATED α-LINOLENIC ACID CONTENT AND ENRICHED WITH YACON FIBER
Markéta Borková, Miloslav Šulc, Alena Svitáková, Klára Novotná, Jana Smolová, Jitka Peroutková, Ondřej Elich
Potravinarstvo Slovak Journal of Food Sciences, vol. 13, no. 1, 2019, p. 150-159
[abstract] doi: https://doi.org/10.5219/1031 [fulltext]
PUBLISHED: 25. March 2019
UNUSUAL ASPECTS OF THE FAT CONTENT OF MEALWORM LARVAE AS A NOVEL FOOD
Martin Adámek, Jiří Mlček, Anna Adámková, Marie Borkovcová, Martina Bednářová, Zuzana Musilová, Josef Skácel, Jiří Sochor, Oldřich Faměra
Potravinarstvo Slovak Journal of Food Sciences, vol. 13, no. 1, 2019, p. 157-162
[abstract] doi: https://doi.org/10.5219/1089 [fulltext]
CHARACTERISTICS OF FLOUR AND DOUGH FROM PURPLE AND BLUE WHEAT GRAIN
Iva Burešová, Václav Trojan, Martin Helis
Potravinarstvo Slovak Journal of Food Sciences, vol. 13, no. 1, 2019, p. 163-166
[abstract] doi: https://doi.org/10.5219/1043 [fulltext]
NATURAL FRUIT BEVERAGES FORTIFIED BY BIOLOGICALLY ACTIVE SUBSTANCES OF GRAPE VINES
Lukáš Snopek, Jiří Mlček, Vlastimil Fic, Irena Sytařová, Soňa Škrovánková
Potravinarstvo Slovak Journal of Food Sciences, vol. 13, no. 1, 2019, p. 167-173
[abstract] doi: https://doi.org/10.5219/1051 [fulltext]
MICROBIOTA OF DIFFERENT WINE GRAPE BERRIES
Miroslava Kačániová, Simona Kunová, Soňa Felsöciová, Eva Ivanišová, Attila Kántor, Jana Žiarovská, Czeslaw Puchalski, Margarita Terentjeva
Potravinarstvo Slovak Journal of Food Sciences, vol. 13, no. 1, 2019, p. 174-181
[abstract] doi: https://doi.org/10.5219/1047 [fulltext]
QUALITATIVE PARAMETERS OF PROTEIN GELS FROM ALBUMEN BASE
Sylvie Ondrušíková, Šárka Nedomová, Alžbeta Jarošová, Vojtěch Kumbár
Potravinarstvo Slovak Journal of Food Sciences, vol. 13, no. 1, 2019, p. 182-186
[abstract] doi: https://doi.org/10.5219/1049 [fulltext]
GLUTEN-FREE RICE MUFFINS ENRICHED WITH TEFF FLOUR
Lucia Minarovičová, Michaela Lauková, Jolana Karovičová, Zlatica Kohajdová, Veronika Kepičová
Potravinarstvo Slovak Journal of Food Sciences, vol. 13, no. 1, 2019, p. 187-193
[abstract] doi: https://doi.org/10.5219/1045 [fulltext]
MYCOTOXIN-PRODUCING PENICILLIUM SPP. AND OTHER FUNGI ISOLATED FROM GRAPES FOR WINE PRODUCTION IN SMALL CARPATHIANS WINE REGION
Soňa Felšöciová, Miroslava Kačániová
Potravinarstvo Slovak Journal of Food Sciences, vol. 13, no. 1, 2019, p. 194-199
[abstract] doi: https://doi.org/10.5219/1044 [fulltext]
THE INFLUENCE OF SELENIUM ON SELECTED HEAVY METALS CUMULATION IN OYSTER MUSHROOM FRUITING BODIES
Marcel Golian, Alžbeta Hegedűsová, Marianna Trochcová, Adriána Maťová, Miroslav Šlosár
Potravinarstvo Slovak Journal of Food Sciences, vol. 13, no. 1, 2019, p. 200-205
[abstract] doi: https://doi.org/10.5219/1037 [fulltext]
QUALITY OF BISCUITS AS AFFECTED BY ADDITION OF FIBRE
Viera Šottníková, Radka Langová, Luděk Hřivna, Šárka Nedomová, Miroslav Jůzl
Potravinarstvo Slovak Journal of Food Sciences, vol. 13, no. 1, 2019, p. 206-211
[abstract] doi: https://doi.org/10.5219/1034 [fulltext]
FUNCTIONAL PROPERTIES OF MUFFIN AS AFFECTED BY SUBSTITUING WHEAT FLOUR WITH CAROB POWDER
Libor Červenka, Michaela Frühbauerová, Helena Velichová
Potravinarstvo Slovak Journal of Food Sciences, vol. 13, no. 1, 2019, p. 212-217
[abstract] doi: https://doi.org/10.5219/1033 [fulltext]
COMPARISON OF ANTIOXIDANT ACTIVITY, CONTENT OF POLYPHENOLS AND FLAVONOIDS IN LITURGICAL AND COMMON WINES
Jiří Mlček, Anna Adámková, Soňa Škrovánková, Martin Adámek, Monika Ondrášová
Potravinarstvo Slovak Journal of Food Sciences, vol. 13, no. 1, 2019, p. 218-223
[abstract] doi: https://doi.org/10.5219/1030 [fulltext]
CHICKEN SKIN GELATINE AS AN ALTERNATIVE TO PORK AND BEEF GELATINES
Petr Mrázek, Pavel Mokrejš, Robert Gál, Jana Orsavová
Potravinarstvo Slovak Journal of Food Sciences, vol. 13, no. 1, 2019, p. 224-233
[abstract] doi: https://doi.org/10.5219/1022 [fulltext]
PUBLISHED: 27. April 2019
THE IMPORTANCE OF MILK AND DAIRY PRODUCTS CONSUMPTION AS A PART OF RATIONAL NUTRITION
Ľubica Kubicová, Kristína Predanocyová, Zdenka Kádeková
Potravinarstvo Slovak Journal of Food Sciences, vol. 13, no. 1, 2019, p. 234-243
[abstract] doi: https://doi.org/10.5219/1050 [fulltext]
ASSESSMENT OF LIPID PEROXIDATION IN DAIRY COWS WITH SUBCLINICAL AND CLINICAL MASTITIS
František Zigo, Juraj Elečko, Milan Vasiľ, Zuzana Farkašová, Ladislav Takáč, Jana Takáčová, Martina Zigová, Jolanta Bujok, Ewa Pecka-Kiełb
Potravinarstvo Slovak Journal of Food Sciences, vol. 13, no. 1, 2019, p. 244-250
[abstract] doi: https://doi.org/10.5219/1052 [fulltext]
FRUIT AS A SOURCE OF ANTIOXIDANTS AND TRENDS IN ITS CONSUMPTION
Ján Durec, Dagmar Kozelová, Eva Matejková, Martina Fikselová, Silvia Jakabová
Potravinarstvo Slovak Journal of Food Sciences, vol. 13, no. 1, 2019, p. 251-257
[abstract] doi: https://doi.org/10.5219/1042 [fulltext]
OCCURENCE AND ANTIMICROBIAL RESISTANCE OF COMMON UDDER PATHOGENS ISOLATED FROM SHEEP MILK IN SLOVAKIA
Ivan Holko, Vladimír Tančin, Kristína Tvarožková, Peter Supuka, Anna Supuková, Lucia Mačuhová
Potravinarstvo Slovak Journal of Food Sciences, vol. 13, no. 1, 2019, p. 258-261
[abstract] doi: https://doi.org/10.5219/1067 [fulltext]
APPLICATION OF ELECTRONIC NOSE FOR DETERMINATION OF SLOVAK CHEESE AUTHENTICATION BASED ON AROMA PROFILE
Jana Štefániková, Veronika Nagyová, Matej Hynšt, Vladimír Vietoris, Patrícia Martišová, Ľudmila Nagyová
Potravinarstvo Slovak Journal of Food Sciences, vol. 13, no. 1, 2019, p. 262-267
[abstract] doi: https://doi.org/10.5219/1076 [fulltext]
EFFECT OF EUGENOL, NERIDOL AND PIPERINE FEED SUPPLEMENT ON THE THIGH MUSCLE FAT PROFILE OF BROILER CHICKENS
Mária Angelovičová, Michaela Klimentová, Marek Angelovič
Potravinarstvo Slovak Journal of Food Sciences, vol. 13, no. 1, 2019, p. 268-274
[abstract] doi: https://doi.org/10.5219/1077 [fulltext]
EFFECT OF WEANING SYSTEM AND TYPE OF MILK FLOW ON MILK PRODUCTION OF CROSSBRED EWES IMPROVED VALACHIAN AND TSIGAI WITH LACAUNE
Lucia Mačuhová, Vladimír Tančin, Juliana Mačuhová, Michal Uhrinčať, Milan Margetín
Potravinarstvo Slovak Journal of Food Sciences, vol. 13, no. 1, 2019, p. 275-279
[abstract] doi: https://doi.org/10.5219/1071 [fulltext]
PUBLISHED: 28. May 2019
INVASIVE SOLIDAGO CANADENSIS L. AS A RESOURCE OF VALUABLE BIOLOGICAL COMPOUNDS
Olga Shelepova, Yulia Vinogradova, Olena Vergun, Olga Grygorieva, Jan Brindza
Potravinarstvo Slovak Journal of Food Sciences, vol. 13, no. 1, 2019, p. 280-286
[abstract] doi: https://doi.org/10.5219/1125 [fulltext]
TOTAL PHENOLIC CONTENT AND ANTIOXIDANT ACTIVITY OF METHANOLIC EXTRACT OF SELECTED WILD LEAFY VEGETABLES GROWN IN BANGLADESH: A CHEAPEST SOURCE OF ANTIOXIDANTS
Mohammad Khairul Alam, Ziaul Hasan Rana, Sheikh Nazrul Islam, Mohammad Akhtaruzzaman
Potravinarstvo Slovak Journal of Food Sciences, vol. 13, no. 1, 2019, p. 287-293
[abstract] doi: https://doi.org/10.5219/1107 [fulltext]
GENETIC DIVERSITY IN TUNISIAN CASTOR GENOTYPES (RICINUS COMMUNIS L.) DETECTED USING RAPD MARKERS
Martin Vivodík, Ezzeddine Saadaoui, Želmíra Balážová, Zdenka Gálová and Lenka Petrovičová
Potravinarstvo Slovak Journal of Food Sciences, vol. 13, no. 1, 2019, p. 294-300
[abstract] doi: https://doi.org/10.5219/1116 [fulltext]
RISK ASSOCIATED WITH FOREIGN BODIES IN FOOD IN THE CZECH REPUBLIC
Pavla Svrčinová, Hana Tomášková, Vladimír Janout
Potravinarstvo Slovak Journal of Food Sciences, vol. 13, no. 1, 2019, p. 301-307
[abstract] doi: https://doi.org/10.5219/1069 [fulltext]
ASSESSMENT OF ANTIMICROBIAL POTENTIAL OF SUBSTANCES ISOLATED FROM SOME WASTES OF MEAT PROCESSING INDUSTRY
Elena Kotenkova, Ekaterina Polishchuk
Potravinarstvo Slovak Journal of Food Sciences, vol. 13, no. 1, 2019, p. 308-313
[abstract] doi: https://doi.org/10.5219/1079 [fulltext]
PROTEOMIC STUDY OF PIG'S SPLEEN
Ekaterina Vasilevskaya, Anastasiya Akhremko
Potravinarstvo Slovak Journal of Food Sciences, vol. 13, no. 1, 2019, p. 314-317
[abstract] doi: https://doi.org/10.5219/1093 [fulltext]
FOOD ALLERGY AND FOOD INTOLERANCE KNOWLEDGE OF FOODSERVICE WORKERS IN HUNGARIAN SCHOOLS
Anna Dunay, Anikó Kovács, Csaba Bálint Illés, András Tóth, András Bittsánszky
Potravinarstvo Slovak Journal of Food Sciences, vol. 13, no. 1, 2019, p. 318-324
[abstract] doi: https://doi.org/10.5219/1111 [fulltext]
INFLUENCE OF TEMPERATURE, HUMIDITY, AND DILUENT TYPE ON SURVIVAL OF SALMONELLA SPP. ON THE SURFACE OF RAW TOMATOES
Oleksandr Tokarskyy, Keith Schneider
Potravinarstvo Slovak Journal of Food Sciences, vol. 13, no. 1, 2019, p. 325-330
[abstract] doi: https://doi.org/10.5219/1121 [fulltext]
INFLUENCE OF TECHNOLOGICAL PROCESSING ON LIPID-LOWERING ACTIVITY OF SUBSTANCES CONTAINING IN PORCINE HEARTS AND AORTAS
Elena Kotenkova, Irina Chernukha
Potravinarstvo Slovak Journal of Food Sciences, vol. 13, no. 1, 2019, p. 331-336
[abstract] doi: https://doi.org/10.5219/1119 [fulltext]
ANTIOXIDANT EFFECT OF OREGANO ESSENTIAL OIL DURING VARIOUS STORAGE MEAT TIME OF HYBRID COMBINATION ROSS 308
Michaela Klimentová, Mária Angelovičová
Potravinarstvo Slovak Journal of Food Sciences, vol. 13, no. 1, 2019, p. 337-343
[abstract] doi: https://doi.org/10.5219/1068 [fulltext]
THE EFFECT OF COFFEE BEANS ROASTING ON ITS CHEMICAL COMPOSITION
Pavel Diviš, Jaromír Pořízka, Jakub Kříkala
Potravinarstvo Slovak Journal of Food Sciences, vol. 13, no. 1, 2019, p. 344-350
[abstract] doi: https://doi.org/10.5219/1062 [fulltext]
INCREASING OF SELENIUM CONTENT AND QUALITATIVE PARAMETERS IN TOMATO (LYCOPERSICON ESCULENTUM MILL.) AFTER ITS FOLIAR APPLICATION
Alena Andrejiová, Alžbeta Hegedűsová, Samuel Adamec, Ondrej Hegedűs, Ivana Mezeyová
Potravinarstvo Slovak Journal of Food Sciences, vol. 13, no. 1, 2019, p. 351-358
[abstract] doi: https://doi.org/10.5219/1097 [fulltext]
HYGIENIC QUALITY AND COMPOSITION OF RAW SHEEP'S BULK MILK SAMPLES ON SELECTED SLOVAK FARMS DURING YEAR 2018
Martina Vršková, Vladimír Tančin, Michal Uhrinčať, Lucia Mačuhová, Kristína Tvarožková
Potravinarstvo Slovak Journal of Food Sciences, vol. 13, no. 1, 2019, p. 359-362
[abstract] doi: https://doi.org/10.5219/1058 [fulltext]
ANTIMICROBIAL ACTIVITY OF RESVERATROL AND GRAPE POMACE EXTRACT
Simona Kunová, Soňa Felšöciová, Eva Tvrdá, Eva Ivanišová, Attila Kántor, Jana Žiarovská, Margarita Terentjeva, Miroslava Kačániová
Potravinarstvo Slovak Journal of Food Sciences, vol. 13, no. 1, 2019, p. 363-368
[abstract] doi: https://doi.org/10.5219/1054 [fulltext]
TIN COMPOUNDS IN FOOD – THEIR DISTRIBUTION AND DETERMINATION
Miroslav Fišera, Stanislav Kráčmar, Helena Velichová, Lenka Fišerová, Pavla Burešová, Pavel Tvrzník
Potravinarstvo Slovak Journal of Food Sciences, vol. 13, no. 1, 2019, p. 369-377
[abstract] doi: https://doi.org/10.5219/1041 [fulltext]
BIOGENIC AMINES IN SMEAR RIPENED CHEESES
Olga Cwiková, Gabriela Franke
Potravinarstvo Slovak Journal of Food Sciences, vol. 13, no. 1, 2019, p. 378-384
[abstract] doi: https://doi.org/10.5219/1105 [fulltext]
PREFERENCE MAPPING OF DIFFERENT VARIETIES OF GARLIC (ALLIUM SATIVUM)
Zuzana Drdolová, Patrícia Martišová, Lucia Benešová
Potravinarstvo Slovak Journal of Food Sciences, vol. 13, no. 1, 2019, p. 385-389
[abstract] doi: https://doi.org/10.5219/1128 [fulltext]
COMPARISON OF QUALITY PARAMETERS OF THE COOKED SALAMI "GOTHAJSKÝ" IN DEPENDENCE ON USED SALT CONTENT AND ADDITIVES
Miroslav Jůzl, Markéta Piechowiczová, Kamila Řehůřková
Potravinarstvo Slovak Journal of Food Sciences, vol. 13, no. 1, 2019, p. 390-395
[abstract] doi: https://doi.org/10.5219/1117 [fulltext]
SOMATIC CELL COUNT DURING FIRST AND SECOND LACTATION IN EWES
Kristína Tvarožková, Vladimír Tančin, Michal Uhrinčať, Lucia Mačuhová, Martina Vršková, Marta Oravcová
Potravinarstvo Slovak Journal of Food Sciences, vol. 13, no. 1, 2019, p. 396-401
[abstract] doi: https://doi.org/10.5219/1059 [fulltext]
PUBLISHED: 28. June 2019
COMPARISON OF CHEMICAL COMPOSITION OF EGGS FROM LAYING HENS HOUSED IN DIFFERENT PRODUCTION FACILITIES: A MARKET STUDY
Jaromír Pořízka, Adam Michalec, Pavel Diviš
Potravinarstvo Slovak Journal of Food Sciences, vol. 13, no. 1, 2019, p. 402-407
[abstract] doi: https://doi.org/10.5219/1060 [fulltext]
IDENTIFICATION AND ANTIBIOTIC SUSCEPTIBILITY OF BACTERIAL MICROBIOTA OF FRESHWATER FISH
Alīna Klūga, Miroslava Kačániová, Margarita Terentjeva
Potravinarstvo Slovak Journal of Food Sciences, vol. 13, no. 1, 2019, p. 408-414
[abstract] doi: https://doi.org/10.5219/1063 [fulltext]
ANTIOXIDANT PROFILE OF MULLED WINE
Dordevic Dani, Jancikova Simona, Tremlova Bohuslava
Potravinarstvo Slovak Journal of Food Sciences, vol. 13, no. 1, 2019, p. 415-421
[abstract] doi: https://doi.org/10.5219/1070 [fulltext]
EFFECT OF INTRAMUSCULAR FAT CONTENT ON PHYSICAL-CHEMICAL PARAMETERS OF PORK FROM MANGALITSA AND THEIR CROSSBREEDS
Petra Lípová, Ondrej Debrecéni, Ondřej Bučko, Klára Vavrišínová
Potravinarstvo Slovak Journal of Food Sciences, vol. 13, no. 1, 2019, p. 422-428
[abstract] doi: https://doi.org/10.5219/1095 [fulltext]
ADHESION EFFECT ON ENVIRONMENT PROCESS INJECTION
Igor Yaroslavovych Stadnyk, Volodymyr Piddubnyi, Halyna Karpyk, Mykhail Kravchenkо, Volodymyr Hidzhelitskyi
Potravinarstvo Slovak Journal of Food Sciences, vol. 13, no. 1, 2019, p. 429-437
[abstract] doi: https://doi.org/10.5219/1078 [fulltext]
THE EFFECT OF MELON AND WATERMELON CONCENTRATES ON CONSUMER PROPERTIES OF POLYCOMPONENT DAIRY DESSERT
Ivan Fyodorovich Gorlov, Irina Vazhayena Mgebrishvili, Marina Ivanovna Slogenkina, Natalya Ivanovna Mosolova, Tarasova Irina Alexandrovna
Potravinarstvo Slovak Journal of Food Sciences, vol. 13, no. 1, 2019, p. 438-442
[abstract] doi: https://doi.org/10.5219/1115 [fulltext]
EFFECT OF PLANT GROWTH REGULATORS ON BIOCHEMICAL COMPOUNDS OF TANGERINE (CITRUS UNSHIU MARC.)
Oksana Belous, Julia Abilphazova
Potravinarstvo Slovak Journal of Food Sciences, vol. 13, no. 1, 2019, p. 443-448
[abstract] doi: https://doi.org/10.5219/1126 [fulltext]
PLANTS OF NEPETA CATARIA VAR.CITRIODORA BECK. AND ESSENTIAL OILS FROM THEM FOR FOOD INDUSTRY
Nataliia Frolova, Anatoliy Uktainets, Olga Korablova, Volodymyr Voitsekhivskyi
Potravinarstvo Slovak Journal of Food Sciences, vol. 13, no. 1, 2019, p. 449-455
[abstract] doi: https://doi.org/10.5219/1109 [fulltext]
INVESTIGATING ON THE EFFECT OF FREEZING IN DIFFERENT TIME PERIODS ON THE CHEMICAL AND QUALITATIVE CHANGES OF FISH (GIANT TREVALLY)
Ali Aberoumand, Saladin Ayoubi
Potravinarstvo Slovak Journal of Food Sciences, vol. 13, no. 1, 2019, p. 456-461
[abstract] doi: https://doi.org/10.5219/1127 [fulltext]
OPTIMIZATION OF INFRARED DRYING CONDITION FOR WHOLE DUKU FRUIT USING RESPONSE SURFACE METHODOLOGY
Laila Rahmawati, Daniel Saputra, Kaprawi Sahim, Gatot Priyanto
Potravinarstvo Slovak Journal of Food Sciences, vol. 13, no. 1, 2019, p. 462-469
[abstract] doi: https://doi.org/10.5219/1134 [fulltext]
IS EDIBLE INSECT AS A NOVEL FOOD DIGESTIBLE?
Martin Adámek, Jiří Mlček, Anna Adámková, Marie Borkovcová,Martina Bednářová, Tünde Juríková, Zuzana Musilová, Oldřich Faměra
Potravinarstvo Slovak Journal of Food Sciences, vol. 13, no. 1, 2019, p. 470-476
[abstract] doi: https://doi.org/10.5219/1088 [fulltext]
DETERMINATION OF HMW – GS IN WHEAT USING SDS – PAGE AND LAB-ON-CHIP METHODS
Tímea Kuťka Hlozáková, Edita Gregová, Svetlana Šliková, Zdenka Gálová, Milan Chňapek, Janka Drábeková
Potravinarstvo Slovak Journal of Food Sciences, vol. 13, no. 1, 2019, p. 477-481
[abstract] doi: https://doi.org/10.5219/995 [fulltext]
THE MONITORING OF BIOGENIC AMINES IN THE RAW FOOD
Pavel Pleva, Lucie Berčíková, Erika Čechová, Petr Bartošek, Leona Buňková
Potravinarstvo Slovak Journal of Food Sciences, vol. 13, no. 1, 2019, p. 482-489
[abstract] doi: https://doi.org/10.5219/1055 [fulltext]
EVALUATION OF GENETIC DIVERSITY OF EDIBLE HONEYSUCKLE MONITORED BY RAPD IN RELATION TO BIOACTIVE SUBSTANCES
Cehula, Tünde Juríková, Jana Žiarovská, Jiří Mlček, Matúš Kyseľ
Potravinarstvo Slovak Journal of Food Sciences, vol. 13, no. 1, 2019, p. 490-496
[abstract] doi: https://doi.org/10.5219/1139 [fulltext]
MORPHOLOGICAL AND ANTIRADICAL CHARACTERISTICS OF RUGOSA ROSE (ROSA RUGOSA THUNB.) FRUITS CANNED IN DIFFERENT KIND OF HONEYS AND IN BEVERAGES PREPARED FROM HONEY
Katarína Fatrcová-Šramková, Ján Brindza, Eva Ivanišová, Tünde Juríková, Marianna Schwarzová, Vladimíra Horčinová Sedláčková, Olga Grygorieva
Potravinarstvo Slovak Journal of Food Sciences, vol. 13, no. 1, 2019, p. 497-506
[abstract] doi: https://doi.org/10.5219/1065 [fulltext]
STUDY OF THE INFLUENCE OF BREWING WATER ON SELECTED ANALYTES IN BEER
Lenka Punčochářová, Jaromír Pořízka, Pavel Diviš, Václav Štursa
Potravinarstvo Slovak Journal of Food Sciences, vol. 13, no. 1, 2019, p. 507-514
[abstract] doi: https://doi.org/10.5219/1046 [fulltext]
COMPARATIVE STUDY OF SOME BIOACTIVE COMPOUNDS AND THEIR ANTIOXIDANT ACTIVITY OF SOME BERRY TYPES
Amina Aly, Rabab Maraei, Omneya Abou El-Leel
Potravinarstvo Slovak Journal of Food Sciences, vol. 13, no. 1, 2019, p. 515-523
[abstract] doi: https://doi.org/10.5219/1132 [fulltext]
ALTERNARIA SPP. IN FOOD COMMODITIES OF SLOVAK ORIGIN: OCCURRENCE AND MYCOTOXIN PRODUCTION ABILITIES
Zuzana Mašková, Dana Tančinová, Miriam Ballová
Potravinarstvo Slovak Journal of Food Sciences, vol. 13, no. 1, 2019, p. 524-531
[abstract] doi: https://doi.org/10.5219/1102 [fulltext]
DIVERSITY OF MICROORGANISMS IN THE TRADITIONAL SLOVAK CHEESE
Miroslava Kačániová, Simona Kunová, Elena Horská, Ľudmila Nagyová, Czeslaw Puchalski, Peter Haščík, Margarita Terentjeva
Potravinarstvo Slovak Journal of Food Sciences, vol. 13, no. 1, 2019, p. 532-537
[abstract] doi: https://doi.org/10.5219/1061 [fulltext]
FACTORS INFLUENCING INTEREST OF SLOVAK CONSUMERS' IN ORGANIC DAIRY PRODUCTS
Iveta Ubrežiová, Tatiana Kráľová, Jana Kozáková
Potravinarstvo Slovak Journal of Food Sciences, vol. 13, no. 1, 2019, p. 538-546
[abstract] doi: https://doi.org/10.5219/1137 [fulltext]
EXPRESSION PATTERN OF THAUMATIN IN THE SELECTED RED VARIETIES OF VITIS VINIFERA, L.
Jana Žiarovská, Veronika Fialková, Lucia Zamiešková, Jana Bilčíková, Lucia Zeleňáková, Miroslava Kačániová
Potravinarstvo Slovak Journal of Food Sciences, vol. 13, no. 1, 2019, p. 547-552
[abstract] doi: https://doi.org/10.5219/1057 [fulltext]
PUBLISHED: 28. July 2019
USE OF SOME BIOSTIMULANTS TO IMPROVE THE GROWTH AND CHEMICAL CONSTITUENTS OF SWEET PEPPER
Rabab Maraei, Noha Eliwa, Amina Aly
Potravinarstvo Slovak Journal of Food Sciences, vol. 13, no. 1, 2019, p. 553-561
[abstract] doi: https://doi.org/10.5219/1131 [fulltext]
THE ELECTRICAL CONDUCTIVITY OF SHEEP'S MILK AND THE POSSIBILITY OF MASTITIS DETECTION
Michal Uhrinčať, Vladimír Tančin, Kristína Tvarožková, Lucia Mačuhová, Martina Vršková, Martin Ptáček, Ivan Holko
Potravinarstvo Slovak Journal of Food Sciences, vol. 13, no. 1, 2019, p. 562-565
[abstract] doi: https://doi.org/10.5219/1074 [fulltext]
VARIETAL VARIABILITY OF LESS GROWN MINTS: INFLUENCE ON SELECTED ANTIOXIDANTS
Ivana Mezeyová, Alžbeta Hegedűsová, Ján Farkaš, Ján Mezey, Miroslav Šlosár
Potravinarstvo Slovak Journal of Food Sciences, vol. 13, no. 1, 2019, p. 566-571
[abstract] doi: https://doi.org/10.5219/1083 [fulltext]
CAPITAL TAXATION EFFICIENCY OF AGRICULTURAL BUSINESSES IN THE SLOVAK REPUBLIC
Alena Andrejovská, Ján Buleca, Veronika Puliková
Potravinarstvo Slovak Journal of Food Sciences, vol. 13, no. 1, 2019, p. 572-580
[abstract] doi: https://doi.org/10.5219/1135 [fulltext]
RESEARCHING OF THE CONCENTRATION DISTRIBUTION OF SOLUBLE LAYERS WHEN MIXED IN THE WEIGHT CONDITION
Igor Yaroslavovych Stadnyk, Juilia Pankiv, Рetro Havrylko, Halina Karpyk
Potravinarstvo Slovak Journal of Food Sciences, vol. 13, no. 1, 2019, p. 581-592
[abstract] doi: https://doi.org/10.5219/1129 [fulltext]
COMPARISON OF ANALYSIS AND THE NUTRITIONAL VALUE OF FRESH COMMON CARP, FROZEN AND SOUTHERN CANNED TUNA
Ali Aberoumand, Afsaneh Fazeli
Potravinarstvo Slovak Journal of Food Sciences, vol. 13, no. 1, 2019, p. 593-597
[abstract] doi: https://doi.org/10.5219/1143 [fulltext]
EVALUATION OF SELECTED PARAMETERS OF EDAM TYPE CHEESE PACKED UNDER FOIL WITH NATURAL ANTIMICROBIAL AGENTS
Alena Saláková, Libor Kalhotka, Miroslav Jůzl, Eva Burdová, Gabriela Růžičková, Zdenka Pšeničková, Tomáš Obr
Potravinarstvo Slovak Journal of Food Sciences, vol. 13, no. 1, 2019, p. 598-603
[abstract] doi: https://doi.org/10.5219/1110 [fulltext]
EFFECT OF ESSENTIAL OILS OF MYRTACEAE PLANTS ON THE PENICILLIUM COMMUNE
Dana Tančinová, Denisa Foltinová, Zuzana Mašková, Jana Štefániková, Július Árvay
Potravinarstvo Slovak Journal of Food Sciences, vol. 13, no. 1, 2019, p. 604-613
[abstract] doi: https://doi.org/10.5219/1106 [fulltext]
ANTIOXIDANT CAPACITY OF PLANT RAW MATERIAL OF SCUTELLARIA BAICALENSIS GEORGI
Olena Vergun, Liudmyla Svydenko, Olga Grygorieva, Oksana Shymanska, Dzhamal Rakhmetov, Ján Brindza, Eva Ivanišová
Potravinarstvo Slovak Journal of Food Sciences, vol. 13, no. 1, 2019, p. 614-621
[abstract] doi: https://doi.org/10.5219/1090 [fulltext]
PUBLISHED: 28. August 2019
EFFECT OF SOUS-VIDE HEAT TREATMENT ON THE PHTHALIC ACID ESTERS CONTENT IN MEAT
Alžbeta Jarošová, Marcela Jandlová, Josef Kameník
Potravinarstvo Slovak Journal of Food Sciences, vol. 13, no. 1, 2019, p. 622-627
[abstract] doi: https://doi.org/10.5219/1081 [fulltext]
RECOMBINANT METALLOPROTEASE AS A PERSPECTIVE ENZYME FOR MEAT TENDERIZATION
Mikhail Yurievich Minaev, Anzhelika Alexandrovna Makhova
Potravinarstvo Slovak Journal of Food Sciences, vol. 13, no. 1, 2019, p. 628-633
[abstract] doi: https://doi.org/10.5219/1087 [fulltext]
CHARACTERIZATION OF FRUIT TREES POLLEN
Matej Pospiech, Zdeňka Javůrková, Bohuslava Tremlová, Hana Běhalová
Potravinarstvo Slovak Journal of Food Sciences, vol. 13, no. 1, 2019, p. 634-643
[abstract] doi: https://doi.org/10.5219/1096 [fulltext]
POTENCY OF OKRA FLOUR (ABELMOSCHUS ESCULENTUS) IN IMPROVING ADIPONECTIN LEVEL AND TOTAL ANTIOXIDANT CAPACITY OF HIGH FAT DIET STREPTOZOTOCIN RAT MODEL
Ahdiyatul Fauza, Ahmad Ni'matullah Al-Baarri, Kis Djamiatun
Potravinarstvo Slovak Journal of Food Sciences, vol. 13, no. 1, 2019, p. 644-650
[abstract] doi: https://doi.org/10.5219/1136 [fulltext]
PHYSICAL FACTORS RELEVANT FOR EFFICIENT HAWTHORN FRUIT EXTRACTION
Ivan Fiodorovich Gorlov, Olga Vyacheslavovna Drucker, Vera Vasilievna Kryuchkova, Marina Ivanovna Slozhenkina, Natalya Ivanovna Mosolova, Olga Andreevna Knyazhechenko
Potravinarstvo Slovak Journal of Food Sciences, vol. 13, no. 1, 2019, p. 651-657
[abstract] doi: https://doi.org/10.5219/1141 [fulltext]
PHYSICO-CHEMICAL STUDY OF STEROIDS FROM DIFFERENT MATURENESS CORN SILK MATERIAL
Peng Li, Lubomír Lapčík, Barbora Lapčíková, Sergii Kalytchuk
Potravinarstvo Slovak Journal of Food Sciences, vol. 13, no. 1, 2019, p. 658-664
[abstract] doi: https://doi.org/10.5219/1144 [fulltext]
THE IMPACT OF FREEZING METHODS ON FUNCTIONAL AND TECHNOLOGICAL PROPERTIES OF SEMI-FINISHED RABBIT MEAT PRODUCTS
Dodo Tavdidishvili, Davit Tsagareishvili, Tsira Khutsidze, Manana Pkhakadze, Lana Kvirikashvili
Potravinarstvo Slovak Journal of Food Sciences, vol. 13, no. 1, 2019, p. 665-674
[abstract] doi: https://doi.org/10.5219/1142 [fulltext]
EFFECT OF SOMATIC CELL COUNTS OCCURRED IN MILK ON QUALITY OF SLOVAK TRADITIONAL CHEESE – PARENICA
Viera Ducková, Margita Čanigová, Peter Zajác, Zuzana Remeňová, Miroslav Kročko, Ľudmila Nagyová
Potravinarstvo Slovak Journal of Food Sciences, vol. 13, no. 1, 2019, p. 675-680
[abstract] doi: https://doi.org/10.5219/1099 [fulltext]
THE CONCENTRATIONS OF PHTHALIC ACID ESTERS IN A WATER BATH AT SOUS-VIDE HEAT TREATMENT
Marcela Jandlová, Alžbeta Jarošová, Josef Kameník, Vojtěch Kumbár, Šárka Nedomová
Potravinarstvo Slovak Journal of Food Sciences, vol. 13, no. 1, 2019, p. 681-687
[abstract] doi: https://doi.org/10.5219/1114 [fulltext]
STUDYING THE PROCESSING OF FOOD DYE FROM BEET JUICE
Tamila Sheiko, Serhii Tkachenko, Mikhailo Mushtruk, Volodymyr Vasyliv, Olena Deviatko, Roman Mukoid, Bilko Marina, Bondar Mykola
Potravinarstvo Slovak Journal of Food Sciences, vol. 13, no. 1, 2019, p. 688-694
[abstract] doi: https://doi.org/10.5219/1152 [fulltext]
PUBLISHED: 28. September 2019
THE EFFECT OF REDUCTION OF NaCl CONTENT ON SELECTED PARAMETERS DURING RIPENING OF CHEESE
Vendula Pachlová, Richard Adámek, Martina Bučková, Pavel Pleva, Kateřina Moudrá
Potravinarstvo Slovak Journal of Food Sciences, vol. 13, no. 1, 2019, p. 695-699
[abstract] doi: https://doi.org/10.5219/1086 [fulltext]
EVALUATION OF THE CONTENT OF PIGMENTS AND TOTAL SUGARS IN GROUND SWEET PEPPER
Marián Rehuš, Magdaléna Valšíková
Potravinarstvo Slovak Journal of Food Sciences, vol. 13, no. 1, 2019, p. 700-705
[abstract] doi: https://doi.org/10.5219/1120 [fulltext]
TREATMENT OF POULTRY SLAUGHTERHOUSE WASTEWATER WITH COMBINED SYSTEM
Kulyash Meiramkulova, Mikhail Zhumagulov, Gulnur Saspugayeva, Zhanar Jakupova, Maral Mussimkhan
Potravinarstvo Slovak Journal of Food Sciences, vol. 13, no. 1, 2019, p. 706-712
[abstract] doi: https://doi.org/10.5219/1147 [fulltext]
EVALUATION OF THE ADAPTOGENIC PROPERTRIES OF THE QUARK PRODUCT ENRICHED WITH PROBIOTICS, POLYPHENOLS AND VITAMINS
Zinaida Zobkova, Liliya Fedulova, Tatyana Fursova, Daria Zenina, Elena Kotenkova
Potravinarstvo Slovak Journal of Food Sciences, vol. 13, no. 1, 2019, p. 713-719
[abstract] doi: https://doi.org/10.5219/1156 [fulltext]
GENDER DIFFERENCES IN CONSUMER PREFERENCES WHEN BUYING DAIRY PRODUCTS IN SLOVAKIA AND RUSSIA
Iveta Ubrežiová, Mária Urbánová, Jana Kozáková, Tatiana Kráľová
Potravinarstvo Slovak Journal of Food Sciences, vol. 13, no. 1, 2019, p. 720-729
[abstract] doi: https://doi.org/10.5219/1157 [fulltext]
RHEOLOGICAL PROPERTIES OF TOMATO KETCHUP
Vojtěch Kumbár, Sylvie Ondrušíková, Šárka Nedomová
Potravinarstvo Slovak Journal of Food Sciences, vol. 13, no. 1, 2019, p. 730-734
[abstract] doi: https://doi.org/10.5219/1161 [fulltext]
THE COMPARATIVE STUDY OF MEDICINAL PLANTS UTILIZATION AS HERBAL ANTIBIOTICS BY COLLEGE STUDENTS
Tünde Juríková, Ildikó Viczayová, Jiří Mlček, Jiří Sochor, Katarína Fatrcová-Šramková, Marianna Schwarzová, Alžbeta Hegedȕsová
Potravinarstvo Slovak Journal of Food Sciences, vol. 13, no. 1, 2019, p. 735-743
[abstract] doi: https://doi.org/10.5219/1153 [fulltext]
THE EFFECT OF FATTY ACID PROFILE ON THE STABILITY OF NON-TRADITIONAL AND TRADITIONAL PLANT OILS
Josef Soukup, Lenka Kouřimská
Potravinarstvo Slovak Journal of Food Sciences, vol. 13, no. 1, 2019, p. 744-750
[abstract] doi: https://doi.org/10.5219/1064 [fulltext]
PUBLISHED: 28. October 2019
SUBSTANTIATION OF REGIME PARAMETERS OF VIBRATING CONVEYOR INFRARED DRYERS
Igor Palamarchuk, Mikhailo Mushtruk, Volodymyr Vasyliv, Marija Zheplinska
Potravinarstvo Slovak Journal of Food Sciences, vol. 13, no. 1, 2019, p. 751-758
[abstract] doi: https://doi.org/10.5219/1184 [fulltext]
THE INFLUENCE OF COOKING ON THE ANTIOXIDANT PROPERTIES AND POLYPHENOL CONTENT IN BUCKWHEAT, BARLEY AND MILLET GROATS AND THE TRANSFER OF THE COMPOUNDS TO THE WATER
Barbara Krochmal-Marczak, Barbara Sawicka
Potravinarstvo Slovak Journal of Food Sciences, vol. 13, no. 1, 2019, p. 759-766
[abstract] doi: https://doi.org/10.5219/1171 [fulltext]
IDENTIFICATION OF LARD ON GRILLED BEEF SAUSAGE PRODUCT AND STEAMED BEEF SAUSAGE PRODUCT USING FOURIER TRANSFORM INFRARED (FTIR) SPECTROSCOPY WITH CHEMOMETRIC COMBINATION
Any Guntarti, Mustofa Ahda, Neng Sunengsih
Potravinarstvo Slovak Journal of Food Sciences, vol. 13, no. 1, 2019, p. 767-772
[abstract] doi: https://doi.org/10.5219/1162 [fulltext]
THE ISOLATION AND CHARACTERIZATION OF LIPASE FROM CARICA PAPAYA LATEX USING ZWITTERION SODIUM LAUROYL SARCOSINATE AS AGENT
Dang Minh Nhat, Phan Thi Viet Ha
Potravinarstvo Slovak Journal of Food Sciences, vol. 13, no. 1, 2019, p. 773-778
[abstract] doi: https://doi.org/10.5219/1164 [fulltext]
MICROBIOLOGICAL COMPARISON OF VISIBLY DIRTY AND VISIBLY CLEAN MATURE GREEN TOMATOES BEFORE AND AFTER TREATMENTS WITH DEIONIZED WATER OR CHLORINE IN MODEL OVERHEAD SPRAY BRUSH ROLLER SYSTEM
Oleksandr Tokarskyy, Mykhaylo Korda
Potravinarstvo Slovak Journal of Food Sciences, vol. 13, no. 1, 2019, p. 779-783
[abstract] doi: https://doi.org/10.5219/1178 [fulltext]
HOUSEHOLD FOOD WASTE BEHAVIOUR: SUBJECTIVE AND OBJECTIVE EVIDENCE
Naďa Hazuchová, Marcela Tuzová, Michaela Macková, Jana Stávková
Potravinarstvo Slovak Journal of Food Sciences, vol. 13, no. 1, 2019, p. 784-792
[abstract] doi: https://doi.org/10.5219/1163 [fulltext]
MULTIPLE LINEAR REGRESSION MODEL OF GOLDEN APPLE'S FAILURE CHARACTERISTICS UNDER REPEATED COMPRESSIVE LOAD
Csaba Farkas, László Fenyvesi, Károly Petróczki
Potravinarstvo Slovak Journal of Food Sciences, vol. 13, no. 1, 2019, p. 793-799
[abstract] doi: https://doi.org/10.5219/1168 [fulltext]
LOOP-MEDIATED ISOTHERMAL AMPLIFICATION (LAMP) FOR RAPID DETECTION OF L. MONOCYTOGENES IN MEAT
Yuliya Yushina, Anzhelika Makhova, Elena Zayko, Dagmara Bataeva
Potravinarstvo Slovak Journal of Food Sciences, vol. 13, no. 1, 2019, p. 800-805
[abstract] doi: https://doi.org/10.5219/1165 [fulltext]
INVESTIGATION OF THE PROCESS OF PRODUCTION OF CRAFTED BEER WITH SPICY AND AROMATIC RAW MATERIALS
Marija Zheplinska, Mikhailo Mushtruk, Volodymyr Vasyliv, Olena Deviatko
Potravinarstvo Slovak Journal of Food Sciences, vol. 13, no. 1, 2019, p. 806-814
[abstract] doi: https://doi.org/10.5219/1183 [fulltext]
PUBLISHED: 28. November 2019
ORYCTES RHINOCEROS LARVA OIL SUPPLEMENTATION IMPROVES TISSUE ANTIOXIDANT STATUS IN CHOLESTEROL-FED RATS
Olarewaju Oluba
Potravinarstvo Slovak Journal of Food Sciences, vol. 13, no. 1, 2019, p. 815-822
[abstract] doi: https://doi.org/10.5219/1180 [fulltext]
DYNAMICS OF CHANGES IN TOTAL CAROTENOIDS AND ANTIOIXDANT ACTIVITY IN FRUITS OF SELECTED VARIETIES OF CUCURBITA MOSCHATA DUCH. DURING STORAGE
Adriána Maťová, Alžbeta Hegedűsová, Alena Andrejiová, Ondrej Hegedűs,Magdaléna Hugyivárová
Potravinarstvo Slovak Journal of Food Sciences, vol. 13, no. 1, 2019, p. 823-830
[abstract] doi: https://doi.org/10.5219/1187 [fulltext]
IMPROVEMENT OF GROWTH, PRODUCTIVITY AND SOME CHEMICAL PROPERTIES OF HOT PEPPER BY FOLIAR APPLICATION OF AMINO ACIDS AND YEAST EXTRACT
Amina Aly, Noha Eliwa, Mohamed Hassan Abd El Megid
Potravinarstvo Slovak Journal of Food Sciences, vol. 13, no. 1, 2019, p. 831-839
[abstract] doi: https://doi.org/10.5219/1160 [fulltext]
USE OF ULTRA-HIGH-TEMPERATURE PROCESSING OF RAW MILK TO IMPROVE CHEESE QUALITY
Tetyana Semko, Vladyslav Palamarchuk, Vladyslav Sukhenko
Potravinarstvo Slovak Journal of Food Sciences, vol. 13, no. 1, 2019, p. 840-845
[abstract] doi: https://doi.org/10.5219/1186 [fulltext]
THE IMPACT OF EU SUPPORT RESOURCES ON BUSINESS SUCCESS OF FAMILY-OWNED BUSINESSES
Dániel Halasi, Pavol Schwarcz, Ladislav Mura, Oľga Roháčiková
Potravinarstvo Slovak Journal of Food Sciences, vol. 13, no. 1, 2019, p. 846-853
[abstract] doi: https://doi.org/10.5219/1167 [fulltext]
CHARACTERIZATION OF COMPISOTE EDIBLE FILMS FROM ALOE VERA GEL, BEESWAX AND CHITOSAN
Usman Amin, Muhammad Azam Khan, Muhammad Ehtasham Akram, Abdel Rahman Mohammad Said Al-Tawaha, Alexey Laishevtcev, Mohammad Ali Shariati
Potravinarstvo Slovak Journal of Food Sciences, vol. 13, no. 1, 2019, p. 854-862
[abstract] doi: https://doi.org/10.5219/1177 [fulltext]
THE STUDY CORRELATION BETWEEN PHYSICOCHEMICAL PROPERTIES, BOTANICAL ORIGIN AND MICROBIAL CONTAMINATION OF HONEY FROM THE SOUTH OF UKRAINE
Oleksandra Berhilevych, Victoria Kasianchuk, Mykola Kukhtyn, Lubov Dimitrijevich, Tatyana Marenkova
Potravinarstvo Slovak Journal of Food Sciences, vol. 13, no. 1, 2019, p. 863-869
[abstract] doi: https://doi.org/10.5219/1179 [fulltext]
THE CORRELATION OF INTAKE PHYTATE AND TANNIN ON SERUM TRANSFERRIN RECEPTOR AND HEMOGLOBIN IN STUNTED OVERWEIGHT ADOLESCENTS
La Mani, Sitti Fatimah-Muis, Apoina Kartini
Potravinarstvo Slovak Journal of Food Sciences, vol. 13, no. 1, 2019, p. 870-874
[abstract] doi: https://doi.org/10.5219/1191 [fulltext]
STUDY OF CHEMICAL STRUCTURE, ANTIMICROBIAL, CYTOTOXIC AND MECHANISM OF ACTION OF SYZYGIUM AROMATICUM ESSENTIAL OIL ON FOODBORNE PATHOGENS
Behrooz Alizadeh Behbahani, Mohammad Noshad, Fereshteh Falah
Potravinarstvo Slovak Journal of Food Sciences, vol. 13, no. 1, 2019, p. 875-883
[abstract] doi: https://doi.org/10.5219/1226 [fulltext]
THE AMINO ACID PROFILE AFTER ADDITION OF HUMIC ACIDS AND PHYTOBIOTICS INTO DIET OF BROILER CHICKEN
Peter Haščík, Adriana Pavelková, Jana Tkáčová, Juraj Čuboň, Marek Bobko, Miroslava Kačániová, Henrieta Arpášová, Matej Čech
Potravinarstvo Slovak Journal of Food Sciences, vol. 13, no. 1, 2019, p. 884-890
[abstract] doi: https://doi.org/10.5219/1237 [fulltext]
MACRONUTRIENTS, MICRONUTRIENTS INTAKE AND INFLAMMATION IN HEMODIALYSIS PATIENTS
Siti Fatonah, Moh Sulchan, Muchlis Achsan Udji Sofro
Potravinarstvo Slovak Journal of Food Sciences, vol. 13, no. 1, 2019, p. 891-897
[abstract] doi: https://doi.org/10.5219/1193 [fulltext]
PUBLISHED: 28. December 2019
THE INFLUENCE OF THE MOISTURE CONTENT OF RAW MATERIALS ON THE STRUCTURING OF THE EXTRUDATES
Davit Tsagareishvili, Otari Sesikashvili, Gia Dadunashvili, Nugzari Sakhanberidze, Shalva Tsagareishvili
Potravinarstvo Slovak Journal of Food Sciences, vol. 13, no. 1, 2019, p. 898-905
[abstract] doi: https://doi.org/10.5219/1189 [fulltext]
ANALYSIS OF DEVELOPMENT OF RAW COW MILK PRICES IN THE CONDITIONS OF THE SLOVAK REPUBLIC
Ivana Váryová, Zuzana Poláková, Iveta Košovská, Alexandra Ferenczi Vaňová, Renáta Krajčírová
Potravinarstvo Slovak Journal of Food Sciences, vol. 13, no. 1, 2019, p. 906-914
[abstract] doi: https://doi.org/10.5219/1196 [fulltext]
FORMATION OF MICROBIAL BIOFILMS ON STAINLESS STEEL WITH DIFFERENT SURFACE ROUGHNESS
Igor Stadnyk, Tetiana Hushtan, Ganna Sabadosh, Yana Yevchuk
Potravinarstvo Slovak Journal of Food Sciences, vol. 13, no. 1, 2019, p. 915-924
[abstract] doi: https://doi.org/10.5219/1190 [fulltext]
INVESTIGATION OF CONSUMER BEHAVIOUR AT SELECTED MARKET COMMODITY
Andrej Géci, Ľudmila Nagyová, Stanislav Mokrý, Jana Rybanská
Potravinarstvo Slovak Journal of Food Sciences, vol. 13, no. 1, 2019, p. 925-932
[abstract] doi: https://doi.org/10.5219/1230 [fulltext]
COMPOSITION, QUALITY CHARACTERISTICS AND MICROSTRUCTURE OF THE GRAIN TRITICUM DICOCCUM
Elena Kuznetsova, Lyudmila Shayapova, Elena Klimova, Gyunesh Nasrullaeva, Jan Brindza, Maxim Stolyarov, Galina Zomiteva, Tatyana Bychkova, Vera Gavrilina, Elena Kuznetsova
Potravinarstvo Slovak Journal of Food Sciences, vol. 13, no. 1, 2019, p. 933-940
[abstract] doi: https://doi.org/10.5219/1174 [fulltext]
INFLUENCE OF SUSPENSION LIQUID TOTAL SOLIDS ON E. COLI O157:H7 SURVIVAL AND TRANSFER EFFICACY BETWEEN GREEN TOMATOES AND CARDBOARD
Oleksandr Tokarskyy, Mykhaylo Korda
Potravinarstvo Slovak Journal of Food Sciences, vol. 13, no. 1, 2019, p. 941-949
[abstract] doi: https://doi.org/10.5219/1210 [fulltext]
HEALTH STATUS OF WOMEN FROM A SMALL AND A BIG TOWN IN POLAND: THE SUBJECTIVE AND OBJECTIVE ASSESSMENT
Ewa Malczyk, Joanna Wyka, Marta Habanova, Marta Misiarz, Marzena Zołoteńka-Synowiec, Maria Holovicova, Malgorzata Jarossová
Potravinarstvo Slovak Journal of Food Sciences, vol. 13, no. 1, 2019, p. 950-955
[abstract] doi: https://doi.org/10.5219/1204 [fulltext]
AUTHENTICATION OF POULTRY PRODUCTS AT THE BREED LEVEL USING GENETIC MARKERS
Ľubomír Belej, Lukáš Jurčaga, Slavomír Mindek, Cyril Hrnčár, Jozef Čapla, Peter Zajác, Lucia Benešová, Radoslav Židek, Jozef Golian
Potravinarstvo Slovak Journal of Food Sciences, vol. 13, no. 1, 2019, p. 956-960
[abstract] doi: https://doi.org/10.5219/1254 [fulltext]
CONSUMER PREFERENCES ON MILK MARKET: EVIDENCE FROM SLOVAK REPUBLIC
Alexandra Krivošíková, Ľudmila Nagyová, Andrea Kubelaková, Stanislav Mokrý
Potravinarstvo Slovak Journal of Food Sciences, vol. 13, no. 1, 2019, p. 961-970
[abstract] doi: https://doi.org/10.5219/1221 [fulltext]
DEVELOPMENT OF GLUTEN-FREE NON-YEASTED DOUGH STRUCTURE AS FACTOR OF BREAD QUALITY FORMATION
Olga Shanina, Ivan Galyasnyj, Tetyana Gavrysh, Kateryna Dugina, Yuriy Sukhenko, Vladyslav Sukhenko, Natalia Miedviedieva, Mikhailo Mushtruk, Tatyana Rozbytska, Natalia Slobodyanyuk
Potravinarstvo Slovak Journal of Food Sciences, vol. 13, no. 1, 2019, p. 971-983
[abstract] doi: https://doi.org/10.5219/1201 [fulltext]
DETECTION OF MICROBIOTA IN THE VINEYARDS OF THE TOKAJ WINE REGION
Ivana Regecová, Slavomír Marcinčák, Jozef Nagy, Peter Popelka, Boris Semjon, Pavlina Jevinová, Monika Pipová, Martin Král, Marián Kovalčík
Potravinarstvo Slovak Journal of Food Sciences, vol. 13, no. 1, 2019, p. 984-992
[abstract] doi: https://doi.org/10.5219/1246 [fulltext]
PLUM (PRUNUS ROSSICA EREM.) FRUIT FIELD AND LABORATORY RESEARCES DEPENDING ON THE SCION-STOCK COMBINATIONS
Svetlana Motyleva, Galina Upadysheva, Ivan Kulikov, Mikhail Upadyshev, Sergey Medvedev, Dariya Panischeva
Potravinarstvo Slovak Journal of Food Sciences, vol. 13, no. 1, 2019, p. 993-1000
[abstract] doi: https://doi.org/10.5219/1208 [fulltext]
KEY FACTORS AFFECTING CONSUMPTION OF MEAT AND MEAT PRODUCTS FROM PERSPECTIVE OF SLOVAK CONSUMERS
Kristína Predanocyová, Ľubica Kubicová, Zdenka Kádeková, Ingrida Košičiarová
Potravinarstvo Slovak Journal of Food Sciences, vol. 13, no. 1, 2019, p. 1001-1012
[abstract] doi: https://doi.org/10.5219/1198 [fulltext]
RURAL PRODUCTION OF TROPICALLY ADAPTED BREEDS OF CHICKENS IN RURAL AREAS OF KWARA STATE, NIGERIA
Olayinka Alabi, Ayoola Shoyombo, Segun Jegede, Olarewaju Oluba, Oghenerobor Akpor
Potravinarstvo Slovak Journal of Food Sciences, vol. 13, no. 1, 2019, p. 1013-1017
[abstract] doi: https://doi.org/10.5219/1199 [fulltext]
VEGETABLE INGREDIENT IN CHEESE PRODUCT
Marina Ivanovna Slozhenkina, Ivan Fiodorovich Gorlov, Vera Vasilievna Kryuchkova, Anastasia Evgenievna Serkova, Anastasia Dmitrievna Ryaskova, Svetlana Nikolaevna Belik
Potravinarstvo Slovak Journal of Food Sciences, vol. 13, no. 1, 2019, p. 1018-1025
[abstract] doi: https://doi.org/10.5219/1207 [fulltext]
ANTIBACTERIAL AND ANTIOXIDANT POTENTIALS OF LEAVE EXTRACTS OF HELIANTHUS ANNUUS
Oghenerobor Akpor, Tomilola Olaolu, Damilare Rotimi
Potravinarstvo Slovak Journal of Food Sciences, vol. 13, no. 1, 2019, p. 1026-1033
[abstract] doi: https://doi.org/10.5219/1228 [fulltext]
THE IMPACT OF INAPPROPRIATE FOOD ADVERTISING ON CONSUMER BEHAVIOR
Zdenka Kádeková, Ingrida Košičirová, Mária Holotová, Ľubica Kubicová, Kristína Predanocyová
Potravinarstvo Slovak Journal of Food Sciences, vol. 13, no. 1, 2019, p. 1034-1039
[abstract] doi: https://doi.org/10.5219/1216 [fulltext]
INVESTORS´ DECISION ON THE CONTEXT OF THE EFFECTIVE TAXATION OF AGRICULTURAL COMPANIES
Alena Andrejovská, Veronika Konečná
Potravinarstvo Slovak Journal of Food Sciences, vol. 13, no. 1, 2019, p. 1040-1050
[abstract] doi: https://doi.org/10.5219/1223 [fulltext]
AUTHENTICATION AND PREFERENCE MAPPING OF HAM
Lucia Benešová, Jozef Golian, Patrícia Martišová, Boris Semjon, Peter Zajác, Jozef Čapla, Tomáš Vĺčko
Potravinarstvo Slovak Journal of Food Sciences, vol. 13, no. 1, 2019, p. 1051-1056
[abstract] doi: https://doi.org/10.5219/1263 [fulltext]
Volume 12 Potravinarstvo Slovak Journal of Food Sciences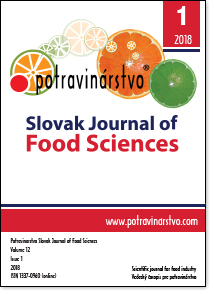 Vol. 12, No. 1/2018, All articles [PDF]
PUBLISHED: 11. February 2018
THE EFFECT OF UV-C IRADIATION ON GRAPE JUICE TURBIDITY, SENSORIC PROPERTIES AND MICROBIAL COUNT
Peter Czako, Peter Zajác, Jozef Čapla, Vladimír Vietoris, Lenka Maršálková, Jozef Čurlej, Ľubomír Belej, Jozef Golian, Lucia Benešová, Patrícia Martišová
Potravinarstvo Slovak Journal of Food Sciences, vol. 12, no. 1, 2018, p. 1-10
[abstract] doi: https://doi.org/10.5219/856 [fulltext]
ANTIOXIDANT PROPERTIES OF CUMIN (BUNIUM PERSICUM BOISS.) EXTRACT AND ITS PROTECTIVE ROLE AGAINST ULTRASOUND-INDUCED OXIDATIVE STRESS TESTED BY MICRORNA BASED MARKERS
Katarína Ražná, Nishonoy Khasanova, Eva Ivanišová, Davranov Qahramon, Miroslav Habán
Potravinarstvo Slovak Journal of Food Sciences, vol. 12, no. 1, 2018, p. 11-19
[abstract] doi: https://doi.org/10.5219/838 [fulltext]
CONSTITUENTS OF THE ESSENTIAL OIL IN SOLIDAGO CANADENSIS L. FROM EURASIA
Olga Shelepova, Yulia Vinogradova, Boris Zaitchik, Alexander Ruzhitsky, Olga Grygorieva, Ján Brindza
Potravinarstvo Slovak Journal of Food Sciences, vol. 12, no. 1, 2018, p. 20-25
[abstract] doi: https://doi.org/10.5219/847 [fulltext]
ASSESSMENT OF THE PHYSICOCHEMICAL AND BACTERIOLOGICAL QUALITIES OF NONO – A FERMENTED COW MILK
Pius Abimbola Okiki, Comfort Adetutu Adeniji, Oluwadunsin Adedeji Oyetunji, Omosolape Aminat Yusuf, Omolara A. Peters
Potravinarstvo Slovak Journal of Food Sciences, vol. 12, no. 1, 2018, p. 26-32
[abstract] doi: https://doi.org/10.5219/839 [fulltext]
INFLUENCE OF MILK THISTLE PRESSED PARTS ON RATS LIVER HISTOLOGY
Hana Dočkalová, Pavel Horký, Ladislav Zeman, Jiří Skládanka
Potravinarstvo Slovak Journal of Food Sciences, vol. 12, no. 1, 2018, p. 33-39
[abstract] doi: https://doi.org/10.5219/864 [fulltext]
TIBIA MINERALIZATION OF CHICKENS DETERMINED TO MEAT PRODUCTION USING A MICROBIAL PHYTASE
Mária Angelovičová, Martin Mellen, Peter Zajác, Jozef Čapla, and Marek Angelovič
Potravinarstvo Slovak Journal of Food Sciences, vol. 12, no. 1, 2018, p. 40-49
[abstract] doi: https://doi.org/10.5219/805 [fulltext]
EFECT OF SORBITOL ON DOUGH RHEOLOGY AND QUALITY OF SUGAR REPLACED COOKIES
Majid Majeed, Muhammad Ahsan Mahmood, Muhammad Usman Khan, Mohammad Fazel, Mohammad Ali Shariati
Potravinarstvo Slovak Journal of Food Sciences, vol. 12, no. 1, 2018, p. 50-56
[abstract] doi: https://doi.org/10.5219/709 [fulltext]
TOTAL PHOSPHORUS, PHYTATE PHOSPHORUS CONTENTS AND THE CORRELATION OF PHYTATES WITH AMYLOSE IN SELECTED EDIBLE BEANS IN SRI LANKA
Keerthana Sivakumaran, Jagath Wansapala, Theja Herath
Potravinarstvo Slovak Journal of Food Sciences, vol. 12, no. 1, 2018, p. 57-62
[abstract] doi: https://doi.org/10.5219/812 [fulltext]
COMPARISON OF RHEOLOGICAL PROPERTIES OF VARIETAL GRAPE SEED OILS
Patrik Burg, Petr Trávníček, Vladimír Mašán, Kazimierz Rutkowski, Vladimir Višacki
Potravinarstvo Slovak Journal of Food Sciences, vol. 12, no. 1, 2018, p. 63-69
[abstract] doi: https://doi.org/10.5219/816 [fulltext]
EVALUATION OF ANTIOXIDANT POTENTIALS OF DIFFERENT SOLVENT-FRACTIONS OF DIALIUM INDIUM (AFRICAN BLACK VELVET TAMARIND) FRUIT PULP – IN VITRO
Afolabi Olakunle Bamikole, Oloyede Omotade Ibidun, Obajuluwa Adejoke Ibitayo, Adewale Olusola Bolaji, Olayide Isreal Idowu, Balogun Bosede Damilola, Fadugba Abimbola, Obafemi Tajudeen Olabisi, Awe Obabiolorunkosi Joseph, Adewumi Funmilayo
Potravinarstvo Slovak Journal of Food Sciences, vol. 12, no. 1, 2018, p. 70-78
[abstract] doi: https://doi.org/10.5219/825 [fulltext]
HEATING AND DEHYDRATION OF GRAIN AND CEREALS AT A COMBINED ENERGY SUPPLY
Zverev, Otari Sesikashvili
Potravinarstvo Slovak Journal of Food Sciences, vol. 12, no. 1, 2018, p. 79-90
[abstract] doi: https://doi.org/10.5219/840 [fulltext]
QUANTITATIVE AND QUALITATIVE PARAMETERS IN ACORN SQUASH CULTIVAR IN THE CONDITIONS OF THE SLOVAK REPUBLIC
Miroslav Šlosár, Ivana Mezeyová, Alžbeta Hegedűsová, Ondrej Hegedűs
Potravinarstvo Slovak Journal of Food Sciences, vol. 12, no. 1, 2018, p. 91-98
[abstract] doi: https://doi.org/10.5219/851 [fulltext]
DEVELOPMENT AND CHARACHTERIZATION OF BARLEY SUPLLEMENTED FLAVORED CHAPATTIS
Zanib Arshid, Majid Majeed, Imran Pasha, Muhammad Usman Khan, Mohammad Ali Shariati, Igor Pigorev
Potravinarstvo Slovak Journal of Food Sciences, vol. 12, no. 1, 2018, p. 99-107
[abstract] doi: https://doi.org/10.5219/716 [fulltext]
PUBLISHED: 21. March 2018
BACTERIA AND YEASTS ISOLATED FROM DIFFERENT GRAPE VARIETIES
Miroslava Kačániová, Margarita Terentjeva, Soňa Felsöciová, Eva Ivanišová, Simona Kunová, Jana Žiarovská, Maciej Kluz, Pawel Hanus, Czeslaw Puchalski, Attila Kántor
Potravinarstvo Slovak Journal of Food Sciences, vol. 12, no. 1, 2018, p. 108-115
[abstract] doi: https://doi.org/10.5219/878 [fulltext]
IMPACT OF SOMATIC CELL COUNT AND LAMENESS ON THE PRODUCTION AND COMPOSITION OF EWE'S MILK
Štefan Baranovič, Vladimír Tančin, Kristína Tvarožková, Michal Uhrinčať, Lucia Mačuhová, Jozef Palkovič
Potravinarstvo Slovak Journal of Food Sciences, vol. 12, no. 1, 2018, p. 116-122
[abstract] doi: https://doi.org/10.5219/900 [fulltext]
RHEOLOGICAL BEHAVIOUR OF CHOCOLATE AT DIFFERENT TEMPERATURES
Vojtěch Kumbár, Šárka Nedomová, Sylvie Ondrušíková, Adam Polcar
Potravinarstvo Slovak Journal of Food Sciences, vol. 12, no. 1, 2018, p. 123-128
[abstract] doi: https://doi.org/10.5219/876 [fulltext]
ADDITION OF RUTIN/QUERCETIN MIXTURE TO SPREADABLE PROCESSED CHEESE: ANTIOXIDANT AND TEXTURAL CHARACTERISTICS
Libor Červenka, Tomáš Hájek, Richardos Nikolaos Salek, Michaela Černíková, Helena Velichová, František Buňka
Potravinarstvo Slovak Journal of Food Sciences, vol. 12, no. 1, 2018, p. 129-134
[abstract] doi: https://doi.org/10.5219/872 [fulltext]
SQUARE WAVE VOLTAMMETRY AT CARBON PASTE ELECTRODE MODIFIED WITH SURFACTANT FOR ALPHA TOCOPHERYL ACETATE DETERMINATION IN COSMETICS
Simona Žabčíková, Arlinda Nallbani, Milan Sýs, Tomáš Mikysek, Libor Červenka
Potravinarstvo Slovak Journal of Food Sciences, vol. 12, no. 1, 2018, p. 135-142
[abstract] doi: https://doi.org/10.5219/881[fulltext]
GENETIC DIVERSITY AND POPULATION STRUCTURE IN TUNISIAN CASTOR GENOTYPES (RICINUS COMMUNIS L.) DETECTED USING SCOT MARKERS
Martin Vivodík, Ezzeddine Saadaoui, Želmíra Balážová, Zdenka Gálová, Lenka Petrovičová
Potravinarstvo Slovak Journal of Food Sciences, vol. 12, no. 1, 2018, p. 143-149
[abstract] doi: https://doi.org/10.5219/873 [fulltext]
COMPARISON OF THE CONTENT OF SELECTED MINERAL SUBSTANCES IN CZECH LITURGICAL AND COMMON WINES
Jiří Mlček, Sabina Trágeová, Anna Adámková, Martin Adámek, Martina Bednářová, Soňa Škrovánková, Eva Sedláčková
Potravinarstvo Slovak Journal of Food Sciences, vol. 12, no. 1, 2018, p. 150-156
[abstract] doi: https://doi.org/10.5219/901 [fulltext]
STUDY OF POLYMORPHISM OF MAIZE USING DNA AND PROTEIN MARKERS
Martin Vivodík, Želmíra Balážová, Zdenka Gálová, Lenka Petrovičová
Potravinarstvo Slovak Journal of Food Sciences, vol. 12, no. 1, 2018, p. 157-165
[abstract] doi: https://doi.org/10.5219/874 [fulltext]
VOLTAMMETRIC DETERMINATION OF CHOLECALCIFEROL AT GLASSY CARBON ELECTRODE PERFORMED IN WATER ETHANOL MIXTURE
Arlinda Nallbani, Julie Holubová, Milan Sýs, Tahir Arbneshi, Karel Vytřas
Potravinarstvo Slovak Journal of Food Sciences, vol. 12, no. 1, 2018, p. 166-172
[abstract] doi: https://doi.org/10.5219/889 [fulltext]
EVALUATION OF QUANTITATIVE AND QUALITATIVE CHARACTERISTICS OF SELECTED CELERY (APIUM GRAVEOLENS VAR. DULCE) VARIETIES IN THE CONTEXT OF JUICES PRODUCTION
Ivana Mezeyová, Alžbeta Hegedűsová, Ján Mezey, Miroslav Šlosár, Ján Farkaš
Potravinarstvo Slovak Journal of Food Sciences, vol. 12, no. 1, 2018, p. 173-179
[abstract] doi: https://doi.org/10.5219/883 [fulltext]
INTERACTION OF POLYPHENOLS AND WINE ANTIOXIDANTS WITH ITS SULFUR DIOXIDE PRESERVATIVE
Lukáš Snopek, Jiří Mlček, Vlastimil Fic, Irena Hlaváčová, Soňa Škrovánková, Miroslav Fišera, Helena Velichová, Monika Ondrášová
Potravinarstvo Slovak Journal of Food Sciences, vol. 12, no. 1, 2018, p. 180-185
[abstract] doi: https://doi.org/10.5219/899 [fulltext]
EFFECT OF ADDITIVES TO MICROBIOLOGICAL QUALITY OF YOGURTS
Roman Pytel, Olga Cwiková, Sylvie Ondrušíková, Šárka Nedomová, Vojtěch Kumbár
Potravinarstvo Slovak Journal of Food Sciences, vol. 12, no. 1, 2018, p. 186-194
[abstract] doi: https://doi.org/10.5219/886 [fulltext]
UTILIZATION OF PUMPKIN POWDER IN BAKED ROLLS
Lucia Minarovičová, Michaela Lauková, Jolana Karovičová, Zlatica Kohajdová
Potravinarstvo Slovak Journal of Food Sciences, vol. 12, no. 1, 2018, p. 195-201
[abstract] doi: https://doi.org/10.5219/887 [fulltext]
THERMO-MECHANICAL PROPERTIES OF DOUGH ENRICHED WITH WHEAT BRAN FROM DIFFERENT WHEAT VARIETY
Michaela Lauková, Jolana Karovičová, Zlatica Kohajdová, Lucia Minarovičová
Potravinarstvo Slovak Journal of Food Sciences, vol. 12, no. 1, 2018, p. 202-208
[abstract] doi: https://doi.org/10.5219/888 [fulltext]
EFFECT OF DIFFERENT REVERSE TRANSCRIPTION APROACHES IN Pru p 3 TRANSCRIPTS SEMIQUANTITATIVE AMPLIFICATION
Jana Žiarovská, Matúš Kyseľ, Lucia Zeleňáková, Eloy Fernadéz Cusimamani
Potravinarstvo Slovak Journal of Food Sciences, vol. 12, no. 1, 2018, p. 209-215
[abstract] doi: https://doi.org/10.5219/891 [fulltext]
INFLUENCE OF COMPOSITION OF FEED AND LACTATION PERIOD ON MINERAL COMPOSITION OF MARE'S
Miroslav Fišera, Pavel Valášek, Stanislav Kráčmar, Vlastimil Kubáň, Pavla Burešová, Helena Velichová, Lenka Fišerová
Potravinarstvo Slovak Journal of Food Sciences, vol. 12, no. 1, 2018, p. 216-225
[abstract] doi: https://doi.org/10.5219/894 [fulltext]
A THAUMATIN-LIKE GENOMIC SEQUENCE IDENTIFICATION IN VITIS VINIFERA L., STORMY WINES AND MUSTS BASED ON DIRECT PCR
Jana Žiarovská, Lucia Zeleňáková, Eloy Fernández Cusimamani, Miroslava Kačániová
Potravinarstvo Slovak Journal of Food Sciences, vol. 12, no. 1, 2018, p. 226-232
[abstract] doi: https://doi.org/10.5219/892 [fulltext]
THE QUALITY OF KETCHUPS FROM THE CZECH REPUBLIC'S MARKET IN TERMS OF THEIR PHYSICO-CHEMICAL PROPERTIES
Pavel Diviš, Jiří Smilek, Jaromír Pořízka, Václav Štursa
Potravinarstvo Slovak Journal of Food Sciences, vol. 12, no. 1, 2018, p. 233-240
[abstract] doi: https://doi.org/10.5219/898 [fulltext]
CONTENT OF ENDOGENOUS SULFUR DIOXIDE IN WINES
Vlastimil Kubáň, Vlastimil Fic, Petr Marcinčák, Stanislav Kráčmar, Jozef Golian
Potravinarstvo Slovak Journal of Food Sciences, vol. 12, no. 1, 2018, p. 241-247
[abstract] doi: https://doi.org/10.5219/854 [fulltext]
EFFECT OF DIFFERENT STORAGE CONDITIONS ON THE MICROBIOLOGICAL CHARACTERISTICS OF INSECT
Martin Adámek, Jiří Mlček, Anna Adámková, Jiřina Suchánková, Magda Janalíková, Marie Borkovcová, Martina Bednářová
Potravinarstvo Slovak Journal of Food Sciences, vol. 12, no. 1, 2018, p. 248-253
[abstract] doi: https://doi.org/10.5219/910 [fulltext]
CHARACTERISTICS OF PAPRIKA SAMPLES OF DIFFERENT GEOGRAPHICAL ORIGIN
Václav Štursa, Pavel Diviš, Jaromír Pořízka
Potravinarstvo Slovak Journal of Food Sciences, vol. 12, no. 1, 2018, p. 254-261
[abstract] doi: https://doi.org/10.5219/902 [fulltext]
STUDY ON THE MEAT ISOTOPIC COMPOSITION FOR ORIGIN IDENTIFICATION
Irina Chernukha, ZoyaYurchak, Elena Kuzmina
Potravinarstvo Slovak Journal of Food Sciences, vol. 12, no. 1, 2018, p. 262-266
[abstract] doi: https://doi.org/10.5219/906 [fulltext]
POLYPHENOLS AND ANTIOXIDANT CAPACITY IN DIFFERENT TYPES OF GARLIC
Soňa Škrovánková, Jiří Mlček, Lukáš Snopek, Tereza Planetová
Potravinarstvo Slovak Journal of Food Sciences, vol. 12, no. 1, 2018, p. 267-272
[abstract] doi: https://doi.org/10.5219/895 [fulltext]
DEVELOPMENT OF RESISTANCE TO ANTIBIOTICS IN BACTERIA STAPHYLOCOCCUS SPP. ISOLATED FROM MILK SAMPLES IN THE SHEEP BREEDINGS ON EAST OF SLOVAKIA
Milan Vasiľ, Juraj Elečko, Zuzana Farkašová, Fratišek Zigo
Potravinarstvo Slovak Journal of Food Sciences, vol. 12, no. 1, 2018, p. 273-278
[abstract] doi: https://doi.org/10.5219/904 [fulltext]
EVALUATION OF SELECTED QUALITY PARAMETERS OF REDUCED SALT FRANKFURTERS
Miroslav Jůzl, Alena Saláková, Martina Müllerová, Klára Kozohorská
Potravinarstvo Slovak Journal of Food Sciences, vol. 12, no. 1, 2018, p. 279-284
[abstract] doi: https://doi.org/10.5219/908 [fulltext]
MASTITIS PATHOGENS AND THEIR RESISTANCE AGAINST ANTIMICROBIAL AGENTS IN HERDS OF DAIRY COWS SITUATED IN MARGINAL PARTS OF SLOVAKIA
Fratišek Zigo, Milan Vasiľ, Juraj Elečko, Martina Zigová, Zuzana Farkašová
Potravinarstvo Slovak Journal of Food Sciences, vol. 12, no. 1, 2018, p. 285-291
[abstract] doi: https://doi.org/10.5219/905 [fulltext]
BIOGENIC AMINES CONTENT IN THE FERMENTED ASIAN FOOD IN THE CZECH REPUBLIC
Pavel Pleva, Veronika Cabáková, Irena Butor, Vendula Pachlová, Leona Buňková
Potravinarstvo Slovak Journal of Food Sciences, vol. 12, no. 1, 2018, p. 292-298
[abstract] doi: https://doi.org/10.5219/896 [fulltext]
PUBLISHED: 24. April 2018
SAUVIGNON WINE QUALITY AS AFFECTED BY ITS PROCESSING AND STORAGE
Martina Fikselova, Peter Czako, Ján Gažo, Andrea Mendelová, Martin Mellen
Potravinarstvo Slovak Journal of Food Sciences, vol. 12, no. 1, 2018, p. 299-303
[abstract] doi: https://doi.org/10.5219/885 [fulltext]
GARLIC CHARACTERIZATION OF ESCHERICHIA COLI STRAINS ISOLATED FROM RAW VEGETABLES
Magda Janalíková, Pavel Pleva, Silvie Pavlíčková, Martin Lecomte, Tanguy Godillon, Ivan Holko
Potravinarstvo Slovak Journal of Food Sciences, vol. 12, no. 1, 2018, p. 304-312
[abstract] doi: https://doi.org/10.5219/897 [fulltext]
FOOD SAFETY FROM CONSUMER PERSPECTIVE: HEALTH SAFETY
Jozef Golian, Ľudmila Nagyová, Alexandra Andocsová, Peter Zajác, Jozef Palkovič
Potravinarstvo Slovak Journal of Food Sciences, vol. 12, no. 1, 2018, p. 313-322
[abstract] doi: https://doi.org/10.5219/917 [fulltext]
ANTIOXIDANT ACTIVITY OF TOKAJ ESSENCE
Zuzana Eftimová, Jarmila Eftimová, Ľudmila Balážová
Potravinarstvo Slovak Journal of Food Sciences, vol. 12, no. 1, 2018, p. 323-329
[abstract] doi: https://doi.org/10.5219/829 [fulltext]
MINERAL COMPOSITION OF AMARANTH (AMARANTHUS L.) SEEDS OF VEGETABLE AND GRAIN USAGE BY ARHIVBSP SELECTION
Мurat Gins, Valentina Gins, Svetlana Mотyleva, Ivan Kulikov, Sergei Mеdvedev, Petr Kononkov, Viktor Pivovarov
Potravinarstvo Slovak Journal of Food Sciences, vol. 12, no. 1, 2018, p. 330-336
[abstract] doi: https://doi.org/10.5219/863 [fulltext]
INHIBITORY EFFECT OF AQUEOUS EXTRACTS OF RAW AND ROASTED SESAMUM INDICUM L. SEEDS ON KEY ENZYMES LINKED TO TYPE-2 DIABETES (α-AMYLASE AND α-GLUCOSIDASE) AND ALZHEIMER'S DISEASE (ACETYLCHOLINESTERASE AND BUTYRYLCHOLINESTERASE)
Justina Talabi, Sekinat Adeyemi, Sefunmi Awopetu, Basiru Olaitan Ajiboye, Oluwafemi Adeleke Ojo
Potravinarstvo Slovak Journal of Food Sciences, vol. 12, no. 1, 2018, p. 337-346
[abstract] doi: https://doi.org/10.5219/866 [fulltext]
PHYSICO-CHEMICAL STUDY OF FLAVONOIDS FROM DIFFERENT MATURENESS CORN SILK MATERIAL
Peng Li, Lubomír Lapčík, Barbora Lapčíková, Sergii Kalytchuk
Potravinarstvo Slovak Journal of Food Sciences, vol. 12, no. 1, 2018, p. 347-354
[abstract] doi: https://doi.org/10.5219/869 [fulltext]
FOOD SAFETY FROM A CONSUMERS´POINT OF VIEW: FOOD QUALITY
Ľudmila Nagyová, Jozef Golian, Andrej Géci, Jozef Palkovič, Jozef Čapla, Zdenka Kádeková
Potravinarstvo Slovak Journal of Food Sciences, vol. 12, no. 1, 2018, p. 355-363
[abstract] doi: https://doi.org/10.5219/918 [fulltext]
COMPARING THE QUALITY OF HONEY FROM BEEKEEPERS AND HONEY FROM THE MARKET CHAIN
Milena Bušová, Lenka Kouřimská
Potravinarstvo Slovak Journal of Food Sciences, vol. 12, no. 1, 2018, p. 364-371
[abstract] doi: https://doi.org/10.5219/909 [fulltext]
THERMAL AGING OF EDIBLE OILS: SPECTROPHOTOMETRIC STUDY
Barbora Lapčíková, Tomáš Valenta, Lubomír Lapčík, Martina Fuksová
Potravinarstvo Slovak Journal of Food Sciences, vol. 12, no. 1, 2018, p. 372-378
[abstract] doi: https://doi.org/10.5219/871 [fulltext]
FUNGAL DIVERSITY IN THE GRAPES-TO-WINES CHAIN WITH EMPHASIS ON PENICILLIUM SPECIES
Soňa Felšöciová, Zuzana Mašková, Miroslava Kačániová
Potravinarstvo Slovak Journal of Food Sciences, vol. 12, no. 1, 2018, p. 379-386
[abstract] doi: https://doi.org/10.5219/882 [fulltext]
WHEAT FLOUR, BREAD AND BISCUITS ENRICHED BY LINSEED FIBRE – COMPARISON OF HARVEST YEAR, LINSEED VARIETY AND ADDITION LEVEL
Marie Hrušková, Ivan Švec
Potravinarstvo Slovak Journal of Food Sciences, vol. 12, no. 1, 2018, p. 387-396
[abstract] doi: https://doi.org/10.5219/870 [fulltext]
GLOBAL RHEOLOGICAL APPROACH TO THE QUALITY OF THE ROLLERS PUMPING OF DOUGH
Igor Stadnyk, Larysa Novak, Liudmyla Matenchuk
Potravinarstvo Slovak Journal of Food Sciences, vol. 12, no. 1, 2018, p. 397-404
[abstract] doi: https://doi.org/10.5219/867 [fulltext]
GARLIC (ALLIUM SATIVUM L.) – THE CONTENT OF BIOACTIVE COMPOUNDS
Marianna Lenková, Judita Bystrická, Peter Chlebo, Ján Kovarovič
Potravinarstvo Slovak Journal of Food Sciences, vol. 12, no. 1, 2018, p. 405-412
[abstract] doi: https://doi.org/10.5219/830 [fulltext]
IN VITRO ANTIOXIDANT POTENTIAL AND INHIBITORY EFFECT OF HYDRO-ETHANOLIC EXTRACT FROM AFRICAN BLACK VELVET TAMARIND (DIALIUM INDIUM) PULP ON TYPE 2 DIABETES LINKED ENZYMES
Olakunle Bamikole Afolabi, Omotade Ibidun Oloyede, Abiodun Ayodele Ojo, Amos Adeyinka Onansanya, Shadrach Oludare Agunbiade, Bashir Olaitan Ajiboye, Johnson Jonathan, Omolara Abosede Peters
Potravinarstvo Slovak Journal of Food Sciences, vol. 12, no. 1, 2018, p. 413-421
[abstract] doi: https://doi.org/10.5219/911 [fulltext]
ANTIOXIDANT, COMPOSITIONAL EVALUATION AND BLOOD PRESSURE MODULATING POTENTIALS OF BRYOPHYLLUM PINNATUM (LAM.), VISCUM ALBUM (L.) AND ARTOCARPUS ALTILIS (PARKINSON) LEAVE EXTRACTS
Oluronke Ruth Osunlana, Muibat Olabisi Bello, Jonathan Abidemi Johnson, Olakunle Bamikole Afolabi
Potravinarstvo Slovak Journal of Food Sciences, vol. 12, no. 1, 2018, p. 422-430
[abstract] doi: https://doi.org/10.5219/912 [fulltext]
ACCEPTABILITY AND SENSORY EVALUATION OF ENERGY BARS AND PROTEIN BARS ENRICHED WITH EDIBLE INSECT
Martin Adámek, Anna Adámková, Jiří Mlček, Marie Borkovcová, Martina Bednářová
Potravinarstvo Slovak Journal of Food Sciences, vol. 12, no. 1, 2018, p. 431-437
[abstract] doi: https://doi.org/10.5219/925 [fulltext]
MICROSCOPIC FUNGI ISOLATED FROM DIFFERENT SLOVAK GRAPE VARIETIES
Simona Kunová, Attila Kántor, Margarita Terentjeva, Soňa Felsöciová, Eva Ivanišová, Maciej Kluz, Pawel Hanus, Czeslaw Puchalski, Miriam Kádasi Horáková, Miroslava Kačániová
Potravinarstvo Slovak Journal of Food Sciences, vol. 12, no. 1, 2018, p. 438-443
[abstract] doi: https://doi.org/10.5219/893 [fulltext]
PUBLISHED: 29. May 2018
THE MORPHOLOGICAL AND ANTIOXIDANT CHARACTERISTICS OF INFLORESCENCES WITHIN WILD-GROWING GENOTYPES OF ELDERBERRY (SAMBUCUS NIGRA L.)
Vladimíra Horčinová Sedláčková, Olga Grygorieva, Katarína Fatrcová-Šramková, Olena Vergun, Yulia Vinogradova, Eva Ivanišová, Ján Brindza
Potravinarstvo Slovak Journal of Food Sciences, vol. 12, no. 1, 2018, p. 444-453
[abstract] doi: https://doi.org/10.5219/919 [fulltext]
OCCURRENCE OF SELECTED METALS IN FEED AND SHEEP´S MILK FROM AREAS WITH DIFFERENT ENVIRONMENTAL BURDEN
Martina Tunegová, Róbert Toman, Vladimír Tančin, Martin Janíček
Potravinarstvo Slovak Journal of Food Sciences, vol. 12, no. 1, 2018, p. 454-460
[abstract] doi: https://doi.org/10.5219/920 [fulltext]
VICIA VILLOSA PROTEIN ISOLATE: A NEW SOURCE OF PROTEIN TO MAKE A BIODEGRADABLE FILM
Farnaz Rezaiyan Attar, Fatemeh Rezagholi, Mohammad Ali Hesarinejad
Potravinarstvo Slovak Journal of Food Sciences, vol. 12, no. 1, 2018, p. 461-471
[abstract] doi: https://doi.org/10.5219/913 [fulltext]
SOFTWARE SUPPORT FOR COST CALCULATION – APPLICATION TO THE AGRICULTURAL SECTOR
Lenka Hudáková Stašová
Potravinarstvo Slovak Journal of Food Sciences, vol. 12, no. 1, 2018, p. 472-486
[abstract] doi: https://doi.org/10.5219/865 [fulltext]
CHICORY SYRUP AS A SUBSTITUTION OF SUGAR IN FINE PASTRY
Michaela Zacharová, Iva Burešová, Robert Gál, Dominika Walachová
Potravinarstvo Slovak Journal of Food Sciences, vol. 12, no. 1, 2018, p. 487-490
[abstract] doi: https://doi.org/10.5219/890 [fulltext]
PUBLISHED: 14. July 2018
EFFECT OF ESSENTIAL OILS OF LAMIACEAE PLANTS ON THE RHIZOPUS SPP.
Dana Tančinová, Zuzana Mašková, Denisa Foltinová, Jana Štefániková, Július Árvay
Potravinarstvo Slovak Journal of Food Sciences, vol. 12, no. 1, 2018, p. 491-498
[abstract] doi: https://doi.org/10.5219/921 [fulltext]
PROTEIN QUALITY CHICKEN MEAT AFTER FEEDING WITH ACTIVE SUBSTANCES OF CITRUS FRUITS AND DICLAZURIL AND SALINOMYCIN SODIUM
Mária Angelovičová, Ondřej Bučko, Marek Angelovič, Peter Zajác, Jozef Čapla, Marek Šnirc,Jana Tkáčová, Michaela Klimentová
Potravinarstvo Slovak Journal of Food Sciences, vol. 12, no. 1, 2018, p. 499-511
[abstract] doi: https://doi.org/10.5219/915 [fulltext]
MODELING OF UREASE THERMAL INACTIVATION PROCESSES IN SOYBEAN AT HIGH-TEMPERATURE MICRONIZATION
Sergey Zverev, Otari Sesikashvili
Potravinarstvo Slovak Journal of Food Sciences, vol. 12, no. 1, 2018, p. 512-519
[abstract] doi: https://doi.org/10.5219/940 [fulltext]
DETERMINATION OF THE CARROT (DAUCUS CAROTA L.) YIELDS PARAMETERS BY VERMICOMPOST AND EARTHWORMS (EISENIA FOETIDA)
Peter Kováčik, Peter Šalamún, Sylwester Smoleń, Petr Škarpa, Vladimír Šimanský, Ľuboš Moravčík
Potravinarstvo Slovak Journal of Food Sciences, vol. 12, no. 1, 2018, p. 520-526
[abstract] doi: https://doi.org/10.5219/946 [fulltext]
VARIATION OF FRUITS MORPHOMETRIC PARAMETERS OF ELAEAGNUS MULTIFLORA THUNB. GERMPLASM COLLECTION
Olga Grygorieva, Svitlana Klymenko, Antonia Ilinska, Ján Brindza
Potravinarstvo Slovak Journal of Food Sciences, vol. 12, no. 1, 2018, p. 527-532
[abstract] doi: https://doi.org/10.5219/922 [fulltext]
BIOCHEMICAL COMPOSITION OF SWEET CHERRY (PRYNUS AVIUM L.) FRUIT DEPENDING ON THE SCION-STOCK COMBINATIONS
Galina Upadysheva, Svetlana Motyleva, Ivan Kulikov, Sergei Medvedev, Mariia Mertvishcheva
Potravinarstvo Slovak Journal of Food Sciences, vol. 12, no. 1, 2018, p. 533-538
[abstract] doi: https://doi.org/10.5219/923 [fulltext]
PHYSICAL, THERMAL AND FUNCTIONAL PROPERTIES OF FLOUR DERIVED FROM UBI GEMBILI (DIOSCOREA ESCULENTA L.) TUBERS GROWN IN INDONESIA
Diah Susetyo Retnowati, Andri Cahyo Kumoro, Ratnawati Ratnawati
Potravinarstvo Slovak Journal of Food Sciences, vol. 12, no. 1, 2018, p. 539-545
[abstract] doi: https://doi.org/10.5219/937 [fulltext]
MOLECULAR ANALYSIS OF BUCKWHEAT USING GENE SPECIFIC MARKERS
Želmíra Balážová, Zdenka Gálová, Martin Vivodík, Milan Chňapek, Radomíra Hornyák Gregáňová
Potravinarstvo Slovak Journal of Food Sciences, vol. 12, no. 1, 2018, p. 546-552
[abstract] doi: https://doi.org/10.5219/954 [fulltext]
PUBLISHED: 10. August 2018
A STUDY OF THE QUALITY AND BIOLOGICAL VALUE OF MEAT OF DIFFERENT BREEDS OF RABBIT BRED IN GEORGIA
Dodo Tavdidishvili, Tsira Khutsidze, David Tsagareishvili
Potravinarstvo Slovak Journal of Food Sciences, vol. 12, no. 1, 2018, p. 553-559
[abstract] doi: https://doi.org/10.5219/934 [fulltext]
EFFECT OF DIFFERENT STORAGE TIMES ON JAPANESE QUAIL EGG QUALITY CHARACTERISTICS
Sylvie Ondrušíková, Šárka Nedomová, Roman Pytel, Olga Cwiková, Vojtěch Kumbár
Potravinarstvo Slovak Journal of Food Sciences, vol. 12, no. 1, 2018, p. 560-565
[abstract] doi: https://doi.org/10.5219/949 [fulltext]
HYPOLIPIDEMIC ACTION OF THE MEAT PRODUCT: IN VIVO STUDY
Irina Chernukha, Liliya Fedulova, Elena Kotenkova
Potravinarstvo Slovak Journal of Food Sciences, vol. 12, no. 1, 2018, p. 566-569
[abstract] doi: https://doi.org/10.5219/959 [fulltext]
EGGS AND THEIR CONSUMPTION AFFECTED BY THE DIFFERENT FACTORS OF PURCHASE
Dagmar Kozelová, Dana Országhová, Eva Matejková, Martina Fikselová, Elena Horská, Dominika Ďurdíková, Renata Matysik-Pejas
Potravinarstvo Slovak Journal of Food Sciences, vol. 12, no. 1, 2018, p. 570-577
[abstract] doi: https://doi.org/10.5219/944 [fulltext]
THE EFFECT OF EXPLANT, BAP AND 2,4-D ON CALLUS INDUCTION OF TRACHYSPERMUM AMMI
Bahman Fazeli-Nasab
Potravinarstvo Slovak Journal of Food Sciences, vol. 12, no. 1, 2018, p. 578-586
[abstract] doi: https://doi.org/10.5219/953 [fulltext]
ASSESSMENT OF THE FUNCTIONAL QUALITY AND SAFETY OF YOGHURTS PRODUCED WITH STARTER CULTURES OBTAINED FROM SELECTED COMMERCIALLY SOLD YOGHURTS
Oluwadunsin Adedeji Oyetunji, Kehinde Adedapo AdebisiI
Potravinarstvo Slovak Journal of Food Sciences, vol. 12, no. 1, 2018, p. 587-599
[abstract] doi: https://doi.org/10.5219/952 [fulltext]
RELATIONSHIP BETWEEN VISCOSITY AND SUGAR CONTENT OF MUST DURING RIPENING PERIOD OF GRAPES
Vojtěch Kumbár, Lubomír Lampíř, Sylvie Ondrušíková
Potravinarstvo Slovak Journal of Food Sciences, vol. 12, no. 1, 2018, p. 600-606
[abstract] doi: https://doi.org/10.5219/964 [fulltext]
FUNCTIONAL AND THERMAL PROPERTIES OF FLOUR OBTAINED FROM SUBMERGED FERMENTATION OF DURIAN (DURIO ZIBETHINUS MURR.) SEED CHIPS USING LACTOBACILLUS PLANTARUM
Andri Cahyo Kumoro, Jefri Pandu Hidayat
Potravinarstvo Slovak Journal of Food Sciences, vol. 12, no. 1, 2018, p. 607-614
[abstract] doi: https://doi.org/10.5219/965 [fulltext]
PUBLISHED: 28. September 2018
THE IMPORTANCE OF HIGHER ALCOHOLS AND ESTERS FOR SENSORY EVALUATION OF RHEINRIESLING AND CHARDONNAY WINE VARIETIES
Eva Sedláčková, Pavel Valášek, Jiří Mlček, Anna Adámková, Martin Adámek, Martina Pummerová
Potravinarstvo Slovak Journal of Food Sciences, vol. 12, no. 1, 2018, p. 615-621
[abstract] doi: https://doi.org/10.5219/969 [fulltext]
EFFECT OF TiO2 NANOPARTICLES IN THYME UNDER REDUCED IRRIGATION CONDITIONS
Bahman Fazeli-Nasab, Josep Antoni Rossello, Amir Mokhtarpour
Potravinarstvo Slovak Journal of Food Sciences, vol. 12, no. 1, 2018, p. 622-627
[abstract] doi: https://doi.org/10.5219/958 [fulltext]
CHANGES IN CHOSEN PROPERTIES OF SOFT CHEESES WITH CHILLI PEPPER DURING STORAGE
Margita Čanigová, Veronika Kaločaiová, Zuzana Remeňová, Viera Ducková, Miroslav Kročko, Ľudmila Nagyová
Potravinarstvo Slovak Journal of Food Sciences, vol. 12, no. 1, 2018, p. 628-633
[abstract] doi: https://doi.org/10.5219/971 [fulltext]
THE EFFECT OF FOLIAR FEEDING ON PHYSIOLOGICAL CONDITION OF APPLE TREES AND CHEMICAL CONTENT OF FRUITS
Valentina Popova, Olesya Yaroshenko, Natalya Sergeeva
Potravinarstvo Slovak Journal of Food Sciences, vol. 12, no. 1, 2018, p. 634-643
[abstract] doi: https://doi.org/10.5219/928 [fulltext]
THE EFFECT OF THE REGULAR CONSUMPTION OF LARD FROM FATS OF CROSSBREED MANGALITSA AND BREED OF MEAT TYPE PIG ON THE LIPID PROFILE OF CONSUMERS
Jana Mrázová, Ondřej Bučko, Martina Gažarová, Jana Kopčeková, Anna Kolesárová, Peter Chlebo
Potravinarstvo Slovak Journal of Food Sciences, vol. 12, no. 1, 2018, p. 644-649
[abstract] doi: https://doi.org/10.5219/957 [fulltext]
PHTHALIC ACID ESTERS CONTENT IN YOGHURT WITH CHIA FLOUR AND BAMBOO FIBER DURING STORAGE TIME
Marcela Jandlová, Lubomír Lampíř, Alžbeta Jarošová, Roman Pytel, Šárka Nedomová, Sylvie Ondrušíková, Vojtěch Kumbár
Potravinarstvo Slovak Journal of Food Sciences, vol. 12, no. 1, 2018, p. 650-656
[abstract] doi: https://doi.org/10.5219/968 [fulltext]
PUBLISHED: 29. October 2018
ASSESMENT OF MOLECULAR DIVERSITY OF INTERNAL TRANSCRIBED SPACER REGION IN SOME LINES AND LANDRACE OF PERSIAN CLOVER (TRIFOLIUM RESUPINATUM L.)
Sahar Ansari, Mahmood Solouki, Baratali Fakheri, Bahman Fazeli-Nasab, Nafiseh Mahdinezhad
Potravinarstvo Slovak Journal of Food Sciences, vol. 12, no. 1, 2018, p. 657-666
[abstract] doi: https://doi.org/10.5219/960 [fulltext]
BOVINE MUCOUS MEMBRANES AS A SOURCE OF ANTIMICROBIAL COMPOUNDS
Elena Kotenkova, Ekaterina Lukinova, Leonid Kovalyov
Potravinarstvo Slovak Journal of Food Sciences, vol. 12, no. 1, 2018, p. 667-672
[abstract] doi: https://doi.org/10.5219/976 [fulltext]
CONSUMER SENSORY EVALUATION OF HONEY ACROSS AGE COHORTS IN SLOVAKIA
Peter Šedík,Vladimíra Kňazovická, Elena Horská, Miroslava Kačániová
Potravinarstvo Slovak Journal of Food Sciences, vol. 12, no. 1, 2018, p. 673-679
[abstract] doi: https://doi.org/10.5219/938 [fulltext]
PHENOLIC CONTENT AND ANTIOXIDANT ACTIVITY OF VARIETY GRAPES FROM KURDISTAN IRAQ
Dalaram Ismael
Potravinarstvo Slovak Journal of Food Sciences, vol. 12, no. 1, 2018, p. 680-686
[abstract] doi: https://doi.org/10.5219/979 [fulltext]
ALTERATION OF BIOCHEMICAL PARAMETERS AND MICROSTRUCTURE OF FAGOPYRUM ESCULENTUM MOENCH GRAIN IN PROCESS OF GERMINATION
Elena Kuznetsova, Elena Klimova, Tatyana Bychkova, Vladislav Zomitev, Svetlana Motyleva, Jan Brindza
Potravinarstvo Slovak Journal of Food Sciences, vol. 12, no. 1, 2018, p. 687-693
[abstract] doi: https://doi.org/10.5219/932 [fulltext]
CHEMICAL COMPOSITION OF CHICKEN MEAT AFTER APPLICATION OF HUMIC ACID AND PROBIOTIC LACTOBACILLUS FERMENTUM
Peter Haščík, Henrieta Arpášová, Adriana Pavelková, Marek Bobko, Juraj Čuboň, Ondřej Bučko
Potravinarstvo Slovak Journal of Food Sciences, vol. 12, no. 1, 2018, p. 694-700
[abstract] doi: https://doi.org/10.5219/943 [fulltext]
CHARACTERIZATION OF TUNISIAN CASTOR BEAN GENOTYPES USING SDS-PAGE OF TOTAL SEED STORAGE PROTEINS
Martin Vivodík, Ezzeddine Saadaoui, Želmíra Balážová, Zdenka Gálová, Lenka Petrovičová
Potravinarstvo Slovak Journal of Food Sciences, vol. 12, no. 1, 2018, p. 701-706
[abstract] doi: https://doi.org/10.5219/973 [fulltext]
MAPPING AND DEVELOPMENT STRATEGY OF PEMPEK — A SPECIALTY TRADITIONAL FOOD OF SOUTH SUMATRA, INDONESIA
Agus Supriadi, Daniel Saputra, Gatot Priyanto, Rindit Pambayun, Liniyanti Djanuri Oswari
Potravinarstvo Slovak Journal of Food Sciences, vol. 12, no. 1, 2018, p. 707-715
[abstract] doi: https://doi.org/10.5219/975 [fulltext]
IS CURRENT SYSTEM OF DIRECT PAYMENTS SUITABLE FOR FARMERS IN SLOVAKIA?
Jana Kozáková, Mária Urbánová
Potravinarstvo Slovak Journal of Food Sciences, vol. 12, no. 1, 2018, p. 716-722
[abstract] doi: https://doi.org/10.5219/941 [fulltext]
PUBLISHED: 14. December 2018
EVALUATION OF THE FUNCTIONAL STATE OF PEACH VARIETIES (PRUNUS PERSICA Mill.) WHEN EXPOSED HYDROTHERMAL STRESS TO PLANTS
Juliya Abilfazova, Oksana Belous
Potravinarstvo Slovak Journal of Food Sciences, vol. 12, no. 1, 2018, p. 723-728
[abstract] doi: https://doi.org/10.5219/974 [fulltext]
INFLUENCE OF FEEDING COLORED WHEAT VARIETIES ON SELECTED QUALITY PARAMETERS OF BROILER CHICKEN'S MEAT
Ondřej Šťastník, Eva Mrkvicová, Leoš Pavlata, Miroslav Jůzl, Andrea Roztočilová, Roman Pytel, Tomáš Vyhnánek, Petr Martinek
Potravinarstvo Slovak Journal of Food Sciences, vol. 12, no. 1, 2018, p. 729-734
[abstract] doi: https://doi.org/10.5219/986 [fulltext]
ASSESSMENT OF ANTIOXIDANT PROPERTIES OF GRAIN CONCENTRATE AND OXIDANT-ANTIOXIDANT STATUS PIGS AFTER ITS INCLUSION IN RATION FEEDING
Elena Kuznetsova, Elena Klimova, Dmitry Uchasov, Natalia Jarovan, Svetlana Motyleva, Jan Brindza, Natalia Berezina, Tatyana Bychkova, Vera Gavrilina, Gennadii Piyavchenko
Potravinarstvo Slovak Journal of Food Sciences, vol. 12, no. 1, 2018, p. 735-743
[abstract] doi: https://doi.org/10.5219/981 [fulltext]
EFFECT OF INFRARED RADIATION ON CHEMICAL AND PHYSICAL PROPERTIES ON DUKU'S PEEL
Laila Rahmawati, Daniel Saputra, Kaprawi Sahim, Gatot Priyanto
Potravinarstvo Slovak Journal of Food Sciences, vol. 12, no. 1, 2018, p. 744-755
[abstract] doi: https://doi.org/10.5219/985 [fulltext]
STUDIES ON RELATIONSHIP BETWEEN BODY LENGTH, WEIGHT AND ELEMENTS CONTENTS IN FISH CHIROCENTRUS NUDUS SWAINSON (1839) IN IRAN
Ali Aberoumand, Farideh Baesi
Potravinarstvo Slovak Journal of Food Sciences, vol. 12, no. 1, 2018, p. 756-761
[abstract] doi: https://doi.org/10.5219/987 [fulltext]
COMPARISON OF TWO METHODS OF PROTEIN QUALITY EVALUATION IN RICE, RYE AND BARLEY AS FOOD PROTEIN SOURCES IN HUMAN NUTRITION
Soňa Nitrayová, Matej Brestenský, Peter Patráš
Potravinarstvo Slovak Journal of Food Sciences, vol. 12, no. 1, 2018, p. 762-766
[abstract] doi: https://doi.org/10.5219/991 [fulltext]
NUTRITION MARKETING OF HONEY: CHEMICAL, MICROBIOLOGICAL, ANTIOXIDANT AND ANTIMICROBIAL PROFILE
Peter Šedík, Gregorz Zagula, Eva Ivanišová, Vladimíra Kňazovická, Elena Horská, Miroslava Kačániová
Potravinarstvo Slovak Journal of Food Sciences, vol. 12, no. 1, 2018, p. 767-774
[abstract] doi: https://doi.org/10.5219/988 [fulltext]
DO REDUCED VAT RATES ON FOODSTUFFS IN EU AFFECT CONSUMERS?
Anna Bánociová, Slavomíra Ťahlová
Potravinarstvo Slovak Journal of Food Sciences, vol. 12, no. 1, 2018, p. 775-781
[abstract] doi: https://doi.org/10.5219/992 [fulltext]
VARIATION IN MORPHOMETRIC TRAITS OF FRUITS OF MESPILUS GERMANICA L.
Olga Grygorieva, Svitlana Klymenko, Yulia Vinogradova, Olena Vergun, Ján Brindza
Potravinarstvo Slovak Journal of Food Sciences, vol. 12, no. 1, 2018, p. 782-788
[abstract] doi: https://doi.org/10.5219/999 [fulltext]
CLUSTER ANALYSIS OF BEEF PRODUCTION DISTRIBUTION IN EUROPE
Ján Buleca, Viliam Kováč, Denisa Kočanová
Potravinarstvo Slovak Journal of Food Sciences, vol. 12, no. 1, 2018, p. 789-797
[abstract] doi: https://doi.org/10.5219/1001 [fulltext]
MILK PRODUCTION RELATED TO PRICE OF RAW COW'S MILK IN SELECTED EUROPEAN COUNTRIES
Ján Buleca, Viliam Kováč, Nikola Šubová
Potravinarstvo Slovak Journal of Food Sciences, vol. 12, no. 1, 2018, p. 798-805
[abstract] doi: https://doi.org/10.5219/1002 [fulltext]
STUDYING THE IMPACT OF NON-TRADITINAL SUPPLEMENTS ON THE QUALITY OF THE MINCED RABBIT MEAT PRODUCTS
Dodo Tavdidishvili, Tsira Khutsidze, David Tsagareishvili, Lela Mamrikishvili-Okreshidze
Potravinarstvo Slovak Journal of Food Sciences, vol. 12, no. 1, 2018, p. 806-814
[abstract] doi: https://doi.org/10.5219/982 [fulltext]
ATTENTION ANALYSIS OF HONEY JAR LABELS USING EYE-TRACKING TECHNIQUES
Naďa Hazuchová, Ľudmila Nagyová, Jana Stávková, Ondřej Chytil, Ingrida Košičiarová
Potravinarstvo Slovak Journal of Food Sciences, vol. 12, no. 1, 2018, p. 815-823
[abstract] doi: https://doi.org/10.5219/1005 [fulltext]
FEATURES OF HEAT TRANSFER IN THE ENVIRONMENT WHEN IT IS SPRAYED WITH ROTARY ROLLERS
Igor Stadnyk, Volodymyr Piddubnuy, Olena Eremeeva, Halyna Karpyk
Potravinarstvo Slovak Journal of Food Sciences, vol. 12, no. 1, 2018, p. 824-835
[abstract] doi: https://doi.org/10.5219/977 [fulltext]
Volume 11 Potravinarstvo Slovak Journal of Food Sciences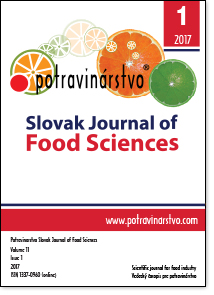 Vol. 11, No. 1/2017, All articles [PDF]
PUBLISHED: 31. January 2017
EVALUATION OF THE PRESSING PROCESS DURING OIL EXTRACTION FROM GRAPE SEEDS
Patrik Burg, Vladimír Mašán, Kazimierz Rutkowski
Potravinarstvo Slovak Journal of Food Sciences, vol. 11, no. 1, 2017, p. 1-6
[abstract] doi: https://dx.doi.org/10.5219/690 [fulltext]
STUDY ON FATTY ACIDS COMPOSITION OF LIPID CLASS IN FISH OIL, PROXIMATE ANALYSIS AND CALORIE VALUE OF KIJAR IN IRAN
Ali Aberoumand, Narges Mohamedi, Maryem Zemanpoor
Potravinarstvo Slovak Journal of Food Sciences, vol. 11, no. 1, 2017, p. 7-10
[abstract] doi: https://dx.doi.org/10.5219/418 [fulltext]
EFFECTIVENESS OF A DEVELOPED POTATO STORAGE SYSTEM IN SHELF LIFE AND NUTRITIONAL QUALITY COMPARED TO TRADITIONAL PRACTICE IN BANGLADESH
Fahad Jubayer, Burhan Uddin, A. T. M. Ziauddin
Potravinarstvo Slovak Journal of Food Sciences, vol. 11, no. 1, 2017, p. 11-19
[abstract] doi: https://dx.doi.org/10.5219/659 [fulltext]
COPPER CONTENT IN CEREALS GROWN IN THE MODEL CONDITION
Ľuboš Harangozo, Peter Lazor, Miriama Kopernická, Pavol Trebichalský, Janette Musilová, Július Árvay, Daniel Bajčan
Potravinarstvo Slovak Journal of Food Sciences, vol. 11, no. 1, 2017, p. 20-25
[abstract] doi: https://dx.doi.org/10.5219/693 [fulltext]
EVALUATION OF TOTAL POLYPHENOL CONTENT AND ANTIOXIDANT CAPACITY OF DIFFERENT VERITY LUPIN SEEDS
Ismael Sullaiman Dalaram
Potravinarstvo Slovak Journal of Food Sciences, vol. 11, no. 1, 2017, p. 26-34
[abstract] doi: https://dx.doi.org/10.5219/678 [fulltext]
NUTRITIONAL AND TOXICOLOGICAL COMPOSITION ANALYSIS OF SELECTED CASSAVA PROCESSED PRODUCTS
Kuda Dewage Supun Charuni Nilangeka Rajapaksha, Madame Arachchige Dulani Somendrika, Indira Wickramasinghe
Potravinarstvo Slovak Journal of Food Sciences, vol. 11, no. 1, 2017, p. 35-42
[abstract] doi: https://dx.doi.org/10.5219/689 [fulltext]
QUALITY CHANGES OF LONG-LIFE FOODS DURING THREE-MONTH STORAGE AT DIFFERENT TEMPERATURES
Zuzana Bubelová, Michaela Černíková, Leona Buňková, Jaroslav Talár, Václav Zajíček, Pavel Foltin, František Buňka
Potravinarstvo Slovak Journal of Food Sciences, vol. 11, no. 1, 2017, p. 43-51
[abstract] doi: https://dx.doi.org/10.5219/688 [fulltext]
POLYPHENOLS CONTENT AND ANTIOXIDANT ACTIVITY OF PAPRIKA AND PEPPER SPICES
Soňa Škrovánková, Jiří Mlček, Jana Orsavová, Tűnde Juríková, Pavla Dřímalová
Potravinarstvo Slovak Journal of Food Sciences, vol. 11, no. 1, 2017, p. 52-57
[abstract] doi: https://dx.doi.org/10.5219/695 [fulltext]
INFLUENCE OF SELENIUM AND VITAMIN E SUPPLEMENTATION DURING PREGNANCY ON UDDER HEALTH AND MILK QUALITY IN DAIRY COWS AT PARTURITION
František Zigo, Milan Vasiľ, Zuzana Farkašová, Martina Zigová, Juraj Elečko
Potravinarstvo Slovak Journal of Food Sciences, vol. 11, no. 1, 2017, p. 58-64
[abstract] doi: https://dx.doi.org/10.5219/694 [fulltext]
EVALUATION AND COMPARISON OF THE CONTENT OF TOTAL POLYPHENOLS AND ANTIOXIDANT ACTIVITY IN GARLIC (ALLIUM SATIVUM L.)
Marianna Lenková, Judita Bystrická, Alena Vollmannová, Tomáš Tóth, Ján Kovarovič
Potravinarstvo Slovak Journal of Food Sciences, vol. 11, no. 1, 2017, p. 65-70
[abstract] doi: https://dx.doi.org/10.5219/698 [fulltext]
ASSESMENT OF THE ANTIOXIDANT ACTIVITY AND CONTENT OF POLYPHENOLIC COMPOUNDS IN GRAPEVINE SEEDS
Lenka Tomášková, Jiří Sochor, Mojmír Baroň
Potravinarstvo Slovak Journal of Food Sciences, vol. 11, no. 1, 2017, p. 71-76
[abstract] doi: https://dx.doi.org/10.5219/712 [fulltext]
PUBLISHED: 22. March 2017
THE CONTENT OF TOTAL POLYPHENOLS, ASCORBIC ACID AND ANTIOXIDANT ACTIVITY IN SELECTED VARIETIES OF QUINCE (CYDONIA OBLONGA MILL.)
Judita Bystrická, Janette Musilová, Helena Lichtnerová, Marianna Lenková, Ján Kovarovič, Marek Chalas
Potravinarstvo Slovak Journal of Food Sciences, vol. 11, no. 1, 2017, p. 77-81
[abstract] doi: https://dx.doi.org/10.5219/699 [fulltext]
POLYPHENOLS AND PHENOLIC ACIDS IN SWEET POTATO (IPOMOEA BATATAS L.) ROOTS
Janette Musilová, Judita Bystrická, Július Árvay, Ľuboš Harangozó
Potravinarstvo Slovak Journal of Food Sciences, vol. 11, no. 1, 2017, p. 82-87
[abstract] doi: https://dx.doi.org/10.5219/705 [fulltext]
EFFECT OF PROTEIN CONCENTRATE SUPPLEMENTATION ON THE COMPOSITION OF AMINO ACIDS IN MILK FROM DAIRY COWS IN AN ORGANIC FARMING SYSTEM
Pavel Horký, Jiří Skládanka, Pavel Nevrkla, Daniel Falta, Iva Čáslavová, Pavel Knot
Potravinarstvo Slovak Journal of Food Sciences, vol. 11, no. 1, 2017, p. 88-95
[abstract] doi: https://dx.doi.org/10.5219/707 [fulltext]
COMPARISON OF ADSORPTIVE WITH EXTRACTIVE STRIPPING VOLTAMMETRY IN ELECTROCHEMICAL DETERMINATION OF RETINOL
Milan Sýs, Simona Žabčíková, Libor Červenka, Karel Vytřas
Potravinarstvo Slovak Journal of Food Sciences, vol. 11, no. 1, 2017, p. 96-105
[abstract] doi: https://dx.doi.org/10.5219/713 [fulltext]
THE INFLUENCE OF VARIETY ON THE CONTENT OF BIOACTIVE COMPOUNDS IN BEETROOT (BETA VULGARIS L.)
Ján Kovarovič, Judita Bystrická, Ján Tomáš, Marianna Lenková
Potravinarstvo Slovak Journal of Food Sciences, vol. 11, no. 1, 2017, p. 106-112
[abstract] doi: https://dx.doi.org/10.5219/702 [fulltext]
IMPACT OF NUTRITION ON THE QUALITY AND QUANTITY OF CAULIFLOWER FLORETS
Anton Uher, Ivana Mezeyová, Alžbeta Hegedűsová, Miroslav Šlosár
Potravinarstvo Slovak Journal of Food Sciences, vol. 11, no. 1, 2017, p. 113-119
[abstract] doi: https://dx.doi.org/10.5219/723 [fulltext]
THE EFFECT OF CALCIUM AND MAGNESIUM SUPPLEMENTATION ON PERFORMANCE AND BONE STRENGTH OF BROILER CHICKENS
Filip Karásek, Hana Štenclová, Ondřej Šťastník, Eva Mrkvicová, Leoš Pavlata, Šárka Nedomová, Ladislav Zeman
Potravinarstvo Slovak Journal of Food Sciences, vol. 11, no. 1, 2017, p. 120-125
[abstract] doi: https://dx.doi.org/10.5219/710 [fulltext]
GENETIC VARIATION OF EUROPEAN MAIZE GENOTYPES (ZEA MAYS L.) DETECTED USING SSR MARKERS
Martin Vivodík, Zdenka Gálová, Želmíra Balážová, Lenka Petrovičová
Potravinarstvo Slovak Journal of Food Sciences, vol. 11, no. 1, 2017, p. 126-131
[abstract] doi: https://dx.doi.org/10.5219/697 [fulltext]
THE STUDY OF ANTIOXIDANTS IN GRAPEVINE SEEDS
Lenka Tomášková, Jiří Sochor, Mojmír Baroň
Potravinarstvo Slovak Journal of Food Sciences, vol. 11, no. 1, 2017, p. 132-137
[abstract] doi: https://dx.doi.org/10.5219/711 [fulltext]
PRINCIPAL COMPONENT ANALYSIS OF SENSORY PROPERTIES OF CHICKEN BREAST MUSCLE SUPPLEMENTED WITH DIFFERENT FEED ADDITIVES
Peter Haščík, Lenka Trembecká, Tomáš Fekete, Juraj Čuboň, Marek Bobko, Miroslav Kročko
Potravinarstvo Slovak Journal of Food Sciences, vol. 11, no. 1, 2017, p. 138-144
[abstract] doi: https://dx.doi.org/10.5219/750 [fulltext]
THE EFFECT OF FEEDING WHEAT VARIETIES WITH DIFFERENT GRAIN PIGMENTATION ON GROWTH PERFORMANCE, TEXTURE, COLOUR AND MEAT SENSORY TRAITS OF BROILER CHICKENS
Ondřej Šťastník, Filip Karásek, Miroslav Jůzl, Eva Mrkvicová, Leoš Pavlata, Šárka Nedomová, Václav Trojan, Tomáš Vyhnánek, Petr Doležal, Petr Martinek
Potravinarstvo Slovak Journal of Food Sciences, vol. 11, no. 1, 2017, p. 145-150
[abstract] doi: https://dx.doi.org/10.5219/753 [fulltext]
PUBLISHED: 26. April 2017
EFFECT OF SHORT-TERM CONSUMPTION BITTER APRICOT SEEDS ON THE BODY COMPOSITION IN HEALTHY POPULATION
Jana Kopčeková, Anna Kolesárová, Martina Gažarová, Petra Lenártová, Jana Mrázová, Adriana Kolesárová
Potravinarstvo Slovak Journal of Food Sciences, vol. 11, no. 1, 2017, p. 151-155
[abstract] doi: https://dx.doi.org/10.5219/718 [fulltext]
HORMONAL CHANGES IN SPRING BARLEY AFTER TRIAZINE HERBICIDE TREATMENT AND ITS MIXTURES OF REGULATORS OF POLYAMINE BIOSYNTHESIS
Pavol Trebichalský, Tomáš Tóth, Daniel Bajčan, Ľuboš Harangozo, Alena Vollmannová
Potravinarstvo Slovak Journal of Food Sciences, vol. 11, no. 1, 2017, p. 156-161
[abstract] doi: https://dx.doi.org/10.5219/719 [fulltext]
CHARACTERISTICS OF STARCH BREADS ENRICHED WITH RED POTATOES
Dorota Gumul, Wiktor Berski, Eva Ivanišová, Halina Gambuś, Miroslava Kačániová, Luboš Harangózo, Marián Tokár
Potravinarstvo Slovak Journal of Food Sciences, vol. 11, no. 1, 2017, p. 162-166
[abstract] doi: https://dx.doi.org/10.5219/720 [fulltext]
MICROBIOLOGICAL QUALITY OF CHICKEN BREAST MEAT AFTER APPLICATION OF THYME AND CARAWAY ESSENTIAL OILS
Simona Kunová, Lucia Zeleňáková, Ľubomír Lopašovský, Martin Mellen, Jozef Čapla, Peter Zajác, Miroslava Kačániová
Potravinarstvo Slovak Journal of Food Sciences, vol. 11, no. 1, 2017, p. 167-174
[abstract] doi: https://dx.doi.org/10.5219/759 [fulltext]
THE REGULATION OF THE FUNCTIONAL STATE OF SUBTROPICAL CROPS WITH MICRONUTRIENTS
Alexej Ryndin, Oksana Belous, Yuliya Abilfazova, Zoya Prytula
Potravinarstvo Slovak Journal of Food Sciences, vol. 11, no. 1, 2017, p. 175-182
[abstract] doi: https://dx.doi.org/10.5219/669 [fulltext]
CHARACTERIZATION OF BIOACTIVE COMPOUNDS FROM MONASCUS PURPUREUS FERMENTED DIFFERENT CEREAL SUBSTRATES
Eva Ivanišová, Martin Rajtar, Helena Frančáková, Marián Tokár, Štefan Dráb, Maciej Kluz, Miroslava Kačániová
Potravinarstvo Slovak Journal of Food Sciences, vol. 11, no. 1, 2017, p. 183-189
[abstract] doi: https://dx.doi.org/10.5219/722 [fulltext]
EFFECT OF DNA EXTRACTION METHOD IN THE ROSA CANINA L. IDENTIFICATION UNDER DIFFERENT PROCESSING TEMPERATURE
Jana Žiarovská, Matúš Kyseľ, Radka Cimermanová, Ľudmila Knoteková
Potravinarstvo Slovak Journal of Food Sciences, vol. 11, no. 1, 2017, p. 190-196
[abstract] doi: https://dx.doi.org/10.5219/717 [fulltext]
DETECTION GENETIC VARIABILITY OF SECALE CEREALE L. BY SCOT MARKERS
Lenka Petrovičová, Želmíra Balážová, Martin Vivodík, Zdenka Gálová
Potravinarstvo Slovak Journal of Food Sciences, vol. 11, no. 1, 2017, p. 197-202
[abstract] doi: https://dx.doi.org/10.5219/726 [fulltext]
STUDY OF RHEOLOGY AND FRICTION FACTOR OF NATURAL FOOD HYDROCOLLOID GELS
Vojtěch Kumbár, Šárka Nedomová, Roman Pytel, Libor Kilián, Jaroslav Buchar
Potravinarstvo Slovak Journal of Food Sciences, vol. 11, no. 1, 2017, p. 203-209
[abstract] doi: https://dx.doi.org/10.5219/735 [fulltext]
THE IMPACT OF VARIETIES, RIPENESS, AND HEAT TREATMENT ON THE RETENTION OF VITAMIN C AND CONTENT OF SOLUBLE SOLIDS IN SWEET PEPPER
Magdaléna Valšíková, Marián Rehuš , Patrik Komár, Oleg Paulen
Potravinarstvo Slovak Journal of Food Sciences, vol. 11, no. 1, 2017, p. 210-215
[abstract] doi: https://dx.doi.org/10.5219/754 [fulltext]
PHYSICO-CHEMICAL CHARACTERISATION OF SLOVAK WINES
Barbora Lapčíková, Lubomír Lapčík, Jana Hupková
Potravinarstvo Slovak Journal of Food Sciences, vol. 11, no. 1, 2017, p. 216-222
[abstract] doi: https://dx.doi.org/10.5219/727 [fulltext]
ANTIBACTERIAL ACTIVITY OF CAPSICUM EXTRACT AGAINST SELECTED STRAINS OF BACTERIA AND MICROMYCETES
Peter Popelka, Pavlína Jevinová, Karel Šmejkal, Pavol Roba
Potravinarstvo Slovak Journal of Food Sciences, vol. 11, no. 1, 2017, p. 223-229
[abstract] doi: https://dx.doi.org/10.5219/731 [fulltext]
ANTIMICROBIAL EFFECT OF SELECTED LACTIC ACID BACTERIA AGAINST MICROORGANISMS WITH DECARBOXYLASE ACTIVITY
Khatantuul Purevdorj, Kristýna Maršálková, Iva Březinová, Adéla Žalková, Pavel Pleva, Leona Buňková
Potravinarstvo Slovak Journal of Food Sciences, vol. 11, no. 1, 2017, p. 230-235
[abstract] doi: https://dx.doi.org/10.5219/740 [fulltext]
QUALITY DETERMINATION OF VEGETABLE OILS USED AS AN ADDITION TO FERMENTED MEAT PRODUCTS WITH DIFFERENT STARTER CULTURES
Hana Šulcerová, Tomáš Gregor, Radka Burdychová
Potravinarstvo Slovak Journal of Food Sciences, vol. 11, no. 1, 2017, p. 236-243
[abstract] doi: https://dx.doi.org/10.5219/745 [fulltext]
DOES APRICOT SEEDS CONSUMPTION CAUSE CHANGES IN HUMAN URINE?
Eva Tušimová, Anton Kováčik, Marek Halenár, Katarína Michalcová, Katarína Zbyňovská, Anna Kolesárová, Jana Kopčeková, Jozef Valuch, Adriana Kolesárová
Potravinarstvo Slovak Journal of Food Sciences, vol. 11, no. 1, 2017, p. 244-251
[abstract] doi: https://dx.doi.org/10.5219/755 [fulltext]
LINSEED FIBRE – EFFECT ON COMPOSITE FLOUR PROPERTIES AND CEREAL PRODUCTS QUALITY
Marie Hrušková, Ivan Švec
Potravinarstvo Slovak Journal of Food Sciences, vol. 11, no. 1, 2017, p. 252-259
[abstract] doi: https://dx.doi.org/10.5219/729 [fulltext]
PUBLISHED: 23. May 2017
SELECTED PARAMETERS OF ARABICA COFFEE QUALITY AFFECTED BY ITS GEOGRAPHICAL ORIGIN
Alica Bobková, Martina Fikselová, Marek Šnirc
Potravinarstvo Slovak Journal of Food Sciences, vol. 11, no. 1, 2017, p. 260-265
[abstract] doi: https://dx.doi.org/10.5219/794 [fulltext]
ANTIOXIDANT PROPERTIES, TOTAL PHENOLIC AND TOTAL FLAVONOID CONTENT OF THE SLOVAK WHITE WINES – WELSCHRIESLING AND CHARDONNAY
Daniel Bajčan, Július Árvay, Alena Vollmannová, Judita Bystrická, Pavol Trebichalský, Ľuboš Harangozo, Vladimír Šimanský
Potravinarstvo Slovak Journal of Food Sciences, vol. 11, no. 1, 2017, p. 266-271
[abstract] doi: https://dx.doi.org/10.5219/730 [fulltext]
THE CONTENT OF POLYPHENOLS AND CHOSEN HEAVY METALS IN FABA BEAN (FABA VULGARIS MOENCH) RELATING TO DIFFERENT DOSES OF ZINC APPLICATION
Mária Timoracká, Alena Vollmannová, Dalaram Sulaiman Ismael
Potravinarstvo Slovak Journal of Food Sciences, vol. 11, no. 1, 2017, p. 272-278
[abstract] doi: https://dx.doi.org/10.5219/638 [fulltext]
THE INFLUENCE OF SOME SELECTED VARIABLES FROM ACCOUNTING SYSTEM ON PROFIT OR LOSS OF AGRICULTURAL COMPANIES IN THE SLOVAK REPUBLIC
Alexandra Ferenczi Vaňová, Renáta Krajčírová, Michal Munk, Iveta Košovská, Ivana Váryová
Potravinarstvo Slovak Journal of Food Sciences, vol. 11, no. 1, 2017, p. 279-287
[abstract] doi: https://dx.doi.org/10.5219/777 [fulltext]
MORPHOMETRIC CHARACTERISTICS OF SWEET CHESTNUT (CASTANEA SATIVA MILL.) FRUITS
Oľga Grygorieva, Svitlana Klymen, Ján Brindza, Zuzana Schubertová, Nataliia Nikolaiev, Jana Šimková
Potravinarstvo Slovak Journal of Food Sciences, vol. 11, no. 1, 2017, p. 288-295
[abstract] doi: https://dx.doi.org/10.5219/684 [fulltext]
EFFECT OF RIPENING TIME ON COLOUR AND TEXTURE PROPERTIES IN CHEESE
Šárka Nedomová, Libor Kilián, Roman Pytel, Vojtěch Kumbár
Potravinarstvo Slovak Journal of Food Sciences, vol. 11, no. 1, 2017, p. 296-301
[abstract] doi: https://dx.doi.org/10.5219/744 [fulltext]
BIOGENIC AMINES DEGRADATION BY MICROORGANISMS ISOLATED FROM CHEESE
Irena Butor, Hana Pištěková, Khatantuul Purevdorj, Petra Jančová, František Buňka, Leona Buňková
Potravinarstvo Slovak Journal of Food Sciences, vol. 11, no. 1, 2017, p. 302-308
[abstract] doi: https://dx.doi.org/10.5219/736 [fulltext]
EFFECT OF APRICOT SEEDS ON RENAL STRUCTURE OF RABBITS
Anna Kolesárová, Juraj Pivko, Marek Halenár, Katarína Zbyňovská, Ľubica Chrastinová, Ľubomír Ondruška, Rastislav Jurčík, Jana Kopčeková, Jozef Valuch, Adriana Kolesárová
Potravinarstvo Slovak Journal of Food Sciences, vol. 11, no. 1, 2017, p. 309-314
[abstract] doi: https://dx.doi.org/10.5219/751 [fulltext]
ORAL AND INTRAMUSCULAR APPLICATION OF CYANOGENIC GLYCOSIDE AMYGDALIN DID NOT INDUCE CHANGES IN HAEMATOLOGICAL PROFILE OF MALE RABBITS
Katarína Zbyňovská, Marek Halenár, Ľubica Chrastinová, Ľubomír Ondruška, Rastislav Jurčík, Peter Čupka, Eva Tušimová, Anton Kováčik, Eduard Kolesár, Jozef Valuch, Adriana Kolesárová
Potravinarstvo Slovak Journal of Food Sciences, vol. 11, no. 1, 2017, p. 315-321
[abstract] doi: https://dx.doi.org/10.5219/756 [fulltext]
INFLUENCE OF ESSENTIAL OILS ON THE GROWTH OF ASPERGILLUS FLAVUS
Denisa Foltinová, Dana Tančinová, Miroslava Císarová
Potravinarstvo Slovak Journal of Food Sciences, vol. 11, no. 1, 2017, p. 322-331
[abstract] doi: https://dx.doi.org/10.5219/725 [fulltext]
MOLECULAR VARIABILITY OF OAT BASED ON GENE SPECIFIC MARKERS
Želmíra Balážová, Zdenka Gálová, Martin Vivodík, Lenka Petrovičová,Radomíra Hornyák Gregáňová
Potravinarstvo Slovak Journal of Food Sciences, vol. 11, no. 1, 2017, p. 332-337
[abstract] doi: https://dx.doi.org/10.5219/774 [fulltext]
DETECTION OF OVINE MILK ADULTERATION USING TAQMAN REAL-TIME PCR ASSAY
Marek Šnirc, Tomáš Fekete, Ľubomír Belej, Radoslav Židek, Jozef Golian, Peter Haščík, Peter Zajác, Jozef Čapla
Potravinarstvo Slovak Journal of Food Sciences, vol. 11, no. 1, 2017, p. 338-343
[abstract] doi: https://dx.doi.org/10.5219/782 [fulltext]
NITRATE AND NITRITE CONTENTS IN IN THE PRIVATE GROUND WATER WELLS
Mária Angelovičová, Zuzana Szabóová, Jana Tkáčová, Marek Angelovič
Potravinarstvo Slovak Journal of Food Sciences, vol. 11, no. 1, 2017, p. 344-354
[abstract] doi: https://dx.doi.org/10.5219/757 [fulltext]
QUANTITATIVE REAL-TIME PCR DETECTION OF PUTRESCINE-PRODUCING GRAM-NEGATIVE BACTERIA
Kristýna Maršálková, Khatantuul Purevdorj, Petra Jančová, Hana Pištěková, Leona Buňková
Potravinarstvo Slovak Journal of Food Sciences, vol. 11, no. 1, 2017, p. 355-362
[abstract] doi: https://dx.doi.org/10.5219/739 [fulltext]
EFFECT OF MILK ORIGIN ON PROTEOLYSIS AND ACCUMULATION OF BIOGENIC AMINE DURING RIPENING OF DUTCH-TYPE CHEESE
Vendula Pachlová, Zuzana Charousová, Tomáš Šopík
Potravinarstvo Slovak Journal of Food Sciences, vol. 11, no. 1, 2017, p. 363-367
[abstract] doi: https://dx.doi.org/10.5219/741 [fulltext]
PUBLISHED: 29. June 2017
QUALITY PARAMETERS OF CURD
Roman Pytel, Šárka Nedomová, Vojtěch Kumbár, Libor Kilián
Potravinarstvo Slovak Journal of Food Sciences, vol. 11, no. 1, 2017, p. 368-372
[abstract] doi: https://dx.doi.org/10.5219/742 [fulltext]
EFFECT OF PUMPKIN POWDER INCORPORATION ON COOKING AND SENSORY PARAMETERS OF PASTA
Lucia Minarovičová, Michaela Lauková, Zlatica Kohajdová, Jolana Karovičová, Veronika Kuchtová
Potravinarstvo Slovak Journal of Food Sciences, vol. 11, no. 1, 2017, p. 373-379
[abstract] doi: https://dx.doi.org/10.5219/743 [fulltext]
AGING OF BEEF RUMPSTEAK ON SENSORY QUALITY, COLOR APPEREANCE AND TEXTURE PROPERTIES
Hana Šulcerová, Vladimír Sýkora, Šárka Nedomová, Michal Mihok
Potravinarstvo Slovak Journal of Food Sciences, vol. 11, no. 1, 2017, p. 380-385
[abstract] doi: https://dx.doi.org/10.5219/747 [fulltext]
SOMATIC CELL COUNT IN MILK OF INDIVIDUAL LACAUNE EWES UNDER PRACTICAL CONDITIONS IN SLOVAKIA: POSSIBLE EFFECT ON MILK YIELD AND ITS COMPOSITION
Vladimír Tančin, Michal Uhrinčať, Lucia Mačuhová, Štefan Baranovič, Martina Vršková
Potravinarstvo Slovak Journal of Food Sciences, vol. 11, no. 1, 2017, p. 386-390
[abstract] doi: https://dx.doi.org/10.5219/767 [fulltext]
EVALUATION OF RABBIT MEAT MICROBIOTA FROM THE VIEWPOINT OF MARKETING METHOD
Olga Cwiková, Roman Pytel
Potravinarstvo Slovak Journal of Food Sciences, vol. 11, no. 1, 2017, p. 391-397
[abstract] doi: https://dx.doi.org/10.5219/764 [fulltext]
A COMPARATIVE STUDY OF SUS SCROFA M. LONGISSIMUS DORSI WITH DIFFERENT CHANGES IN QUALITY
Irina Chernukha, Liliya Fedulova, Anastasia Akhremko, Elena Kotenkova
Potravinarstvo Slovak Journal of Food Sciences, vol. 11, no. 1, 2017, p. 398-402
[abstract] doi: https://dx.doi.org/10.5219/769 [fulltext]
SPECIES OF GENERA BOTRYTIS, FUSARIUM AND RHIZOPUS ON GRAPES OF THE SLOVAK ORIGIN
Dana Tančinová, Zuzana Mašková, Ľubormír Rybárik, Viera Michalová
Potravinarstvo Slovak Journal of Food Sciences, vol. 11, no. 1, 2017, p. 403-409
[abstract] doi: https://dx.doi.org/10.5219/763 [fulltext]
EFFECT OF COCOA FAT CONTENT ON WETTING AND SURFACE ENERGY OF CHOCOLATE
Lubomír Lapčík, Barbora Lapčíková, Hana Žižková, Li Peng, Viera Vojteková
Potravinarstvo Slovak Journal of Food Sciences, vol. 11, no. 1, 2017, p. 410-416
[abstract] doi: https://dx.doi.org/10.5219/732 [fulltext]
DEMONSTRATION OF PHYSICAL PHENOMENAS AND SCAVENGING ACTIVITY FROM D-PSICOSE AND METHIONINE MAILLARD REACTION PRODUCTS
Arum Tiyas Suminar, Ahmad Ni'matullah Al-Baarri, Anang Mohamad Legowo
Potravinarstvo Slovak Journal of Food Sciences, vol. 11, no. 1, 2017, p. 417-424
[abstract] doi: https://dx.doi.org/10.5219/776 [fulltext]
POSSIBLE CONSEQUENCES OF THE SUCROSE REPLACEMENT BY A FRUCTOSE-GLUCOSE SYRUP
Judit Süli, Ingrid Hamarová, Anna Sobeková
Potravinarstvo Slovak Journal of Food Sciences, vol. 11, no. 1, 2017, p. 425-430
[abstract] doi: https://dx.doi.org/10.5219/772 [fulltext]
THE EFFECT OF DHA OMEGA-3 FEEDING IN THE HIGH YIELDING HOLSTEIN HERD
Juraj Karcol, Radovan Kasarda, Milan Šimko, Ondrej Hanušovský
Potravinarstvo Slovak Journal of Food Sciences, vol. 11, no. 1, 2017, p. 431-435
[abstract] doi: https://dx.doi.org/10.5219/801 [fulltext]
EFFECTS OF FLORAL HONEY AND PRESSED FLAX SEEDS ON INTENSITY OF YOGURT AROMA, SWEETNESS AND SOUR TASTE OF YOGURTS DURING STORAGE
Zuzana Remeňová, Margita Čanigová, Miroslav Kročko, Viera Ducková, Andrea Šimková
Potravinarstvo Slovak Journal of Food Sciences, vol. 11, no. 1, 2017, p. 436-440
[abstract] doi: https://dx.doi.org/10.5219/760 [fulltext]
PREPARATION OF MALTS FOR PRODUCTION OF SPECIAL BEERS
Hana Kábelová-Ficová, Stanislav Kráčmar, Tomáš Gregor, Miroslav Fišera, Jozef Golian, Vlastimil Kubáň, Tomáš Šopík
Potravinarstvo Slovak Journal of Food Sciences, vol. 11, no. 1, 2017, p. 441-445
[abstract] doi: https://dx.doi.org/10.5219/773 [fulltext]
PUBLISHED: 14. July 2017
ELECTRONIC NOSE IN EDIBLE INSECTS AREA
Martin Adámek, Anna Adámková, Marie Borkovcová, Jiří Mlček, Martina Bednářová, Lenka Kouřimská, Josef Skácel
Potravinarstvo Slovak Journal of Food Sciences, vol. 11, no. 1, 2017, p. 446-451
[abstract] doi: https://dx.doi.org/10.5219/785 [fulltext]
COMPARATIVE STUDY ON NATURAL PLANT ANTIBIOTICS – VEGETABLE AND THEIR CONSUMPTION AMONG COLLEGE STUDENTS
Tünde Juríková, Ildikó Viczayová, Alžbeta Hegedűsová, Jiří Mlček, József Kontra, Lukáš Snopek, Marcel Golian
Potravinarstvo Slovak Journal of Food Sciences, vol. 11, no. 1, 2017, p. 452-459
[abstract] doi: https://dx.doi.org/10.5219/778 [fulltext]
WELFARE OF THE MEALWORM (TENEBRIO MOLITOR) BREEDING WITH REGARD TO NUTRITION VALUE AND FOOD SAFETY
Anna Adámková, Martin Adámek, Jiří Mlček, Marie Borkovcová, Martina Bednářová, Lenka Kouřimská, Josef Skácel, Eva Vítová
Potravinarstvo Slovak Journal of Food Sciences, vol. 11, no. 1, 2017, p. 460-465
[abstract] doi: https://dx.doi.org/10.5219/779 [fulltext]
EFFECT OF FEEDING OF PREFERMENTED BIOPRODUCT CONTAINING GAMMA-LINOLENIC ACID AND BETA-CAROTENE ON SELECTED PARAMETERS OF BROILER CHICKEN MEAT QUALITY
Ján Mačanga, Peter Popelka, Beáta Koréneková, Iveta Maskaľová, Tatiana Klempová, Adriána Fečkaninová, Martin Mellen, Dana Marcinčáková, Milan Čertík, Slavomír Marcinčák
Potravinarstvo Slovak Journal of Food Sciences, vol. 11, no. 1, 2017, p. 466-471
[abstract] doi: https://dx.doi.org/10.5219/781 [fulltext]
COMPARATIVE STUDY OF HONEY CONSUMPTION IN SLOVAKIA AND RUSSIA
Snezhanna Guziy, Peter Šedík, Elena Horská
Potravinarstvo Slovak Journal of Food Sciences, vol. 11, no. 1, 2017, p. 472-479
[abstract] doi: https://dx.doi.org/10.5219/784 [fulltext]
APPROACHES TO THE DETERMINATION OF ANTIOXIDANT ACTIVITY OF EXTRACTS FROM BEE BREAD AND SAFFLOWER LEAVES AND FLOWERS
Nataliia Hudz, Raisa Ivanova, Ján Brindza, Olga Grygorieva, Zuzana Schubertová, Eva Ivanišová
Potravinarstvo Slovak Journal of Food Sciences, vol. 11, no. 1, 2017, p. 480-488
[abstract] doi: https://dx.doi.org/10.5219/786 [fulltext]
WINTER SQUASH (CUCURBITA MOSCHATA DUCH) FRUIT AS A SOURCE OF BIOLOGICALLY ACTIVE COMPONENTS AFTER ITS THERMAL TREATMENT
Andrea Mendelová, Ľubomír Mendel, Martina Fikselová, Ján Mareček, Alena Vollmannová
Potravinarstvo Slovak Journal of Food Sciences, vol. 11, no. 1, 2017, p. 489-495
[abstract] doi: https://dx.doi.org/10.5219/788 [fulltext]
MYCOBIOTA OF SLOVAK WINE GRAPES WITH EMPHASIS ON ASPERGILLUS AND PENICILLIUM SPECIES IN THE SOUTH SLOVAK WINE REGION
Soňa Felšöciová, Dana Tančinová, Ľubomír Rybárik, Zuzana Mašková
Potravinarstvo Slovak Journal of Food Sciences, vol. 11, no. 1, 2017, p. 496-502
[abstract] doi: https://dx.doi.org/10.5219/789 [fulltext]
CO-ADMINISTRATION OF AMYGDALIN AND DEOXYNIVALENOL DISRUPTED REGULATORY PROTEINS LINKED TO PROLIFERATION OF PORCINE OVARIAN CELLS IN VITRO
Marek Halenar, Marina Medvedova, Simona Baldovska, Katarina Michalcova, Adriana Kolesarova
Potravinarstvo Slovak Journal of Food Sciences, vol. 11, no. 1, 2017, p. 503-509
[abstract] doi: https://dx.doi.org/10.5219/791 [fulltext]
METHYLXANTHINES AND CATECHINES IN DIFFERENT TEAS (CAMELLIA SINENSIS L. KUNTZE) – INFLUENCE ON ANTIOXIDANT PROPERTIES
Július Árvay, Martin Hauptvogl, Eva Ivanišová, Ivana Tirdiľová, Miroslava Hrstková, Daniel Bajčan, Peter Lazor
Potravinarstvo Slovak Journal of Food Sciences, vol. 11, no. 1, 2017, p. 510-516
[abstract] doi: https://dx.doi.org/10.5219/796 [fulltext]
EFFECT OF GRAPE SEED EXTRACT ON QUALITY OF RAW-COOKED MEAT PRODUCTS
Marek Bobko, Peter Haščík, Miroslav Kročko, Lenka Trembecká, Andrea Mendelová, Jana Tkáčová, Peter Czako, Tomáš Tóth
Potravinarstvo Slovak Journal of Food Sciences, vol. 11, no. 1, 2017, p. 517-521
[abstract] doi: https://dx.doi.org/10.5219/797 [fulltext]
INFLUENCE OF THE ADDITION OF POST-EXTRACTION RAPESEED MEAL ON THE SENSORIC QUALITY OF POULTRY MEAT
Alžbeta Jarošová, Hana Šulcerová
Potravinarstvo Slovak Journal of Food Sciences, vol. 11, no. 1, 2017, p. 522-528
[abstract] doi: https://dx.doi.org/10.5219/746 [fulltext]
GROWTH OF MICROORGANISMS IN THE PRE-FERMENTATION TANKS IN THE PRODUCTION OF ETHANOL
Viera Michalová, Dana Tančinová
Potravinarstvo Slovak Journal of Food Sciences, vol. 11, no. 1, 2017, p. 529-534
[abstract] doi: https://dx.doi.org/10.5219/771 [fulltext]
EFFECT OF PERORAL SUPPLEMENTATION WITH SELENIUM AND VITAMIN E DURING LATE PREGNANCY ON UDDER HEALTH AND MILK QUALITY IN DAIRY COWS
Milan Vasiľ, Fratišek Zigo, Juraj Elečko, Martina Zigová, Zuzana Farkašová
Potravinarstvo Slovak Journal of Food Sciences, vol. 11, no. 1, 2017, p. 535-538
[abstract] doi: https://dx.doi.org/10.5219/766 [fulltext]
PUBLISHED: 30. October 2017
COMPARATIVE STUDY OF BIOCORRECTIVE PROTEIN-PEPTIDE AGENT TO IMPROVE QUALITY AND SAFETY OF LIVESTOCK PRODUCTS
Irina Mikhailovna Chernukha, Liliya Vyacheslavovna Fedulova, Ekaterina Romanovna Vasilevskaya, Elena Alexandrovna Kotenkova
Potravinarstvo Slovak Journal of Food Sciences, vol. 11, no. 1, 2017, p. 539-543
[abstract] doi: https://dx.doi.org/10.5219/590 [fulltext]
POTENTIAL OF LACTOBACILLUS PLANTARUM CCM 3627 AND LACTOBACILLUS BREVIS CCM 1815 FOR FERMENTATION OF CEREAL SUBSTRATES
Kvetoslava Romanová, Dana Urminská
Potravinarstvo Slovak Journal of Food Sciences, vol. 11, no. 1, 2017, p. 544-549
[abstract] doi: https://dx.doi.org/10.5219/696 [fulltext]
A COMPARATIVE STUDY OF THE PHYSICOCHEMICAL PROPERTIES AND ANTIMICROBIAL QUALITIES OF ABUAD MORINGA SOAP WITH CONVENTIONAL MEDICATED SOAPS
Pius Abimbola Okiki, Abiodun Ayodele Ojo, Hadiza Tani Onyibe, Olawale Oso, Basiru Olaitan Ajiboye
Potravinarstvo Slovak Journal of Food Sciences, vol. 11, no. 1, 2017, p. 550-557
[abstract] doi: https://dx.doi.org/10.5219/733 [fulltext]
EFFECT OF HUMATES IN DIET OF DAIRY COWS ON THE RAW MILK MAIN COMPONENTS
Miroslava Potůčková, Lenka Kouřimská
Potravinarstvo Slovak Journal of Food Sciences, vol. 11, no. 1, 2017, p. 558-563
[abstract] doi: https://dx.doi.org/10.5219/748 [fulltext]
DETERMINATION OF TIN, CHROMIUM, CADMIUM AND LEAD IN CANNED FRUITS FROM THE CZECH MARKET
Pavel Diviš, Elena Šťávová, Jaromír Pořízka, Juliána Drábiková
Potravinarstvo Slovak Journal of Food Sciences, vol. 11, no. 1, 2017, p. 564-570
[abstract] doi: https://dx.doi.org/10.5219/749 [fulltext]
EFFECT OF THYME AND OREGANO AQUEOUS TEA INFUSIONS ON THE MICROBIOLOGICAL CHARACTERISTICS OF SAUSAGES
Miroslav Kročko, Viera Ducková, Margita Čanigová, Vladimíra Kňazovická, Zuzana Remeňová, Lenka Trembecká, Peter Haščík
Potravinarstvo Slovak Journal of Food Sciences, vol. 11, no. 1, 2017, p. 571-574
[abstract] doi: https://dx.doi.org/10.5219/761 [fulltext]
BIOLOGICAL EFFECT OF MAGNETIC FIELD ON THE FERMENTATION OF WINE
Jakub Dobšinský, Jaroslav Jedlička
Potravinarstvo Slovak Journal of Food Sciences, vol. 11, no. 1, 2017, p. 575-579
[abstract] doi: https://dx.doi.org/10.5219/762 [fulltext]
AUTHENTICATION OF CAPRINE MILK AND CHEESE BY COMMERCIAL QPCR ASSAY
Tomáš Fekete, Marek Šnirc, Ľubomír Belej, Radoslav Židek, Jozef Golian, Peter Haščík, Lucia Zeleňáková, Peter Zajác
Potravinarstvo Slovak Journal of Food Sciences, vol. 11, no. 1, 2017, p. 580-586
[abstract] doi: https://dx.doi.org/10.5219/780 [fulltext]
THE EFFECT OF CONFORMATIONAL TRANSITION OF GELATIN-POLYSACCHARIDE POLYELECTROLYTE COMPLEX ON ITS FUNCTIONAL PROPERTIES
Tomáš Valenta, Barbora Lapčíková, Lubomír Lapčík, Li Peng
Potravinarstvo Slovak Journal of Food Sciences, vol. 11, no. 1, 2017, p. 587-596
[abstract] doi: https://dx.doi.org/10.5219/728 [fulltext]
SURVIVAL OF LACTOBACILLUS BULGARICUS AND BIFIDOBACTERIUM ANIMALIS IN YOGHURTS MADE FROM COMMERCIAL STARTER CULTURES DURING REFRIGERATED STORAGE
Eva Dudriková, Mária Nagyová, Zuzana Dičáková
Potravinarstvo Slovak Journal of Food Sciences, vol. 11, no. 1, 2017, p. 597-601
[abstract] doi: https://dx.doi.org/10.5219/758 [fulltext]
EFFECT OF THYME AND OREGANO AQUEOUS TEA INFUSIONS ON THE LIPID OXIDATION AND SENSORY CHARACTERISTICS OF FRANKFURKTERS SAUSAGES
Miroslav Kročko, Marek Bobko, Viera Ducková, Margita Čanigová, Peter Haščík, Jana Tkáčová
Potravinarstvo Slovak Journal of Food Sciences, vol. 11, no. 1, 2017, p. 602-605
[abstract] doi: https://dx.doi.org/10.5219/798 [fulltext]
THE INVESTIGATION OF ALFAALFA EFFECT ON THE ACTIVITY OF SUPEROXIDE DISMUTASE IN CHICKEN MEAT IN DEPENDENCE ON TIME STORAGE
Jana Tkáčová, Mária Angelovičová, Marcela Capcarová, Adriana Kolesárová, Monika Schneidgenová, Adriana Pavelková, Marek Bobko, Juraj Čuboň
Potravinarstvo Slovak Journal of Food Sciences, vol. 11, no. 1, 2017, p. 606-611
[abstract] doi: https://dx.doi.org/10.5219/800 [fulltext]
MORPHOLOGICAL CHARACTERISTICS AND DETERMINATION OF VOLATILE ORGANIC COMPOUNDS OF DIOSPYROS VIRGINIANA L. GENOTYPES FRUITS
Olga Grygorieva, Svitlana Klymenko, Olena Vergun, Nataliia Hudz, Nataliia Nikolaieva, Zuzana Schubertová, Olena Palamarchuk, Ján Brindza
Potravinarstvo Slovak Journal of Food Sciences, vol. 11, no. 1, 2017, p. 612-622
[abstract] doi: https://dx.doi.org/10.5219/808 [fulltext]
EFFECT OF DIFFERENT LEVELS OF GREEN TEA (CAMELLIA SINENSIS) ON PRODUCTIVE PERFORMANCE, CARCASS CHARACTERISTICS AND ORGANS OF BROILER CHICKENS
Cyril Hrnčár, Jozef Bujko
Potravinarstvo Slovak Journal of Food Sciences, vol. 11, no. 1, 2017, p. 623-628
[abstract] doi: https://dx.doi.org/10.5219/809 [fulltext]
SEED OIL CONTENT AND SELECTED QUALITATIVE PARAMETERS OF OILS FROM GRAPE SEEDS
Patrik Burg, Vladimír Mašán, Kazimierz Rutkowski, Jana Burgová, Lubomír Lampíř, Vladimir Višacki
Potravinarstvo Slovak Journal of Food Sciences, vol. 11, no. 1, 2017, p. 629-633
[abstract] doi: https://dx.doi.org/10.5219/810 [fulltext]
THE RABBIT MEAT QUALITY AFTER DIFFERENT FEEDING
Adriana Pavelková, Jana Tkáčová, Karin Červienková, Ondřej Bučko
Potravinarstvo Slovak Journal of Food Sciences, vol. 11, no. 1, 2017, p. 634-640
[abstract] doi: https://dx.doi.org/10.5219/811 [fulltext]
PUBLISHED: 18. December 2017
PRODUCTION AND CHARACTERIZATION OF PECTINASE ENZYME FROM RHIZOPUS ORYZAE
Taminur Islam Chowdhury, Fahad Jubayer, Burhan Uddin, Gulzarul Aziz
Potravinarstvo Slovak Journal of Food Sciences, vol. 11, no. 1, 2017, p. 641-651
[abstract] doi: https://dx.doi.org/10.5219/656 [fulltext]
MICROBIOLOGICAL QUALITY OF FRESH AND HEAT TREATED COW'S MILK DURING STORAGE
Simona Kunová, Jozef Golian, Lucia Zeleňáková, Ľubomír Lopašovský, Juraj Čuboň, Peter Haščík, Miroslava Kačániová
Potravinarstvo Slovak Journal of Food Sciences, vol. 11, no. 1, 2017, p. 652-657
[abstract] doi: https://dx.doi.org/10.5219/799 [fulltext]
ANTIOXIDANT, ANTIMICROBIAL ACTIVITY AND MINERAL COMPOSITION OF LOW-TEMPERATURE FRACTIONING PRODUCTS OF MALUS DOMESTICA BORKH (COMMON ANTONOVKA)
Elena Kuznetsova, Alexander Emelyanov, Andrey Vinokurov, Tatyana Bychkova, Elena Klimova, Vladislav Zomitev, Natalia Selifonova, Ján Brindza
Potravinarstvo Slovak Journal of Food Sciences, vol. 11, no. 1, 2017, p. 658-663
[abstract] doi: https://dx.doi.org/10.5219/820 [fulltext]
EVALUATION OF SELECTED PHYSICOCHEMICAL PARAMETERS OF EXTRA VIRGIN OLIVE OIL COMMERCIALIZED IN THE CZECH MARKET AND STORED DURING A PERIOD OF 5 MONTHS
Richardos Nikolaos Salek, Iva Burešová, Stanislav Kráčmar, Eva Lorencová, Ludmila Zálešáková, Vikendra Dabash
Potravinarstvo Slovak Journal of Food Sciences, vol. 11, no. 1, 2017, p. 664-672
[abstract] doi: https://dx.doi.org/10.5219/823 [fulltext]
VERIFICATION OF ANIMAL SPECIES IN HAM AND SALAMI BY DNA MICROARRAY AND REAL TIME PCR METHODS
Zuzana Drdolová, Jozef Golian, Jozef Čurlej, Lenka Maršalková
Potravinarstvo Slovak Journal of Food Sciences, vol. 11, no. 1, 2017, p. 673-678
[abstract] doi: https://dx.doi.org/10.5219/831 [fulltext]
EFFECT OF THERMAL TREATMENT ON RUTIN CONTENT IN SELECTED BUCKWHEAT PRODUCTS USING CALCIUM AS AN INTERNAL TRACER
Eliška Krejzová, Miroslava Bittová, Stanislav Kráčmar, Petra Vojtíšková, Vlastimil Kubáň, Jozef Golian
Potravinarstvo Slovak Journal of Food Sciences, vol. 11, no. 1, 2017, p. 679-684
[abstract] doi: https://dx.doi.org/10.5219/853 [fulltext]
COSTS OF GROWING WHEAT AND OILSEED RAPE IN SLOVAKIA AND OTHER V4 COUNTRIES
Lenka Hudáková Stašová, Radoslav Bajus
Potravinarstvo Slovak Journal of Food Sciences, vol. 11, no. 1, 2017, p. 685-695
[abstract] doi: https://dx.doi.org/10.5219/832 [fulltext]
DYNAMICS OF LACTOSE CHANGES DURING RIPENING OF EDAM CHEESE
Lenka Vorlová, Lenka Prokopová, Jan Pospíšil, Petr Tichovský, Zuzana Derflerová Brázdová, Kateřina Bogdanovičová
Potravinarstvo Slovak Journal of Food Sciences, vol. 11, no. 1, 2017, p. 696-701
[abstract] doi: https://dx.doi.org/10.5219/685 [fulltext]
EVALUATION AND COMPARISON OF BIOACTIVE SUBSTANCES IN SELECTED SPECIES OF THE GENUS ALLIUM
Ján Kovarovič, Judita Bystrická, Alexander Fehér, Marianna Lenková
Potravinarstvo Slovak Journal of Food Sciences, vol. 11, no. 1, 2017, p. 702-708
[abstract] doi: https://dx.doi.org/10.5219/833 [fulltext]
IMPACT OF SENSORY MARKETING ON CONSUMER´S BUYING BEHAVIOUR
Andrej Géci, Ľudmila Nagyová, Jana Rybanská
Potravinarstvo Slovak Journal of Food Sciences, vol. 11, no. 1, 2017, p. 709-717
[abstract] doi: https://dx.doi.org/10.5219/835 [fulltext]
SELENIUM, CADMIUM AND DIAZINON INSECTICIDE IN TISSUES OF RATS AFTER PERORAL EXPOSURE
Róbert Toman, Martina Tunegová
Potravinarstvo Slovak Journal of Food Sciences, vol. 11, no. 1, 2017, p. 718-724
[abstract] doi: https://dx.doi.org/10.5219/827 [fulltext]
DETECTION OF SELECTED HEAVY METALS AND MICRONUTRIENTS IN EDIBLE INSECT AND THEIR DEPENDENCY ON THE FEED USING XRF SPECTROMETRY
Jiří Mlček, Martin Adámek, Anna Adámková, Marie Borkovcová, Martina Bednářová, Josef Skácel
Potravinarstvo Slovak Journal of Food Sciences, vol. 11, no. 1, 2017, p. 725-730
[abstract] doi: https://dx.doi.org/10.5219/850 [fulltext]
CONSUMERS´ PURCHASING PREFERENCES TOWARDS ORGANIC FOOD IN SLOVAKIA
Zdenka Kádeková, Roman Récky, Ľudmila Nagyová, Ingrida Košičiarová, Mária Holienčinová
Potravinarstvo Slovak Journal of Food Sciences, vol. 11, no. 1, 2017, p. 731-738
[abstract] doi: https://dx.doi.org/10.5219/846 [fulltext]
THE WINE MARKET – AN EMPICRICAL EXAMINATION OF IN-STORE CONSUMER BEHAVIOUR
Bartłomiej Pierański, Barbara Borusiak, Elena Horská
Potravinarstvo Slovak Journal of Food Sciences, vol. 11, no. 1, 2017, p. 739-746
[abstract] doi: https://dx.doi.org/10.5219/671 [fulltext]
EFECT OF SELECTED POLYMORPHISMS OF GENES LEP, MTHFR AND FTO TO BMI LEVEL AND GENDER-SPECIFICITY
Kristína Candráková, Anna Trakovická, Michal Gábor, Martina Miluchová, Radovan Kasarda, Nina Moravčíková
Potravinarstvo Slovak Journal of Food Sciences, vol. 11, no. 1, 2017, p. 747-754
[abstract] doi: https://dx.doi.org/10.5219/834 [fulltext]
MORPHOLOGICAL CHARACTERISTICS FOR FRUITS OF ARONIA MITSCHURINII A.K. SKVORTSOV & MAITUL.
Yulia Vinogradova Maitulina, Olga Grygorieva, Olena Vergun, Ján Brindza
Potravinarstvo Slovak Journal of Food Sciences, vol. 11, no. 1, 2017, p. 755-761
[abstract] doi: https://dx.doi.org/10.5219/845 [fulltext]
THE INFLUENCE OF GLUTEN-FREE BAKERY PRODUCTS CONSUMPTION ON SELECTED ANTHROPOMETRIC PARAMETERS
Martina Gažarová, Zuzana Chlebová, Jana Kopčeková, Petra Lenártová, Mária Holovičová
Potravinarstvo Slovak Journal of Food Sciences, vol. 11, no. 1, 2017, p. 762-770
[abstract] doi: https://dx.doi.org/10.5219/861 [fulltext]
Volume 10 Potravinarstvo® Scientific Journal for Food Industry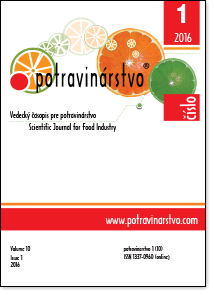 Vol. 10, No. 1/2016, All articles [PDF]
PUBLISHED: 24. January 2016
RAPD ANALYSIS OF THE GENETIC POLYMORPHISM IN EUROPEAN WHEAT GENOTYPES
Tímea Kuťka Hlozáková, Zdenka Gálová, Edita Gregová, Martin Vivodík, Želmíra Balážová, Dana Miháliková
Potravinarstvo, vol. 10, no. 1, 2016, p. 1-6, [abstract] doi:10.5219/520 [fulltext]
COLONIZATION OF GRAPES BERRIES BY ALTERNARIA sp. AND THEIR ABILITY TO PRODUCE MYCOTOXINS
Dana Tančinová, Zuzana Mašková, Ľubomír Rybárik, Soňa Felšöciová, Miroslava Císarová
Potravinarstvo, vol. 10, no. 1, 2016, p. 7-13, [abstract] doi:10.5219/553 [fulltext]
RESEARCH AND PRACTICE: QUANTIFICATION OF RAW AND HEAT-TREATED COW MILK IN SHEEP MILK, CHEESE AND BRYNDZA BY ELISA METHOD
Lucia Zeleňáková, Radoslav Židek, Margita Čanigová, Jana Žiarovská, Peter Zajác, Lenka Maršálková, Martina Fikselová, Jozef Golian
Potravinarstvo, vol. 10, no. 1, 2016, p. 14-22, [abstract] doi:10.5219/566 [fulltext]
COMPOSITION AND MICROSTRUCTURE ALTERATION OF TRITICALE GRAIN SURFACE AFTER PROCESSING BY ENZYMES OF CELLULASE COMPLEX
Elena Kuznetsova, Svetlana Motyleva, Maria Mertvischeva, Vladislav Zomitev, Jan Brindza
Potravinarstvo, vol. 10, no. 1, 2016, p. 23-29, [abstract] doi:10.5219/411 [fulltext]
THE CONTENT OF MERCURY IN VARIOUS TYPES OF CEREALS GROWN IN THE MODEL CONDITIONS
Ľuboš Harangozo, Miriama Kopernická, JanneteMusilová, Pavol Trebichalský
Potravinarstvo, vol. 10, no. 1, 2016, p. 30-36, [abstract] doi:10.5219/527 [fulltext]
HEAVY METALS DETERMINATION IN EDIBLE WILD MUSHROOMS GROWING IN FORMER MINING AREA – SLOVAKIA: HEALTH RISK ASSESSMENT
Zuzana Záhorcová, Július Árvay, Martin Hauptvogl, Ján Tomáš, Ľuboš Harangozo
Potravinarstvo, vol. 10, no. 1, 2016, p. 37-46, [abstract] doi:10.5219/528 [fulltext]
REDISTRIBUTION OF MINERAL ELEMENTS IN WHEAT GRAIN WHEN APPLYING THE COMPLEX ENZYME PREPARATIONS BASED ON PHYTASE
Elena Kuznetsova, Ludmila Cherepnina, Svetlana Motyleva, Ján Brindza
Potravinarstvo, vol. 10, no. 1, 2016, p. 47-53, [abstract] doi:10.5219/413 [fulltext]
MOLECULAR CHARACTERIZATION OF RYE CULTIVARS
Želmíra Balážová, Lenka Petrovičová, Zdenka Gálová, Martin Vivodík
Potravinarstvo, vol. 10, no. 1, 2016, p. 54-58, [abstract] doi:10.5219/522 [fulltext]
EVALUATION OF CAROTENOIDS, POLYPHENOLS CONTENT AND ANTIOXIDANT ACTIVITY IN THE SEA BUCKTHORN FRUIT JUICE
Andrea Mendelová, Ľubomír Mendel, Peter Czako, Ján Mareček
Potravinarstvo, vol. 10, no. 1, 2016, p. 59-64, [abstract] doi:10.5219/551 [fulltext]
INCIDENCE OF BACTERIA AND ANTIBACTERIAL ACTIVITY OF SELECTED TYPES OF TEA
Jana Hutková, Attila Kántor, Margarita Terentjeva, Jana Petrová, Czeslaw Puchalski, Maciej Kluz, Rafal Kordiaka, Simona Kunová, Miroslava Kačániová
Potravinarstvo, vol. 10, no. 1, 2016, p. 65-71, [abstract] doi:10.5219/552 [fulltext]
THE CONTENT OF TOTAL POLYPHENOLS IN DIFFERENT VARIETIES OF SOLANUM TUBEROSUM GROW IN SPIŠ AREA
Beáta Volnová, Janette Musilová, Miriam Kopernická, Petra Kavalcová, Ľuboš Harangozo, Michal Medvecký
Potravinarstvo, vol. 10, no. 1, 2016, p. 72-77, [abstract] doi:10.5219/539 [fulltext]
CHARACTERIZATION OF PROTEIN FRACTIONS AND ANTIOXIDANT ACTIVITY OF CHIA SEEDS (SALVIA HISPANICA L.)
Kvetoslava Kačmárová, Blažena Lavová, Peter Socha, Dana Urminská
Potravinarstvo, vol. 10, no. 1, 2016, p. 78-82, [abstract] doi:10.5219/563 [fulltext]
ANTIFUNGAL ACTIVITY OF LEMON, EUCALYPTUS, THYME, OREGANO, SAGE AND LAVENDER ESSENTIAL OILS AGAINST ASPERGILLUS NIGER AND ASPERGILLUS TUBINGENSIS ISOLATED FROM GRAPES
Miroslava Císarová, Dana Tančinová, Juraj Medo
Potravinarstvo, vol. 10, no. 1, 2016, p. 83-88, [abstract] doi:10.5219/554 [fulltext]
ANTIOXIDANT ACTIVITY, PHENOLIC CONTENT AND COLOUR OF THE SLOVAK CABERNET SAUVIGNON WINES
Daniel Bajčan, Alena Vollmannová, Vladimír Šimanský, Judita Bystrická, Pavol Trebichalský, Július Árvay, Peter Czako
Potravinarstvo, vol. 10, no. 1, 2016, p. 89-94, [abstract] doi:10.5219/534 [fulltext]
DETERMINATION OF HEAVY METALS CONCENTRATION IN RAW SHEEP MILK FROM MERCURY POLLUTED AREA
Radovan Stanovič, Július Árvay, Martin Hauptvogl, Ján Tomáš, Anton Kováčik, Zuzana Záhorcová, Marek Slávik
Potravinarstvo, vol. 10, no. 1, 2016, p. 95-99, [abstract] doi:10.5219/536 [fulltext]
BIOACCUMULATION OF CADMIUM BY SPRING BARLEY (HORDEUM VULGARE L.) AND ITS EFFECT ON SELECTED PHYSIOLOGICAL AND MORPHOLOGICAL PARAMETERS
Miriama Kopernická, Ján Tomáš, Tomáš Tóth, Ľuboš Harangozo, Beáta Volnová
Potravinarstvo, vol. 10, no. 1, 2016, p. 100-106, [abstract] doi:10.5219/544 [fulltext]
MICROBIOLOGICAL QUALITY OF CHICKEN THIGHS MEAT AFTER FOUR ESSENTIAL OILS COMBINATION, EDTA, VACCUM PACKING
Miroslava Kačániová, Margarita Terentjeva, Czeslaw Puchalski, Jana Petrová, Jana Hutková, Attila Kántor, Martin Mellen, Juraj Čuboň, Peter Haščík, Maciej Kluz, Rafal Kordiaka, Simona Kunová
Potravinarstvo, vol. 10, no. 1, 2016, p. 107-113, [abstract] doi:10.5219/548 [fulltext]
HERBICIDAL EFFECT IN RELATION TO THE ACCUMULATION OF MACROELEMENTS AND ITS REGULATION BY REGULATORS OF POLYAMINE SYNTHESIS
Pavol Trebichalský, Tomáš Tóth, Daniel Bajčan, Alena Vollmannová, Petra Kavalcová
Potravinarstvo, vol. 10, no. 1, 2016, p. 114-119, [abstract] doi:10.5219/535 [fulltext]
YEAST DIVERSITY IN NEW, STILL FERMENTING WINE "FEDERWEISSER"
Attila Kántor, Jana Petrová, Jana Hutková, Miroslava Kačániová
Potravinarstvo, vol. 10, no. 1, 2016, p. 120-125, [abstract] doi:10.5219/547 [fulltext]
RISK OF CONTAMINATION OF WILD BERRIES FROM UPPER ORAVA REGION BY CADMIUM
Stanislav Zupka, Alena Vollmannová, Ľuboš Harangozo, Marek Slávik, Michal Medvecký
Potravinarstvo, vol. 10, no. 1, 2016, p. 126-131, [abstract] doi:10.5219/546 [fulltext]
THE EXTENSION OF SHELF-LIFE OF CHICKEN MEAT AFTER APPLICATION OF CARAWAY AND ANISE ESSENTIAL OILS AND VACUUM PACKAGING
Maciej Kluz, Margarita Terentjeva, Czeslaw Puchalski, Jana Hutková, Attila Kántor, Jana Petrová,Martin Mellen, Juraj Čuboň, Peter Haščík, Rafal Kordiaka, Simona Kunová, Miroslava Kačániová
Potravinarstvo, vol. 10, no. 1, 2016, p. 132-138, [abstract] doi:10.5219/557 [fulltext]
COMPARABLE EFFICIENCY OF DIFFERENT EXTRACTION PROTOCOLS FOR WHEAT AND RYE PROLAMINS
Peter Socha, Marián Tomka, Kvetoslava Kačmárová, Blažena Lavová, Eva Ivanišová, Barbara Mickowska, Dana Urminská
Potravinarstvo, vol. 10, no. 1, 2016, p. 139-144, [abstract] doi:10.5219/540 [fulltext]
EVALUATION OF PRIMARY AND SECONDARY METABOLITES IN SELECTED VARIETIES OF POTATOES
Ján Mareček, Eva Ivanišová, Helena Frančáková, Janette Musilová, Tomáš Krajčovič, Andrea Mendelová
Potravinarstvo, vol. 10, no. 1, 2016, p. 145-151, [abstract] doi:10.5219/562 [fulltext]
LUNASIN DETECTION IN COLOURED WHEAT GENOTYPE
Milan Chňapek, Dušan Siman, Zdenka Gálová
Potravinarstvo, vol. 10, no. 1, 2016, p. 152-156, [abstract] doi:10.5219/533 [fulltext]
EFFECT OF THE ADDITION OF HYDROCOLLOIDS ON THE RHEOLOGICAL AND BAKING PROPERTIES OF THE PRODUCTS WITH ADDED SPELT FLOUR (TRITICUM SPELTA L.)
Tatiana Bojňanská, Jana Šmitalová, Alena Vollmannová
Potravinarstvo, vol. 10, no. 1, 2016, p. 157-163, [abstract] doi:10.5219/555 [fulltext]
PUBLISHED: 13. May 2016
EFFECT OF DIFFERENT PHYTOGENIC ADDITIVES ON OXIDATION STABILITY OF CHICKEN MEAT
Marek Bobko, Peter Haščík, Martin Mellen, Alica Bobková, Jana Tkáčová, Peter Czako, Adriana Pavelková, Lenka Trembecká
Potravinarstvo, vol. 10, no. 1, 2016, p. 164-169, [abstract] doi:10.5219/567 [fulltext]
IDENTIFICATION OF DIFFERENCES IN CHEMICAL COMPOSITION AMONG WHOLE STICK AND SLICED NITRAN SALAMIS TROUGH PRINCIPAL COMPONENT ANALYSIS
Tomáš Fekete, Marek Šnirc, Ľubomír Belej, Jozef Golian, Peter Zajác, Jozef Čapla
Potravinarstvo, vol. 10, no. 1, 2016, p. 170-175, [abstract] doi:10.5219/568 [fulltext]
EVALUATION OF THE NUTRITIONAL QUALITY OF VEAL SUPPLEMENTED WITH ORGANIC SELENIUM AND ITS EFFECT ON SELENIUM STATUS OF PEOPLE
Klára Vavrišínová, Jana Mrázová, Ondřej Bučko, Petra Lenártová, Jana Moravčíková
Potravinarstvo, vol. 10, no. 1, 2016, p. 176-180, [abstract] doi:10.5219/569 [fulltext]
INFLUENCE OF HARVEST DAY ON CHANGES IN MECHANICAL PROPERTIES OF GRAPE BERRIES
Šárka Nedomová, Vojtěch Kumbár, Pavel Pavloušek, Roman Pytel, Jaroslav Začal, Jaroslav Buchar
Potravinarstvo, vol. 10, no. 1, 2016, p. 181-187, [abstract] doi:10.5219/600 [fulltext]
MicroRNA (miRNA) IN FOOD RESOURCES AND MEDICINAL PLANT
Katarína Ražná, Milan Bežo, Lucia Hlavačková, Jana Žiarovská, Marián Miko, Ján Gažo, Miroslav Habán
Potravinarstvo, vol. 10, no. 1, 2016, p. 188-194, [abstract] doi:10.5219/583 [fulltext]
EFFECTS OF CROSS-LINKING MODIFICATION WITH PHOSPHORYL CHLORIDE (POCL3) ON PYSIOCHEMICAL PROPERTIES OF BARLEY STARCH
Zahra Malekpour, Mohammad Hojatoleslamy, Hooman Molavi, Javad Keramat, Amirpouya Ghandehari Yazdi, Mohammad Ali Shariati
Potravinarstvo, vol. 10, no. 1, 2016, p. 195-201, [abstract] doi:10.5219/627 [fulltext]
POSSIBILITIES OF MICROSCOPIC DETECTION OF ISOLATED PORCINE PROTEINS IN MODEL MEAT PRODUCTS
Michaela Petrášová, Eliška Zichová, Matej Pospiech, Bohuslava Tremlová, Zdeňka Javůrková
Potravinarstvo, vol. 10, no. 1, 2016, p. 202-206, [abstract] doi:10.5219/588 [fulltext]
THE EFFECT OF STORAGE ON QUALITY OF HERBS GENUS ORIGANUM
Lenka Kouřimská, Kateřina Ešlerová, Yunus Khatri
Potravinarstvo, vol. 10, no. 1, 2016, p. 207-214, [abstract] doi:10.5219/608 [fulltext]
RELATION BETWEEN SELECTED NUTRIENTS IN THE CHICKEN MEAT DEPENDING ON PHYTOGENIC FEED ADDITIVES
Mária Angelovičová, Martin Mellen, Ondřej Bučko, Jana Tkáčová, Jozef Čapla, Peter Zajác, Marek Angelovič
Potravinarstvo, vol. 10, no. 1, 2016, p. 215-222, [abstract] doi:10.5219/573 [fulltext]
EFFECT OF DIET SUPPLEMENTED WITH PROPOLIS EXTRACT AND PROBIOTIC ADDITIVES ON PERFORMANCE, CARCASS CHARACTERISTICS AND MEAT COMPOSITION OF BROILER CHICKENS
Peter Haščík, Lenka Trembecká, Marek Bobko, Miroslava Kačániová, Juraj Čuboň, Simona Kunová, Ondřej Bučko
Potravinarstvo, vol. 10, no. 1, 2016, p. 223-231, [abstract] doi:10.5219/581 [fulltext]
THE HEAVY METALS CONTENT IN WILD GROWING MUSHROOMS FROM BURDENED SPIŠ AREA
Marek Slávik, Tomáš Tóth, Árvay Július, Ľuboš Harangozo, Miriama Kopernická
Potravinarstvo, vol. 10, no. 1, 2016, p. 232-236, [abstract] doi:10.5219/564 [fulltext]
DIAGNOSTICS OF SUBTROPICAL PLANTS FUNCTIONAL STATE BY CLUSTER ANALYSIS
Oksana Belous, Valentina Malyarovskaya, Kristina Klemeshova
Potravinarstvo, vol. 10, no. 1, 2016, p. 237-242, [abstract] doi:10.5219/526 [fulltext]
PUBLISHED: 14. June 2016
137Cs MONITORING IN THE MEAT OF WILD BOAR POPULATION IN SLOVAKIA
Katarína Beňová, Petr Dvořák, Martin Tomko, Marcel Falis
Potravinarstvo, vol. 10, no. 1, 2016, p. 243-247, [abstract] doi:10.5219/578 [fulltext]
THE EFFECT OF FEEDING MILK THISTLE SEED CAKES ON QUALITY INDICATORS OF BROILER CHICKENS MEAT
Ondřej Šťastník, Miroslav Jůzl, Filip Karásek, Hana Štenclová, Šárka Nedomová, Leoš Pavlata, Eva Mrkvicová, Petr Doležal, Alžbeta Jarošová
Potravinarstvo, vol. 10, no. 1, 2016, p. 248-254, [abstract] doi:10.5219/579 [fulltext]
DETERMINATION OF ASCORBIC ACID IN PHARMACEUTICAL PREPARATION AND FRUIT JUICE USING MODIFIED CARBON PASTE ELECTRODE
Simona Žabčíková, Dai Long Vu, Libor Červenka, Vojtěch Tambor, Martina Vašatová
Potravinarstvo, vol. 10, no. 1, 2016, p. 255-259, [abstract] doi:10.5219/586 [fulltext]
ADSORPTIVE STRIPPING VOLTAMMETRY IN LIPOPHILIC VITAMINS DETERMINATION
Milan Sýs, Simona Žabčíková, Libor Červenka, Karel Vytřas
Potravinarstvo, vol. 10, no. 1, 2016, p. 260-264, [abstract] doi:10.5219/587 [fulltext]
INFLUENCE OF TYPE AND SHELF-LIFE ON TWO BRANDS COMPLEMENTARY FOOD IN COLOR, VITAMINS, AND SENSORY EVALUATION
Vladimír Sýkora, Hana Šulcerová, Michal Mihok, Roman Pytel
Potravinarstvo, vol. 10, no. 1, 2016, p. 265-271, [abstract] doi:10.5219/618 [fulltext]
THE EFFECT OF REDUCED ZINC LEVELS ON PERFORMANCE PARAMETERS OF BROILER CHICKENS
Hana Štenclová, Filip Karásek, Ondrej Šťastník, Ladislav Zeman, Eva Mrkvicová, Leoš Pavlata
Potravinarstvo, vol. 10, no. 1, 2016, p. 272-275, [abstract] doi:10.5219/580 [fulltext]
QUALITY ASSESSMENT OF JUICE PREPARED FROM DIFFERENT VARIETIES OF CURRANT (Ribes L.)
Andrea Mendelová, Ľubomír Mendel, Tomáš Krajčovič, Peter Czako, Ján Mareček, Helena Frančáková
Potravinarstvo, vol. 10, no. 1, 2016, p. 276-281, [abstract] doi:10.5219/602 [fulltext]
PREVALENCE OF PATHOGENIC YERSINIA ENTEROCOLITICA IN MINCED MEAT, PIG TONGUES AND HEARTS AT THE RETAIL LEVEL IN THE CZECH REPUBLIC DETECTED BY REAL TIME PCR
Alena Lorencova, Michal Slany
Potravinarstvo, vol. 10, no. 1, 2016, p. 282-286, [abstract] doi:10.5219/616 [fulltext]
FLAX – EVALUATION OF COMPOSITE FLOUR AND USING IN CEREAL PRODUCTS
Marie Hrušková, Ivan Švec
Potravinarstvo, vol. 10, no. 1, 2016, p. 287-294, [abstract] doi:10.5219/594 [fulltext]
EFFECT OF SPICES COMMERCIAL MIXTURE WITH GLUCONO-DELTA-LACTONE ON THE QUALITY OF FERMENTED DRY-CURED SAUSAGES
Miroslav Kročko, Margita Čanigová, Viera Ducková, Ondřej Bučko
Potravinarstvo, vol. 10, no. 1, 2016, p. 295-299, [abstract] doi:10.5219/603 [fulltext]
QUERCETIN-INDUCED CHANGES IN FEMORAL BONE MICROSTRUCTURE OF ADULT MALE RABBITS
Ramona Babosová, Radoslav Omelka, Hana Ďúranová, Veronika Kováčová, Martina Lukáčová, Marcela Capcarová, Monika Martiniaková
Potravinarstvo, vol. 10, no. 1, 2016, p. 300-307, [abstract] doi:10.5219/607 [fulltext]
ASSESSMENT OF DNA QUALITY IN PROCESSED TUNA MUSCLE TISSUES
Zora Piskatá, Eliška Pospíšilová
Potravinarstvo, vol. 10, no. 1, 2016, p. 308-315, [abstract] doi:10.5219/612 [fulltext]
THE COMPARISON OF BIOLOGICAL ACTIVITY OF CHOCOLATES MADE BY DIFFERENT TECHNOLOGICAL PROCEDURES
Lucia Godočiková, Eva Ivanišová, Július Árvay, Jana Petrová, Miroslava Kačániová
Potravinarstvo, vol. 10, no. 1, 2016, p. 316-322, [abstract] doi:10.5219/628 [fulltext]
CELIAC DISEASE: THE SITUATION ON THE SLOVAK MARKET
Ľudmila Nagyová, Ingrida Košičiarová, Jana Rybanská, Mária Holienčinová
Potravinarstvo, vol. 10, no. 1, 2016, p. 323-331, [abstract] doi:10.5219/582 [fulltext]
PUBLISHED: 15. July 2016
INFLUENCE OF THE XANTHAN GUM ADDITION ON THE TECHNOLOGICAL AND SENSORY QUALITY OF BAKING PRODUCTS DURING THE FREEZING STORAGE
Tatiana Bojňanská, Jana Šmitalová, Vladimír Vietoris, Alena Vollmannová
Potravinarstvo, vol. 10, no. 1, 2016, p. 332-338, [abstract] doi:10.5219/592 [fulltext]
INTERSECTION OF MYCOTOXINS FROM GRAINS TO FINISHED BAKING
Viera Šottníková, Luděk Hřivna, Iva Burešová, Jan Nedělník
Potravinarstvo, vol. 10, no. 1, 2016, p. 339-345, [abstract] doi:10.5219/614 [fulltext]
OXIDATIVE STABILITY OF CHICKEN'S BREAST AFTER VACUUM PACKAGING, EDTA, SAGE AND ROSEMARY ESSENTIAL OILS TREATMENT
Adriana Pavelková, Marek Bobko, Peter Haščík, Miroslava Kačániová, Jana Tkáčová
Potravinarstvo, vol. 10, no. 1, 2016, p. 346-353, [abstract] doi:10.5219/622 [fulltext]
THE ROLE OF COLOR SORTING MACHINE IN REDUCING FOOD SAFETY RISKS
Eleonóra Kecskésné Nagy, Péter Korzenszky, Péter Sembery
Potravinarstvo, vol. 10, no. 1, 2016, p. 354-358, [abstract] doi:10.5219/511 [fulltext]
INDUSTRIALLY PROCESSED OILSEED RAPE IN THE PRODUCTION OF TABLE EGGS
Mária Angelovičová, Michal Angelovič, Zdenko Tkáč, Juraj Jablonický, Marek Angelovič
Potravinarstvo, vol. 10, no. 1, 2016, p. 359-365, [abstract] doi:10.5219/629 [fulltext]
A COMPARISON OF THE DETERMINATION OF THE RENNET COAGULATION PROPERTIES OF BOVINE MILK
Roman Pytel, Květoslava Šustová, Vojtěch Kumbár, Šárka Nedomová
Potravinarstvo, vol. 10, no. 1, 2016, p. 366-371, [abstract] doi:10.5219/604 [fulltext]
STEREOLOGICAL ANALYSIS OF PEA PROTEIN IN MODEL SAMPLES
Zdeňka Javůrková, Matej Pospiech, Michaela Petrášová, Bohuslava Tremlová, Ludmila Luňáková
Potravinarstvo, vol. 10, no. 1, 2016, p. 372-377, [abstract] doi:10.5219/610 [fulltext]
PHTHALATES IN MEAT PRODUCTS IN DEPENDENCE ON THE FAT CONTENT
Alžbeta Jarošová, Soňa Bogdanovičová
Potravinarstvo, vol. 10, no. 1, 2016, p. 378-383, [abstract] doi:10.5219/621 [fulltext]
SWEET POTATO (IPOMOEA BATATAS L.) GROWING IN CONDITIONS OF SOUTHERN SLOVAK REPUBLIC
Miroslav Šlosár, Ivana Mezeyová, Alžbeta Hegedűsová, Marcel Golian
Potravinarstvo, vol. 10, no. 1, 2016, p. 384-392, [abstract] doi:10.5219/626 [fulltext]
HISTOLOGICAL ANALYSIS OF FEMORAL BONES IN RABBITS ADMINISTERED BY AMYGDALIN
Veronika Kováčová, Radoslav Omelka, Anna Šarocká, Patrik Šranko, Mária Adamkovičová, Róbert Toman, Marek Halenár, Adriana Kolesárová, Monika Martiniaková
Potravinarstvo, vol. 10, no. 1, 2016, p. 393-399, [abstract] doi:10.5219/625 [fulltext]
MINOR LIPOPHILIC COMPOUNDS IN EDIBLE INSECTS
Monika Sabolová, Anna Adámková, Lenka Kouřimská, Diana Chrpová, Jan Pánek
Potravinarstvo, vol. 10, no. 1, 2016, p. 400-406, [abstract] doi:10.5219/605 [fulltext]
MICROBIOLOGICAL EVALUATION OF FISH
Olga Cwiková
Potravinarstvo, vol. 10, no. 1, 2016, p. 407-412, [abstract] doi:10.5219/617 [fulltext]
EFFECT OF FARMING SYSTEM ON COLOUR COMPONENTS OF WHEAT NOODLES
Magdalena Lacko-Bartosova, Lucia Lacko-Bartosova
Potravinarstvo, vol. 10, no. 1, 2016, p. 413-417, [abstract] doi:10.5219/620 [fulltext]
CHEMICAL AND PHYSICAL PARAMETERS OF DRIED SALTED PORK MEAT
Petronela Cviková, Juraj Čuboň, Simona Kunová, Miroslava Kačániová, Lukáš Hleba, Peter Haščík, Lenka Trembecká, Gabriela Bartošová
Potravinarstvo, vol. 10, no. 1, 2016, p. 418-423, [abstract] doi:10.5219/632 [fulltext]
PUBLISHED: 16. October 2016
COMPARISON OF PHYSICOCHEMICAL PROPERTIES OF SELECTED LOCALLY AVAILABLE LEGUMES VARIETIES (MUNG BEAN, COWPEA AND SOYBEAN)
Kulasooriyage Gangani Tharuka Gunathilake, Theja Herath, Jagath Wansapala
Potravinarstvo, vol. 10, no. 1, 2016, p. 424-430, [abstract] doi:10.5219/631 [fulltext]
MICROBIOLOGICAL AND CHEMICAL QUALITY OF FRESH AND FROZEN WHOLE TROUT AND TROUT FILLETS
Peter Popelka, Pavlína Jevinova, Slavomír Marcinčák
Potravinarstvo, vol. 10, no. 1, 2016, p. 431-436, [abstract] doi:10.5219/599 [fulltext]
THE CHANGES IN BIOCHEMICAL PARAMETERS DUE TO WINE CONSUMPTION DEPENDING ON GENDER
Martina Gažarová, Zuzana Chlebová, Lenka Predná, Peter Chlebo, Marta Habánová
Potravinarstvo, vol. 10, no. 1, 2016, p. 437-443, [abstract] doi:10.5219/634 [fulltext]
CONTENT OF TOTAL POLYPHENOLS AND ANTIOXIDANT ACTIVITY IN VARIETIES OF ONION AND GARLIC
Ismael Sullaiman Dalaram
Potravinarstvo, vol. 10, no. 1, 2016, p. 444-451, [abstract] doi:10.5219/658 [fulltext]
A QUALITY ENHANCEMENT GREEN STRATEGY FOR BROILER MEAT BY APPLICATION OF TURMERIC (Curcuma Longa) POWDER AS LITTER AMENDMENT TO AFFECT MICROBES, AMMONIA EMISSION, PH AND MOISTURE
Katukurunda Gamage Shanaka Chaminda Katukurunda, Hewa Anthonige Amal Yasas Buddhika, Manoja Krishanthi Wijethunge Gamage, Prabhashini Dissanayake, Dulcy Senaratna
Potravinarstvo, vol. 10, no. 1, 2016, p. 452-457, [abstract] doi:10.5219/577 [fulltext]
BIOCHEMICAL COMPOSITION OF TANGERINE FRUITS UNDER MICROFERTILIZERS
Yuliya Abilfazova, Oksana Belous
Potravinarstvo, vol. 10, no. 1, 2016, p. 458-468, [abstract] doi:10.5219/615 [fulltext]
SCIENTIFIC BASIS OF USE OF FRUITS CORIANDRUM SATIVUM L. IN FOOD TECHNOLOGIES
Natalia Frolova, Olga Korablova
Potravinarstvo, vol. 10, no. 1, 2016, p. 469-474, [abstract] doi:10.5219/575 [fulltext]
FRUIT AND VEGETABLE INTAKE AMONG COLLEGE STUDENTS IN NITRA – COMPARATIVE STUDY
Tünde Juríková, Ildikó Viczayová, Jiří Mlček, Jiří Sochor, Štefan Balla, Mojmír Baroň
Potravinarstvo, vol. 10, no. 1, 2016, p. 475-480, [abstract] doi:10.5219/639 [fulltext]
NUTRITION INTERVENTIONS IN PATIENTS WITH CROHN'S DISEASE
Eva Beňová, Mária Boledovičová, Erika Krištofová, Ľuboslava Pavelová
Potravinarstvo, vol. 10, no. 1, 2016, p. 481-488, [abstract] doi:10.5219/650 [fulltext]
EFFECT OF RANA GALAMENSIS–BASED DIET ON THE ACTIVITIES OF SOME ENZYMES AND HISTOPATHOLOGY OF SELECTED TISSUES OF ALBINO RATS
Basiru Olaitan Ajiboye, Nasir Olarewaju Muhammad, Oluwafemi Adeleke Ojo
Potravinarstvo, vol. 10, no. 1, 2016, p. 489-493, [abstract] doi:10.5219/642 [fulltext]
CRAMBE TATARIA SEBEÓK SEEDS AND PLANTS GROWN IN VITRO AND IN VIVO FATTY ACID COMPOSITION COMPARISON
Nadia Pushkarova, Mariia Kalista, Maxim Kharkhota, Dzhamal Rakhmetov, Mukola Kuchuk
Potravinarstvo, vol. 10, no. 1, 2016, p. 489-498, [abstract] doi:10.5219/646 [fulltext]
SHELF LIFE EXTENSION AND SENSORY EVALUATION OF BIRCH TREE SAP USING CHEMICAL PRESERVATIVES
Maciej Bilek, Vladimír Vietoris, Vojtech Ilko
Potravinarstvo, vol. 10, no. 1, 2016, p. 499-505, [abstract] doi:10.5219/649 [fulltext]
EFFECT OF HYDRATED APPLE POWDER ON DOUGH RHEOLOGY AND COOKIES QUALITY
Michaela Lauková, Zlatica Kohajdová, Jolana Karovičová
Potravinarstvo, vol. 10, no. 1, 2016, p. 506-511, [abstract] doi:10.5219/597 [fulltext]
POLYPHENOL CONTENT AND ANTIOXIDANT CAPACITY OF FRUIT AND VEGETABLE BEVERAGES PROCESSED BY DIFFERENT TECHNOLOGY METHODS
Jiří Mlček, Tünde Juríková, Soňa Škrovánková, Marcela Paličková, Jana Orsavová, Ladislava Mišurcová, Irena Hlaváčová, Jiří Sochor, Daniela Sumczynski
Potravinarstvo, vol. 10, no. 1, 2016, p. 512-517, [abstract] doi:10.5219/635 [fulltext]
SELECTED TECHNOLOGICAL PROPERTIES AND ANTIBIOTIC RESISTANCE OF ENTEROCOCCI ISOLATED FROM MILK
Čanigová Margita, Ducková Viera, Lavová Monika, Bezeková Jana, Kročko Miroslav
Potravinarstvo, vol. 10, no. 1, 2016, p. 518-523, [abstract] doi:10.5219/652 [fulltext]
PUBLISHED: 22. November 2016
PERCEPTION OF WINE LABELS BY GENERATION Z: EYE-TRACKING EXPERIMENT
Stanislav Mokrý, Naďa Birčiaková, Tereza Slováčková, Jana Stávková, Ľudmila Nagyová
Potravinarstvo, vol. 10, no. 1, 2016, p. 524-531, [abstract] doi:10.5219/647 [fulltext]
GENETIC VARIATION AND RELATIONSHIPS OF OLD MAIZE GENOTYPES (ZEA MAYS L.) DETECTED USING SDS-PAGE
Martin Vivodík, Zdenka Gálová, Želmíra Balážová, Lenka Petrovičová, Tímea Kuťka Hlozáková
Potravinarstvo, vol. 10, no. 1, 2016, p. 532-536, [abstract] doi:10.5219/661 [fulltext]
EFFECT OF THERMAL PASTEURIZATION AND HIGH PRESSURE PROCESSING ON BIOACTIVE PROPERTIES IN STRAWBERRY JUICE
Lenka Predná, Marta Habánová, Martina Gažarová, Andrea Mendelová, Miroslav Habán, Jorge Manuel Alexandre Saraiva, Rui Queirós
Potravinarstvo, vol. 10, no. 1, 2016, p. 537-542, [abstract] doi:10.5219/648 [fulltext]
EFFECT OF WHEAT AND CORN GERMS ADDITION ON THE PHYSICAL PROPERTIES AND SENSORY QUALITYOF CRACKERS
Veronika Kuchtová, Lucia Minarovičová, Zlatica Kohajdová, Jolana Karovičová
Potravinarstvo, vol. 10, no. 1, 2016, p. 543-549, [abstract] doi:10.5219/598 [fulltext]
THE RELATIONSHIP OF HEAVY METALS CONTENTS IN SOILS TO THEIR CONTENT IN LEGUME SEEDS USED IN FAMOUS TRADITIONAL FOOD IN KURDISTAN REGION-IRAQ
Ismael Sularmam Dalaram, Rasul Husain Nabil, Ali Suad Dina
Potravinarstvo, vol. 10, no. 1, 2016, p. 550-556, [abstract] doi:10.5219/663 [fulltext]
RISK OF AGRICULTURAL PRODUCTION IN RUSSIAN OREL REGION
Marián Tóth, Vladislav Matveev, Andrea Boháčiková
Potravinarstvo, vol. 10, no. 1, 2016, p. 557-562, [abstract] doi:10.5219/664 [fulltext]
START CODON TARGETED (SCOT) POLYMORPHISM REVEALS GENETIC DIVERSITY IN EUROPEAN OLD MAIZE (ZEA MAYS L.) GENOTYPES
Martin Vivodík, Zdenka Gálová, Želmíra Balážová, Lenka Petrovičová
Potravinarstvo, vol. 10, no. 1, 2016, p. 563-569, [abstract] doi:10.5219/660 [fulltext]
THE EFFECT OF POST-HARVEST TREATMENT ON THE QUALITY OF SWEET CHERRIES DURING STORAGE
Miroslav Horák, Jan Goliáš, Pavel Híc, Anna Němcová, Jana Kulichová
Potravinarstvo, vol. 10, no. 1, 2016, p. 570-577, [abstract] doi:10.5219/667 [fulltext]
TEXTURE QUALITY OF MUSKMELONS (CUCUMIS MELO L.) FROM DIFFERENT RETAILERS DURING STORAGE
Alica Bobková, Marek Šnirc, Martin Král, Martina Oštádalová, Jana Pokorná, Tomáš Fekete, Ľubomír Belej
Potravinarstvo, vol. 10, no. 1, 2016, p. 578-584, [abstract] doi:10.5219/668 [fulltext]
INFLUENCE OF DIFFERENT CURING METHODS ON THE FATTY ACID COMPOSITION IN SAUSAGES PREPARED FROM RED DEER MEAT
Marek Šnirc, Ľubomír Belej, Radoslav Židek, Marek Bobko, Miroslav Kročko, Peter Haščík, Jozef Golian, Martin Král
Potravinarstvo, vol. 10, no. 1, 2016, p. 585-590, [abstract] doi:10.5219/670 [fulltext]
PUBLISHED: 19. December 2016
EVALUATION OF FAT GRAINS IN GOTHAJ SAUSAGE USING IMAGE ANALYSIS
Ludmila Luňáková, Matej Pospiech, Bohuslava Tremlová, Alena Saláková, Zdeňka Javůrková, Josef Kameník
Potravinarstvo, vol. 10, no. 1, 2016, p. 591-597, [abstract] doi:10.5219/613 [fulltext]
COMPARISON OF THE INFLUENCE OF DEFINED STORING CONDITIONS ON ASIAN AND EUROPEAN PEAR CULTIVARS
Petr Šnurkovič, Josef Balík, Jan Goliáš, Miroslav Horák, Anna Němcová
Potravinarstvo, vol. 10, no. 1, 2016, p. 598-604, [abstract] doi:10.5219/672 [fulltext]
DISTRIBUTION OF INVASIVE PLANTS IN THE NITRA RIVER BASIN: THREATS AND BENEFITS FOR FOOD PRODUCTION
Alexander Fehér, Daniela Halmová, Iveta Fehér-Pindešová, Peter Zajác, Jozef Čapla
Potravinarstvo, vol. 10, no. 1, 2016, p. 605-611, [abstract] doi:10.5219/651 [fulltext]
VERIFICATION FOR THE PRESENCE OF INHIBITORY SUBSTANCES IN POULTRY MEAT AFTER THE CONSUMPTION OF THE FEED MIXTURE SUPPLEMENTED WITH FERMENTED FEED
Ivona Kožárová, Slavomír Marcinčák, Anna Reitznerová, Martin Bartkovský, Ján Mačanga, Dana Marcinčáková, Tatiana Klempová, Milan Čertík
Potravinarstvo, vol. 10, no. 1, 2016, p. 612-618, [abstract] doi:10.5219/682 [fulltext]
ANTIBIOTIC RESISTANCE IN BACTERIA STAPHYLOCOCCUS SPP. ISOLATED FROM SAMPLES OF RAW SHEEP'S MILK
Milan Vasiľ, Juraj Elečko, Zuzana Farkašová, František Zigo, Martin Lapin
Potravinarstvo, vol. 10, no. 1, 2016, p. 619-624, [abstract] doi:10.5219/680 [fulltext]
RISK ELEMENTS IN SELECTED TYPES OF VEGETABLES
Ľuboš Harangozo
Potravinarstvo, vol. 10, no. 1, 2016, p. 625-630, [abstract] doi:10.5219/654 [fulltext]
IMPACT OF THE SYMBIVIT PREPARATION ON QUANTITATIVE AND QUALITATIVE INDICATORS OF TOMATO (LYCOPERSICON ESCULENTUM MILL.)
Alžbeta Hegedűsová, Alena Andrejiová, Ivana Mezeyová
Potravinarstvo, vol. 10, no. 1, 2016, p. 631-636, [abstract] doi:10.5219/677 [fulltext]
CHANGES OF VITAMIN C CONTENT IN CELERY AND PARSLEY HERB AFTER PROCESSING
Magdaléna Valšíková, Ivana Mezeyová, Marián Rehuš, Mirolav Šlosár
Potravinarstvo, vol. 10, no. 1, 2016, p. 637-642, [abstract] doi:10.5219/687 [fulltext]
THE ESTIMATED POSSIBILITIES OF PROCESS MONITORING IN MILK PRODUCTION BY THE SIMPLE THERMODYNAMIC SENSORS
Martin Adámek, Anna Adámková, Michal Reznicek, Lenka Kouřimská
Potravinarstvo, vol. 10, no. 1, 2016, p. 643-648, [abstract] doi:10.5219/462 [fulltext]
THE POSSIBILITIES OF INCREASING LIGNAN CONTENT IN FOOD
Jana Kulichová, Pavel Híc, Josef Balík, Jan Tříska, Naděžda Vrchotová, Milan Houška
Potravinarstvo, vol. 10, no. 1, 2016, p. 649-655, [abstract] doi:10.5219/675 [fulltext]
THE ECONOMIC IMPACT OF REDUCED VALUE ADDED TAX RATES FOR GROCERIES
Slavomíra Martinková, Anna Bánociová
Potravinarstvo, vol. 10, no. 1, 2016, p. 656-662, [abstract] doi:10.5219/679 [fulltext]
NUTRITIONAL VALUES OF EDIBLE COLEOPTERA (TENEBRIO MOLITOR, ZOPHOBAS MORIO AND ALPHITOBIUS DIAPERINUS) REARED IN THE CZECH REPUBLIC
Anna Adámková, Lenka Kouřimská, Marie Borkovcová, Martin Kulma, Jiří Mlček
Potravinarstvo, vol. 10, no. 1, 2016, p. 663-671, [abstract] doi:10.5219/609 [fulltext]
PLACING OF AROMA COMPOUNDS BY FOOD SALES PROMOTION IN CHOSEN SERVICES BUSINESS
Jakub Berčík, Johana Paluchová, Vladimír Vietoris, Elena Horská
Potravinarstvo, vol. 10, no. 1, 2016, p. 672-679, [abstract] doi:10.5219/666 [fulltext]
COMPARISON OF PHYTOESTROGENS DIETARY INTAKE FROM VEGETABLES AND FRUIT IN SELECTED POPULATION IN SLOVAKIA
Ľubomír Belej, Marek Šnirc, Tomáš Fekete, Radoslav Židek, Jozef Čurlej, Dagmar Kozelová
Potravinarstvo, vol. 10, no. 1, 2016, p. 680-684, [abstract] doi:10.5219/703 [fulltext]
Volume 9 Potravinarstvo® Scientific Journal for Food Industry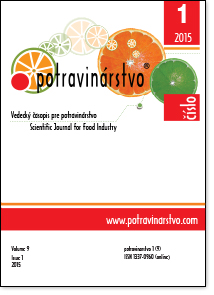 Vol. 9, No. 1/2015, All articles [PDF]
PUBLISHED: 6. March 2015
TOTAL POLYPHENOL CONTENT AND ANTIOXIDANT CAPACITY CHANGES IN DEPENDENCE ON CHOSEN GARDEN PEA VARIETIES
Alžbeta Hegedűsová, Ivana Mezeyová, Mária Timoracká, Miroslav Šlosár, Janette Musilová, Tünde Juríková
Potravinarstvo, vol. 9, no. 1, 2015, p. 1-8, [abstract] doi:10.5219/412 [fulltext]
INFLUENCE OF CHOSEN MICROBES AND SOME CHEMICAL SUBSTANCES ON THE PRODUCTION OF AFLATOXINS
Iveta Brožková, Petra Šmahová, Jarmila Vytřasová, Petra Moťková, Marcela Pejchalová, David Šilha
Potravinarstvo, vol. 9, no. 1, 2015, p. 9-17, [abstract] doi:10.5219/416 [fulltext]
PRODUCTION OF T-2 TOXIN AND DEOXYNIVALENOL IN THE PRESENCE OF DIFFERENT DISINFECTANTS
Dana Hrubošová, Jarmila Vytřasová, Iveta Brožková
Potravinarstvo, vol. 9, no. 1, 2015, p. 18-23, [abstract] doi:10.5219/417 [fulltext]
PUBLISHED: 5. May 2015
LIQUID CHROMATOGRAPHIC DETERMINATION OF POLYPHENENOLS IN CZECH BEERS DURING BREWING PROCES
Chunsriimyatav Ganbaatar, Vlastimil Kubáň, Stanislav Kráčmar, Pavel Valášek, Miroslav Fišera, Ignác Hoza
Potravinarstvo, vol. 9, no. 1, 2015, p. 24-30, [abstract] doi:10.5219/421 [fulltext]
CONTENT OF 4(5)-METHYLIMIDAZOLE, CAFFEINE AND CHLOROGENIC ACID IN COMMERCIAL COFFEE BRANDS
Thi Thanh Dieu Phan, Miroslava Bittová, Kamil Mikulášek, Stanislav Kráčmar, Vlastimil Kubáň, Pavel Valášek, Blanka Svobodová
Potravinarstvo, vol. 9, no. 1, 2015, p. 31-38, [abstract] doi:10.5219/422 [fulltext]
THE EFFECT OF STORAGE TEMPERATURE ON THE QUALITY AND FORMATION OF BLOOMING DEFECTS IN CHOCOLATE CONFECTIONERY
Lenka Machálková, Luděk Hřivna, Šárka Nedomová, Miroslav Jůzl
Potravinarstvo, vol. 9, no. 1, 2015, p. 39-47, [abstract] doi:10.5219/425 [fulltext]
OXIDATIVE STABILITY OF CHICKEN MEAT AFTER PROPOLIS EXTRACT APPLICATION IN THEIR DIETS
Marek Bobko, Miroslav Kročko, Peter Haščík, Alica Bobková
Potravinarstvo, vol. 9, no. 1, 2015, p. 48-52, [abstract] doi:10.5219/427 [fulltext]
THE CHEMICAL COMPOSITION OF GRAPE FIBRE
Jolana Karovičová, Zlatica Kohajdová, Lucia Minarovičová, Veronika Kuchtová
Potravinarstvo, vol. 9, no. 1, 2015, p. 53-57, [abstract] doi:10.5219/428 [fulltext]
THE INFLUENCE OF LACTOBACILLUS PARACASEI LPC-37 ON SELECTED PROPERTIES OF FERMENTED SAUSAGES
Marcel Mati, Michal Magala, Jolana Karovičová, Ladislav Staruch
Potravinarstvo, vol. 9, no. 1, 2015, p. 58-65, [abstract] doi:10.5219/430 [fulltext]
POTENTIAL PROBIOTIC PROPERTIES OF LACTOBACILLI ISOLATED FROM GOAT´S MILK
Martin Tomáška, Maroš Drončovský, Lýdia Klapáčová, Anna Slottová, Miroslav Kološta
Potravinarstvo, vol. 9, no. 1, 2015, p. 66-71, [abstract] doi:10.5219/434 [fulltext]
THE BACTERIOLOGICAL QUALITY OF GOAT AND OVINE MILK
Kateřina Bogdanovičová, Alena Skočková, Zora Šťástková, Ivana Koláčková, Renáta Karpíšková
Potravinarstvo, vol. 9, no. 1, 2015, p. 72-76, [abstract] doi:10.5219/438 [fulltext]
THE CONTENT OF TOTAL POLYPHENOLS AND ANTIOXIDANT ACTIVITY IN RED BEETROOT
Petra Kavalcová, Judita Bystrická, Ján Tomáš, Jolana Karovičová, Ján Kovarovič, Marianna Lenková
Potravinarstvo, vol. 9, no. 1, 2015, p. 77-83, [abstract] doi:10.5219/441 [fulltext]
THE EFFECT OF PATERNAL BULL ON MILK FAT COMPOSITION OF DAIRY COWS OF DIFFERENT BREEDS
Katarína Kirchnerová, Martina Vršková, Ján Huba
Potravinarstvo, vol. 9, no. 1, 2015, p. 84-89, [abstract] doi:10.5219/443 [fulltext]
PUBLISHED: 25. May 2015
ACRYLAMIDE CONTENT AND ANTIOXIDANT CAPACITY IN THERMALLY PROCESSED FRUIT PRODUCTS
Kristína Kukurová, Oana Emilia Constantin, Zuzana Dubová, Blanka Tobolková, Milan Suhaj, Zografia Nystazou, Gabriela Rapeanu, Zuzana Ciesarová
Potravinarstvo, vol. 9, no. 1, 2015, p. 90-94, [abstract] doi:10.5219/423 [fulltext]
UTILIZATION OF CITRUS CROPS PROCESSING BY-PRODUCTS IN THE PREPARATION OF TARHANA
Michal Magala, Zlatica Kohajdová, Jolana Karovičová, Andrea Šubová
Potravinarstvo, vol. 9, no. 1, 2015, p. 95-100, [abstract] doi:10.5219/424 [fulltext]
IMMUNOFLUORESCENCE DETECTION OF MILK PROTEIN IN MEAT PRODUCTS
Michaela Petrášová, Matej Pospiech, Bohuslava Tremlová, Zdeňka Randulová
Potravinarstvo, vol. 9, no. 1, 2015, p. 101-105, [abstract] doi:10.5219/431 [fulltext]
OXIDATIVE STABILITY OF CHICKEN MEAT DURING STORAGE INFLUENCED BY THE FEEDING OF ALFALFA MEAL
Jana Tkáčová, Mária Angelovičová, Peter Haščík, Marek Bobko
Potravinarstvo, vol. 9, no. 1, 2015, p. 106-111, [abstract] doi:10.5219/444 [fulltext]
THE EFFECT OF PATULIN ON FEMORAL BONE STRUCTURE IN MALE RABBITS
Veronika Kováčová, Hana Ďúranová, Ramona Babosová, Radoslav Omelka, Vladimíra Krajčovičová, Robert Stawarz, Marcela Capcarová, Monika Martiniaková
Potravinarstvo, vol. 9, no. 1, 2015, p. 112-118, [abstract] doi:10.5219/448 [fulltext]
QUALITATIVE AND QUANTITATIVE CHARACTERISTICS OF SERBIAN TOMATO VARIETIES GROWN IN CONDITIONS OF SLOVAK REPUBLIC
Alena Andrejiová, Alžbeta Hegedüsová, Ivana Mezeyová, Miroslav Šlosár, Miroslav Marták
Potravinarstvo, vol. 9, no. 1, 2015, p. 119-123, [abstract] doi:10.5219/449 [fulltext]
QUALITY OF MEAT OF RABBITS AFTER APPLICATION OF EPICATECHIN AND PATULIN
Anna Kalafová, Jozef Bulla, Ondrej Bučko, Jana Emrichová, Katarína Zbyňovská, Peter Petruška, Monika Schneidgenová, Ľubica Chrastinová, Ľubomír Ondruška, Rastislav Jurčík, Martin Mellen, Marcela Capcarová
Potravinarstvo, vol. 9, no. 1, 2015, p. 124-131, [abstract] doi:10.5219/450 [fulltext]
HEALTH SAFETY ASPECTS OF FOODSTUFFS INTENTED FOR PHENYLKETONURICS
Stanislava Matejová, Martina Fikselová, František Buňka
Potravinarstvo, vol. 9, no. 1, 2015, p. 132-137, [abstract] doi:10.5219/455 [fulltext]
COLONIZATION OF GRAPES BERRIES AND CIDER BY POTENTIAL PRODUCERS OF PATULIN
Dana Tančinová, Soňa Felšöciová, Ľubomír Rybárik, Zuzana Mašková, Miroslava Císarová
Potravinarstvo, vol. 9, no. 1, 2015, p. 138-142, [abstract] doi:10.5219/460 [fulltext]
EVALUATION OF MICROBIOLOGICAL QUALITY OF SELECTED CHEESES DURING STORAGE
Simona Kunová, Miroslava Kačániová, Juraj Čuboň, Peter Haščík, Ľubomír Lopašovský
Potravinarstvo, vol. 9, no. 1, 2015, p. 143-148, [abstract] doi:10.5219/463 [fulltext]
BIOINFORMATIC APPROACH IN THE IDENTIFICATION OF ARABIDOPSIS GENE HOMOLOGOUS IN AMARANTHUS
Jana Žiarovská, Michal Záhorský, Zdenka Gálová, Andrea Hricová
Potravinarstvo, vol. 9, no. 1, 2015, p. 149-153, [abstract] doi:10.5219/467 [fulltext]
MICROBIAL CONTAMINATION OF SPICES USED IN PRODUCTION OF MEAT PRODUCTS
Marcela Klimešová, Jiří Horáček, Michal Ondrej, Ivan Manga, Ivana Koláčková, Ludmila Nejeschlebová, Antonín Ponížil
Potravinarstvo, vol. 9, no. 1, 2015, p. 154-159, [abstract] doi:10.5219/440 [fulltext]
EFFECT OF ROSEMARY IN COMBINATION WITH YEAST EXTRACT ON MICROBIOLOGY QUALITY, OXIDATIVE STABILITY AND COLOR OF NON-FERMENTED COOKED SALAMI "INOVEC"
Miroslav Kročko, Martin Ďurík, Ondřej Bučko, Jana Tkáčová, Margita Čanigová, Viera Ducková
Potravinarstvo, vol. 9, no. 1, 2015, p. 160-165, [abstract] doi:10.5219/464 [fulltext]
REP-PCR TYPING OF STAPHYLOCOCCUS SPP. STRAINS IN MEAT PASTE PRODUCTION LINE AND IDENTIFICATION OF THEIR ORIGIN
Ivan Manga, Marcela Klimešová, Jiří Horáček, Ivana Koláčková, Marie Bjelková, Antonín Ponížil, Ludmila Nejeschlebová
Potravinarstvo, vol. 9, no. 1, 2015, p. 166-173, [abstract] doi:10.5219/465 [fulltext]
EVALUATION OF MEAT QUALITY AFTER APPLICATION OF DIFFERENT FEED ADDITIVES IN DIET OF BROILER CHICKENS
Peter Haščík, Lenka Trembecká, Marek Bobko, Juraj Čuboň, Ondřej Bučko, Jana Tkáčová
Potravinarstvo, vol. 9, no. 1, 2015, p. 174-182, [abstract] doi:10.5219/429 [fulltext]
SELECTED PARAMETERS OF QUALITY AND SAFETY OF HERBAL TEA
Alica Bobková, Martina Fikselová, Marek Bobko, Ľubomír Lopašovský, Tomáš Tóth, Lucia Zeleňáková
Potravinarstvo, vol. 9, no. 1, 2015, p. 183-189, [abstract] doi:10.5219/451 [fulltext]
MICROSCOPIC DETERMINATION OF BAMBOO FIBER IN MEAT PRODUCTS
Zdeňka Javůrková, Matej Pospiech, Markéta Zelenková, Josef Kameník, Michaela Petrášová, Bohuslava Tremlová
Potravinarstvo, vol. 9, no. 1, 2015, p. 190-194, [abstract] doi:10.5219/452 [fulltext]
PUBLISHED: 1. August 2015
THE INFLUENCE OF VIRAL INFECTIONS ON ANTIOXIDANT LEVELS IN THE GENETICALLY MODIFIED PLUM VARIETY "HONEYSWEET" (PRUNUS DOMESTICA L.)
Jiri Sochor, Boris Krska, Jaroslav Polak, Tunde Jurikova
Potravinarstvo, vol. 9, no. 1, 2015, p. 195-200, [abstract] doi:10.5219/420 [fulltext]
INTERSPECIES AND SEASONAL DIFFERENCES OF RETINOL IN DAIRY RUMINANT´S MILK
Lucia Hodulová, Lenka Vorlová, Romana Kostrhounová, Marcela Klimešová-Vyletělová, Jan Kuchtík
Potravinarstvo, vol. 9, no. 1, 2015, p. 201-205, [abstract] doi:10.5219/436 [fulltext]
EVALUATION OF MILK YIELD IN TSIGAIEWES BY SOMATIC CELL COUNT
Martina Vršková, Vladimír Tančin, Katarína Kirchnerová, Petr Sláma
Potravinarstvo, vol. 9, no. 1, 2015, p. 206-210, [abstract] doi:10.5219/439 [fulltext]
COMPARISON OF SELECTED SENSORY PROPERTIES OF WHOLEMEAL BREADS
Markéta Bednářová, Martina Ošťádalová, Martin Král, Bohuslava Tremlová
Potravinarstvo, vol. 9, no. 1, 2015, p. 211-216, [abstract] doi:10.5219/454 [fulltext]
THE TESTING OF SANITIZERS EFFICACY TO ENTEROCOCCI ADHERED ON GLASS SURFACES
Margita Čanigová, Viera Ducková, Miroslav Kročko, Jana Bezeková, Michal Gábor, Zuzana Vnučková
Potravinarstvo, vol. 9, no. 1, 2015, p. 217-222, [abstract] doi:10.5219/457 [fulltext]
THE EFFECT OF FOOD WITH DIFFERENT GLYCAEMIC INDEX ON THE BLOOD GLUCOSE LEVEL
Lenka Kouřimská, Šárka Jiráková, Anna Adámková
Potravinarstvo, vol. 9, no. 1, 2015, p. 223-227, [abstract] doi:10.5219/458 [fulltext]
THE PREVALENCE OF SALMONELLA INFECTIONS IN LAYING HEN FLOCKS PRODUCING EGGS AND THEIR IMPACT ON THE PUBLIC HEALTH
Ľubomír Lopašovský, Lucia Zeleňáková, Martina Fikselová, Alica Bobková, Simona Kunová, Marek Bobko, Marek Šnirc
Potravinarstvo, vol. 9, no. 1, 2015, p. 228-236, [abstract] doi:10.5219/461 [fulltext]
QUALITATIVE PARAMETERS OF NON-TRADITIONAL TYPES OF VEGETABLES
Eva Kudrnáčová, Lenka Kouřimská
Potravinarstvo, vol. 9, no. 1, 2015, p. 237-241, [abstract] doi:10.5219/466 [fulltext]
THE INFLUENCE OF ADDITIONAL FLUORS ON THE RETENTION ABILITY OF DOUGH AND THE TECHNOLOGICAL QUALITY OF BAKERY PRODUCTS
Tatiana Bojňanská, Jana Šmitalová
Potravinarstvo, vol. 9, no. 1, 2015, p. 242-246, [abstract] doi:10.5219/468 [fulltext]
THE QUALITY OF PROCESSED CHEESES AND CHEESE ANALOGUES THE SAME BRAND DOMESTIC AND FOREIGN PRODUCTION
Jana Bezeková, Margita Čanigová, Viera Ducková, Miroslav Kročko, Renáta Kocáková
Potravinarstvo, vol. 9, no. 1, 2015, p. 247-251, [abstract] doi:10.5219/470 [fulltext]
THE EFFECT OF DRYING ON ANTIOXIDANT ACTIVITY OF SELECTED LAMIACEAE HERBS
Anna Adámková, Lenka Kouřimská, Barbora Kadlecová
Potravinarstvo, vol. 9, no. 1, 2015, p. 252-257, [abstract] doi:10.5219/474 [fulltext]
OCCURRENCE OF ENTEROCOCCUS SPP. ISOLATED FROM THE MILK AND MILK PRODUCTS
Ines Lačanin, Marta Dušková, Iva Kladnická, Renáta Karpíšková
Potravinarstvo, vol. 9, no. 1, 2015, p. 258-262, [abstract] doi:10.5219/476 [fulltext]
THE EFFECT OF FEEDING WHEAT WITH PURPLE PERICARP ON THE GROWTH OF CARP
Jan Mareš, Tomáš Brabec, Tomáš Vyhnánek, Václav Trojan, Klára Štiasna, Mária Presinszká, Eva Mrkvicová, Luděk Hřivna, Ladislav Havel
Potravinarstvo, vol. 9, no. 1, 2015, p. 263-267, [abstract] doi:10.5219/477 [fulltext]
GENOME-WIDE SELECTION SIGNATURES IN PINZGAU CATTLE
Radovan Kasarda, Nina Moravčíková, Anna Trakovická, Gábor Mészáros, Ondrej Kadlečík
Potravinarstvo, vol. 9, no. 1, 2015, p. 268-274, [abstract] doi:10.5219/478 [fulltext]
PHTHALATE MIGRATION FROM PACKAGING MATERIALS INTO FOOD
Soňa Bogdanovičová, Alžbeta Jarošová
Potravinarstvo, vol. 9, no. 1, 2015, p. 275-279, [abstract] doi:10.5219/479 [fulltext]
THE USE OF FRUIT EXTRACTS FOR PRODUCTION OF BEVERAGES WITH HIGH ANTIOXIDATIVE ACTIVITY
Tomasz Tarko, Aleksandra Duda-Chodak, Dorota Semik, Michał Nycz
Potravinarstvo, vol. 9, no. 1, 2015, p. 280-283, [abstract] doi:10.5219/480 [fulltext]
THE INFLUENCE OF PICHIA KILLER TOXINS ON THE WINE SPOILAGE YEASTS
Urszula Błaszczyk, Paweł Satora, Paweł Sroka
Potravinarstvo, vol. 9, no. 1, 2015, p. 284-287, [abstract] doi:10.5219/481 [fulltext]
TOXOPLASMA GONDII IN WILD RUMINANTS BRED IN GAME PRESERVES AND FARMS WITH PRODUCTION DESTINED FOR HUMAN CONSUMPTION IN THE CZECH REPUBLIC
Alena Lorencova, Jiri Lamka, Michal Slany
Potravinarstvo, vol. 9, no. 1, 2015, p. 288-292, [abstract] doi:10.5219/482 [fulltext]
COMPARISON OF THE YEAST MICROBIOTA OF DIFFERENT VARIETIES OF COOL-CLIMATE GRAPES BY PCR-RAPD
Iwona Drożdż, Małgorzata Makarewicz, Paweł Sroka, Paweł Satora, Paweł Jankowski
Potravinarstvo, vol. 9, no. 1, 2015, p. 293-298, [abstract] doi:10.5219/484 [fulltext]
ADAPTABILITY OF CULTIVARS AND HYBRIDS OF TANGERINE IN A SUBTROPICAL ZONE OF RUSSIA
Julia Abilphazova, Oksana Belous
Potravinarstvo, vol. 9, no. 1, 2015, p. 299-303, [abstract] doi:10.5219/485 [fulltext]
PROPERTIES AND NUTRITIONAL VALUE OF WHEAT BREAD ENRICHED BY HEMP PRODUCTS
Ivan Švec, Marie Hrušková
Potravinarstvo, vol. 9, no. 1, 2015, p. 304-308, [abstract] doi:10.5219/487 [fulltext]
CHANGES IN THE MICROFLORA COMPOSITION OF GOAT AND SHEEP MILK DURING LACTATION
Libor Kalhotka, Lenka Dostálová, Květoslava Šustová, Jan Kuchtík, Lenka Detvanová
Potravinarstvo, vol. 9, no. 1, 2015, p. 309-314, [abstract] doi:10.5219/489 [fulltext]
DIETARY PATTERNS AND LIFESTYLE OF PATIENTS AFTER MYOCARDIAL INFARCTION
Marta Lorková, Jana Kopčeková, Martina Gažarová, Marta Habánová, Peter Chlebo, Daniel Magula, Jana Mrázová
Potravinarstvo, vol. 9, no. 1, 2015, p. 315-323, [abstract] doi:10.5219/490 [fulltext]
EFFECT OF SELENIUM ON ITS CONTENT IN MILK AND PERFORMANCE OF DAIRY COWS IN ECOLOGICAL FARMING
Pavel Horký
Potravinarstvo, vol. 9, no. 1, 2015, p. 324-329, [abstract] doi:10.5219/492 [fulltext]
THE OCCURENCE OF RISK FACTORS OF CARDIOVASCULAR DISEASES AND THE EFFECT OF SELECTED DIETARY HABITS ON THE LIPID PROFILE AND BODY MASS INDEX
Jana Kopčeková, Marta Lorková, Marta Habánová, Peter Chlebo, Zuzana Ferenčíková, Zuzana Chlebová
Potravinarstvo, vol. 9, no. 1, 2015, p. 330-336, [abstract] doi:10.5219/491 [fulltext]
ANTIOXIDANT PROPERTIES OF CAROOT JUICES AND THEIR IMPACT ON INTESTINAL AND PROBIOTIC BACTERIA
Aleksandra Duda-Chodak, Tomasz Tarko, Łukasz Wajda, Bożena Kręcioch
Potravinarstvo, vol. 9, no. 1, 2015, p. 337-341, [abstract] doi:10.5219/483 [fulltext]
LIPID OXIDATION IN CHICKEN MEAT AFTER APPLICATION OF BEE POLLEN EXTRACT, PROPOLIS EXTRACT AND PROBIOTIC IN THEIR DIETS
Marek Bobko, Peter Haščík, Alica Bobková, Adriana Pavelková, Jana Tkáčová, Lenka Trembecká
Potravinarstvo, vol. 9, no. 1, 2015, p. 342-346, [abstract] doi:10.5219/495 [fulltext]
PUBLISHED: 30. October 2015
MODIFIED CARBON PASTE ELECTRODE AS A TOOL FOR THE EVALUATION OF OXIDATIVE STABILITY OF RAPESEED OIL
Simona Žabčíková, Libor Červenka
Potravinarstvo, vol. 9, no. 1, 2015, p. 347-351, [abstract] doi:10.5219/432 [fulltext]
IDENTIFICATION OF SWEET CHESNUT POLLEN IN BEE POLLEN PELLET USING MOLECULAR ANALYSIS
Jana Žiarovská, Oľga Grygorieva, Lucia Zeleňáková, Milan Bežo, Ján Brindza
Potravinarstvo, vol. 9, no. 1, 2015, p. 352-357, [abstract] doi:10.5219/497 [fulltext]
TOTAL POLYPHENOL CONTENT AND ANTIOXIDANT CAPACITY OF COWPEA EFFECT OF VARIET AND LOCALITY
Dalaram Sullaiman Ismael
Potravinarstvo, vol. 9, no. 1, 2015, p. 358-364, [abstract] doi:10.5219/508 [fulltext]
ASSESSMENT OF WELFARE AND EGG PRODUCTION OF LAYING HENS MORAVIA SSL IN SMALL-SCALE BREEDING
Mária Angelovičová, Dana Polačková
Potravinarstvo, vol. 9, no. 1, 2015, p. 365-374, [abstract] doi:10.5219/514 [fulltext]
EFFECTS OF STORAGE ON THE MAJOR CONSTITUENTS OF RAW MILK
Peter Zajác, Jozef Čapla, Vladimír Vietoris, Stanislava Zubrická, Jozef Čurlej
Potravinarstvo, vol. 9, no. 1, 2015, p. 375-381, [abstract] doi:10.5219/518 [fulltext]
STUDY OF ANTIOXIDANT AND ANTIMICROBIAL PROPERTIES OF GRAPEVINE SEEDS, GRAPE AND ROSEHIP PRESSINGS
Zuzana Jakubcova, Pavel Horky, Lenka Dostalova, Jiri Sochor, Lenka Tomaskova, Mojmir Baron, Libor Kalhotka, Ladislav Zeman
Potravinarstvo, vol. 9, no. 1, 2015, p. 382-387, [abstract] doi:10.5219/503 [fulltext]
DETECTION OF HONEY ADULTERATION USING HPLC METHOD
Olga Cwiková, Hana Pavlíková, Alena Ansorgová
Potravinarstvo, vol. 9, no. 1, 2015, p. 388-392, [abstract] doi:10.5219/499 [fulltext]
PUBLISHED: 17. December 2015
TESTING OF DNA ISOLATION FOR THE IDENTIFICATION OF HEMP
Tomáš Vyhnánek, Václav Trojan, Klára Štiasna, Mária Presinszká, Luděk Hřivna, Eva Mrkvicová, Ladislav Havel
Potravinarstvo, vol. 9, no. 1, 2015, p. 393-397, [abstract] doi:10.5219/509 [fulltext]
DETERMINATION OF MERCURY, CADMIUM AND LEAD CONTENTS IN DIFFERENT TEA AND TEAS INFUSIONS (CAMELLIA SINENSIS, L.)
Július Árvay, Martin Hauptvogl, Ján Tomáš, Ľuboš Harangozo
Potravinarstvo, vol. 9, no. 1, 2015, p. 398-402, [abstract] doi:10.5219/510 [fulltext]
MICROBIOLOGICAL QUALITY OF SMEAR-RIPENED CHEESES STORED IN DIFFERENT TEMPERATURE REGIMES
Olga Cwiková
Potravinarstvo, vol. 9, no. 1, 2015, p. 403-410, [abstract] doi:10.5219/512 [fulltext]
SEED PROTEIN ELECTROPHORESIS FOR IDENTIFICATION OF OAT REGISTERED CULTIVARS
Edita Gregova, Svetlana Šliková, Peter Hozlár
Potravinarstvo, vol. 9, no. 1, 2015, p. 411-416, [abstract] doi:10.5219/513 [fulltext]
OXIDATIVE STABILITY OF FATTY ACID ALKYL ESTERS: A REVIEW
Michal Angelovič, Juraj Jablonický, Zdenko Tkáč, Marek Angelovič
Potravinarstvo, vol. 9, no. 1, 2015, p. 417-426, [abstract] doi:10.5219/500 [fulltext]
EFFECT OF DIFFERENT DIETARY SUPPLEMENTS ON SELECTED QUALITY INDICATORS OF CHICKEN MEAT
Peter Haščík, Lenka Trembecká, Marek Bobko, Miroslava Kačániová, Ondřej Bučko, Jana Tkáčová, Simona Kunová
Potravinarstvo, vol. 9, no. 1, 2015, p. 427-434, [abstract] doi:10.5219/517 [fulltext]
SELENIUM CONTENT INCREASING IN THE SEEDS OF GARDEN PEA AFTER FOLIAR BIOFORTIFICATION
Alžbeta Hegedűsová, Ivana Mezeyová, Ondrej Hegedűs, Janette Musilová, Oleg Paulen
Potravinarstvo, vol. 9, no. 1, 2015, p. 435-441, [abstract] doi:10.5219/559 [fulltext]
THE TABLE EGGS AND THEIR QUALITY IN SMALL-SCALE BREEDING
Mária Angelovičová, Lucia Ševčíková, Marek Angelovič
Potravinarstvo, vol. 9, no. 1, 2015, p. 442-450, [abstract] doi:10.5219/515 [fulltext]
OXIDATIVE STABILITY OF CHICKEN THIGH MEAT AFTER TREATMENT OF ABIES ALBA ESSENTIAL OIL
Adriana Pavelková, Marek Bobko, Peter Haščík, Miroslava Kačániová, Jana Tkáčová
Potravinarstvo, vol. 9, no. 1, 2015, p. 451-457, [abstract] doi:10.5219/523 [fulltext]
ANALYSIS OF TEXTUROMETRIC PROPERTIES OF SELECTED TRADITIONAL AND COMMERCIAL SAUSAGES
Peter Zajác, Jozef Čurlej, Miroslava Barnová, Jozef Čapla
Potravinarstvo, vol. 9, no. 1, 2015, p. 458-467, [abstract] doi:10.5219/473 [fulltext]
VARIETAL DEPENDENCE OF CHEMOPROTECTIVE SUBSTANCES IN FRESH AND FROZEN SPINACH (SPINACIA OLERACEA L.)
Judita Bystrická, Janette Musilová, Ján Tomáš, Petra Kavalcová, Marianna Lenková, Kristína Tóthová
Potravinarstvo, vol. 9, no. 1, 2015, p. 468-473, [abstract] doi:10.5219/519 [fulltext]
Β-CAROTENE CONTENT OF M. LONGIFOLIA SEED OIL IN DIFFERENT AGRO-CLIMATIC ZONES IN SRI LANKA, THE EFFECT OF HEAT ON ITS STABILITY AND THE COMPOSITION OF SEED CAKE
Mihiri Munasinghe, Jagath Wansapala
Potravinarstvo, vol. 9, no. 1, 2015, p. 474-479, [abstract] doi:10.5219/502 [fulltext]
TOTAL POLYPHENOLS CONTENT IN FRUITS OF SELECTED CULTIVARS OF STRAWBERRIES IN RELATION TO CONCENTRATIONS OF CADMIUM AND LEAD IN SOIL
Pavol Trebichalský, Juliana Molnárová, Daniel Bajčan, Mária Timoracká, Janette Musilová, Ľuboš Harangozo
Potravinarstvo, vol. 9, no. 1, 2015, p. 480-486, [abstract] doi:10.5219/507 [fulltext]
QUANTITATIVE INDICATORS OF FRUIT AND VEGETABLE CONSUMPTION
Dagmar Kozelová, Dana Országhová, Milan Fiľa, Zuzana Čmiková
Potravinarstvo, vol. 9, no. 1, 2015, p. 487-493, [abstract] doi:10.5219/570 [fulltext]
CONTENT OF TOTAL POLYPHENOLS AND ANTIOXIDANT ACTIVITY IN SELECTED VARIETIES OF ONION (ALLIUM CEPA L.)
Petra Kavalcová, Judita Bystrická, Tomáš Tóth, Pavol Trebichalský, Miroslava Hrstková, Marianna Lenková, Oliver Šiatkovský
Potravinarstvo, vol. 9, no. 1, 2015, p. 494-500, [abstract] doi:10.5219/524 [fulltext]
MYCOBIOTA OF SLOVAK WINE GRAPES WITH EMPHASIS ON ASPERGILLUS AND PENICILLIUM SPECIES IN THE SMALL CARPATHIAN AREA
Soňa Felšöciová, Dana Tančinová, Ľubomír Rybárik, Zuzana Mašková, Miroslava Kačániová
Potravinarstvo, vol. 9, no. 1, 2015, p. 501-508, [abstract] doi:10.5219/529 [fulltext]
EVALUATION OF DRIED SALTED PORK HAM AND NECK QUALITY
Simona Kunová, Juraj Čuboň, Ondřej Bučko, Miroslava Kačániová, Jana Tkáčová, Lukáš Hleba, Peter Haščík, Ľubomír Lopašovský
Potravinarstvo, vol. 9, no. 1, 2015, p. 509-514, [abstract] doi:10.5219/530 [fulltext]
DEPENDENCE AMONG TOTAL POLYPHENOLS CONTENT, TOTAL ANTIOXIDANT CAPACITY AND HEAVY METALS CONTENT IN POTATOES
Janette Musilová, Judita Bystrická, Beáta Volnová, Pavol Lednický
Potravinarstvo, vol. 9, no. 1, 2015, p. 515-522, [abstract] doi:10.5219/532 [fulltext]
QUALITY EVALUATION OF KORBAČIK CHEESE
Juraj Čuboň, Simona Kunová, Miroslava Kačániová, Peter Haščík, Marek Bobko, Ondřej Bučko, Jana Petrová, Petronela Cviková
Potravinarstvo, vol. 9, no. 1, 2015, p. 523-529, [abstract] doi:10.5219/549 [fulltext]
APPLICATION OF LAVENDER AND ROSEMARY ESSENTIAL OILS IMPROVEMENT OF THE MICROBIOLOGICAL QUALITY OF CHICKEN QUARTERS
Jana Petrová, Margarita Terentjeva, Czeslaw Puchalski, Jana Hutková, Attila Kántor, Martin Mellen, Juraj Čuboň, Peter Haščík, Maciej Kluz, Rafal Kordiaka, Simona Kunová, Miroslava Kačániová
Potravinarstvo, vol. 9, no. 1, 2015, p. 530-537, [abstract] doi:10.5219/550 [fulltext]
COMPOSITION OF FATTY ACIDS IN SELECTED VEGETABLE OILS
Helena Frančáková, Eva Ivanišová, Štefan Dráb, Tomáš Krajčovič, Marián Tokár, Ján Mareček, Janette Musilová
Potravinarstvo, vol. 9, no. 1, 2015, p. 538-542, [abstract] doi:10.5219/556 [fulltext]
HONEY CHARACTERISTICS AFTER EXTRACTION AND HALF-YEAR STORAGE
Vladimíra Kňazovická, Anna Bačiková, Regina Bányiová, Jana Tkáčová, Margita Čanigová, Peter Haščík
Potravinarstvo, vol. 9, no. 1, 2015, p. 543-549, [abstract] doi:10.5219/560 [fulltext]
THE EFFECT OF DIETARY ALFALFA MEAL ON THE QUALITY CHICKEN MEAT
Jana Tkáčová, Peter Haščík, Mária Angelovičová, Adriana Pavelková, Marek Bobko
Potravinarstvo, vol. 9, no. 1, 2015, p. 550-555, [abstract] doi:10.5219/565 [fulltext]
IDENTIFICATION AND DIFFERENTIATION OF RICINUS COMMUNIS L. USING SSR MARKERS
Zdenka Gálová, Martin Vivodík, Želmíra Balážová, Tímea Kuťka Hlozáková
Potravinarstvo, vol. 9, no. 1, 2015, p. 556-561, [abstract] doi:10.5219/516 [fulltext]
EFFECT OF CHROMIUM NICOTINATE ON OXIDATIVE STABILITY, CHEMICAL COMPOSITION AND MEAT QUALITY OF GROWING-FINISHING PIGS
Ondřej Bučko, Andrea Lehotayová, Peter Haščík, Ivan Bahelka, Michal Gábor, Marek Bobko, Ondrej Debrecéni, Lenka Trembecká
Potravinarstvo, vol. 9, no. 1, 2015, p. 562-572, [abstract] doi:10.5219/521 [fulltext]
PHYTOESTROGENS DIETARY INTAKE AND HEALTH STATUS OF RETIREE FROM MIDDLE-NORTH SLOVAKIA REGION
Jozef Čurlej, Radoslav Židek, Ľubomír Belej, Peter Zajác, Jozef Čapla
Potravinarstvo, vol. 9, no. 1, 2015, p. 573-579, [abstract] doi:10.5219/572 [fulltext]
ASSESSING EXPRESSION OF TAS2R16 RECEPTOR ON THE TONGUE OF ELDERLY PERSONS
Tomáš Fekete, Radoslav Židek, Lenka Maršálková
Potravinarstvo, vol. 9, no. 1, 2015, p. 580-584, [abstract] doi:10.5219/574 [fulltext]
THE EFFECT OF INTESIFICATION FACTORS TO TOTAL ANTIOXIDANT ACTIVITY OF HIGHBUSH BLUEBERRY (VACCINIUM CORYMBOSUM L.) AND LINGONBERRY (VACCINIUM VITIS-IDAEA L.)
Michal Medvecký, Ján Daniel, Alena Vollmannová, Stanislav Zupka, Miriama Kopernická
Potravinarstvo, vol. 9, no. 1, 2015, p. 585-591, [abstract] doi:10.5219/531 [fulltext]
BEE BREAD – PERSPECTIVE SOURCE OF BIOACTIVE COMPOUNDS FOR FUTURE
Eva Ivanišová, Miroslava Kačániová, Helena Frančáková, Jana Petrová, Jana Hutková, Valeryii Brovarskyi, Serhii Velychko, Leonora Adamchuk, Zuzana Schubertová, Janette Musilová
Potravinarstvo, vol. 9, no. 1, 2015, p. 592-598, [abstract] doi:10.5219/558 [fulltext]
PUBLISHED: 19. December 2016
EVALUATION OF FAT GRAINS IN GOTHAJ SAUSAGE USING IMAGE ANALYSIS
Ludmila Luňáková, Matej Pospiech, Bohuslava Tremlová, Alena Saláková, Zdeňka Javůrková, Josef Kameník
Potravinarstvo, vol. 10, no. 1, 2016, p. 591-597, [abstract] doi:10.5219/613 [fulltext]
COMPARISON OF THE INFLUENCE OF DEFINED STORING CONDITIONS ON ASIAN AND EUROPEAN PEAR CULTIVARS
Petr Šnurkovič, Josef Balík, Jan Goliáš, Miroslav Horák, Anna Němcová
Potravinarstvo, vol. 10, no. 1, 2016, p. 598-604, [abstract] doi:10.5219/672 [fulltext]
DISTRIBUTION OF INVASIVE PLANTS IN THE NITRA RIVER BASIN: THREATS AND BENEFITS FOR FOOD PRODUCTION
Alexander Fehér, Daniela Halmová, Iveta Fehér-Pindešová, Peter Zajác, Jozef Čapla
Potravinarstvo, vol. 10, no. 1, 2016, p. 605-611, [abstract] doi:10.5219/651 [fulltext]
VERIFICATION FOR THE PRESENCE OF INHIBITORY SUBSTANCES IN POULTRY MEAT AFTER THE CONSUMPTION OF THE FEED MIXTURE SUPPLEMENTED WITH FERMENTED FEED
Ivona Kožárová, Slavomír Marcinčák, Anna Reitznerová, Martin Bartkovský, Ján Mačanga, Dana Marcinčáková, Tatiana Klempová, Milan Čertík
Potravinarstvo, vol. 10, no. 1, 2016, p. 612-618, [abstract] doi:10.5219/682 [fulltext]
ANTIBIOTIC RESISTANCE IN BACTERIA STAPHYLOCOCCUS SPP. ISOLATED FROM SAMPLES OF RAW SHEEP'S MILK
Milan Vasiľ, Juraj Elečko, Zuzana Farkašová, František Zigo, Martin Lapin
Potravinarstvo, vol. 10, no. 1, 2016, p. 619-624, [abstract] doi:10.5219/680 [fulltext]
RISK ELEMENTS IN SELECTED TYPES OF VEGETABLES
Ľuboš Harangozo
Potravinarstvo, vol. 10, no. 1, 2016, p. 625-630, [abstract] doi:10.5219/654 [fulltext]
IMPACT OF THE SYMBIVIT PREPARATION ON QUANTITATIVE AND QUALITATIVE INDICATORS OF TOMATO (LYCOPERSICON ESCULENTUM MILL.)
Alžbeta Hegedűsová, Alena Andrejiová, Ivana Mezeyová
Potravinarstvo, vol. 10, no. 1, 2016, p. 631-636, [abstract] doi:10.5219/677 [fulltext]
CHANGES OF VITAMIN C CONTENT IN CELERY AND PARSLEY HERB AFTER PROCESSING
Magdaléna Valšíková, Ivana Mezeyová, Marián Rehuš, Mirolav Šlosár
Potravinarstvo, vol. 10, no. 1, 2016, p. 637-642, [abstract] doi:10.5219/687 [fulltext]
THE ESTIMATED POSSIBILITIES OF PROCESS MONITORING IN MILK PRODUCTION BY THE SIMPLE THERMODYNAMIC SENSORS
Martin Adámek, Anna Adámková, Michal Reznicek, Lenka Kouřimská
Potravinarstvo, vol. 10, no. 1, 2016, p. 643-648, [abstract] doi:10.5219/462 [fulltext]
THE POSSIBILITIES OF INCREASING LIGNAN CONTENT IN FOOD
Jana Kulichová, Pavel Híc, Josef Balík, Jan Tříska, Naděžda Vrchotová, Milan Houška
Potravinarstvo, vol. 10, no. 1, 2016, p. 649-655, [abstract] doi:10.5219/675 [fulltext]
THE ECONOMIC IMPACT OF REDUCED VALUE ADDED TAX RATES FOR GROCERIES
Slavomíra Martinková, Anna Bánociová
Potravinarstvo, vol. 10, no. 1, 2016, p. 656-662, [abstract] doi:10.5219/679 [fulltext]
NUTRITIONAL VALUES OF EDIBLE COLEOPTERA (TENEBRIO MOLITOR, ZOPHOBAS MORIO AND ALPHITOBIUS DIAPERINUS) REARED IN THE CZECH REPUBLIC
Anna Adámková, Lenka Kouřimská, Marie Borkovcová, Martin Kulma, Jiří Mlček
Potravinarstvo, vol. 10, no. 1, 2016, p. 663-671, [abstract] doi:10.5219/609 [fulltext]
PLACING OF AROMA COMPOUNDS BY FOOD SALES PROMOTION IN CHOSEN SERVICES BUSINESS
Jakub Berčík, Johana Paluchová, Vladimír Vietoris, Elena Horská
Potravinarstvo, vol. 10, no. 1, 2016, p. 672-679, [abstract] doi:10.5219/666 [fulltext]
COMPARISON OF PHYTOESTROGENS DIETARY INTAKE FROM VEGETABLES AND FRUIT IN SELECTED POPULATION IN SLOVAKIA
Ľubomír Belej, Marek Šnirc, Tomáš Fekete, Radoslav Židek, Jozef Čurlej, Dagmar Kozelová
Potravinarstvo, vol. 10, no. 1, 2016, p. 680-684, [abstract] doi:10.5219/703 [fulltext]
Volume 8 Potravinarstvo® Scientific Journal for Food Industry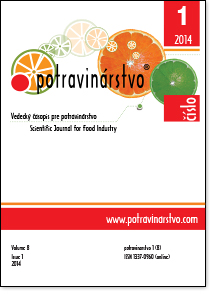 Vol. 8, No. 1/2014, All articles [PDF]
DETECTION AND CHARACTERISATION OF PLUM POX VIRUS (PPV) ISOLATES FROM EASTERN SLOVAKIA REVEALED THE PRESENCE OF THREE MAIN VIRAL STRAINS
Július Rozák, Lukáš Predajňa, Zdenka Gálová, Miroslav Glasa
Potravinarstvo, vol. 8, no. 1, 2014, p. 1-7, [abstract] doi:10.5219/315 [fulltext]
EVALUATION OF MODEL WHEAT/HEMP COMPOSITES
Ivan Švec, Marie Hrušková
Potravinarstvo, vol. 8, no. 1, 2014, p. 8-14, [abstract] doi:10.5219/317 [fulltext]
GENETIC DIVERSITY AND RELATEDNESS AMONG SEVEN RED DEER (CERVUS ELAPHUS) POPULATIONS
Lenka Maršálková, Radoslav Židek, Jaroslav Pokoradi, Jozef Golian, Ľubomír Belej
Potravinarstvo, vol. 8, no. 1, 2014, p. 15-19, [abstract] doi:10.5219/320 [fulltext]
THE INFLUENCE OF FEEDING GMO-PEAS ON GROWTH OF ANIMAL MODELS
Petr Mares, Tunde Jurikova Pokorna, Jiri Sochor, Ladislav Zeman, Mojmir Baron, Jiri Mlcek, Stefan Balla
Potravinarstvo, vol. 8, no. 1, 2014, p. 20-24, [abstract] doi:10.5219/322 [fulltext]
DETERMINATION OF TEXTURAL PROPERTIES OF DIFFERENT KINDS OF KETCHUPS OF TWO DIFFERENT RATES UNDER DIFFERENT CONDITIONS OF STORAGE FOR THE DETERMINATION OF THEIR CONSUMAL QUALITY
Andrea Bebejová, Jozef Čapla, Peter Zajác, Ľubomír Belej, Jozef Čurlej, Vladimír Vietoris
Potravinarstvo, vol. 8, no. 1, 2014, p. 25-32, [abstract] doi:10.5219/323 [fulltext]
EFFECT OF MALT MILLING FOR WORT EXTRACT CONTENT
Gábor Géczi, Márk Horváth, Štefan Dráb, Žigmund Tóth, László Bense
Potravinarstvo, vol. 8, no. 1, 2014, p. 33-37, [abstract] doi:10.5219/326 [fulltext]
EXAMINATION OF HEAT TREATMENTS AT PRESERVATION OF GRAPE MUST
Péter Korzenszky, Erik Molnár
Potravinarstvo, vol. 8, no. 1, 2014, p. 38-42, [abstract] doi:10.5219/328 [fulltext]
LEAD CONCENTRATION IN MEAT AN MEAT PRODUCTS OF DIFFERENT ORIGIN
Anetta Lukáčová, Jozef Golian, Peter Massanyi, Grzegorz Formicki
Potravinarstvo, vol. 8, no. 1, 2014, p. 43-47, [abstract] doi:10.5219/334 [fulltext]
MONITORING OF COLOR AND PH IN MUSCLES OF PORK LEG (M. ADDUCTOR AND M. SEMIMEMBRANOSUS)
Martina Bednářová, Josef Kameník, Alena Sláková, Zdeněk Pavlík, Bohuslava Tremlová
Potravinarstvo, vol. 8, no. 1, 2014, p. 48-53, [abstract] doi:10.5219/337 [fulltext]
GOOSE`S EGGSHELL STRENGTH AT COMPRESSIVE LOADING
Šárka Nedomová, Jaroslav Buchar, Jana Strnková
Potravinarstvo, vol. 8, no. 1, 2014, p. 54-61, [abstract] doi:10.5219/346 [fulltext]
ANALYSIS OF CONSUMER BEHAVIOR AT CHOCOLATE PURCHASE
Dagmar Kozelová, Eva Matejková, Martina Fikselová, Judita Dékányová
Potravinarstvo, vol. 8, no. 1, 2014, p. 62-66, [abstract] doi:10.5219/325 [fulltext]
THE IMPACT OF COOLING METHODS ON MICROBIOLOGICAL QUALITY OF BROILER CARCASSES
Peter Popelka, Monika Pipová, Jozef Nagy, Alena Nagyová, Adriana Fečkaninová, Jozef Figeľ
Potravinarstvo, vol. 8, no. 1, 2014, p. 67-71, [abstract] doi:10.5219/327 [fulltext]
AMINO ACIDS AND FATTY ACIDS PROFILE OF CHIA (SALVIA HISPANICA L.) AND FLAX (LINUM USITATISSIMUM L.) SEED
Soňa Nitrayová, Matej Brestenský, Jaroslav Heger, Peter Patráš, Ján Rafay, Alexander Sirotkin
Potravinarstvo, vol. 8, no. 1, 2014, p. 72-76, [abstract] doi:10.5219/332 [fulltext]
DETECTION OF NATIVE STARCHES IN MEAT PRODUCTS USING HISTOCHEMICAL LUGOL CALLEJA METHOD
Matej Pospiech, Michaela Petrášová, Bohuslava Tremlová, Zdeňka Randulová
Potravinarstvo, vol. 8, no. 1, 2014, p. 77-81, [abstract] doi:10.5219/335 [fulltext]
IMMUNOFLUORESCENT DETERMINATION OF WHEAT PROTEIN IN MEAT PRODUCTS
Michaela Petrášová, Eliška Zichová, Matej Pospiech, Bohuslava Bohuslava Tremlová
Potravinarstvo, vol. 8, no. 1, 2014, p. 82-86, [abstract] doi:10.5219/340 [fulltext]
THE EFFECT OF YUCCA ON PROLIFERATION, APOPTOSIS, AND STEROIDOGENESIS OF PORCINE OVARIAN GRANULOSA CELLS
Aneta Štochmaľová, Attila Kadasi, Richard Alexa, Roland Grossman, Alexander Sirotkin
Potravinarstvo, vol. 8, no. 1, 2014, p. 87-91, [abstract] doi:10.5219/357 [fulltext]
PRODUCTION OF ENTEROTOXINS OF STAPHYLOCOCCUS SPP. ISOLATED FROM SAMPLES OF SHEEP MILK
František Zigo, Milan Vasiľ, Juraj Elečko, Martin Lapin, Zuzana Farkašova
Potravinarstvo, vol. 8, no. 1, 2014, p. 92-96, [abstract] doi:10.5219/361 [fulltext]
OCCURRENCE AND ANTIMICROBIAL RESISTANCE OF STAPHYLOCOCCUS AUREUS IN BULK TANK MILK AND MILK FILTERS
Kateřina Bogdanovičová, Alena Skočková, Zora Šťástková, Renáta Karpíšková
Potravinarstvo, vol. 8, no. 1, 2014, p. 97-101, [abstract] doi:10.5219/363 [fulltext]
SENSORY QUALITY, COLOUR AND OXIDATIVE STABILITY OF CURED COOKED HAM WITH PROPOLIS EXTRACT
Miroslav Kročko, Marek Bobko, Ondřej Bučko, Margita Čanigová, Viera Ducková
Potravinarstvo, vol. 8, no. 1, 2014, p. 102-106, [abstract] doi:10.5219/365 [fulltext]
BONE ADAPTATION TO SIMULTANEOUS CADMIUM AND DIAZINON TOXICITY IN ADULT MALE RATS
Hana Chovancová, Radoslav Omelka, Ivana Boboňová, Grzegorz Formicki, Róbert Toman, Monika Martiniaková
Potravinarstvo, vol. 8, no. 1, 2014, p. 107-113, [abstract] doi:10.5219/343 [fulltext]
MICROBIOLOGICAL QUALITY OF EGG LIQUID PRODUCTS
Olga Cwiková, Šárka Nedomová
Potravinarstvo, vol. 8, no. 1, 2014, p. 114-118, [abstract] doi:10.5219/351 [fulltext]
CHEMICAL COMPOSITION OF FRUITS OF A FEIJOA (F. SELLOWIANA) IN THE CONDITIONS OF SUBTROPICS OF RUSSIA
Oksana Belous, Magomed Omarov, Zuchra Omarova
Potravinarstvo, vol. 8, no. 1, 2014, p. 119-123, [abstract] doi:10.5219/358 [fulltext]
SPECIES IDENTIFICATION OF ENTEROCOCCI BY BIOCHEMICAL TEST AND MOLECULAR-GENETIC METHODS
Monika Lavová, Jana Bezeková, Margita Čanigová, Miroslav Kročko, Konrad Domig
Potravinarstvo, vol. 8, no. 1, 2014, p. 124-129, [abstract] doi:10.5219/364 [fulltext]
CHARACTERISATION OF LACTOBACILLI FROM EWE'S AND GOAT'S MILK FOR THEIR FURTHER PROCESSING RE-UTILISATION
Miroslav Kološta, Anna Slottová, Maroš Drončovský, Lýdia Klapáčová, Vladimír Kmeť, Dobroslava Bujňáková, Andrea Lauková, Gabriel Greif, Maria Greifová, Martin Tomáška
Potravinarstvo, vol. 8, no. 1, 2014, p. 130-134, [abstract] doi:10.5219/354 [fulltext]
THE EFFECT OF EWES RELOCATION ON MILK COMPOSITION AND MILK FLOW KINETICS
Lucia Jackuliaková, Vladimír Tančin, Michal Uhrinčať, Lucia Mačuhová, Ján Antonič, Marta Oravcová, Petr Sláma
Potravinarstvo, vol. 8, no. 1, 2014, p. 135-140, [abstract] doi:10.5219/318 [fulltext]
MICROBIOLOGICAL EVALUATION OF POULTRY SAUSAGES STORED AT DIFFERENT TEMPERATURES
Simona Kunová, Alica Bobková, Ľubomír Lopašovský, Miroslava Kačániová
Potravinarstvo, vol. 8, no. 1, 2014, p. 141-145, [abstract] doi:10.5219/338 [fulltext]
ANALYSIS OF GENE EXPRESSION IN RABBIT MUSCLE
Alena Gálová, Andrea Šoltýsová, Radoslav Židek, Ján Rafay, Jozef Nahácky
Potravinarstvo, vol. 8, no. 1, 2014, p. 146-149, [abstract] doi:10.5219/342 [fulltext]
INFLUENCE OF MAGNETIC FIELD ON GERMINATION, GROWTH AND PRODUCTION OF TOMATO
Jaroslav Jedlička, Oleg Paulen, Štefan Ailer
Potravinarstvo, vol. 8, no. 1, 2014, p. 150-154, [abstract] doi:10.5219/349 [fulltext]
RELATIONS BETWEEN MUST CLARIFICATION AND ORGANOLEPTIC ATTRIBUTES OF WINE VARIETES
Vladimír Vietoris, Peter Czako, Andrea Mendelová, Zuzana Remeňová, Marek Závracký
Potravinarstvo, vol. 8, no. 1, 2014, p. 155-160, [abstract] doi:10.5219/359 [fulltext]
CHANGES OF THE DOUGH RHEOLOGICAL PROPERTIES INFLUENCED BY ADDITION OF POTATO FIBRE
Tatiana Bojňanská, Marián Tokár, Helena Frančáková
Potravinarstvo, vol. 8, no. 1, 2014, p. 161-166, [abstract] doi:10.5219/371 [fulltext]
EFFECT OF BEE POLLEN EXTRACT AS A SUPPLEMENTAL DIET ON BROILERS´S ROSS 308 BREAST AND THIGH MEAT MUSCLES FATTY ACIDS
Peter Haščík, Ibrahim Elimam, Jozef Garlík, Marek Bobko, Jana Tkáčová, Miroslava Kačániová
Potravinarstvo, vol. 8, no. 1, 2014, p. 167-171, [abstract] doi:10.5219/374 [fulltext]
MYCOBIOTA OF SPICES AND AROMATIC HERBS
Dana Tančinová, Michal Mokrý, Zuzana Barboráková, Zuzana Mašková
Potravinarstvo, vol. 8, no. 1, 2014, p. 172-177, [abstract] doi:10.5219/375 [fulltext]
COMPARISON OF THE CARBOHYDRATE CONTENT IN APPLES AND CARROTS GROWN IN ORGANIC AND INTEGRATED FARMING SYSTEMS
Lenka Kouřimská, Kateřina Kubaschová, Josef Sus, Pavel Nový, Blanka Dvořáková, Martin Koudela
Potravinarstvo, vol. 8, no. 1, 2014, p. 178-183, [abstract] doi:10.5219/362 [fulltext]
SENSORY EVALUATION OF COOB 500 CHICKEN MEAT AFTER APPLICATION OF DIFFERENT ADDITIVES IN THEIR NUTRITION
Martin Mellen, Adriana Pavelková, Peter Haščík, Marek Bobko, Juraj Čuboň
Potravinarstvo, vol. 8, no. 1, 2014, p. 184-189, [abstract] doi:10.5219/373 [fulltext]
COMPARATIVE ANALYSIS OF ACETIC AND CITRIC ACID ON INTERNAL MILIEU OF BROILER CHICKENS
Marcela Capcarova, Anna Kalafova, Cyril Hrncar, Jan Kopecky, Jan Weis
Potravinarstvo, vol. 8, no. 1, 2014, p. 190-195, [abstract] doi:10.5219/379 [fulltext]
VEGETABLE OIL BASED EMULSIONS IN MILK
Veronika Mikulcová, Iva Hauerlandová, Leona Buňková
Potravinarstvo, vol. 8, no. 1, 2014, p. 196-200, [abstract] doi:10.5219/360 [fulltext]
THE INFLUENCE OF GUAR GUM ON TEXTURAL AND SENSORY PROPERTIES OF ROLLS MADE FROM SEMI-FINISHED FROZEN PRODUCTS
Pavlína Boudová Pečivová, Vlastimil Kubáň, Jiří Mlček, Tünde Juríková, Štefan Balla, Jiří Sochor, Mojmír Baroň
Potravinarstvo, vol. 8, no. 1, 2014, p. 201-206, [abstract] doi:10.5219/377 [fulltext]
DETECTION OF LUPINE (LUPINUS SPP. L.) AS A FOOD ALLERGEN USING THREE METHODS: END-POINT PCR, REAL-TIME PCR AND ELISA
Ondrej Revák, Jozef Golian, Radoslav Židek, Jozef Čapla, Peter Zajác
Potravinarstvo, vol. 8, no. 1, 2014, p. 207-215, [abstract] doi:10.5219/384 [fulltext]
DETERMINATION OF THE SPECIES SPECIFICITY OF THE PRIMERS FOR THE DETECTION OF CHICKEN AND TURKEY MEAT BY REALTIME PCR METHOD
Lenka Maršálková, Miloš Mašlej, Ľubomír Belej, Jozef Golian, Radoslav Židek
Potravinarstvo, vol. 8, no. 1, 2014, p. 216-220, [abstract] doi:10.5219/390 [fulltext]
EVALUATION OF SIGNIFICANT PIGMENTS IN GREEN TEAS OF DIFFERENT ORIGIN
Martina Ošťádalová, Bohuslava Tremlová, Ivan Straka, Jana Pokorná, Petra Čáslavková
Potravinarstvo, vol. 8, no. 1, 2014, p. 221-227, [abstract] doi:10.5219/344 [fulltext]
EFFECT OF CHAMOMILE SUPPLEMENTS TO FEEDING DOSES ON ANTIMICROBIAL PARAMETERS IN POULTRY
Zuzana Jakubcova, Ladislav Zeman, Petr Mares, Jiri Mlcek, Tunde Jurikova, Lenka Dostalova, Eva Mrazkova, Eva Mrkvicova, Stefan Balla, Jiri Sochor
Potravinarstvo, vol. 8, no. 1, 2014, p. 228-232, [abstract] doi:10.5219/383 [fulltext]
CALCIUM IN EDIBLE INSECTS AND ITS USE IN HUMAN NUTRITION
Anna Adámková, Lenka Kouřimská, Marie Borkovcová, Jiří Mlček, Martina Bednářová
Potravinarstvo, vol. 8, no. 1, 2014, p. 233-238, [abstract] doi:10.5219/366 [fulltext]
EFFECT OF SODIUM LACTATE / SODIUM DIACETATE IN COMBINATION WITH SODIUM NITRITE ON PHYSIOCHEMICAL, MICROBIAL PROPERTIES AND SENSORY EVALUATION OF COW SAUSAGE
Habib Sedghi, Ali Mohamadi Sani, Masood Najaf Najafi, Mohammad Ali Shariati
Potravinarstvo, vol. 8, no. 1, 2014, p. 239-246, [abstract] doi:10.5219/378 [fulltext]
CHEMICAL COMPOSITION OF BUCKWHEAT PLANT PARTS AND SELECTED BUCKWHEAT PRODUCTS
Petra Vojtíšková, Pavel Švec, Vlastimil Kubáň, Eliška Krejzová, Miroslava Bittová, Stanislav Kráčmar, Blanka Svobodová
Potravinarstvo, vol. 8, no. 1, 2014, p. 247-253, [abstract] doi:10.5219/385 [fulltext]
ORGANIC AND CONVENTIONAL PRODUCTION IN SLOVAKIA: COMPARISON OF SELECTED MANAGERIAL AND FINANCIAL INDICATORS
Jana Kozáková, Drahoslav Lančarič, Radovan Savov, Marián Tóth
Potravinarstvo, vol. 8, no. 1, 2014, p. 254-260, [abstract] doi:10.5219/386 [fulltext]
LUTEIN IN FOOD SUPPLEMENTS AVAILABLE ON THE MARKETS OF THE VISZEGRAD COUNTRIES
Miroslav Šivel, Miroslav Fišera, Bořivoj Klejdus, Stanislav Kráčmar, Vlastimil Kubáň, Jozef Golian, Blanka Svobodová
Potravinarstvo, vol. 8, no. 1, 2014, p. 261-266, [abstract] doi:10.5219/387 [fulltext]
DETERMINING THE PRESENCE OF CHICKEN AND TURKEY MEAT IN SELECTED MEAT PRODUCTS USING REALTIME PCR METHOD
Miloš Mašlej, Jozef Golian, Lenka Maršálková
Potravinarstvo, vol. 8, no. 1, 2014, p. 267-271, [abstract] doi:10.5219/393 [fulltext]
EVALUATION AND COMPARISON OF THE CONTENT OF TOTAL POLYPHENOLS AND ANTIOXIDANT ACTIVITY IN ONION, GARLIC AND LEEK
Petra Kavalcová, Judita Bystrická, Ján Tomáš, Jolana Karovičová, Veronika Kuchtová
Potravinarstvo, vol. 8, no. 1, 2014, p. 272-276, [abstract] doi:10.5219/394 [fulltext]
LOW ADMINISTRATION OF BEE POLLEN IN THE DIET AFFECTS BONE MICROSTRUCTURE IN MALE RATS
Monika Martiniaková, Ivana Boboňová, Radoslav Omelka, Hana Ďúranová, Ramona Babosová, Robert Stawarz, Róbert Toman
Potravinarstvo, vol. 8, no. 1, 2014, p. 277-283, [abstract] doi:10.5219/396 [fulltext]
THE ROLE OF SULPHUR ON THE CONTENT OF TOTAL POLYPHENOLS AND ANTIOXIDANT ACTIVITY IN ONION (ALLIUM CEPA L.)
Judita Bystrická, Petra Kavalcová, Alena Vollmannová, Ján Tomáš, Matyáš Orsák
Potravinarstvo, vol. 8, no. 1, 2014, p. 284-289, [abstract] doi:10.5219/401 [fulltext]
EVALUATION OF INFLUENCE OF THE LOCALITY, THE VINTAGE YEAR, WINE VARIETY AND FERMENTATION PROCESS ON VOLUME OF COOPER AND LEAD IN WINE
Jaroslav Jedlička, Beáta Novotná, Magdaléna Valšíková
Potravinarstvo, vol. 8, no. 1, 2014, p. 290-295, [abstract] doi:10.5219/403 [fulltext]
THE EFFICIENCY, ENERGY INTENSITY AND VISUAL IMPACT OF THE ACCENT LIGHTING IN THE RETAIL GROCERY STORES
Ľudmila Nagyová, Jakub Berčík, Elena Horská
Potravinarstvo, vol. 8, no. 1, 2014, p. 296-305, [abstract] doi:10.5219/398 [fulltext]
MORPHOLOGICAL CHARACTERISTIC OF FRUIT, DRUPES AND SEEDS GENOTYPES OF ZIZIPHUS JUJUBA MILL.
Olga Grygorieva, Vlasta Abrahamová, Margarita Karnatovská, Roman Bleha, Ján Brindza
Potravinarstvo, vol. 8, no. 1, 2014, p. 306-314, [abstract] doi:10.5219/414 [fulltext]
INFLUENCE OF GARLIC EXTRACT ON ANTIOXIDANT STATUS OF CHICKEN
Zuzana Jakubcova, Petr Mareš, Ladislav Zeman, Pavel Horký, Tünde Juríková, Jiří Mlček, Štefan Balla, Libor Kalhotka, Eva Mrkvicová, Jiří Sochor
Potravinarstvo, vol. 8, no. 1, 2014, p. 315-320, [abstract] doi:10.5219/404 [fulltext]
BIOGENIC AMINES IN SMEAR AND MOULD-RIPENED CHEESES
Pavel Pleva, Leona Buňková, Eva Theimrová, Vendula Bartošáková, František Buňka, Khatantuul Purevdorj
Potravinarstvo, vol. 8, no. 1, 2014, p. 321-327, [abstract] doi:10.5219/408 [fulltext]
EFFECT OF FUNGICIDAL TREATMENT ON DIGESTIBILITY OF MYCOTOXINS IN VITRO
Pavel Horký, Radim Cerkal
Potravinarstvo, vol. 8, no. 1, 2014, p. 328-332, [abstract] doi:10.5219/409 [fulltext]
MORPHOLOGICAL AND ANTIOXIDANT CHARACTERISTICS OF QUINCE (CYDONIA OBLONGA MILL.) AND CHINESE QUINCE FRUIT (PSEUDOCYDONIA SINENSIS SCHNEID.)
Anton Monka, Olga Grygorieva, Peter Chlebo, Ján Brindza
Potravinarstvo, vol. 8, no. 1, 2014, p. 333-340, [abstract] doi:10.5219/415 [fulltext]
Volume 7 Potravinarstvo® Scientific Journal for Food Industry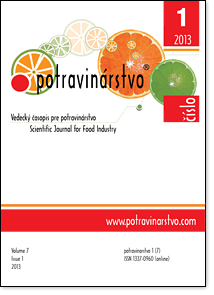 Vol. 7, No. 1/2013, All articles [PDF]
CHANGES OF PLASMA LIPIDS IN RELATION TO THE REGULAR CONSUMPTION OF BILBERRIES (VACCINIUM MYRTILLUS L.)
Marta Habánová, Miroslav Habán, Peter Chlebo, Marianna Schwarzová
Potravinarstvo, vol. 7, no. 1, 2013, p. 1-6, [abstract] doi:10.5219/233 [fulltext]
PREPARATION AND CHARACTERISTICS OF BETA-GLUCAN CONCENTRATE FROM BREWER'S YEAST AS THE ADDITIVE SUBSTANCE IN FOODS
Mária Kováčová, Ladislav Dodok, Livia Žofajová, Ľubomír Mikuš
Potravinarstvo, vol. 7, no. 1, 2013, p. 7-11, [abstract] doi:10.5219/258 [fulltext]
PERCEPTION OF BASIC TASTES AND THRESHOLD SENSITIVITY DURING TESTING OF SELECTED JUDGES
Petra Barborová, Jana Jančovičová, Peter Zajác, Jozef Čapla, Vladimír Vietoris
Potravinarstvo, vol. 7, no. 1, 2013, p. 12-17, [abstract] doi:10.5219/259 [fulltext]
ANTIBACTERIAL ACTIVITY OF OREGANO AND SAGE PLANT EXTRACTS AGAINST DECARBOXYLASE-POSITIVE ENTEROCOCCI ISOLATED FROM RABBIT MEAT
Renata Szabóová, Andrea Lauková, Ľubica Chrastinová
Potravinarstvo, vol. 7, no. 1, 2013, p. 18-21, [abstract] doi:10.5219/239 [fulltext]
SUITABILITY OF CEREAL PORRIDGES AS SUBSTRATE FOR PROBIOTIC STRAIN LACTOBACILLUS RHAMNOSUS GG
Monika Kocková, Ľubomír Valík
Potravinarstvo, vol. 7, no. 1, 2013, p. 22-27, [abstract] doi:10.5219/242 [fulltext]
IMPORTANCE OF PREBIOTIC AND PROBIOTIC: THE ROLE OF GALACTOOLIGOSACHARIDES AS PREBIOTIC ADDITIVES: A REVIEW
Monika Vidová, Helena Hronská, Silvia Tokošová, Michal Rosenberg
Potravinarstvo, vol. 7, no. 1, 2013, p. 28-35, [abstract] doi:10.5219/251 [fulltext]
MORPHOLOGICAL, BIOCHEMICAL AND SENSORY CHARACTERISTICS OF BLACK MULBERRY FRUITS (MORUS NIGRA L.)
Ján Brindza, Lucia Kucelová, Andrej Sinica, Beáta Stehlíková, Marcela Čuláková
Potravinarstvo, vol. 7, no. 1, 2013, p. 36-44, [abstract] doi:10.5219/234 [fulltext]
MICROWAVE MILK PASTEURIZATION WITHOUT FOOD SAFETY RISK
Péter Korzenszky, Péter Sembery, Gábor Géczi
Potravinarstvo, vol. 7, no. 1, 2013, p. 45-48, [abstract] doi:10.5219/260 [fulltext]
MEASUREMENT OF THE RESIDUAL GASES O2 AND CO2 IN MEAT PRODUCTS PACKED IN MODIFIED ATMOSPHERE
Jozef Čapla, Peter Zajác, Jozer Čurlej, Ľubomír Lopašovský, Vladimír Vietoris
Potravinarstvo, vol. 7, no. 1, 2013, p. 49-52, [abstract] doi:10.5219/261 [fulltext]
HOP PELLETS AS AN INTERESTING SOURCE OF ANTIOXIDANT ACTIVE COMPOUNDS
Andrea Holubková, Silvia Mošovská, Barbora Baloghová, Ernest Šturdík
Potravinarstvo, vol. 7, no. 1, 2013, p. 53-57, [abstract] doi:10.5219/270 [fulltext]
EXPOSURE AND RISK ASSESSMENT OF STAPHYLOCOCCUS AUREUS IN FOOD CHAIN
IN SLOVAKIA
Ľubomír Valík, Alžbeta Medveďová
Potravinarstvo, vol. 7, no. 1, 2013, p. 58-62, [abstract] doi:10.5219/263 [fulltext]
MODELING OF BACILLUS CEREUS DISTRIBUTION IN PASTEURIZED MILK AT THE TIME OF CONSUMPTION
Pavel Ačai, Ľubomír Valík, Denisa Liptáková, Jana Minarovičová
Potravinarstvo, vol. 7, no. 1, 2013, p. 63-66, [abstract] doi:10.5219/264 [fulltext]
COMPARISON OF TEXTURAL ATRIBUTES OF SELECTED MEAT SAUSAGES USING INSTRUMENTAL ANALYSIS
Jozef Čurlej, Peter Zajác, Jozef Čapla, Vladimír Vietoris, Ľubomír Lopašovský
Potravinarstvo, vol. 7, no. 1, 2013, p. 67-70, [abstract] doi:10.5219/273 [fulltext]
CONTRIBUTION OF TEMPORAL DOMINANCE OF SENSATIONS METHOD TO THE SENSORY DESCRIPTION OF TASTE PROPERTIES OF COMMERCIAL GREEN TEA BRANDS
Trembecká, Tomáš Fekete, Zuzana Beňová, Noémi Dubová
Potravinarstvo, vol. 7, no. 1, 2013, p. 71-75, [abstract] doi:10.5219/274 [fulltext]
AETHEROLEUM AND FAT OXIDATION OF CHICKEN MEAT
Jana Tkáčová, Mária Angelovičová
Potravinarstvo, vol. 7, no. 1, 2013, p. 76-79, [abstract] doi:10.5219/267 [fulltext]
THE EFFECT OF THE PROBIOTICS BACILLUS SUBTILIS (PB6) ON THE SELECTED INDICATORS OF THE TABLE EGGS QUALITY, FAT AND CHOLESTEROL
Mária Angelovičová, Ebrahim Alfaig, Martin Král, Jana Tkáčová
Potravinarstvo, vol. 7, no. 1, 2013, p. 80-84, [abstract] doi:10.5219/271 [fulltext]
SAFETY AND FORTIFICATION WITH FOLIC ACID IN NEONATAL PERIOD
Tatiana Žikavská, Ingrid Brucknerová
Potravinarstvo, vol. 7, no. 1, 2013, p. 85-88, [abstract] doi:10.5219/269 [fulltext]
ANTIOXIDANT AND ANTIPROTEINASE EFFECTS OF BUCKWHEAT HULL EXTRACTS
Martina Danihelová, Ernest Šturdík
Potravinarstvo, vol. 7, no. 1, 2013, p. 89-94, [abstract] doi:10.5219/272 [fulltext]
CELIAC DISEASE AND GLUTEN-FREE DIET
Eva Hybenová, Júlia Štofirová, Anna Mikulajová
Potravinarstvo, vol. 7, no. 1, 2013, p. 95-100, [abstract] doi:10.5219/276 [fulltext]
OILSEED RAPE AS FEEDSTOCK F OR BIDIESEL PRODUCTION IN RELATION TO THE ENVIRONMENT AND HUMAN HEALTH
Michal Angelovič, Zdenko Tkáč, Marek Angelovič
Potravinarstvo, vol. 7, no. 1, 2013, p. 101-106, [abstract] doi:10.5219/278 [fulltext]
SENSORY EVALUATION FOR BROILER MEAT AFTER ADDITION SLOVAK BEE POLLEN IN THEIR FEED MIXTURE
Ibrahim Omer Elamin Elimam, Peter Haščík, Jozef Garlík, Marek Bobko
Potravinarstvo, vol. 7, no. 1, 2013, p. 107-110, [abstract] doi:10.5219/280 [fulltext]
THE EFFECT OF IODINE IN PRODUCTION OF BROILER CHICKENS AND SELECTED QUALITY INDICATORS OF BREAST MUSCLES
Mária Angelovičová, Marieta Semivanová
Potravinarstvo, vol. 7, no. 1, 2013, p. 111-119, [abstract] doi:10.5219/297 [fulltext]
APPLYING THE PRINCIPLES OF WELFARE AND QUALITY OF PRODUCTION IN THE ORGANIC FARM OF THE LAYING HENS
Mária Angelovičová, Martin Mellen, Jana Zdechovanová
Potravinarstvo, vol. 7, no. 1, 2013, p. 120-129, [abstract] doi:10.5219/298 [fulltext]
EVALUATION OF ANTHOCYNIN CHANGES IN BLUEBERRIES AND IN BLUEBERRY JAM AFTER THE PROCESSING AND STORAGE
Andrea Mendelová, Ľubomír Mendel, Martina Fikselová, Peter Czako
Potravinarstvo, vol. 7, no. 1, 2013, p. 130-135, [abstract] doi:10.5219/293 [fulltext]
CONTENT OF AMINO ACIDS AND MINERALS IN SELECTED SORTS OF LEGUMES
Petra Vojtíšková, Pavel Švec, Stanislav Kráčmar
Potravinarstvo, vol. 7, no. 1, 2013, p. 136-140, [abstract] doi:10.5219/299 [fulltext]
EFFET OF DRYING TEMPERATURE ON LYCOPENE CONTENT OF PROCESSED TOMATOES
Andrea Mendelová, Ľubomír Mendel, Martina Fikselová, Peter Czako
Potravinarstvo, vol. 7, no. 1, 2013, p. 141-145, [abstract] doi:10.5219/300 [fulltext]
QUALITY AND AVAILABILITY OF ORGANIC FOODS BY SLOVAK CONSUMERS
Dagmar Kozelová, Vladimír Vietoris, Martina Fikselová
Potravinarstvo, vol. 7, no. 1, 2013, p. 146-150, [abstract] doi:10.5219/306 [fulltext]
STUDY OF ANTIOXIDANT ACTIVITY OF NATURAL FOOD SUPPLEMENTS
Tetyana Lozova
Potravinarstvo, vol. 7, no. 1, 2013, p. 151-155, [abstract] doi:10.5219/307 [fulltext]
TEXTURAL PROPERTIES OF SELECTED SLOVAK COW AND SHEEP PRODUCTS MEASURED BY TEXTUROMETER
Mária Angelovičová, Mária Angelovičová, ml.
Potravinarstvo, vol. 7, no. 1, 2013, p. 156-163, [abstract] doi:10.5219/308 [fulltext]
THE CHANGES OF THE POLYPHENOL CONTENT AND ANTIOXIDANT ACTIVITY IN POTATO TUBERS (SOLANUM TUBEROSUM L.) DUE TO NITROGEN FERTILIZATION
Janette Musilová, Jaromír Lachman, Judita Bystrická, Zuzana Poláková, Peter Kováčik, Diana Hrabovská
Potravinarstvo, vol. 7, no. 1, 2013, p. 164-170, [abstract] doi:10.5219/305 [fulltext]
EVALUATION OF DIET QUALITY INDICATORS IN ADULTS
Katarína Fatrcová-Šramková
Potravinarstvo, vol. 7, no. 1, 2013, p. 171-180, [abstract] doi:10.5219/302 [fulltext]
OCCURRENCE OF ANTIBIOTIC RESISTANT ENTEROCOCCI ON SKIN OF TEATS AND TEAT CUPS OF MILKING MACHINE
Anna Krebs Artimová, Viera Ducková, Miroslav Kročko
Potravinarstvo, vol. 7, no. 1, 2013, p. 181-185, [abstract] doi:10.5219/310 [fulltext]
COMPARISON OF THE SENSITIVITY OF DETERMINING SOYEABEAN ALLERGENS BY ELISA METHOD AND SYBR GREEN I
Jozef Golian, Ľubomir Belej, Radoslav Židek, Jozef Trandžík, Jozef Čapla, Peter Zajác
Potravinarstvo, vol. 7, no. 1, 2013, p. 186-190, [abstract] doi:10.5219/311 [fulltext]
THE EFFECT OF INDIVIDUAL PHOSPHATE EMULSIFYING SALTS AND THEIR SELECTED BINARY MIXTURES ON HARDNESS OF PROCESSED CHEESE SPREADS
František Buňka, Gabriela Nagyová, Richados Nikolaos Salek, Michaela Černíková, Helena Bacova, Stanislav Kráčmar
Potravinarstvo, vol. 7, no. 1, 2013, p. 191-196, [abstract] doi:10.5219/312 [fulltext]
TEXTURAL PROPERTIES OF CHICKEN BREAST TREATED BY DIFFERENT MEANS
Jozef Čurlej, Eva Čurlejová, Peter Zajác, Jozef Čapla
Potravinarstvo, vol. 7, no. 1, 2013, p. 197-201, [abstract] doi:10.5219/313 [fulltext]
POSITION OF FOLIC ACID IN FORTIFICATION OF NUTRITION IN NEONATAL PERIOD
Tatiana Žikavská, Ingrid Brucknerová
Potravinarstvo, vol. 7, no. 1, 2013, p. 202-206, [abstract] doi:10.5219/303 [fulltext]
RELATIONSHIP BETWEEN MASTITIS CAUSATIVE PATHOGENS AND SOMATIC CELL COUNTS IN MILK OF DAIRY COWS
Sharaf Eldeen Idriss,VladimírTančin, Vladimír Foltys, Katarína Kirchnerová, Dana Tančinová, Martina Vršková
Potravinarstvo, vol. 7, no. 1, 2013, p. 207-212, [abstract] doi:10.5219/304 [fulltext]
Volume 7 Special issue, Potravinarstvo® Scientific Journal for Food Industry, 20.3.2013
https://www.potravinarstvo.com/dokumenty/mc_march_2013/index.htm
Volume 6 Potravinarstvo® Scientific Journal for Food Industry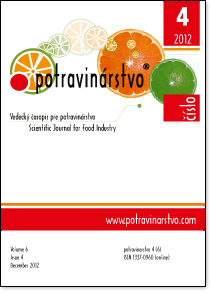 Vol. 6, No. 4/2012, 13.12.2012, All articles [PDF]
HISTOLOGICAL CHANGES IN POECILIA RETICULATA AFTER INTERACTION OF IONIZING RADIATION AND ZINC SULFID
Viera Almasiova, Andrej Renčko, Katarína Holovská, Michaela Špalková
Potravinarstvo, vol. 6, no. 4, 2012, p. 1-4, [abstract] doi:10.5219/228 [fulltext]
QUANTIFICATION OF GENETICALLY MODIFIED MAIZE MON 810 IN PROCESSED FOODS
Eva Bergerová, Zuzana Godálová, Peter Siekel
Potravinarstvo, vol. 6, no. 4, 2012, p. 5-10, [abstract] doi:10.5219/212 [fulltext]
EFFECTIVE ANTIOXIDANT PHENOLIC COMPOUNDS IN SELECTED VARIETIES OF APPLES
Dominika Bončíková, Tomáš Tóth, Ján Tomáš, Dalaram Suleiman, Juraj Tóth, Marek Slávik
Potravinarstvo, vol. 6, no. 4, 2012, p. 11-15, [abstract] doi:10.5219/222 [fulltext]
'OBWARZANEK KRAKOWSKI' AS A TRADITIONAL FOOD
Dorota Gałkowska, Joanna Sobolewska-Zielińska
Potravinarstvo, vol. 6, no. 4, 2012, p. 16-19, [abstract] doi:10.5219/197 [fulltext]
THE CADMIUM INTAKE OF SELECTED LEGUMES IN MODEL CONDITIONS
Ľuboš Harangozo, Radovan Stanovič, Július Árvay, Pavol Trebichalský
Potravinarstvo, vol. 6, no. 4, 2012, p. 20-23, [abstract] doi:10.5219/221 [fulltext]
EFFECT OF NITROGEN APPLICATION ON SELECTED NUTRITIONAL COMPONENTS OF POTATO TUBERS
Diana Hrabovská, Janette Musilová, Judita Bystrická, Ján Tomáš, Daniel Bajčan
Potravinarstvo, vol. 6, no. 4, 2012, p. 24-27, [abstract] doi:10.5219/220 [fulltext]
INFLUENCE OF MEAT MATURATION TO THE PRESENCE OF COLIFORM BACTERIA
Simona Kunová, Klára Vavrišínová, Miroslava Kačániová, Juraj Čuboň, Dagmar Kozelová, Ľubomír Lopašovský
Potravinarstvo, vol. 6, no. 4, 2012, p. 28-31, [abstract] doi:10.5219/181 [fulltext]
APPLICATION OF NISIN INTO SLOVAK FERMENTED SALAMI PÚCHOV
Andrea Laukova, Peter Turek
Potravinarstvo, vol. 6, no. 4, 2012, p. 32-35, [abstract] doi:10.5219/218 [fulltext]
INFLUENCE OF LIFETIME EXPOSURE OF SUBLETHAL DOSES OF CADMIUM TO SELECTED PARAMETERS OF CARBOHYDRATE METABOLISM
Agnesa Lukačínová, Jaroslava Nováková, Eva Lovásová, Iveta Cimboláková, František Ništiar
Potravinarstvo, vol. 6, no. 4, 2012, p. 36-40, [abstract] doi:10.5219/231 [fulltext]
MICROBIAL STATUS AND QUALITY OF RABBIT MEAT AFTER RABBITS FEED SUPPLEMENTATION WITH PHYTO-ADDITIVES
Monika Pogány Simonová, Andrea Lauková, Ľubica Chrastinová, Renáta Szabóová, ViolaStrompfová
Potravinarstvo, vol. 6, no. 4, 2012, p. 41-44, [abstract] doi:10.5219/213 [fulltext]
COMPARISON OF THE QUALITY OF VEGETABLE OILS DESIGNED FOR THE FRYING FOOD
Lucia Zeleňáková, Silvia Pastyriková, Radoslav Židek, Ladislav Mura
Potravinarstvo, vol. 6, no. 4, 2012, p. 45-51, [abstract] doi:10.5219/210 [fulltext]
EFFECT OF SELECTED FEED ADDITIVES ON INTERNAL QUALITY PARAMETERS OF TABLE EGGS
Henrieta Arpášová, Miroslava Kačániová, Peter Haščík, Veronika Šidlová
Potravinarstvo, vol. 6, no. 4, 2012, p. 52-61, [abstract] doi:10.5219/235 [fulltext]
XENOBIOTICS AND BIOGENIC ELEMENTS IN RAW COW'S MILK
Anetta Lukáčová, Dominika Gajdošová, Peter Massányi, Jozef Golian, Agnieszka Greń
Potravinarstvo, vol. 6, no. 4, 2012, p. 62-65, [abstract] doi:10.5219/246 [fulltext]
DEVELOPMENT OF MILK CONSUMPTION AND MARKETING ANALYSIS OF ITS DEMAND
Ľubica Kubicová, Marta Habánová
Potravinarstvo, vol. 6, no. 4, 2012, p. 66-72, [abstract] doi:10.5219/236 [fulltext]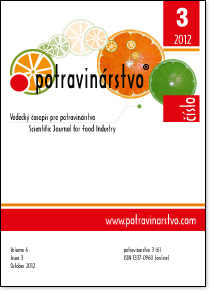 Vol. 6, No. 3/2012, 30.10.2012, All articles [PDF]
NUTRITIONAL AND HEALTH BENEFITS OF BUCKWHEAT
Martina Danihelová, Ernest Šturdík
Potravinarstvo, vol. 6, no. 3, 2012, p. 1-9, [abstract] doi:10.5219/206 [fulltext]
BAKERY ENZYMES IN CEREAL TECHNOLOGIES
Ľubomír Mikuš, Ladislav Dodok, Mária Kováčová, Ladislav Staruch, Václav Koman
Potravinarstvo, vol. 6, no. 3, 2012, p. 10-15, [abstract] doi:10.5219/193 [fulltext]
COMPARISON AND ASSESSMENT OF LEPTIN RECEPTOR EXPRESSION BY THE FOLLOWING ORIGAMI AETHEROLEUM STUDY AT BROILER CHICKENS COBB 500
Ľubica Mrázová, Radoslav Židek, Mária Angelovičová, Martin Král
Potravinarstvo, vol. 6, no. 3, 2012, p. 16-20, [abstract] doi:10.5219/209 [fulltext]
ACTIVE PACKAGING SYSTEM FOR MEAT AND MEAT PRODUCTS
Adriana Pavelková, Erika Flimelová
Potravinarstvo, vol. 6, no. 3, 2012, p. 21-27, [abstract] doi:10.5219/205 [fulltext]
NUTIRTION LABELLING OF FOOD AND ALLERGEN IN FOOD
Ondrej Revák, Jozef Golian
Potravinarstvo, vol. 6, no. 3, 2012, p. 28-31, [abstract] doi:10.5219/230 [fulltext]
POLYPHENOLIC CONTENT AND ANTIOXIDATIVE ACTIVITY OF WINES FROM THE SOBRANCE WINE REGION
Eva Špakovská, Slavomír Marcinčák, Martin Bača, Peter Turek
Potravinarstvo, vol. 6, no. 3, 2012, p. 32-35, [abstract] doi:10.5219/204 [fulltext]
INPUT OF CADMIUM FROM SOIL INTO LENTIL AND FABABEAN SEEDS
Mária Timoracká, Alena Vollmannová, Dalaram Ismael
Potravinarstvo, vol. 6, no. 3, 2012, p. 36-40, [abstract] doi:10.5219/208 [fulltext]
ANALYSIS OF SELECTED DETERMINANTS OF ALIMENTATION HYGIENE OF SCHOOL CHILDREN
Lucia Zeleňáková, Dagmar Kozelová, Miriam Pietriková
Potravinarstvo, vol. 6, no. 3, 2012, p. 41-46, [abstract] doi:10.5219/211 [fulltext]
EFFICIENCY OF REAL-TIME PCR FOR 18S RRNA AMPLIFICATION OF SORBUS DOMESTICA, L.
Jana Žiarovská, Petronela Poláčeková
Potravinarstvo, vol. 6, no. 3, 2012, p. 47-49, [abstract] doi:10.5219/203 [fulltext]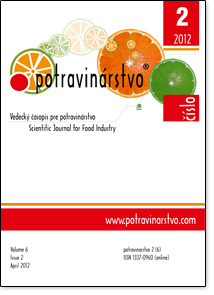 Vol. 6, No. 2/2012, 1.4.2012, All articles [PDF]
THE EFFECT OF REDUCTION CONCENTRATIONS OF THE BROILER CHICKENS PER UNIT AREA ON THE FINAL LIVE WEIGHT AND PRODUCTION ECONOMICS
Mária Angelovičová, Martin Kliment, Ľubica Mrázová, Jana Tkáčová, Martin Kráľ, Ebrahim Alfaig, Ľubomír Lopašovský,
Potravinarstvo, vol. 6, no. 2, 2012, p. 1-8, [abstract] doi:10.5219/198 [fulltext]
QUANTITATIVE AND STRUCTURAL CHANGES OF TESTIS AND SEMEN QUALITY PARAMETERS CHANGES CAUSED BY PERORAL ADMINISTRATION OF DIAZINON IN RATS
Michal Cabaj, Róbert Toman, Mária Adamkovičová, Peter Massányi, Branislav Šiška, Norbert Lukáč, Jozef Golian, Svätoslav Hluchý,
Potravinarstvo, vol. 6, no. 2, 2012, p. 9-14, [abstract] doi:10.5219/188 [fulltext]
ENTEROCOCCI AND THEIR ABILITY TO FORM A BIOFILM
Margita Čanigová, Viera Ducková, Miroslav Kročko, Jana Račková, Jana Bezeková,
Potravinarstvo, vol. 6, no. 2, 2012, p. 15-18, [abstract] doi:10.5219/200 [fulltext]
IDENTIFICATION OF OENOLOGICAL TANNINS EXTRACTED FROM OAK WOOD
Jana Návojská, Silvia Wendelin, Reinhard Eder, Helena Frančáková,
Potravinarstvo, vol. 6, no. 2, 2012, p. 19-22, [abstract] doi:10.5219/202 [fulltext]
THE VISCOSITY OF PROCESSED CHEESE SAUCES DEPENDING ON ADDITION TYPE AND CONCENTRATION OF 1-MONOGLYCERIDES
Zuzana Hanáková, František Buňka, Eva Weiserová, Rahula Janiš,
Potravinarstvo, vol. 6, no. 2, 2012, p. 23-25, [abstract] doi:10.5219/183 [fulltext]
CHEMICAL COMPOSITION OF MUSCLE AFTER POLLEN APPLICATION IN NUTRITION OF BROILER CHICKENS
Peter Haščík, Ibrahim Omer Elamin Elimam, Jozef Garlík, Miroslava Kačániová, Marek Bobko, Vladimíra Kňazovická, Klára Vavrišinová, Henrieta Arpášová, Ondřej Bučko,
Potravinarstvo, vol. 6, no. 2, 2012, p. 26-32, [abstract] doi:10.5219/190 [fulltext]
EFFECT OF CHICKPEA AND PEA FLOUR ADDITION ON THE QUALITATIVE AND SENSORY PARAMETERS OF BAKERY PRODUCTS
Michal Magala, Zlatica Kohajdová, Jolana Karovičová, Veronika Kuchtová,
Potravinarstvo, vol. 6, no. 2, 2012, p. 33-35, [abstract] doi:10.5219/185 [fulltext]
ANALYSIS OF CAROTENOIDS AND LYCOPENE IN TOMATO (LYCOPERSICON ESCULENTUM MILL.) AND THEIR RETENTION IN TOMATO JUICE
Andrea Mendelová, Alena Andrejiová, Miriam Líšková, Dagmar Kozelová, Ján Mareček,
Potravinarstvo, vol. 6, no. 2, 2012, p. 36-38, [abstract] doi:10.5219/195 [fulltext]
EFFECT OF HUMIC SUBSTANCES AND PROBIOTICS ON GROWTH PERFORMANCE AND MEAT QUALITY OF RABBITS
Ľubomír Ondruška, Ľubica Chrastinová, Ján Rafay, Darina Pospíšilová, Vladimír Parkányi,
Potravinarstvo, vol. 6, no. 2, 2012, p. 39-41, [abstract] doi:10.5219/192 [fulltext]
CHANGES IN THE PHYSICAL PROPERTIES OF BREAD DURING STORAGE
Paulina Pająk, Celina Habryka, Teresa Fortuna,
Potravinarstvo, vol. 6, no. 2, 2012, p. 42-45, [abstract] doi:10.5219/194 [fulltext]
FACTORS AFFECTED DECARBOXYLATION ACTIVITY OF ENTEROCOCCUS FAECIUMISOLATED FROM RABBIT
Pavel Pleva, Leona Buňková, Andrea Lauková, Eva Lorencová, Vlastimil Kubáň, František Buňka,
Potravinarstvo, vol. 6, no. 2, 2012, p. 46-49, [abstract] doi:10.5219/182 [fulltext]
CONTAMINATION OF PROPOLIS USED AS A DIETARY SUPPLEMENT
Adam Roman, Ewa Popiela-Pleban,
Potravinarstvo, vol. 6, no. 2, 2012, p. 50-52, [abstract] doi:10.5219/184 [fulltext]
PHYSICOCHEMICAL PROPERTIES OF STARCH-MALTODEXTRIN AND STARCH-MALTODEXTRIN-GLUCOSE SYSTEMS
Joanna Sobolewska-Zielińska, Magdalena Grzelak, Teresa Fortuna,
Potravinarstvo, vol. 6, no. 2, 2012, p. 53-56, [abstract] doi:10.5219/196 [fulltext]
ASSESSMENT OF FAT QUALITY DURING STORAGE CHICKEN MEAT
Jana Tkáčová, Mária Angelovičová,
Potravinarstvo, vol. 6, no. 2, 2012, p. 57-59, [abstract] doi:10.5219/187 [fulltext]
OCCURRENCE OF SOME PATHOGENITY FACTORS IN COAGULASE NEGATIVE STAPHYLOCOCCI ISOLATED FROM MASTITIS MILK IN DAIRY COWS
Milan Vasiľ, Juraj Elečko, František Zigo, Zuzana Farkašová,
Potravinarstvo, vol. 6, no. 2, 2012, p. 60-63, [abstract] doi:10.5219/186 [fulltext]
QUALITY AND SAFETY OF RAW COW'S MILK IN SLOVAKIA IN 2011
Peter Zajác, Martin Tomáška, Anna Murárová, Jozef Čapla, Jozef Čurlej,
Potravinarstvo, vol. 6, no. 2, 2012, p. 64-73, [abstract] doi:10.5219/189 [fulltext]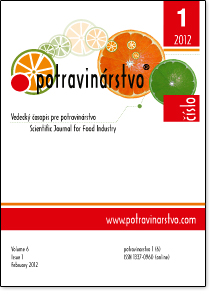 Vol. 6, No. 1/2012, 15.2.2012, All articles [PDF]
EFFECT OF APPLE CIDER VINEGAR ON PLASMA LIPIDS (MODEL EXPERIMENT IN MICE)
László Bárdos, Balázs Bender,
Potravinarstvo, vol. 6, no. 1, 2012, p. 1-4, [abstract] doi:10.5219/156 [fulltext]
SELECTED PROPERTIES OF LACTIC ACID BACTERIA ISOLATED FROM RAW COW'S MILK
Jana Bezeková, Monika Lavová, Miroslav Kročko, Margita Čanigová,
Potravinarstvo, vol. 6, no. 1, 2012, p. 5-9, [abstract] doi:10.5219/177 [fulltext]
ANTIBACTERIAL ACTIVITY OF THYME AND ROSEMARY ESSENTIAL OIL AGAINST ENTEROCOCCI ISOLATED FROM MEAT
Viera Duckova, Margita Čanigová, Miroslav Kročko, Jana Bezeková,
Potravinarstvo, vol. 6, no. 1, 2012, p. 10-13, [abstract] doi:10.5219/178 [fulltext]
SENSORY EVALUATION OF MEAT CHICKENS ROSS 308 AFTER APPLICATION OF PROPOLIS IN THEIR NUTRITION
Peter Haščík, Jozef Garlík ml., Miroslava Kačániová, Juraj Čuboň, Martin Mellen, Michal Mihok, Ibrahim Omer Eliman Eliman,
Potravinarstvo, vol. 6, no. 1, 2012, p. 14-20, [abstract] doi:10.5219/158 [fulltext]
CHARACTERIZATION OF LACTOCOCCUS STRAINS AND THEIR USING IN DAIRY TECHNOLOGY
Zuzana Hladíková, Jana Smetanková, Gabriel Greif, Mária Greifová,
Potravinarstvo, vol. 6, no. 1, 2012, p. 21-29, [abstract] doi:10.5219/162 [fulltext]
MONITORING OF A GLUTEN CONTENT IN SELECTED MEAT PRODUCTS FROM THREE BIGGEST MEAT PRODUCERS IN SLOVAKIA
Marcel Mati, Ladislav Staruch,
Potravinarstvo, vol. 6, no. 1, 2012, p. 30-33, [abstract] doi:10.5219/167 [fulltext]
SENSORY EVALUATION OF FRESH CHEESE TASTE WITH THE ADDITION OF OREGANO
Adriana Pavelková, Erika Flimelová, Vladimír Vietoris,
Potravinarstvo, vol. 6, no. 1, 2012, p. 34-36, [abstract] doi:10.5219/176 [fulltext]
EFFECT OF DIFFERENT ENVIRONMENTAL FACTORS ON THE GROWTH DYNAMICS OF STAPHYLOCOCCUS AUREUS IN MODEL MEDIUM
Adriana Studeničová, Alžbeta Medveďová, Ľubomír Valík,
Potravinarstvo, vol. 6, no. 1, 2012, p. 37-41, [abstract] doi:10.5219/179 [fulltext]
MOLECULAR PROPERTIES OF SELECTED POLYSACCHARIDES DETERMINED BY SEC CHROMATOGRAPHY AND THEIR IMPACT ON WATER ABSORPTION OF WHEAT FLOUR
Marián Tokár, Krzysztof Buksa, Halina Gambuś, Tatiana Bojňanská, Eva Ivanišová,
Potravinarstvo, vol. 6, no. 1, 2012, p. 42-44, [abstract] doi:10.5219/173 [fulltext]
Volume 5 Potravinarstvo® Scientific Journal for Food Industry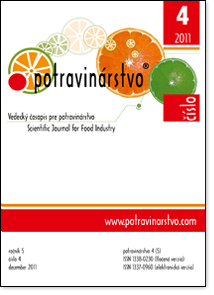 Vol. 5, No. 4/2011, 14.12.2011, All articles [PDF]
MORPHOLOGICAL AND ORGANOLEPTIC NATURE OF ZIZIPHUS JUJUBA MILL.
Ján Brindza, Margita Karmatovská, Olga Grygorieva, Vladimír Vietoris, Lucia Kucelová, Gabriela Erdélyová,
Potravinarstvo, vol. 5, no. 4, 2011, p. 1-11, [abstract] doi:10.5219/165 [fulltext]
FLAVONOID NATURAL SOURCES AND THEIR IMPORTANCE IN THE HUMAN DIET
Martina Danihelová, Ernest Šturdík,
Potravinarstvo, vol. 5, no. 4, 2011, p. 12-24, [abstract] doi:10.5219/160 [fulltext]
CHARACTERIZATION OF GLIADIN AND HMW GLUTENIN PROTEIN COMPOSITION IN COLOURED WHEAT (TRITICUM AESTIVUM L.) VARIETIES
Edita Gregova, Svetlana Šliková, Valéria Šudyová, Zuzana Šramková, Pavol Hauptvogel,
Potravinarstvo, vol. 5, no. 4, 2011, p. 25-27, [abstract] doi:10.5219/161 [fulltext]
THE EVALUATION OF ANTIOXIDANT ACTIVITY OF MILLING FRACTIONS OF SELECTED CEREALS GROWN IN THE YEAR 2010
Eva Ivanišová, Miroslav Ondrejovič, Štefan Dráb, Marián Tokár,
Potravinarstvo, vol. 5, no. 4, 2011, p. 28-33, [abstract] doi:10.5219/163 [fulltext]
VIABILITY OF THE PROBIOTIC BACTERIA L. ACIDOPHILUS IN DAIRY PRODUCTS
Janka Koreňová,
Potravinarstvo, vol. 5, no. 4, 2011, p. 34-37, [abstract] doi:10.5219/147 [fulltext]
MULTIVARIATE GEOGRAPHICAL CHARACTERISATION OF SLOVAK FRUIT DISTILLATES THROUGH MINERAL ELEMENTS PROFILE
Mária Koreňovská, Milan Suhaj,
Potravinarstvo, vol. 5, no. 4, 2011, p. 38-41, [abstract] doi:10.5219/164 [fulltext]
ENTEROCOCCI AND THEIR ABILITY LIVE OUT ACTIVITY OF SANITATION DETERGENTS
Monika Lavová, Viera Ducková, Margita Čanigová, Miroslav Kročko,
Potravinarstvo, vol. 5, no. 4, 2011, p. 42-44, [abstract] doi:10.5219/166 [fulltext]
MONITORING OF GENETIC DIVERSITY IN FARMED DEER POPULATIONS USING MICROSATELLITE MARKERS
Lenka Maršálková, Ľubomír Belej, Pavol Bajzík, Jaroslav Pokorádi,
Potravinarstvo, vol. 5, no. 4, 2011, p. 45-47, [abstract] doi:10.5219/172 [fulltext]
RESPONSE SURFACE METHODOLOGY FOR OPTIMIZATION OF THE EXTRACTION OF FLAX (LINUM USITATISSIMUM) SEED OIL
Miroslav Ondrejovič, Daniela Chmelová, Tibor Maliar,
Potravinarstvo, vol. 5, no. 4, 2011, p. 48-52, [abstract] doi:10.5219/168 [fulltext]
EVALUATION OF THE GROWTH OF SELECTED LACTOBACILLI IN PSEUDOCEREAL SUBSTRATE
Jana Pelikánová, Denisa Liptáková, Ľubomír Valík, Katarína Stančeková,
Potravinarstvo, vol. 5, no. 4, 2011, p. 53-57, [abstract] doi:10.5219/169 [fulltext]
RELATIONSHIP RATIONAL NUTRITION FOR THE RISK OF CANCER OF THE BREAST IN THE FEMALE POPULATION IN SLOVAKIA
Michaela Tirpáková, Viera Lovayová,
Potravinarstvo, vol. 5, no. 4, 2011, p. 58-63, [abstract] doi:10.5219/143 [fulltext]
NATURAL SURFACTANTS AND THEIR USE IN FOOD INDUSTRY
Lenka Tmáková, Stanislav Sekretár, Štefan Schmidt, Jarmila Hlásniková, Lenka Vrbiková, František Kreps,
Potravinarstvo, vol. 5, no. 4, 2011, p. 64-69, [abstract] doi:10.5219/170 [fulltext]
BACTERIA STAPHYLOCOCCUS SPP. IZOLATED FROM MASTITIS OF SHEEP AND THEIR ENTEROTOXIGENIC PROPERTIES
František Zigo, Milan Vasiľ, Marián Kadáši, Juraj Elečko, Zuzana Farkašová,
Potravinarstvo, vol. 5, no. 4, 2011, p. 70-72, [abstract] doi:10.5219/171 [fulltext]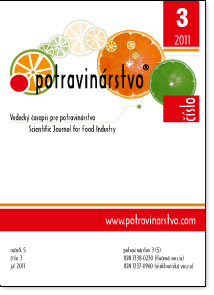 Vol. 5, No. 3/2011, 30.7.2011, All articles [PDF]
OPTIMALISATION OF SPECIES IDENTIFICATION OF COMMON CARP (CYPRINUS CARPIO) USING SYBR® GREEN I REAL-TIME PCR METHOD
Pavol Bajzík, Radoslav Židek, Jozef Golian, Ľubomír Belej, Jozef Čapla, Lenka Maršálková, Ondrej Revák,
Potravinarstvo, vol. 5, no. 3, 2011, p. 1-5, [abstract] doi:10.5219/154 [fulltext]
THE YIELD OF DNA IN THERMAL TERATED DEER MEAT
Ľubomír Belej, Miroslava Barnová, Lenka Maršálková, Jozef Golian
Potravinarstvo, vol. 5, no. 3, 2011, p. 6-10, [abstract] doi:10.5219/153 [fulltext]
MORPHOLOGICAL AND ORGANOLEPTIC FRUIT PROPERTIES OF VARIOUS PERSIMMON SPECIES (DIOSPYROS SPP.)
Oľga Grygorieva, Ján Brindza, Vladimir Vietoris, Lucia Kucelová, Dezider Tóth, Vlasta Abraham, Miroslava Hricová,
Potravinarstvo, vol. 5, no. 3, 2011, p. 11-19, [abstract] doi:10.5219/150 [fulltext]
ORGANIC PRODUCTS, CONSUMER BEHAVIOR ON MARKET AND EUROPEAN ORGANIC PRODUCT MARKET SITUATION
Dagmar Kozelová, Ladislav Mura, Eva Matejková, Ľubomír Lopašovský, Vladimír Vietoris, Andrea Mendelová, Magdaléna Bezáková, Marcela Chreneková,
Potravinarstvo, vol. 5, no. 3, 2011, p. 20-26, [abstract] doi:10.5219/96 [fulltext]
NUTRITIONAL STATUS OF SUBJECTS WITH DOMINANT PLANT FOOD CONSUMPTION
Marica Kudlackova, Martina Valachovičová, Katarína Babinská, Pavel Blažíček, Viera Spoustová, Viera Pauková,
Potravinarstvo, vol. 5, no. 3, 2011, p. 27-32, [abstract] doi:10.5219/148 [fulltext]
PRESENCE OF S. AUREUS AND ENTEROCOCCUS SPP. IN GOAT´S CHEESE AND THEIR ANTIBIOTIC RESISTANCE
Lucia Poľáková, Eva Dudrikova, Juraj Gallo,
Potravinarstvo, vol. 5, no. 3, 2011, p. 33-37, [abstract] doi:10.5219/144 [fulltext]
CONTRIBUTION TO THE DEBATE ON THE MICROBIOLOGICAL QUALITY OF RAW MILK FROM VENDING MACHINES
Ľubomír Valík, Alžbeta Medveďová, Lucia Bírošová, Denisa Liptáková, Ladislav Ondruš, Ján Šnelcer,
Potravinarstvo, vol. 5, no. 3, 2011, p. 38-43, [abstract] doi:10.5219/98 [fulltext]
EXAMINATION OF FACTORS INFLUENCING THE VARIABILITY OF YEAST AMOUNT IN THE CONTEXT OF PH CHANGES IN BOTTLED WINES
Lucia Zeleňáková, Eva Matejková, Ľubomír Lopašovský, Dagmar Kozelová, Ladislav Mura
Potravinarstvo, vol. 5, no. 3, 2011, p. 44-49, [abstract] doi:10.5219/151 [fulltext]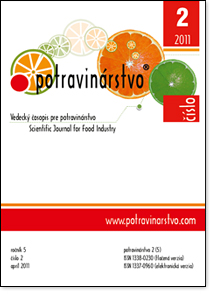 Vol 5, No. 2/2011, 1.4.2011, All articles [PDF]
MORPHOLOGY AND SENSORY EVALUATION OF TRADITIONAL PRODUCTS FROM DIFFERENT LANDRACES OF PUMPKIN (CUCURBITA SPP.)
Ján Brindza, Vladimír Vietoris, Lucia Kucelová, Maria Fil, Radovan Ostrovský, Eva Gondová,
Potravinarstvo, vol. 5, no. 2, 2011, p. 1-8, [abstract] doi:10.5219/137 [fulltext]
EFFECT OF SODIUM PHOSPHATES ON SELECTED FOOD GRADE BACTERIA
Leona Buňková, Eva Lorencová, Dora Jurčová, František Buňka,Stanislav Kráčmar,
Potravinarstvo, vol. 5, no. 2, 2011, p. 9-12, [abstract] doi:10.5219/141 [fulltext]
MICROBIAL BIOFILMS PRODUCED BY PSEUDOMONAS FLUORESCENS ON SOLID SURFACES
Jozef Čapla, Peter Zajác, Jozef Golian, Pavol Bajzík, Lucia Zeleňáková, Vladimír Vietoris, Dagmar Kozelová,
Potravinarstvo, vol. 5, no. 2, 2011, p. 13-16, [abstract] doi:10.5219/18 [fulltext]
CHEMICAL STRUCTURE OF EUROPEAN BISON MUSCULUS LONGISSIMUS DORSI AT DIFFERENT STAGES OF AGE
Peter Haščík, Miroslav Müller, Adriana Pavelková, Miroslava Kačániová, Juraj Čuboň, Emília Benczová, Marta Habánová, Michal Mihok, Jozef Garlík,
Potravinarstvo, vol. 5, no. 2, 2011, p. 17-21, [abstract] doi:10.5219/129 [fulltext]
DIETARY FIBER: DEFINTION, SOURCES AND EXTRACTION
Michaela Jurasová, Zlatica Kohajdová, Jolana Karovičová,
Potravinarstvo, vol. 5, no. 2, 2011, p. 22-26, [abstract] doi:10.5219/125 [fulltext]
POTENTIAL OF CEREALS AND PSEUDOCEREALS FOR LACTIC ACID FERMENTATIONS
Monika Kocková, Ľubomír Valík,
Potravinarstvo, vol. 5, no. 2, 2011, p. 27-40, [abstract] doi:10.5219/127 [fulltext]
PERSISTENCE OF L. MONOCYTOGENES VERSUS ADHERENCE ON SOLID SURFACE
Janka Koreňová, Katarína Oravcová,
Potravinarstvo, vol. 5, no. 2, 2011, p. 41-44, [abstract] doi:10.5219/135 [fulltext]
DETECTION OF LASALOCID RESIDUES IN THE TISSUES OF BROILER CHICKENS BY A NEW SCREENING TEST TOTAL ANTIBIOTICS
Ivona Kožárová, Jana Šimková, Mária Mártonová, Ján Mačanga, Martin Levkut, ml.,
Potravinarstvo, vol. 5, no. 2, 2011, p. 45-48, [abstract] doi:10.5219/140 [fulltext]
STALING OF BAKERY PRODUCTS
Michal Magala, Zlatica Kohajdová, Jolana Karovičová,
Potravinarstvo, vol. 5, no. 2, 2011, p. 49-54, [abstract] doi:10.5219/124 [fulltext]
NUTRIGENOMICS ANALYZE OF EXPRESSION OF EXTRACELLULAR LEPTIN RECEPTOR BY THE FOLLOWING ESSENTIAL OIL MONITORING AT THE AVIAN MODELS
Ľubica Mrázová, Radoslav Židek, Mária Angelovičová, Jana Tkáčová, Martin Kliment, Martin Kráľ, Pavol Bajzík,
Potravinarstvo, vol. 5, no. 2, 2011, p. 55-58, [abstract] doi:10.5219/128 [fulltext]
COMPOSITION OF THE ATHLETES DIET
Beáta Pramuková, Denisa Čokášová, Rastislav Salaj,
Potravinarstvo, vol. 5, no. 2, 2011, p. 59-62, [abstract] doi:10.5219/126 [fulltext]
OFFICIAL CONTROLS OF FOODSTUFFS – CONTAMINATION OF CEREALS BY MYCOTOXINS OF THE GENUS FUSARIUM AND OCHRATOXIN A.
Jaroslav Remža, Jozef Bíreš, Mária Matúšová, Magdaléna Lacko-Bartošová,
Potravinarstvo, vol. 5, no. 2, 2011, p. 63-66, [abstract] doi:10.5219/139 [fulltext]
STUDIES OF CHOSEN TOXIC ELEMENTS CONCENTRATION IN MULTIFLOWER BEE HONEY
Adam Roman, Ewa Popiela,
Potravinarstvo, vol. 5, no. 2, 2011, p. 67-69, [abstract] doi:10.5219/134 [fulltext]
EVA GREEN REAL-TIME PCR USED TO DETECT CELERY AS AN ALLERGEN IN FOOD
Ondrej Škultéty, Andrea Jurčáková,
Potravinarstvo, vol. 5, no. 2, 2011, p. 70-72, [abstract] doi:10.5219/138 [fulltext]
NUTRIGENOMIC ANALYSIS OF C677T MUTATION OF MTHFR GENE IN SLOVAK POPULATION
Radoslav Židek, Jozef Golian, Jozef Bulla,
Potravinarstvo, vol. 5, no. 2, 2011, p. 73-76, [abstract] doi:10.5219/136 [fulltext]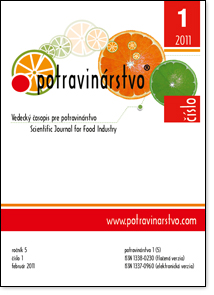 Vol. 5, No. 1/2011, 1.2.2011, All articles [PDF]
PROCESS OF OBTAINING OF SUGAR FROM SUGAR BEET AND INFLUENCE ON ITS QUALITY
Tatiana Bojňanská, Marek Bennár, Helena Frančáková, Marián Tokár,
Potravinarstvo, 2011, vol. 5, no. 1, p. 1-4, [abstract] doi:10.5219/122 [fulltext]
ANALYSE OF TRAITS OF MILK PRODUCTION IN DAIRY COWS
Jozef Bujko, Roman Kocman, Julius Žitný, Anna Trakovická, Cyril Hrncar,
Potravinarstvo, 2011, vol. 5, no. 1, p. 5-9, [abstract] doi:10.5219/93 [fulltext]
CHANGES IN MILK COMPOSITION AS A RESULT OF METABOLIC DISORDERS OF DAIRY COWS.
Terézia Filipejová, Jaroslav Kováčik, Katarína Kirchnerová, Vladimír Foltýs,
Potravinarstvo, 2011, vol. 5, no. 1, p. 10-16, [abstract] doi:10.5219/113 [fulltext]
SURFACE GROWTH OF GEOTRICHUM CANDIDUM: EFFECT OF THE ENVIRONMENTAL FACTORS ON ITS DYNAMICS
Anna Hudecová, Ľubomír Valík, Denisa Liptáková,
Potravinarstvo, 2011, vol. 5, no. 1, p. 17-22, [abstract] doi:10.5219/109 [fulltext]
EFFECT OF NICKEL AND ZINC PERORAL ADMINISTRATION ON MEAT QUALITY OF RABBITS
Anna Kalafova, Jaroslav Kováčik, Peter Massányi, Norbert Lukáčik, Rastislav Jurčík, Monika Schneidgenová,
Potravinarstvo, 2011, vol. 5, no. 1, p. 23-26, [abstract] doi:10.5219/121 [fulltext]
MICROBIAL QUALITY OF HONEY MIXTURE WITH POLLEN
Vladimíra Kňazovická, Miroslava Kačániová, Mária Dovičičová, Martin Melich, Miriam Kadási-Horáková, Zuzana Barboráková, Ján Mareček,
Potravinarstvo, 2011, vol. 5, no. 1, p. 27-32, [abstract] doi:10.5219/110 [fulltext]
PERCEPTION OF BIO-FOOD LABELING BY CONSUMERS IN SLOVAKIA
Dagmar Kozelová, Peter Zajác, Eva Matejková, Lucia Zeleňáková, Ľubomír Lopašovský, Ladislav Mura, Jozef Čapla, Vladimír Vietoris,
Potravinarstvo, 2011, vol. 5, no. 1, p. 33-38, [abstract] doi:10.5219/107 [fulltext]
EFFECT OF MILLING SOFTNESS ON BASIC TECHNOLOGICAL PARAMETERS OF WORT
Helena Frančáková, Miriam Líšková, Tatiana Bojňanská, Ján Mareček,
Potravinarstvo, 2011, vol. 5, no. 1, p. 39-42, [abstract] doi:10.5219/111 [fulltext]
FREQUENTED SPECIES OF FIELD FUNGI ON WHEAT AND THEIR POTENTIAL PRODUCTION OF TOXIC METABOLITES
Zuzana Mašková, Dana Tančinová, Zuzana Barboráková, Michal Mokrý,
Potravinarstvo, 2011, vol. 5, no. 1, p. 43-50, [abstract] doi:10.5219/108 [fulltext]
APPLICATION OF WESTERN BLOT ANALYSIS FOR DETECTION OF PROLAMIN PROTEINS IN CEREAL GRAINS AND BREAD
Peter Socha, Barbara Mickowska, Elżbieta Mazur, Dana Urminská, Ewa Cieślik,
Potravinarstvo, 2011, vol. 5, no. 1, p. 51-55, [abstract] doi:10.5219/115 [fulltext]
MINERALS, TRACE ELEMENTS AND FLAVONOIDS CONTENT IN WHITE AND COLOURED KIDNEY BEAN
Mária Timoracká, Alena Vollmannová, Dalaram Ismael,
Potravinarstvo, 2011, vol. 5, no. 1, p. 56-60, [abstract] doi:10.5219/116 [fulltext]
THE INFLUENCE OF FIRST WORT PART AND AFTERWORTS ON SACCHARIFICATION OF WORT
Žigmund Tóth, Štefan Dráb, Helena Frančáková, Miriam Líšková, Jana Návojská,
Potravinarstvo, 2011, vol. 5, no. 1, p. 61-64, [abstract] doi:10.5219/114 [fulltext]
RELATIONSHIPS AMONG PROCESSING AND RHEOLOGIC PARAMETERS DURING WHEAT DOUGH MIXING AND THEIR ASSETS FOR THE INDUSTRIAL PROCESSING
Boris Žitný, Ladislav Haris, Zdenka Muchová, Miriam Líšková,
Potravinarstvo, 2011, vol. 5, no. 1, p. 65-70, [abstract] doi:10.5219/117 [fulltext]
Volume 5 Special issue, February 2011, Potravinárstvo® Scientific Journal for Food Industry
Articles: https://www.potravinarstvo.com/dokumenty/mc_februar_2011/
Volume 4 Potravinarstvo® Scientific Journal for Food Industry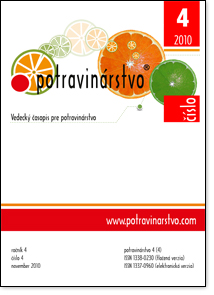 Vol. 4, No. 4/2010, 30.11.2010, All articles [PDF]
INFLUENCE OF NATURAL ADDITIVES ON PROTEIN COMPLEX OF BREAD
Tatiana Bojňanská, Dana Urminská,
Potravinarstvo, 2010 vol. 4, no. 4, p. 1-5, [abstract] doi:10.5219/77 [fulltext]
CEREALS AS BASIS OF PREVENTING NUTRITION AGAINST OBESITY
Lenka Duchoňová, Ernest Šturdík,
Potravinarstvo, 2010, vol. 4, no. 4, p. 6-15, [abstract] doi:10.5219/76 [fulltext]
GENETIC MARKERS AS ONE OF TOOLS FOR PRODUCTION OF TENDERNESS MEAT IN CATTLE
Michal Gábor, Anna Trakovická, Martina Miluchová, Nina Moravčíková,
Potravinarstvo, 2010, vol. 4, no. 4, p. 16-21, [abstract] doi:10.5219/102 [fulltext]
EFFECT OF MODERATE RED WINE CONSUMPTION ON THE DEVELOPMENT AND PROGRESSION OF METABOLIC SYNDROME AS A COMPLEX RISK FACTOR FOR CARDIOVASCULAR DISEASE AND DIABETES MELLITUS II.
Martina Gažarová, Marta Habánová, Peter Chlebo, Jana Kopčeková,
Potravinarstvo, 2010, vol. 4, no. 4, p. 22-27, [abstract] doi:10.5219/91 [fulltext]
CONTAMINATION OF RAISIN BY FILAMENTOUS FUNGI – POTENTIAL PRODUCERS OF OCHRATOXIN A
Lusine Hakobyan, Karine Grigoryan, Ara Kirakosyan,
Potravinarstvo, 2010, vol. 4, no. 4, p. 28-33, [abstract] doi:10.5219/95 [fulltext]
ANTIOXIDANT EFFECTS OF HERBAL EXTRACTS AND THEIR FOOD APPLICATION
Eva Ivanišová, Martina Fikselová, Vladimír Vietoris, Martin Mellen,
Potravinarstvo, 2010, vol. 4, no. 4, p. 34-37, [abstract] doi:10.5219/75 [fulltext]
COMPARISON OF OCCURENCE LACTIC ACID BACTERIA IN CHOSEN YOGURTS
Libuša Lengyelova, Dagmar Kozelová, Ľudmila Trstenovičová, Silvia Pinterová,
Potravinarstvo, 2010, vol. 4, no. 4, p. 38-43, [abstract] doi:10.5219/31 [fulltext]
QUALITY OF BROILER´S PRODUCTION ON THE FARM IN THE APPLICATION OF WELFARE
Ján Medveď, Mária Angelovičová,
Potravinarstvo, 2010, vol. 4, no. 4, p. 44-47, [abstract] doi:10.5219/65 [fulltext]
PROTEINS OF POTATOES IN RELATION TO THE CONTENT OF CADMIUM IN THEIR TUBERS
Janette Musilová, Judita Bystrická,
Potravinarstvo, 2010, vol. 4, no. 4, p. 48-55, [abstract] doi:10.5219/74 [fulltext]
SENSITIVY TO ANTIBIOTICS IN STRAINS OF S. AUREUS ISOLATED FROM COW´S MILK
Jana Pukáčová, Lucia Poľaková, Eva Dudriková,
Potravinarstvo, 2010, vol. 4, no. 4, p. 56-64, [abstract] doi:10.5219/21 [fulltext]
POLYPHENOLS IN CHOSEN SPECIES OF LEGUME - A REVIEW
Mária Timoracká, Alena Vollmannová, Judita Bystrická,
Potravinarstvo, 2010, vol. 4, no. 4, p. 65-72, [abstract] doi:10.5219/81 [fulltext]
COMPONENTS OF THE HEALTHY EATING INDEX IN NUTRITION OF ADULT FEMALES
Katarína Fatrcová-Šramková,
Potravinarstvo, 2010, vol. 4, no. 4, p. 73-78, [abstract] doi:10.5219/106 [fulltext]
EVALUATION OF ELISA METHOD TO DETECTION OF COW β-LACTOGLOBULIN IN SHEEP MILK AND SHEEP MILK PRODUCTS
Lucia Zeleňáková, Radoslav Židek, Margita Čanigová, Juraj Paulov, Tatiana Gallisová,
Potravinarstvo, 2010, vol. 4, no. 4, p. 80-84, [abstract] doi:10.5219/78 [fulltext]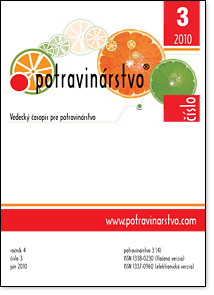 Vol. 4, No. 3/2010, 19.7.2010, All articles [PDF]
METHODS FOR FISH SPECIES IDENTIFICATION IN FOOD PRODUCTS
Pavol Bajzík, Jozef Golian, Radoslav Židek, Jozef Čapla, Ľubomír Belej, Matúš Ondrejka, Ľubica Mrázová, Lenka Maršálková,
Potravinarstvo, 2010, vol. 4, no. 3, p. 1-5, [abstract] doi:10.5219/25 [fulltext]
ESTIMATION OF THE BURDEN OF PESTICIDE RESIDUES IN SLOVAK POPULATION
Zuzana Grancová Bielková, Jozef Sokol,
Potravinarstvo, 2010, vol. 4, no. 3, p. 6-9, [abstract] doi:10.5219/69 [fulltext]
NEW METHODOLOGIES FOR BIOFILMS CONTROL IN FOOD INDUSTRY
Jozef Čapla, Peter Zajác, Vladimír Vietoris, Pavol Bajzík,
Potravinarstvo, 2010, vol.4, no.3, p. 10-13, [abstract] doi:10.5219/17 [fulltext]
HEALTH AND HYGIENIC CONDITIONS OF EWE'S MILK PROCESSING FROM THE ASPECT OF FOOD SAFETY
Eva Dudriková, Lucia Poľaková, Jana Pukáčová,
Potravinarstvo, 2010, vol. 4, no. 3, p. 14-18, [abstract] doi:10.5219/24 [fulltext]

THE CONSUMPTION OF ACIDOPHYLUS DRINKS AND YOGURTS IN SELECTED
POPULATION OF PUPILS IN YEARS 2004 AND 2008
Marta Habánová, Marta Lorková, Jana Kopčeková,
Potravinarstvo, 2010, vol.4, no.3, p. 19-23, [abstract] doi:10.5219/26 [fulltext]

VERIFICATION OF THE FOOD SAFETY MANAGEMENT SYSTEM IN DEEP FROZEN FOOD PRODUCTION PLANT
Erika Kolajová, Lucia Zeleňáková, Jozef Čapla, Peter Zajác,
Potravinarstvo, 2010, vol. 4, no. 3, p. 24-29, [abstract] doi:10.5219/28 [fulltext]

ANALYZING CONSUMERS' OPINION ON ORGANIC FOOD, THEIR SAFETY AND AVAILABILITY IN THE SLOVAK FOOD MARKET
Dagmar Kozelová, Eva Matejková, Artan Qineti,
Potravinarstvo, 2010, vol.4, no.3, p. 30-35, [abstract] doi:10.5219/16 [fulltext]

BETA GLUCAN DEGRADATION DURING POST HARVEST MATURATION OF MALTING BARLEY WITH EMPHASIS ON MALT QUALITY
Miriam Líšková, Helena Frančáková, Ján Mareček,
Potravinarstvo, 2010, vol. 4, no. 3, p. 36-39, [abstract] doi:10.5219/19 [fulltext]

INFLUENCE OF THE RIPENING ONTO THE GROWTH OF SELECTED PROBIOTIC CULTURES IN LOW – COOKED CHEESE
Viera Lovayová, Eva Dudriková, Radomíra Nemcová, Kvetoslava Rimárová,
Potravinarstvo, 2010, vol. 4, no. 3, p. 40-45, [abstract] doi:10.5219/29 [fulltext]

OXIDATIVE STABILITY OF CHILLED CHICKEN MEAT AFTER FEEDING OF SELECTED PLANTS
Slavomír Marcinčák, Peter Popelka, Jana Šimková, Dana Marcinčáková, Mária Martonová,
Potravinarstvo, 2010, vol. 4, no. 3, p. 46-49, [abstract] doi:10.5219/38 [fulltext]

PROTEIN AND FAT IN BREAST MUSCULES OF BROILERS IN APPLICATION WELFARE PRINCIPLES IN PRACTICAL CONDITIONS
Ján Medveď, Mária Angelovičová,
Potravinarstvo, 2010, vol. 4, no. 3, p. 50-52, [abstract] doi:10.5219/66 [fulltext]

QUALITY OF HEMP SEED OIL DEPENDING ON ITS OBTAINING
Ivana Poustkova, Luboš Babička, Lenka Kouřimská, Gabriela Siegrová, Ladislav Staruch,
Potravinarstvo, 2010, vol. 4, no. 3, p. 53-57, [abstract] doi:10.5219/32 [fulltext]

DETERMINATION OF FLAVONOIDS CONTENT IN COLOURED PEAS (PISUM SATIVUM L.) IN RELATION TO CULTIVAR'S DEPENDENCE AND STORAGE DURATION UNDER NATURAL CONDITIONS
Mária Timoracká, Alena Vollmannová,
Potravinarstvo, 2010, vol. 4, no. 3, p. 58-62, [abstract] doi:10.5219/70 [fulltext]

DETERMINATION OF ACRYLAMIDE IN FOOD BY GAS AND LIQUID CHROMATOGRAPHY-MASS SPECTROMETRY
Miriam Vlčáková, Michaela Vieriková,
Potravinarstvo, 2010, vol. 4, no. 3, p. 63-68, [abstract] doi:10.5219/61 [fulltext]
INFLUENCE OF SOFT MEAT PRODUCTS STORAGE ON THEIR MICROBIOLOGICAL SAFETY
Lucia Zeleňáková, Kristína Kulichová, Jana Kopčeková,
Potravinarstvo, 2010, vol. 4, no. 3, p. 69-73, [abstract] doi:10.5219/20 [fulltext]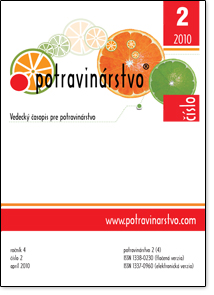 Vol. 4, No. 2/2010, 1.4.2010, All articles [PDF]
INFLUENCE OF ADDITION OF OAT AND LENTIL ON THE CONTENT OF THE DETECTED COMPONENTS IN BREAD
Tatiana Bojňanská, Alena Vollmannová, Helena Frančáková,
Potravinarstvo, 2010, vol. 4, no. 2, p. 01-04, [abstract] doi:10.5219/42 [fulltext]
EFFECT OF AERO-/ANAEROBIOSIS ON DECARBOXYLASE ACTIVITY OF SELECTED LACTIC ACID BACTERIA
Leona Buňková, František Buňka, Eva Pollaková, Tereza Podešvová, Vladimír Dráb, Stanislav Kráčmar,
Potravinarstvo, 2010, vol. 4, no. 2, p. 05-07, [abstract] doi:10.5219/43 [fulltext]
STRUCTURAL CHANGES IN THE RAT TESTIS CAUSED BY DIAZINON AND SELENIUM
Michal Cabaj, Róbert Toman, Mária Adamkovičová, Peter Massányi, Branislav Šiška, Norbert Lukáč, Jozef Golian,
Potravinarstvo, 2010, vol. 4, no. 2, p. 08-16, [abstract] doi:10.5219/44 [fulltext]
PRESENCE OF ENTEROCOCCI IN COW MILK AND THEIR ANTIBIOTIC RESISTANCE
Jana Fabianová, Viera Ducková, Margita Čanigová, Miroslav Kročko,
Potravinarstvo, 2010, vol. 4, no. 2, p. 17-21, [abstract] doi:10.5219/45 [fulltext]
PHYSICOCHEMICAL QUALITY OF SELECTED STRAWBERRY JAMS WITH FRUCTOSE
Dorota Gałkowska, Teresa Fortuna, Weronika Zagórska,
Potravinarstvo, 2010, vol. 4, no. 2, p. 22-24, [abstract] doi:10.5219/46 [fulltext]
PREVALENCE OF STAPHYLOCOCCUS AUREUS IN FISH PROCESSING FACTORY
Karine Grigoryan, Grigor Badalyan, Djulietta Andriasyan,
Potravinarstvo, 2010, vol. 4, no. 2, p. 25-28, [abstract] doi:10.5219/47 [fulltext]
THE INFLUENCE OF PROPOLIS APPLICATION TO MEAT UTILITY ON ROSS 308 BROILER CHICKENS
Peter Haščík, Martin Melich, Miroslava Kačániová, Gabriel Pál, Michal Mihok, Juraj Čuboň, Martin Melen, Klára Vavrišinová,
Potravinarstvo, 2010, vol. 4, no. 2, p. 29-34, [abstract] doi:10.5219/48 [fulltext]
MIGRATION OF PHTHALATES FROM PLASTIC TANK TO VEGETABLE OIL AS A PART OF FEEDING MIXTURES USED FOR CHICKEN BROILERS FATTENING
Alžbeta Jarošová, Vlasta Stancová, Pavel Suchý, Jiří Harazim,
Potravinarstvo, 2010, vol. 4, no. 2, p. 35-38, [abstract] doi:10.5219/49 [fulltext]
SPRING BARLEY BREEDING FOR MALTING QUALITY
Klára Križanová, Vratislav Psota, Ľudovít Sleziak, Alžbeta Žofajová, Jozef Gubiš,
Potravinarstvo, 2010, vol. 4, no. 2, p. 39-44, [abstract] doi:10.5219/50 [fulltext]
THE EFFECT OF CINNAMOMI AETHEROLEUM USED PER OS ON FAT CONTENT IN BROILERS MEAT
Daniela Liptaiová, Mária Angelovičová, Kamil Močár, Dávid Štofan,
Potravinarstvo, 2010, vol. 4, no. 2, p. 45-49, [abstract] doi:10.5219/51 [fulltext]
GROWTH DYNAMIC OF EWES' LUMP CHEESE MICROFLORA
Alžbeta Medveďová, Ľubomír Valík, Denisa Liptáková, Anna Hudecová,
Potravinarstvo, 2010, vol. 4, no. 2, p. 50-54, [abstract] doi:10.5219/52 [fulltext]
TEXTURAL, FLOW AND SENSORY PROPERTIES OF FIVE "FRUZELINA" WITH SOUR CHERRIES
Paulina Pająk, Teresa Fortuna, Irena Tomasiak,
Potravinarstvo, 2010, vol. 4, no. 2, p. 55-58, [abstract] doi:10.5219/53 [fulltext]
THE QUALITY OF FRIED SNACKS FORTIFIED WITH FIBER AND PROTEIN SUPPLEMENTS
Anna Pęksa, Joanna Miedzianka, Agnieszka kita, Agnieszka Czopek, Elżbieta Rytel,
Potravinarstvo, 2010, vol. 4, no. 2, p. 59-64, [abstract] doi:10.5219/54 [fulltext]
THE INFLUENCE OF STORAGE CONDITIONS OF CANDIED FRUITS ENRICHED WITH VITAMIN C BY DIFFERENT METHODS ON ITS CONTENT
Sławomir Pietrzyk, Dorota Gałkowska, Teresa Fortuna, Irena Tomasiak, Agata Wypchoł,
Potravinarstvo, 2010, vol. 4, no. 2, p. 65-66, [abstract] doi:10.5219/55 [fulltext]
CHANGES IN LIPID CONTENT OF WINE YEASTS DURING FERMENTATION BY IMMOBILIZED CELLS
Ján Šajbidor, Fedor Malik,
Potravinarstvo, 2010, vol. 4, no. 2, p. 67-68, [abstract] doi:10.5219/56 [fulltext]
EVALUATION OF QUALITY OF WINE IN THE CZECH REPUBLIC
Viera Šottníková, Olga Cwiková, Lenka Králová,
Potravinarstvo, 2010, vol. 4, no. 2, p. 69-74, [abstract] doi:10.5219/57 [fulltext]
THE MICROBIOLOGICAL LOAD OF SHEEP MILK FROM PRIMARY PRODUCTION TO ITS PROCESSING
Milan Vasiľ, Juraj Elečko, Zuzana Farkašová,
Potravinarstvo, 2010, vol. 4, no. 2, p. 75-80, [abstract] doi:10.5219/58 [fulltext]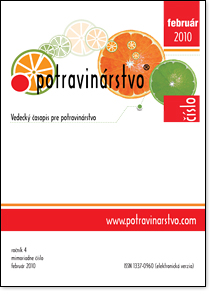 Special issue, Vol. 4, February/2010, 1.2.2010,
Quality of raw materials and food of plant origin
Quality of raw materials and food of animal origin
Microbiological and mycological risk
Biotechnology of plant and animal production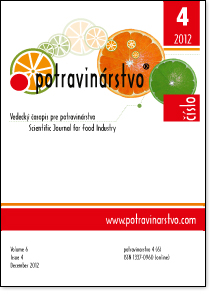 Vol. 4, No. 1/2010, 29.1.2010, All articles [PDF]
Výskyt toxinogénnych druhov rodu Penicillium v pšenici slovenského pôvodu z úrody 2008 a ich možný vplyv na zdravie konzumenta
Zuzana Barboráková, Soňa Felšöciová, Dana Tančinová, Mária Dovičičová, Zuzana Mašková, Roman Labuda
Profil aminokyselín v orechovinách ako potenciálnych komponentov pekárenských zmesí
Alena Bednáriková, Jana Sádecká
Možnosti využitia pohánky pri výrobe chleba a výhody jeho konzumácie
Tatiana Bojňanská, Helena Frančáková, Peter Chlebo, Radovan Gaža
Zhodnotenie vybraných biochemických ukazovateľov mlieka dojníc a ich korelácie
Terézia Filipejová, Jaroslav Kováčik, Marcela Capcarová, Adriana Kolesarová, Katarína Kirchnerová, Vladimír Foltýs
Pekárska kvalita a reologické vlastnosti jačmenno-pšeničných múk
Soňa Gavurníková, Ľubomír Mendel, Michaela Havrlentová, Katarína Zirkelbachová, Magdaléna Bieliková, Katarína Bojnanská
Nutričná a technologická kvalita farebných genotypov pšenice letnej formy ozimnej (Triticum aestivum L.)
Milan Chňapek, Zdenka Gálová, Marián Tomka, Ľubomír Rückschloss
Kvalita mäsa a mlieka transgénnych králikov
Peter Chrenk, Alexander Makarevich, Jozef Bulla
Vplyv teploty na farebnú a oxidačnú stabilitu olejov bohatých na obsah polynenasýtených mastných kyselín
Kita Agnieszka, Płuciennik Ewa
Testovanie účinnosti sanitačných prostriedkov na enterokoky
Anna Krebs-Artimová, Miroslav Kročko, Viera Ducková, Margita Čanigová
Kvantitatívna analýza rastu candida maltosa a geotrichum candidum: vplyv teploty a prítomnosti Lactobacillus rhamnosus GG
Denisa Liptáková, Anna Hudecová, Ľubomír Valík, Alžbeta Medveďová
Vplyv dormancie na formovanie technologických parametrov sladu
Miriam Líšková, Helena Frančáková, Ján Mareček
Vyhodnocovanie energetickej hodnoty menu pre detí v poľských materských školách
Maria Dymkowska-Malesa, Weronika Woźniak, Janusz Zakrzewski, Krystyna A. Skibniewska
Stabilita farby extraktov mikrobiálneho farbiva červená fermentovaná ryža
Dana Marcinčáková, Pavel Maľa, Mária Baranová, Slavomír Marcinčák
Vplyv genotypov β-laktoglobulínu na zloženie bielkovinového komplexu a technologické vlastnosti mlieka oviec Zošľachtená valaška
Anna Michalcová, Zuzana Krupová
Stanovení stravitelnosti produktů ze sladkovodních a mořských řas
Ladislava Mišurcová, Stanislav Kráčmar
Využití blízké infračervené spektroskopie pro stanovení základních fyzikálně-chemických parametrů ovčího mléka
Zuzana Procházková, Michaela Dračková, Alena Remešová, Bohumíra Janštová, Hana Přidalová, Lenka Vorlová
"Studená sterilizácia" orechovín ako potenciálnych komponenetov pekárenských produktov
Jana Sádecká, Emil Kolek, Janka Koreňová, Janka Lopašovská
Príprava a analýza oxidovaných metabolitov kyseliny arachidónovej
Ján Šajbidor
Chemická a biochemická analýza kvasiniek Saccharomyces cerevisiae kmeň Kolín, 612 a Göyng 85
Silvia Šillerová, Anežka Poláková, Dana Urminská, Eva Szabová
Stanovenie vybraných β - agonistov v mlieku metódou LC/MS/MS
Bronislava Škarbová, Jozef Golian
Nigrospora – nový endofyt na pšenici (Triticum aestivum L.) slovenského pôvodu
Dana Tančinová, Zuzana Mašková, Soňa Felšöciová, Mária Dovičičová, Zuzana Barboráková, Roman Labuda
Zmeny reologických vlastností pšeničného cesta vplyvom miesenia
Boris Žitný, Ladislav Haris, Zdenka Muchová
Volume 3 Potravinarstvo® Scientific Journal for Food Industry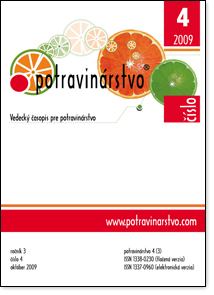 Vol. 3, No. 4/2009, 15.10.2009, All articles [PDF]
Autentifikačné parametre vhodné na odhaľovanie falšovania ovocných nápojov
Vplyv prídavku biologicky aktívnych látok do kŕmnej zmesi nosníc na obsah cholesterolu vo vajci
Obsah kontaminantov vo svalovine a vybraných vnútorných orgánoch diviačej zveri v poľovnej oblasti JXXXIII Tríbeč
Kvalita mlieka a jeho zloženie vo vzťahu k metabolickým ochoreniam dojníc prostredníctvom metabolického profilového testu
Hodnotenie kvality lesných a kvetových medov z rôznych krajín pôvodu
Propolis a jeho antimikrobiálne účinky
The effect of single nickel and combined nickel and zinc peroral administration on selected mineral blood parameters in female rabbits
Olovom indukované zmeny proliferácie a apoptózy granulóznych buniek vaječníkov prasničiek in vitro
Vplyv hypertermie na mikromorfometrickú štruktúru obličiek králikov
Intolerancia organizmu na vybrané rastlinné komodity, jej príznaky, diagnostika a detekcia príčinných alergénov
Rizikové kovy v drobnom lesnom ovocí
Sledovanie dynamiky odbúravania rezíduí vybraných antikokcidík v tkanivách kurčiat a bažantov počas stanovenej ochrannej lehoty
Zinok – rizikový alebo prospešný mikroelement v zemiakoch?
Kumulácia olova v jednotlivých anatomických častiach Ľuľka zemiakového (Solanum tuberosum, L.)
Nutričné ukazovatele a riziká u detí základných škôl
Sledovanie obsahu ťažkých kovov v mrazenej zelenine
Endogénna mykocenóza pšenice so zameraním na druhy rlodov Aspergillus a Penicillium
Poruchy plodnosti mužov v Nitrianskom kraji a ich vzťah k rizikovým faktorom prostredia
Obsah ťažkých kovov v pôde a dopestovanej produkcii z metalicky zaťaženej oblasti
Využitie alternatívnych postupov pri testovaní hodnotiteľov v senzorickej analýze
Intensive milk production and cow heifer breeding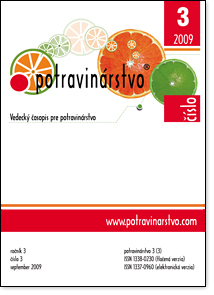 Vol. 3, No. 3/2009, 16.9.2009, All articles [PDF]
Úroveň kontaminácie svaloviny rýb ťažkými kovmi na hornej Nitre
Impact of irrigation with effluent and sewage sludge on heavy metal content in crops
Fermentované produkty vo výžive adolescentov
Effect of exposure to high ambient temperature on selected biochemical parameters of rabbits
Ťažké kovy – významná zložka potravového reťazca
Optimalizovanie HPLC separácie 15+1 EÚ prioritných PAU
Biomodulačný účinok inulínu v experimente
Vplyv kadmia na histologické zmeny v pečeni moriek
Organochlorine pesticides as food chain risk factors
Influence of smoking on mercury contamination of breast milk in relation with age of nursing women from southern Poland
Vplyv toxických kovov na imunitný systém
Animálne modely v kardiológii z pohľadu kardiochirurga
Effect of lifetime low-dose exposure with heavy metals on selected physiological and biochemical parameters
Mikrobiologická charakteristika pôdy po aplikácii biokalu z bioplynovej stanice Kolíňany
Kumulácia rizikových kovov zrnom pseudocereálií
Koncentrácia vybraných rizikových prvkov v stehnových kostiach hrdziaka hôrneho (Clethrionomys glareolus)
Effect of lifetime low-dose exposure with cadmium during three filial generation of wistar rats
Vplyv rôznych koncentrácií zinku a kadmia na letalitu Artemia franciscana
Hypertermia a jej vplyv na pohyblivosť králičích spermií
Nedostatky v stravovacích zvyklostiach študentov stredných škôl
Indukcia mikrojadier v kostnej dreni prepelíc po pôsobení kadmia a zinku
Iodine content in cow milk in the Czech Republic
New perspectives in food safety: exposure of the population to estrogenic chemicals
Vplyv manažmentu dojenia na zdravie vemena bahníc, kvalitu a kvantitu mlieka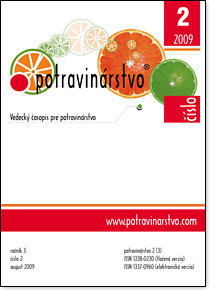 Vol. 3, No. 2/2009, 31.8.2009, All articles [PDF]
Antimikrobiálna rezistenica – aktuálny problém vo veterinárnej medicíne a vo verejnom zdraví
Vplyv prídavku fytoaditív na kvalitu kuracieho mäsa
Produkce biogenních aminů bakteriemi izolovanými z povrchu drůbeže
Inhibičný vplyv katiónov rizikových prvkov na úrodu sóje
Antioxidant defence in porcine granulosa cells exposed to lead in vitro
Antiradikálová aktivita a flavonoidy vo vybraných druhoch včelieho peľu
Vplyv aplikácie lactobacillus fermentum cez vodu na chemické zloženie mäsa kurčiat ROSS 308
Výskyt a význam termorezistentných húb na jahodách
Olovom indukované zmeny v sekrécii hormonálnych látok ovariálnymi granulóznymi bunkami
Sledovanie rizikových chemických prvkov u kačíc divých (Anas platynrhynchos)
Comparison of Major Milk Components in Dairy Cows' Milk from Morning and Evening Milking
Komparatívna štúdia stanovenia prítomnosti rezíduí vybraných kokcidiostatík v tkanivách kurčiat a bažantov
Autentifikačné parametre vhodné na odhaľovanie falšovania medu
Alergény a bezpečnosť dehydrovaných potravín
Využitie rastlinných extraktov pri výrobe tepelne opracovaných mäsových výrobkov
Polyfenoly a antioxidačná aktivita včelieho peľu
Porovnávanie hladín zinku a medi u strelených a zabitých bažantov
Polyphenols in cranberries in relationship to storage duration in freezing box
Monitoring falšovania ovčieho mlieka a výrobkov z neho na spoločnom európskom trhu s potravinami
Použitie zhlukovej analýzy pri vysledovateľnosti produktov z jeleňa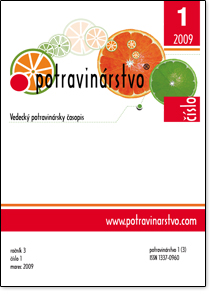 Vol. 3, No. 1/2009, 1.4.2009, All articles [PDF]
Využitie PCR metódy na dôkaz falšovania mlieka a mliečnych výrobkov
Kvantifikácia sóje v potravinách použitím real - time PCR
Tvorba biofilmov na povrchoch z nerezovej oceli v prostredí potravinárskeho priemyslu
Možnosti detekcie reziduí ropných látok v slnečnicovom oleji
Antimikrobiálna aktivita laktobacilov izolovaných zo surového ovčieho a kravského mlieka
Možnostii využití dikarboxylových kyselin jako náhrady tavicích solí při výrobě tavených sýrů
Využitie enzýmových preparátov na stanovenie inulínu
Kyslomliečne kultúry s protektívnymi vlastnosťami ako prostriedok na zvýšenie zdravotnej bezpečnosti syrov
Stanovenie odolnosti bakteriálnych buniek viazaných v biofilme voči dezinfektantom s využitím overených inštrumentálnych metód
Mold cheeses of roquefort type; are these dainties safe enough?
Fully labeled stable isotope standards of U - [ 13 C 17 ] - aflatoxins; a new solution for more precise LC - MS analyses
Citlivosť Y ersinia like baktérií izolovaných z rýb ku antimikrobiálnym substanciám
Bakteriocin produkujúci kmeň Staphylococcus xylosus s03/1m/1/2, perspektívne aditívum
Vliv průběhu zrání na obsah vybraných složek v přírodním sýru eidamského typu
The influence of oxidation methods on content of mineral elements in starches
Mikroskopické metódy v analýze potravín – prehľad
Influence of irradiated with microwaves on color of potato maltodextrines with differential value of dextrose equivalent (DE)
Distribuce toxických prvků v rostlinách brambor
Diazinon and selenium interraction and effect on rat serum cholinesterase activity after an peroral administration
Vplyv vonkajších faktorov na tvorbu biofilmu bakteriálnych kontaminantov
Volume 2 Potravinarstvo® Journal for Food Industry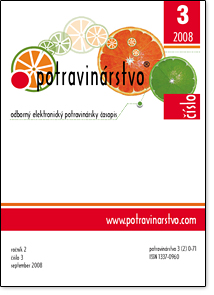 Vol. 2.,No. 3/2008, 29.9.2008, All articles [PDF]
Monografia – Aplikácia ELISA testov na detekciu falšovania mlieka a syrov
Obhajoby dizertačných prác
Význam hydrokoloidov v pekárstve
Požiadavky na výrobu obalových materiálov určených pre potravinársky priemysel
Senzorická analýza v potravinárstve III.
Zber úrody, ošetrenie a konzervácia gaštanov počas skladovania
Kvalitné a bezpečné potraviny v strednej a východnej Európe v roku 2020 – od vízie k realite
Morské probiotiká voči kmeňu Vibrio harveyi
Spoločnosť ISHIDA EUROPE Ltd. vstupuje na Slovenský trh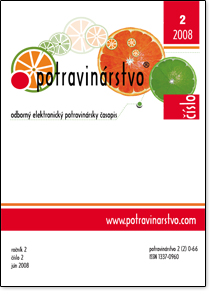 Vol. 2., No. 2/2008, 5.6.2008, All articles [PDF]
Nový návrh nariadenia Európskeho parlamentu a Rady o poskytovaní informácií o potravinách spotrebiteľom
Fotopostreh
Sledovanie vplyvu cícerovej zmesi na kvalitu pekárskych výrobkov
Senzorická analýza v potravinárstve II
Biodiverzita ovčích mliečnych výrobkov
Význam protiepidemiologických opatrení v zariadeniach školského stravovania
Salmonelózy
Šigelóza
Brušný týfus
Vírusová hepatitída typu A
Bezpečnosť a kontrola potravín – V. ročník konferencie, Nitra 2.-3.4.2008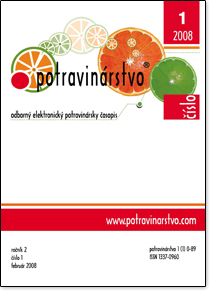 Vol. 2., No. 1/2008, 8.2.2008, All articles [PDF]
SPU V Nitre, Fakulta biotechnológie a potravinárstva otvárajú akreditované štúdium manažér bezpečnosti potravín
Zasadania Codex Alimentarius v roku 2008
Konferencie v roku 2008
Medzinárodné výstavy a veľtrhy v zahraničí a na Slovensku v roku 2008
Požiadavky na systém sledovateľnosti potravín a krmív
Senzorická analýza v potravinárstve I
Biogénne amíny v potravinách
Mliečne fermentované zeleninové šťavy
Význam kyseliny listovej a jej derivátov v ľudskom organizme
Pšenica špaldová
PENAM SLOVAKIA, a.s. s novým generálnym riaditeľom
Riešenie od Air Products kráti proces chladenia majonéz na sekundy
Spoločnosť Delfín vstupuje na slovenský trh
Volume 1 Potravinarstvo® Journal for Food Industry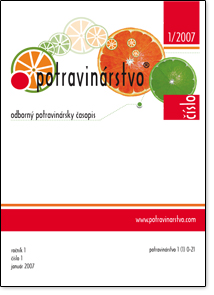 Vol. 1., No. 1/2007, 26.1.2007, All articles [PDF]
Zasadania Codex Alimentarius v roku 2007
Konferencie v roku 2007
Medzinárodné veľtrhy
Vplyv zvýšeného počtu somatických buniek na zdravotnú neškodnosť surového kravského mlieka
Systém samokontroly v mliekarenskej prevádzke
Automatizácia HACCP
Funkčné potraviny